This season simply wasn't as strong In its narrative as the first season, but the first season had the benefit of a single creator with a vision. This season there are two or more creators, so the fact that we had some kind of narrative cohesion is pretty good. It wasn't a bad season though. I liked the character development, and the visuals are always strong, although, once again, this wasn't as strong as the last season, which had the benefit of novelty. It also seemed like the writers didn't know what to do with some character, like Bilquis and Anansi, but their presence was not undesired either..
I'm not going to talk about the plot as much as I'm going to discuss characters and their development. We lost two of the gods, or four, depending on how one sees it. The first god to die was the eldest Zoraya sister. Her brother explained that there is a resurrection ritual for her, but without any believers, the ritual wouldn't work, so currently there are only two sisters left. i'm a big fan of Cloris Leachman, and I hope she makes her way back to the show. She as great as the eldest sister.
We also lost Old Media and the old version of Technical Boy (whose origin we also got to see). Media, which was first played by Gillian Anderson, was resurrected and is now played by Kahyun Kim. I have tried really hard to like New Media, but I don't, and I think that's a very interesting point. She exists as a form of Media that I'm mostly bored and exasperated by.. Her general  demeanor is annoying, and after I gave it some thought, I figured out why. She is every bit as annoying to me as actual new media. She prances around as a sexy anime chanteuse, squeaking, and breathless, in that way that I hate in actual  anime, so I think she's meant to be annoying to people like me. I'm usually cringing when I see her on screen for any length of time, it also doesn't help that she is hypersexualized and kind of useless, exactly like actual new media.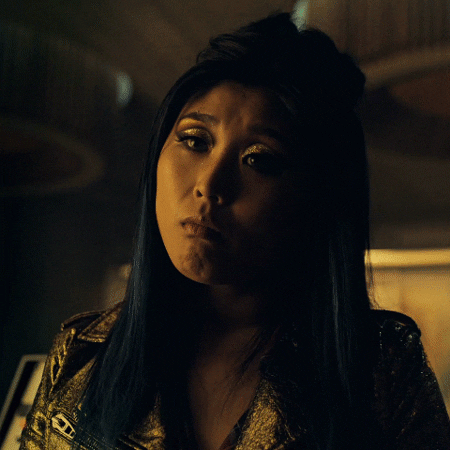 Mr. World was starting to get a little bit frustrated because his gods (Argus, Technical Boy, and New Media) were not coming through in the pinch, and getting him the results he wants, which is to find, and kill, Shadow Moon, and capture Wednesday. However, in the season finale we see the final iteration of New Media, who has truly just come into her power, and it is scary as Hell.  I certainly fucking respect her now!
The old Technical Boy was destroyed this season, but he was resurrected by his original creator as a kind of God of Surveillance, taking the place of the Argus Array, and working once again, in tandem with New Media. The original  God of Surveillance was killed by Laura, and the new Technical Boy has much to do  with computer hacking, surveillance, and spying and also has a brand new, sleeker, look, and attitude. (Incidentally, the first God of Surveillance was an old god, named Argus, that had made a deal with Mr. World.)
Needless to say, almost none of the things that happened this season, took place in the book. There's a broad correlation, but otherwise…Shadow gets kidnapped, gets free, meets Sam Black Crow, makes his way to Cairo, works at a funeral home, and then Mad Sweeney dies. Everything else in the season was an add on, but that doesn't mean I didn't like the add ons. I especially liked the episode where we got to see Shadow Moon's and  Mad Sweeney's real backstories, which I'll get to soon enough. One of the side effects of this is that the series contrasts badly with the book. Gaiman may just be adding stuff to this show that he'd always wanted to add to the original story. There are a lot of things in the series that should have been in the original story, like Bilquis, and Mad Sweeney, and Laura's activities.
I do want to talk about more of the mythology presented this season, and a few of my favorite character interactions, something with which this season excelled. From the beginning we met a lot of new /old gods, and caught up with Shadow's backstory, and a little bit more of Wednesday's past.
We get to see Shadow's backstory, which answers a few questions about why he is the way he is, but also opens up more questions about exactly who his mother was. Was she the spirit of America, and did she die of cancer because of 9-1-1? We're getting closer and closer to Shadow finding out he is Shadow Odinson, and we also met Odin's other son, Thor, and saw their falling out with each other. Thor eventually commits suicide, and it becomes apparent, through his statements to Shadow, that Odin was devastated by that and still misses him. He often refers to Shadow as "Son", or "My Boy" and at one point said Shadow reminded him of his son. Now in the mythology Odin has a lot of children but another of his most famous children was Baldur,
He's loved by all the gods, goddesses, and beings of a more physical nature. So handsome, gracious, and cheerful is he that he actually gives off light.[1]
https://norse-mythology.org/gods-and-creatures/the-aesir-gods-and-goddesses/baldur/
…and there are a few things about Shadow that echo Baldur's story,
https://norse-mythology.org/tales/the-death-of-baldur/
…right down to Baldur's prophetic dreams about his death, as mentioned in the Prose Edda, and that he is seen as a being of light by everyone who encounters him. It is his death that precedes Ragnarok, the war of the gods. Shadow Moon is also another name for an eclipse, and he radiates light, which is how Laura sees him. In the book, Laura refers to him as a beacon of light in a dark world. In the series, his mother mentions that he is a being of light, too. Its my theory that Shadow is what was once mentioned by Wednesday, although he did it in jest, as The King of America. In the book, two of the powers, that Shadow possessed, was knowledge, and the ability to see truth.
We've been watching Wednesday's machinations all season, but we have  also been witnessing Shadow's journey to self. We watched his journey to knowledge of the gods in season one, and in this second season, we are witnessing Shadow's journey to realizing who and what he may be.
If he believes.
In season one, he was constantly chided to Believe, because if he didn't, he would not survive what was to come, his imminent death at Wednesdays machinations. Next season, his task is to believe in himself. There is a reason that Shadow was allowed to join in the congregation of the gods, at the beginning of the season, because he is a potential god himself, and a relatively new one that has been raised in ignorance of that life.
The end of the season also leaves a lot of questions. We got to see the full unleashing of New Media who is kinda terrifying. She starts a fake news siege against Shadow, so that Mr. World not only doesn't have to look for Shadow, but so that in all likelihood Shadow will be killed when he is found, since New Media tells several lies about him being a heavily armed terrorist, who has killed several cops. Shadow manages to elude capture at the end of the episode,which opens another mystery. Did that event happen, and Shadow removed the police from the premises in the same way he created snow in the first season? Or was it something he saw before it happened and he just moved out of its way?
Shadow gets snagged by the miniature Yggdrasil tree growing in Mr. Ibis greenhouse and pulled into it s branches, where he begins to have visions. During the entire raiding scene he has flashbacks of Shadow as a young boy playing with police action figures, and overhearing snippets of  conversations between him,  Wednesday,  and others. At one point the child sweeps his arm across the action figures, knocking them all down, and removing them as obstacles. At the same time, the police outside the funeral home all vanish, and so does the tree, taking Shadow with it. We then see Wednesday in a diner, smiling about how his boy is going to be okay.
The ending is quite surreal with Shadow having visions of being back in the Bone Orchard at the beginning of the series, because it always comes back to that initial vision. Its hard to say if these were prophetic visions , or actual events, as the rest of the gods on the premises seem unperturbed, and Anansi seems actually happy. Once again, Anansi seems to be the one character who know more than anyone what's going on, including who Shadow is, Wednesday's motivations, and even the final outcome.
People don't understand why Anansi keeps being so mean to Shadow, but part of being a Trickster god is pushing on people, so as to engage them  into committing  some kind of action. His bullying of Shadow is meant to goad Shadow into doing something he is supposed to do, instead of being so passive about his circumstances. Notice how he is constantly attacking shadow's intelligence. This is meant to anger Shadow, and goad his ego into trying to prove that he is not stupid. It will prompt Shadow to ACT, because Angry get shit done, and it is one of the few vulnerabilities Shadow has, because in  the other areas of his life, he is very competent. I think he is cheering for Shadow to be the Wild Card in Odin's plans for the war, because Trickster's love that kind of thing.
My one regret with Anansi is that we still have not gotten the story from him of The Tiger's Balls, which is one of the best short stories in the main book, but otherwise this character has been good, but not great, this season.
The reason why Anansi gets all of the best speeches on the show is because its part of his mythology. Almost all of his stories are part of the oral tradition in Africa, and he is the god of storytelling. When we first meet him he is goading a ship's hold full of captured slaves into angrily rebelling against their captors. Anansi does not like passivity, which is why all his speeches are so incendiary. He is a fire being that prefers action, and that's what almost all his speechifying is geared toward, because, "Angry gets shit done!". And in his speeches to Ibis and Bilquis he tries to get them angry enough, about the plight of African Americans, to join in Wednesday's war, but is unsuccessful. Ibis and Bilquis continue to keep their distance from Wednesday's plans, and what's interesting is that Anansi seems okay with that.
… Anansi was often celebrated as a symbol of slave resistance and survival, because Anansi is able to turn the tables on his powerful oppressors by using his cunning and trickery, a model of behaviour utilised by slaves to gain the upper hand within the confines of the plantation power structure. Anansi is also believed to have played a multifunctional role in the slaves' lives; as well as inspiring strategies of resistance, the tales enabled enslaved Africans to establish a sense of continuity with their African past and offered them the means to transform and assert their identity within the boundaries of captivity.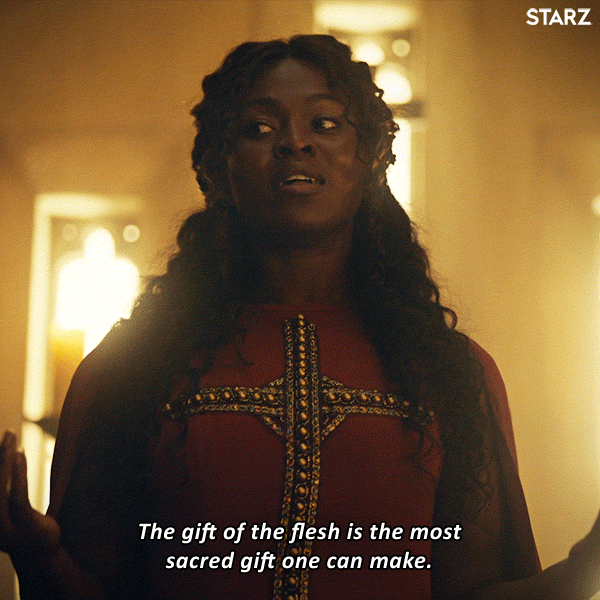 Bilquis has been something of a mystery this season She too is in the process of upgrading and adapting to  the modern world, by seeking worship from human beings, in some other manner besides sex, and I think she hopes to rid herself of her reliance on Technical Boy's aid in the recovery of her godhood. If she becomes her own woman, she no longer needs to abide by any agreement she  with him, and can then do as she pleases. She attends one of the funeral services, where she gets the congregation all hot and bothered,  even though she says nothing that's overtly sexual. At this point, she is just testing her new role and how to receive worship of some kind.
Bilquis is also playing both ends against the middle, but we don't know if she's there for Mr. World, there for herself, there to prevent the war, or there to serve Odin, who she also seems to hate as much as she does Mr. World. She approaches Shadow and gives him an apple, (I think it came from Yggdrasil), which is a callback to the story of Adam and Eve, but really it just represents the idea of  temptation, and knowledge. She is essentially offering him the temptation of knowledge, but of what is unclear. She tells Shadow that their futures and destinies are entwined. We do know that at the end of the episode, Shadow is sitting on  the knowledge that he is Wednesday' s son. How clear on that he is, is a matter of some debate.
Laura's actions are also another mystery. Sweeney died in the last episode, in his final fight with Shadow, echoing the very first fight the two of them had in the first season, but that was when  Sweeney had his gold coin, which he lost to Shadow. In their last fight, Shadow loses Gungnir, (Odin's war spear), which he had been tasked to protect by Wednesday, to Sweeney who, with his dying breath, transfers Gungnir to the golden hoard, where his phantom coins come from. Laura finds Sweeney's body laid out in the funeral home and steals it. What her plans are, are unclear, but its speculated that she is taking him to Louisiana to be resurrected, so he can help her kill Wednesday. She asked Bilquis for aid, but she turned Laura down, and Laura still has that vial of blood that was given to her by Baron Samedi, who told her that it can be activated to resurrect her full humanity, with an act of love.
This is a callback to a conversation, earlier in the season, that Laura has with Mama Ji, who she tried to strong-arm her into helping her. Mama Ji will have none of her sass, and gently reminds Laura that she is also the Lord of War, as well as the Divine Mother, and she  is unimpressed by Laura's zombie strength. Laura also receives advice from Bilquis, when she goes to her to request her aid in killing Wednesday. Bilquis denies her, but does admit to hating Wednesday.
The most charming character in the series is Salim, because he represents the every-man in this scenario. I'm glad he's still around, and that he is still committed to his relationship with the Djinn, and what's more, the Djinn is just as committed to him, although he has been questioned by the other gods about having a relationship with a mortal. As we get closer to the idea that Shadow is himself a god, we need a regular person, through whose eyes we can see the other characters, the one normal human being who can express the audience's feelings about what's happening, and with whom the audience can identify, now that we are moving to a place where we cannot identify with Shadow, the way we did in the first season.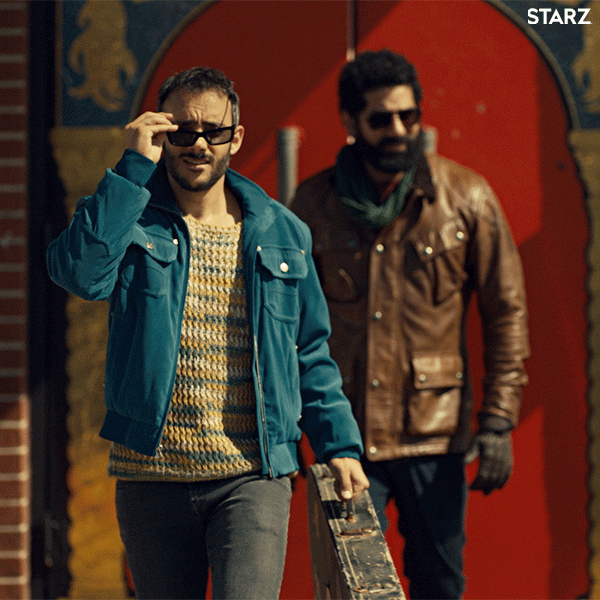 This is groundbreaking because not only is our every-man of Middle Eastern descent, and a devout Muslim, he is also a  gay man. Salim is essentially taking the space that I argued about Shadow, in the first season, before he became totally entrenched in Wednesday's plans, and his scenes are utterly hilarious. His reaction to what's happening, especially after he gets named as an enemy of the state by New Media is priceless, actually questioning whether or not he committed the crimes he's been accused of, and being blandly reassured by Mr. Ibis that he's been in the house watching television the entire time. I'm happy to see that nothing happens to either of them and the two of them manage to walk away unscathed.
At the end of the episode, we get some idea of the next chapter in Shadow's life. When his bus is stopped by the police, as they are searching for him, he escapes their notice because the name on his ID card has been changed.  In season three, he will get a chance to ruminate on everything that just happened to him as he spends a quiet  interlude in the small town of Lakeview, where he'll encounter a creature called a Kobold(?), that is feeding on the town's young women. In the book, this is part of a long period where Shadow is hiding out at the behest of Wednesday. In the show it has been orchestrated that he is hiding out from the authorities.
It will be some time before we see a third season of the show, possibly as long as a year. In that time, I expect to have re-read the book, and probably will have some new insights into the characters by then. Until next time:
TTFN