This season has become a very interesting blend of the personal moments interlocking with the overarching plot, for a lot of the characters. We are re-introduced to Phillipa Gheorghiu , Doctor Culber, and Ash Tyler, as well.
In the first season we dealt with Michael's personal traumas and how those traumas impacted the decisions she made throughout the season. Her life isn't perfect, now. There still needs to be resolution on some of the issues of her childhood, and choices she made last season, so the writers are getting started on working on some of her childhood issues with Spock and her parents, and how these relationships intersect with the Red Angels in the series main plot.
We're also dealing with the traumas and issues related to other characters and the show has experienced its first real death in the form of Airiam, the cyborg-like being who was a member of the ship's bridge crew. We get a little bit of backstory on her, who she was, what happened to her.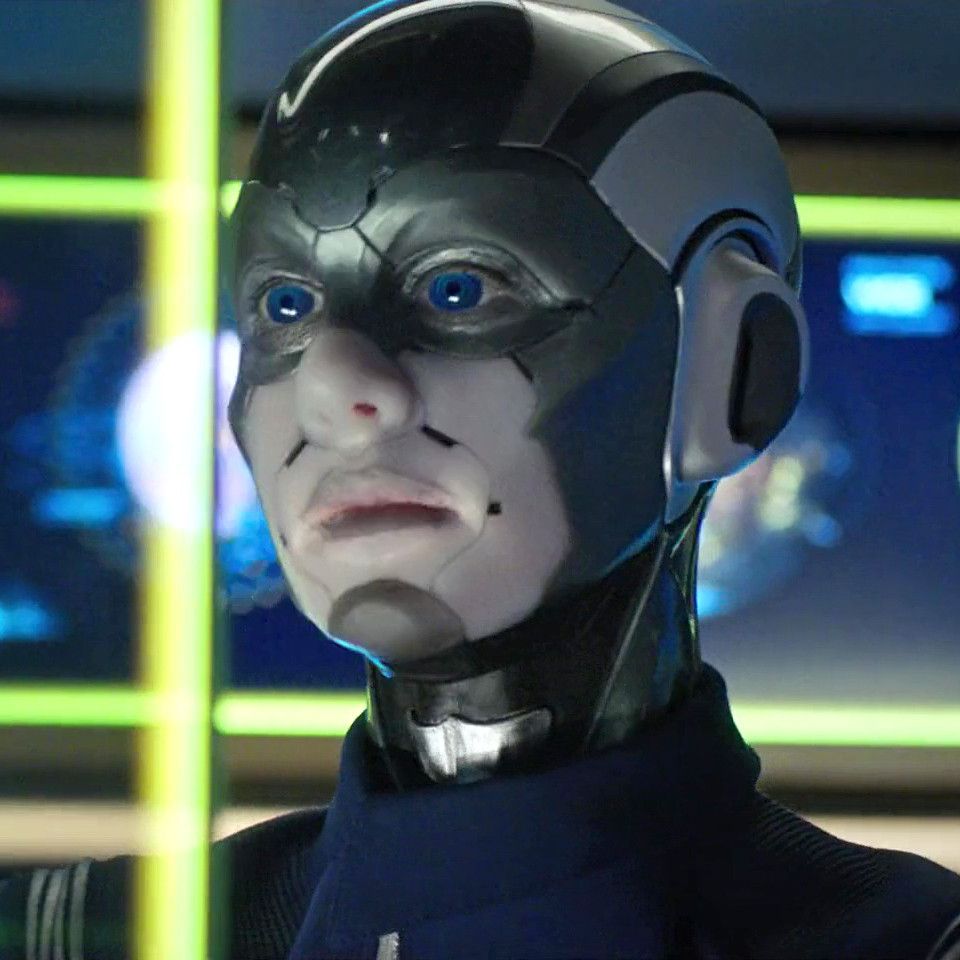 The show has gotten a lot better at integrating all these plots into the greater plot of the show because last season some of the themes felt a little separated, to the point where some people were very confused about what the show was about, saying that it felt disjointed. Well, they've gotten better at it, because it's impossible to talk about the other characters, and other themes, without relating them to events which happen in the main plot involving the Red Angels.
The Discovery is still on the trail of the Red Angels who keep sending them to different places in the galaxy, usually to resolve some issue that needs Starfleet's immediate attention. Spock has had visions of the Angels since he was a small child. When we first met Spock he was a cute little six or seven year old, and his first meeting with Michael was not promising, as he closed his bedroom door in the face of the new sister his parents introduced him to. Later, through flashbacks, we find that he and Michael closely bonded, but after several murder attempts from Vulcan radicals Michael decided to run away from home to protect her family, and she emotionally hurt Spock to get him to leave her alone, an event which altered Spock's perception of her and his own humanity.
In the first season we dealt with Michael's  emotional fall out of the Klingons having killed her immediate family, but this season we are dealing with the fallout of Michael having been attacked several times by Vulcan radicals, who were trying to rid Vulcan of humans, and destroy the diplomatic bonds between the two planets. This was mentioned somewhat in the first season in Sarek, and Michael's flashbacks to her childhood while we dealt with the emotional repercussions of Sarek's life choices regarding her and Spock, and the reparation of their estranged relationship. it turns out though that Michael's actions are completely meaningless, as Spock explains to her that she is not the focus of the Vulcan terrorist's  anger. Its Spock, because he's half human, and they are opposed to miscegenation.
This season we are watching Michael try to fix the relationship between her and Spock, and hopefully the two will be reconciled. Meanwhile, Spock is of major importance to Starfleet,  (and a clandestine organization in Starfleet called Section 31), as he is the only being who has any knowledge of the Red Angels. Spock is on the run, after escaping from an asylum, after being accused of killing several doctors. When Michael finds him, he is mentally incapacitated by his visions, and it is up to her to decipher them, (and with the help of the Talosians) figure out how they are connected to current events. The Talosians are a race of strong telepaths, who are directly tied to Pike's past and future, and are referenced in the original Star Trek episode, The Cage. I am really loving how the writers have fleshed out his character, because he has almost none in the original series. I really like him now, so when I went back and watched The Cage, it hit me especially hard.
I have a theory about the Red Angel that may have some impact on Spock's relationship with Michael, and why they appeared to Spock, and only Spock, in the first place. It turns out that the Red Angels (at least one of them) is a woman, wearing a special suit from the future. A couple of episodes ago, the Discovery encounters a  dying creature that the Red Angels led them to, whose explosive death creates some time repercussions for the crew, and Captain Pike, with many other  characters receiving visions and information of the past and future, including Airiam, a cybernetic being who regularly uploads her memories to the ship's core computer.
I think the Red Angel that Spock has known for most of his life, and nearly drove him insane, is probably some future version of Michael. The Red Angels always appear at the moment of some future catastrophe that the Discovery is supposed to prevent, which sounds exactly like the kind of thing Michael would do – trying to help the galaxy by heading off catastrophes, before they can happen, or save people during and after them. (At this point in the show, I have been proven both right and wrong about who the Red Angel is.)
As of this review, Michael and Spock have had some severely uneasy conversations regarding Michael's selfish tendencies to shoulder responsibility for things that are not her fault, like her parents deaths, the terrorist attacks against her as a child, and the danger to Sarek's family because of that,  or fix problems that are not hers to fix, like Spock's emotional issues. Needless to say, Michael does not like hearing these things about herself, but I agree with Spock.
From the beginning of the show, we've watched Michael try to solve everyone else's problems, and fix everyone, in favor of ignoring her own needs. This is most telling in an earlier episode where Tilly is going through some extreme emotional event, but so is Michael as she has just had a fight with her mother, and rather than focus on her own problem, Michael tries to fix Tilly's problem. his is a constant that can get a little frustrating at times, becomes it skirts too closely to the Mammy trope, (where a Black female character focuses her attention on solving the problems of the White characters around her rather than focusing on her own issues.) I understand why they are showing Michael like this. They are presenting Michael's focus on saving other people as a character flaw that Michael needs to work on, but that doesn't make it any easier to watch.
Spock confronts Michael, saying she is a martyr, who is always trying to save everyone, like Spock, Sarek, and her parents, even though she is not responsible for the situations they  find themselves in. Michael has to acknowledge this when she is given the decision to kill Airiam, to stop her from uploading information that will bring sentience to an AI that wants to destroy the galaxy. Michael desperately resists killing her friend, and is saved from having to do so, by the security officer who opens an airlock to destroy her. But we can see in that scene of Michael desperately trying to save Airiam's life, everything that Spock said about her, because not only was she disobeying a direct order from both Pike and Airiam, she was endangering her own life, and the lives of the entire ship's crew.
There is also the subplot of Dr. Culber being alive again, and Ash Tyler, now a member of Section 31, being back on the ship. If you remember from season one, Ash discovered he was a Klingon (Voq) who had been genetically altered to look human, with Ash Tyler's human personality as an overlay. The human Ash is dead, and this is who is left behind, the Voq personality having been expunged from the body. When he was Voq he killed Dr. Culber. Through the assistance of his  lover, Stamets, and Tilly, and the spores (which is an entirely different subplot connected to Culber) he is alive and again and reconciling his after life experience with who he is and what happened to him. This is a situation that is not helped by having his killer on board. Culber does try to work out his grievance by kicking Ash's ass, but that doesn't work, and he is still very …discombobulated, I guess. As of the last episode, thanks to some counseling from several friends, (and Gheorgiu), he is beginning to grasp some idea of who he is,  and what he meant to Stamets, but the two of them are still not yet reconciled.
As of the writing of this review, Discovery has been issued a renewal and we will be getting a Season three! I expect there to be a bigger ratings bump after the debut of Jordan Peele's new version of The Twilight Zone, especially after the success of his new movie, Us.
This review is a little bit late because I've had some life interfering in my leisure time, but hey! better late than never, huh? I will be back at the end of the season to give an overview of what happened and my thoughts about it.