I love covering these SCPs. It satisfies my love for horror stories and movies all year round, and I'm really glad I found it. Why didn't anybody tell me about the SCP Foundation before two years ago?
Here's my list of SCPs which are especially creepy, sneaky, and horrifying. These are SCPs that creep up on you, or masquerade as something else, in order to lure you closer before eating you, or maybe just scaring you to death.
SCP 906: Scouring Hive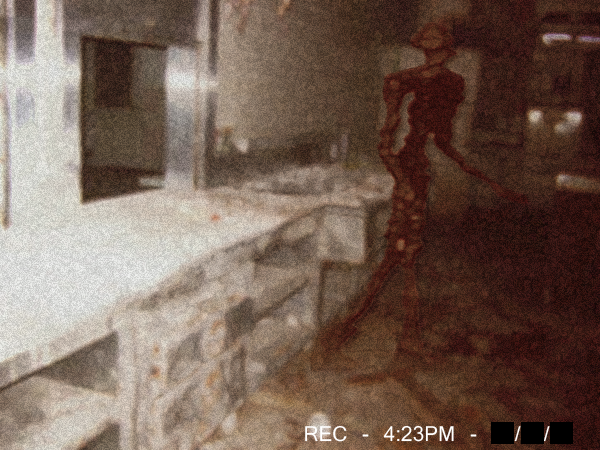 I found this SCP pretty horrifying, because its just a collection of bugs, that can group together, until they form a humanoid shape, which can mimic the sound of a human voice. If you've ever seen the movie Mimic, this is sort of like that, only these bugs are smaller. They produce a clear acid like substance that can burn through everything except titanium, and completely dissolves its prey. When it's hungry, it swarms its victims, covering them in the acidic liquid, until the person is reduced to a slurry that it can then more easily consume. It can only be destroyed by fire. Not only that, but it seems to enjoy targeting human beings, and has been known to laugh at its victims, after luring them in.
My brain isn't even trying to picture what this SCP might look like. (Probably disgusting.)
SCP 303: The Doorman
The Doorman is a cognito-hazard that, while it doesn't do any actual physical harm, is nonetheless terrifying, because that's the point. It's a humanoid shaped creature, with a large head that has no eyes, is mostly made up of teeth, and lurks near doors and windows, where it can stare in at its victims. The person's terror can become so great, they simply freeze, unable to move forward, or go through any doors, after having witnessed it. The Doorman only shows itself to one victim at a time, hiding when any other potential witnesses come near.
Oddly, the creature isn't doing this on purpose, as the fear it produces, is just a side effect of its presence, and it doesn't make physical contact with the people it observes, but I imagine that's of little comfort to people on the receiving end of that eyeless stare.
SCP 525: Spider Eyes
Oooh, this one is particularly disgusting, as it involves both eyeballs, and arachnids. Its also pretty weird since, in its original state, its just a bunch of disjointed legs, until more than six of them get put near each other, then they hook themselves together, and go looking for a host to inhabit. After finding a suitable life form, the legs go directly to a person's eyeballs, removes one of them, attaches itself to the eyeball just removed, then implants itself back in the eye socket. And then it just lives there, in the person's eye socket, until the eyeball withers away.
That's it. It doesn't take over the body, or make little spiders, or anything, and when its done with that host, it simply goes looking for a new one.
SCP 1471: Mal0 App
Okay, this one is pretty weird, and a little hard to describe, but essentially it's a stalker/hunter SCP, like a cross between It Follows, and The Ring, except it finds its victims through an app, of the same name. A person receives and invitation to download the app, and once they do, no shortcut will appear on their phone, but they will begin to receive images of the their new stalker, a large humanoid figure with the skull of some kind of dog, usually in background shots of places they like to frequent. They will be sent these images every few hours, starting with places they visited in the past, to places they just visited, and finally in the same place with them, and getting closer with each photo. The victim will also start to see the figure in their peripheral vision, or in reflective surfaces nearby.
Like The Doorman, it is non-hostile, but still terrifying to look at, and be stalked by, so I'm opting out of this one, too.
SCP 198: The Coffee Mug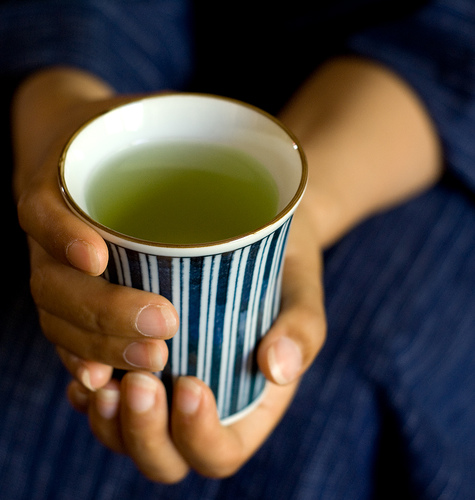 This pretty little cup is definitely one of the more disgusting ways to die. First of all, it changes its shape to trick people into picking it up, is difficult to contain, and is currently under heavy guard at the SCP Foundation, just in case it disappears at some point. When a person picks it up, it immediately bonds itself to their hands, in what is said to be an incredibly painful process, and cannot be removed, until the person is dead. So picking it up is essentially a death sentence unless someone is there to cut off the limb holding the cup.
After it bonds to its victim's hand, it begins to automatically fill with different body fluids from the victim, both dehydrating the person really, really, fast, and causing a tremendous thirst. The liquid could be anything from blood to mucus, to urine, to bile, but the only way to slow down the process of dehydration, and eventual death, is to drink what's in the cup, after which it will immediately fill up with more liquid. Not that that's going to save them, because throughout the entire process, the victim is still dehydrating. They will mummify much faster if they stop drinking, so pouring it out is not an option, if the victim wants to live a little bit longer, but eventually, they can't drink anymore, because they are either too full, or too repulsed to keep going.
And that's enough of that. My brain had no problem imagining this one.
SCP 1128: The Aquatic Horror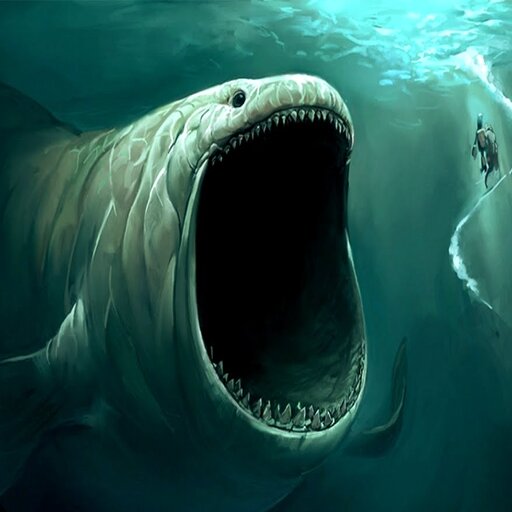 SCP 1128, is both a physio- and cognitohazard. Its a meme where, if someone describes this underwater creature to someone in detail, than that person will also be infected by the idea. There aren't any symptoms, at first, but eventually the person starts to become hydrophobic, and begin trying to avoid being immersed in water. After a few days of this fear/obsession, they can be pulled bodily into any amount of water, no matter its depth, and if fully immersed, they may or may not survive the event. Those that survive the experience, come back very disturbed, and frantic, and will describe being transported to a large body of water, where they are relentlessly chased by a massive predator.
And then there are the ones that don't make it back…
SCP 1382: Save Our Souls
This for me is one of the saddest and most horrifying SCP's. Just the entire idea of being trapped in a horrific situation that you can never get out of sounds pretty bleak. This is one of the aquatic SCPs, anchored to a buoy, with an alarm on it. When the alarm goes off, any water-going vessel, that's close to it, will sink, and its inhabitants will become part of the SCP.
The SCP itself (called 1382-1) is the remains of a downed airplane in Lake Michigan, that contains the skeletal remains of the passengers and crew. When the alarm on the buoy sounds an SOS, in Morse code, the remains will resurrect, and go through the motions of their last 13 seconds aboard the drowned aircraft. Any ship or boat near the buoy, when it sounds the SOS, will disappear, and its crew and passengers will become trapped with the remains on the drowned plane.
This sounds absolutely awful as the resurrected remains keep reliving their deaths over and over.
SCP: Mold Ester Moon
I'm not entirely sure that this is an SCP, because I couldn't find a number for it. Like The Doorman and Mal0, its essentially harmless, but is nevertheless still pretty damn creepy. There are a lot of rumors about what it will do to a person if it encounters them, but I couldn't confirm any of these on the SCP website. The Mold Ester is basically a moon shaped orb that just like It Follows, stalks its prey, slowly and relentlessly, until it finally catches up, and does something to them, but what, goes unsaid. According to rumor there is no escaping from it. Once it has targeted its prey, through line of sight, it will follow them without rest, passing through any solid objects, and ignoring all other people, until its prey is caught.
SCP 178: 3D Glasses
At first, these seem like a typical pair of cardboard 3-D glasses. But when a person puts them on, they can see into a kind of spirit world, that can affect this one. Putting on the glasses allows a person to see the vicious, ugly, alien beings that are invisible in everyday life. It is possible to survive having seen them, if a person pretends they haven't or simply doesn't react to their presence. Any reaction to seeing them, especially if a person tries to interact, will result in the creatures brutally slashing the person to death, once the glasses come off. What's more, the creatures often know the person is there, and will try to provoke a reaction by standing as close as possible to the viewer. Also, if one perosn sees them, and any other people are in the vicinity, they'll be killed too, even though they didn't see anything.
SCP 017: Shadow Person
This SCP appears to be the smoke-like shadow of a child, but given the opportunity, will devour whole, any human being that stands close enough to it for their own shadow to touch it.To that end, it must be surrounded by bright lights at all times, and any staff that manage its containment must wear reflective gear within the containment unit.
SCP 072: The Foot of the Bed
There's a reason to be afraid of the monster under the bed. This SCP resembles such a monster in that it attacks and consumes its victims when they go to bed. If a person leaves any limbs hanging off the edge of the bed, within reach of it, it will waken them, by first, tapping on their exposed limb, then paralyzing them, before slowly stripping all the skin and flesh from the dangling appendage, and squirreling that away somewhere. This can last for several hours, as the victim remains unable to move, scream, or call for help, but can feel everything. SCP is also contagious. If one bed in the house becomes infected with this SCP, it will spread to other beds in the room, and eventually the entire house. It manifests only as a hand, and only at certain light levels.
Honorable Mention: Weirdest SCP
SCP 2137: Forensic Ghost of Tupac Shakur
This is a fascinating SCP that, while not dangerous or horrifying, I had to talk about it, because its just sooo weird. Its a CD, of various songs by Tupac Shakur, that when played, solve current crimes. Its based on Tupac Shakur's Me Against the World CD, which the SCP Foundation uses to tip off the police, to capture murderers, or sometimes capture themselves.
When the Foundation decided it no longer would use the CD, because of the increased interaction with the police that came with doing so, the CD uploaded itself to the internet, where Tupac began a war against the SCP Foundation, by releasing classified SCP files, which threatened to create Keter Class world events. After coercing the Foundation into using it again, the Tupac CD is now considered a Thaumiel class object. Objects that are actually helpful to the Foundation in capturing murderers, or containing other SCPs. Such objects are incredibly rare, so they are well protected.
It also turns out that the CD is NOT actually possessed by the ghost of Tupac, but is in fact some sort of vengeance/justice higher being, that came to Earth, masquerading as Tupac. Once a murder has been solved, the CD seems to know this, and the track changes to provide information lon a new unsolved case. It is theorized that the entity that was Tupac Shakur will join with SCP 999, in its war against The Scarlet King, (a Euclid Class entity which we will discuss later.)
If you have the time, you have to listen to the entire file. The music is both spot on, and hilarious, as the musician who made this file sounds exactly like Tupac, and that 90s style of Rap that we all grew up listening to. This SCP is awesome (I was a huge Tupac fan), and has very quickly become one of my top favorite SCPs, right up there with SCP 1730 – What Happened to Site 13, and SCP 1936 – Daleport!
I have a couple more treats coming up for you guys. We'll talk more about the makeup SCP Foundation, including the different Mobile Task Forces, and the other major organizations that are a part of that world, as the SCP isn't the only one. I'll have a list of my favorite British Urban Fantasy novels, and some movie recommendations for Black History Month, that are more lighthearted than the usual fare we get. (Its not that struggle movies shouldn't be made, or that I don't support them, but I'm getting older now, and I'm kinda tired of those. It's time for Black films and TV series that are a little more fun.)