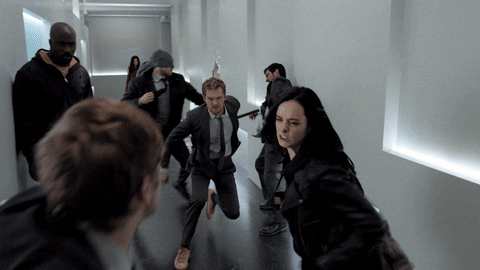 Instead of reviewing every episode, one by one, like most other reviewers, I've decided to just review the entire season.  Rather than 13 episodes, the series has been reduced to eight, which I feel was a really good idea, as this helps the story move along a lot more swiftly, and with less filler, than in the individual shows.  Since the plot is moving faster, and interludes are shortened, it's not possible to get too irritated by any particular plot point (The Villain), or character (Danny), because you just don't have much time for it.
Overall, I enjoyed the series. I can definitely say that I like certain characters much better in a team setting, than I did in their individual stories, because a lot of their weaknesses of character aren't on full display here, and when they are on display, there's a reason for it. I especially enjoyed all the team action, even just sitting around and talking to each other, because these guys are  a lot of fun together. Their fighting styles and attitudes just mesh really well, and they have great chemistry with each other, which makes for some interesting, and cool fight scenes, and some funny and snarky dialogue.
I think the show played up the reluctant hero angle a bit too much. The characters are always having conversations about how they're not heroes, and don't want to be heroes, especially Luke and Jessica. Matt is trying to quit  the superhero game as if he were going cold turkey from some kind of -ism. Danny is the only one who wants to be a hero, and he's not  remotely equipped to be one.
Luke Cage:
We get a slightly deeper understanding of Luke as a person, although there are no huge revelations, or anything. He still doesn't want to be a hero, he's still living in Harlem, still trying to figure out what he wants to do with his life, all of this is just as in his own show.  We see the opening moves of a friendship between him and Danny, and Luke and Claire finally go out for that coffee, before being awkwardly interrupted by Luke's former one night, Misty.
All of the characters get a chance to interact, one on one, during the series, although there's not a lot of forward momentum in their characters, or relationships. Just hints of things to come. We get hints of a reconciliation between him and Jessica. In the comic books, the two are married and have a baby, but I don't know if these shows will move in that direction. I'm opposed to it because of Jessica having killed his wife, (and then lied to him about it), and Jessica is also  not in any kind of emotional shape to have a relationship with anyone. Also, she is, ethically speaking, the complete opposite of  Luke, and I just don't see those two  styles of personality meshing well.
As I mentioned, the showrunner doesn't do anything new with the character. Luke remains a deeply principled guy who, while okay with kicking ass, is opposed to killing. He is not afraid to call someone on their shit, the way he does to Danny.
I love that all the characters have their place and purpose  in the team, and how their differing fighting styles are showcased. Luke is like Superman. He's invulnerable to most harm, and is often a shield for the others, when the guns come out. He's not completely invulnerable though, as Danny is one of the few people that can knock him off his feet (well…Danny and unexpected trucks). Seriously, the man is like a tank. He's even immune to fire.
The team needs Danny whenever they need a huge, loud distraction, as in the finale, when they needed to reach a safe place, but The Hand was being an obstruction. Danny is like a large explosive device, delivering concussive sound and force, and I like the way his powers are used here, although yeah, the glowing fist still looks kinda silly. Still, Luke and Danny are definitely the team's two heavy hitters.
One of the most annoying parts of the show is the Rap music that appears whenever Luke shows up on screen. To the showrunner: Hey! Luke does not  need a soundtrack to announce his presence!
Matt is the resident Ninja, and while Danny isn't too bad in that department, Danny has a different purpose. Matt is the kind of team member who can move in and out of a situation quickly and quietly, warn the team of any impending danger, (and get them out of trouble with the law,  if necessary, I guess.)
Matt Murdock: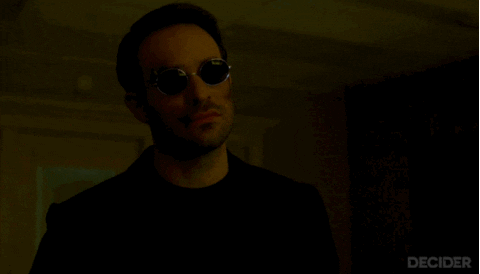 Matt spends a lot of the first couple of episodes trying not to be heroic, or save people. I think we're meant to believe that he gave it all up after losing Elektra, but since I wasn't buying his relationship with her, I didn't care. The two of them have no chemistry, and the emotional intensity of a pair of titmice, especially when it comes to passionate exchanges.
On the other hand, it was nice seeing him put his lawyer-ly shit down, it was nice to see Foggy and Karen again, and I'm glad the three of them made some effort towards reconciliation, especially after last season's events, when Karen found out he was Daredevil. The two of them treat, and talk about Matt, as if he were a recovering junkie, so that's kind of weird, made even weirder by scenes of Matt "staring" longingly at his Daredevil outfit, as if it were an ice cream sundae.
Actually, a lot of Charlie Cox's acting is off in this series. There's story movement, but his character remains pretty much the same. His fighting skills are awesome as ever, but Charlie looks like he's phoning in  his performance. When I called him a Floor Lamp Ninja, I meant that he could pretty much be swapped out by any other martial arts actor, and this would not  greatly affect the plot.
I did enjoy the scene where he tails Jessica on the streets and she susses him out, and when they meet for the first time in their superhero guises. Matt steals that big gray scarf she wears everywhere, to wrap around his face, and Jessica rolls her eyes at him.
Jessica Jones:
This show went a long way towards making me like this character. As much as she hates people, Jessica really does work well in a team setting. She takes nothing seriously, which ends up making her the funniest person in the group. Her one on one interactions with Matt are especially funny, and she gives absolutely no fucks about who  Danny is, and is quick to say so, which I thought was hilarious.
A lot of the weakness of Jessica's show is that its very White Feminist, and her mistreatment of PoC in the show really started, not just to grate on my nerves, but to make me actively dislike her, no matter how much I sympathized with her issues. I know and understand  that she is dealing with the severe trauma of what Killgrave did to her, but trauma is not an excuse for her abuse and mistreatment of characters of color.
I actually had a problem, not just with her,but with the show's writers as well. Despite women's trauma issues being  the center of  the story, they still managed to erase  WoC entirely, which is something White Feminism keeps doing, in stories that are supposed to be empowering to women. (The stories end up being empowering only  to White women.) But I still applaud the show for its messages and the general treatment of its (White) female characters. I see why some people liked it, but ultimately the show wasn't for me.
That's just the logical reasoning for why I disliked the show. The other reason is there was a lot of triggering shit in that show. I had to stop watching it, for my own self care, because I was not ready!
I liked Jessica in The Defenders, because the focus wasn't on Jessica's pain, so we got to see her reacting to other things. She's still an unlikable, alcoholic, snarky mess, but that's okay. Who says heroes have to be likable? Its especially interesting because unlikability is rare in female characters, and Jessica is thoroughly unapologetic about herself. At one point she very openly steals a can of beer, from a passed out homeless man on the subway, (because she's had a long day,) right in front of Matt and Luke, who handle  the act with no more than raised eyebrows.
Jessica is definitely the team's Tony Stark to Luke's Steve Rogers. There's much of the same personality dynamics present, except some of the motivation for  Jessica's rather  loose ethics stem partially from her trauma at the hands of Killgrave.
Danny Rand:
Yeah, for someone who talked a lot of shit about the Iron Fist series, I think you guys will be pleasantly surprised that I didn't actually dislike Danny Rand in this show. As I mentioned, the shorter running time for the series means that Danny's scenes are kept to a minimum, so he doesn't have as much time to be irritating. Not that he doesn't give it a big try.
Finn Jones has also had the benefit of some practice on his fight choreography, and better directors and it shows. His fight scenes aren't the trash fire that they were in Iron Fist, so he actually ends up looking competent. Plus, he just works better with a team of people, than he does on his own.
The team dynamics go a long way towards making Danny likable here, and really, in the next season of Iron Fist, the show runners really need to lean in to the ridiculousness of his story, rather than playing it straight, because yeah, Danny sounds like he's insane. None of the other team members take his backstory seriously, rolling their eyes every time he mentions he's the Immortal Iron Fist, an attitude I thought was incredibly funny. And then there's the silliness of him walking around with a large dragon tattoo on his test. His powers aren't funny, and the audience is never given to laugh at those, but his backstory is kinda nuts. Mr. I Punched a Dragon!
Another reason I like Danny here, is because the showrunner makes an effort to make his character understandable, in a way that he wasn't in his own series. In his own series, his behavior is incredibly rage inducing, and frustrating, (and I can't help but think that this change has at least a little to do with the showrunner being a man of color, who understands the issue in a way the last showrunner didn't). But here, Danny's behavior is in smaller doses, and he has more well developed characters reacting to his wtf*ery, so he's  a lot easier to understand. Granted, if the character had been cast as Asian to begin with, we wouldn't need all these careful repairs.
http://www.indiewire.com/2017/08/luke-cage-iron-fist-marvel-defenders-netflix-privilege-1201868048/
For example, at one point, he and Luke square off, with Luke confronting Danny about his privilege as a rich White man, who chooses to come into his part of town and beat up the impoverished Black people, rather than finding some other way to defeat The Hand's purposes. The Hand is able to operate with impunity in such neighborhoods because all they have to do is offer money. Luke's statement is a reminder to Danny that there's a bunch of other things he could've done, as a wealthy White man to defeat the purposes of The Hand, besides beating up the citizens. But then you notice that Danny's go-to, when dealing with The Hand, is only ever violence. He never tries to thwart them any other way, and thinks he can  simply punch his way to the proper outcome.
For example: Danny and Colleen find a warehouse full of bodies. The Hand is hiring young men from Luke's  neighborhood to  clean up any evidence that might lead to their organization. Danny and Colleen do not know this. They don't ask questions, have not investigated the situation, and haven't bothered to understand the why of any of it. The two of them immediately jump to kicking ass. Danny and Luke first meet when  Luke steps in to protect one of the young men, who has lost his family to The Hand, and feels coerced to work for them.
Luke's statement about his privilege is meant to remind Danny that there are other perspectives  besides his own. It's made very plain  that when it comes to The Hand, Danny has a huge blind spot.  Danny doesn't  think, he just reacts, and that was what happened at the warehouse, which  resulted in Danny brutally beating a (Black) teenage boy. He's  reckless, impulsive, and has anger issues. He and Colleen don't have any kind of a plan, beyond destroying The Hand. This gets mentioned a couple of times during the show.
https://www.theverge.com/2017/8/18/16118680/the-defenders-netflix-marvel-iron-fist-sucks
On to the good part: Danny doesn't get any better at being impulsive, but he does listen to what gets said to him. And the showrunner is a lot better at making clear what Danny's motivations are, something which is cloudier on his own show. Danny is looking for a purpose. Since he abdicated his responsibilities to K'un L'un (Why?), he's not only been looking for a way to atone for that, but looking for a new purpose to replace it, and probably looking for a new family too, as he's one of the few characters that's at all excited about teaming up. But again he is blind to his rage about The Hand, and as long as he remains blind to his lack of control, as regards them, he can accomplish nothing.
When the rest of the team find out the the The Hand is specifically after Danny, they try to get him to stand down, and stay out of their next fight, rather than just running up on 'em, without a plan. I'm always here for Danny getting his ass handed to him, which the team has to resort to, to keep Danny from fucking up, yet again. There follows a long interlude with him and Luke getting to know each other, and Danny trying to at least understand Luke's perspective on the world.
So yeah, this show went a little way to making me, if not like Danny, at least understand where he's coming from in terms I could easily grok.
Alexandria:
Sigourney Weaver turns in a beautiful performance, as I expected, before being unexpectedly dispatched near the end of the series. My biggest problem is that her motivations as a villain are so vague and ill-defined I was completely unable to care what her goals were. We know what she and the other members of The Hand want to do, but we have no idea why they want to take over the world, other than just wanting to do it.
I didn't focus on her unfathomable motivations. I just tried to focus on her performance.  She and Elektra have great chemistry, reminiscent of Ellen Ripley and Call, the Android from Alien Resurrection, and I found this dynamic fascinating. On a lighter note, I loved her outfits. Alexandra is always impeccably dressed. She just looks like a woman with a lot of money and extravagant but unshowy tastes.
Another problem that I have is that the women in this show rarely get to interact with each other, (although Claire and Colleen get some nice scenes together, and later, Colleen and Misty get to talk). Alexandra spends a lot of time alone. They couldn't even bother to write her as being friends to Madame Gao, having her treat Gao like a servant, which I found especially distasteful. Here you have a wealthy White woman treating this older Asian woman as if she were the Help, although there are other factors behind why she does it, it was still ugly and racist, even if that was not what was intended.
I still don't know why the  showrunners bothered to call Sigourney into this show, which she is simply too good for. I had noticed that her presence sidelines the Asian characters putting, them all in a subordinate position to her, and significantly reducing Madame Gao's street cred, that she's built over three other shows. As much as I like Sigourney, I feel like the story would have been better served without Alexandra.
Elektra:
I still do not like this character, because I just feel like she's evil for no  feckin' reason. I didn't like her in Daredevil either, because the writers just made her seem batshit insane for no reason. Elodie Young is gorgeous and all, and can actually act, as I've seen her elsewhere acting just fine, but I don't like the way she approached this character. When we first see her here, she has been brainwashed and controlled by The Hand, most especially Alexandra. She's pretty much a perfect example of the Born Sexy Yesterday Trope.  Later,  she appears to become evil on purpose,and for the life of me, I simply could not care.
http://tvtropes.org/pmwiki/discussion.php?id=dxgnmgk8728039vcnyat5g65
After Elektra's resurrection, she is mentored in her evil-ness by Alexandra, and it was really interesting watching the relationship between the two of them, but she does eventually betray Alexandra, and turns against The Hand. Once again, for no reason that I could discern than that the writers needed a new villain in the plot.
The show is somewhat formulaic, with the idea of replacing one Big Bad with another, halfway through the season. This happened with Iron Fist, Daredevil, and Luke Cage, where the viewer starts out with one villain, who gets unceremoniously dispatched by the true villain of the story. Basically, a villain bait and  switch.
I wanted to like Elektra. I just don't. I couldn't understand her motivations for anything, and I wasn't feeling her deep love affair with Matt Murdock. Which is not helped by Matt Murdock acting like  "Floor Lamp Ninja", throughout most of the series. When she's not smurking evil-ly, she has a blank, wide-eyed, look on her face, which I found kinda irritating. I got no problem with Elektra's martial skills. Those were exemplary, as always.
Colleen Wing:
She has even less personality growth here then in Iron Fist. In fact, I found her much more annoying in The Defenders, than I did in that show. She didn't make much of an impression on me for this show, either. Part of this has to do with the shorter length of the series. There's just not enough time to develop all the characters, so some of them get short shrift and hers is especially short.
The only thing we get from Colleen's is more of her being Danny's support network, (as she is told by Claire) and fighting the same endless fight against Bakuto, that she fought in Iron Fist, with Bakuto making the exact same talking points. Why he wants her is anybody's guess Is he in love? Wants her as a protege? We don't know or understand. His motivations are pretty vague. As are most The The Hand's motivations.
Collen's motivations are even less discernible to us than they were in Iron Fist. That was a problem that wasn't even approached here. We don't know why she loves him, and the two are not especially demonstrative, but nevertheless we are led to believe they are a couple. She may be Danny's emotional support but she's doing an awful job at helping him deal with his anger issues ,or his ideas about who and what he is. Case in point, it took a near total stranger, Luke , to point out one of Danny's biggest flaws. The problem may be that Colleen is unable to point out Danny's flaws because she's too much like him. She has a go along to get along attitude with Danny that I found irritating, never questioning what he says or does, and mindlessly following him in his quest. She has no story of her own, seemingly having gave it up to be little more than Danny's helpmate. The writers need to do better with her. Hopefully, if there is a spinoff show with Misty, she'll be better written.
As per usual there's nothing wrong with Colleen's martial skills. In fact the choreography isn't bad for the whole series, and at least a few of the directors know how to shoot fight scenes well enough to make them all different, and compelling enough, to keep watching. My favorite fight scenes are the team fights though.
Misty Knight:
There's not much character growth with Misty Knight either, but at least her motivations are clear. We know exactly what she wants in the narrative and why she wants it. She wants to solve her case, and get a promotion, (or not be fired), which is hindered by the fact that the people who could help her solve it, refuse to tell her anything, and the fact that, with The Hand, she is totally out of her league.
Misty is a cop, so she has mostly cop concerns, just as she did in Luke Cage. Shit is happening, her friends are in the middle of it, and they won't tell her anything, because they realize, but refuse to explain clearly to her, just how far out of her depth she is. I kept admonishing Luke (and Jessica) to make clear to her, that the organization they're  dealing with  doesn't give a flying hot damn if she's a cop, and will happily kill her (and her entire fam), but they kept refusing to tell her this, which was becoming really frustrating.
I've also seen some shitty meta about how she's a bad character because she keeps attacking people she needs help from, and I'm like Bish please! She's not attacking your White faves! She is being a cop, who knows that the information that will allow her to do her job, is being withheld. She's got one job in the damn show, which is solving her case, and  she can't do it, because  the four people who know something about it, won't tell her anything. So yeah, she gonna be irritated, and not afraid to show that irritation.  This is called DRAMA, people!( I'm trying to  remember that I'm dealing with the hysterical children of Tumblr, who think any time  characters of color show irritation at a White character's actions,  that it automatically makes them a villain. Yep! This is the level of logic I'm dealing with on Tumblr, guys!)
But she comes through in the end anyway, and lets the team handle their bidness. Although, I suspect she's mostly there because Luke and Claire were in danger. (Remember, Misty doesn't know who  any of those White people are. They are just mysterious somebodies who are obstructing her job. Luke and Claire are the ones who are her friends..)
Misty is known in the comic books for having a silver bionic arm, and for teaming up with Colleen to be the Daughters of the Dragon. (On an alternate Earth, she even gets to carry Steve Rogers shield, sorta like a female Bucky.) So,  we may get to see her new prosthetic in season two of Luke Cage, and if we're lucky we'll get to see her and Colleen team up. Hey! If side characters like the Punisher can get their own show, they can make a Daughters of the Dragon series, (possibly in the style of the Foxy Brown Blaxploitation movies of my youth.) The series should of course be helmed by a Black or Asian woman, because I absolutely do not  trust a White, male, showrunner to get a Black woman, and an Asian woman correct.
http://mashable.com/2017/08/18/the-defenders-misty-knight-arm-daughters-of-the-dragon-spinoff/#KKkkf8UKpmqx
The Hand:
https://www.bustle.com/p/who-are-the-five-fingers-of-the-hand-the-defenders-reveals-whos-pulling-the-strings-77358
Unfortunately, the shorter the running time of the series does not seem to allow much clarity on who, or what, The Hand is, or why they want what they want. We have some idea of what they're doing globally, not just in New York, but that's pretty much all we get.
New York starts experiencing a spate of seismic disturbances, which are being caused by The Hand digging near some sort of fault line, under a plot of land they built an office on. Why they are digging is slightly unclear. I think some dragon bones are involved becasue its briefly mentioned tat this has something to do with how Iron Fist got his power. For some reason ,they also need to capture Iron Fist and beat him up, or make him angry so he can open some kind of doorway to K'un L'un, so the five leaders of The Hand can go back home.
I did pay attention but really that's the best I can do regarding the rather lackluster plot. I really didn't care, although i guess its supposed to be some sort of revelation ,that the five leaders are all incredibly old, exiled citizens of K'un L'un. Even the facts of why they're exiled in the first place isn't made abundantly clear. I really hope the showrunner and the writers were making some kind of point about cloudy motivations, or something becasue the villains are a mess.
Alexandra gets unceremoniously dispatched and replaced by Elektra, who gives a self important speech about how she's now the leader of The Hand. I don't know if its the actress, or the writing, but I was bored by the whole thing. Why we were introduced to new memebers of The Hand only to have them killed right away is anyone's guess.
Since The Hand is an egalitarian organization there's a Japanese guy, whose name I don't remember, a Brazilian guy named Bakuto, an African (Haitian?) guy named Sowande, and Ms. Gao, who I assume is Chinese. Sowande reminds me of the lead character from the movie Beasts of the Southern Wilds who was a procurer of child soldiers. Sowande is brutally tortured and killed by he Defenders after they capture him in an attempt to find out his people's plans, something which did not sit well with me. And before you come into my inbox and start mansplaining about how the other members of The Hand also get killed, I have to remind you, that none of the other members of The Hand were brutally tortured first. This happens to the sole Black member of The Hand, by people who are, supposedly, the good guys.
Couple that scene with Iron Fist's brutal beating of a young Black boy in an earlier episode,Jessica jones treatment of its Black male characters,  Daredevil's treatment of its Asian characters as some type of Yellow Peril (which even the presence of a White woman leader cannot resolve), and Iron Fists White Savior issues, and it becomes clear that the the MCU has some serious racial issues that need addressing. The only disability on display is Matt Murdock's blindness. Jessica Jones treament of one of its lesbian characters was, quite simply, abominable, and outside of that there is no LGBT representation in any of it. Marvel comic books are doing much better in regards to these issues than the MCU.
One of the ways they can address some of these issues is by hiring different types of showrunners, and writers and treating the creation of these shows (and the movies which have all the same problems) the same way they approach the comic books. The newest phase of MCU movies have gotten a little bit better as far as racial issues (but not by much) and it's seriously lacking in LGBT and disability representation, and the creators of these projects need to think more deeply about these issues, most especially in its treatment of Asian characters across all of the MCU, as it's becoming creepily apparent that maybe don't like people of the Asian diaspora.
Despite all my criticisms though, I actually enjoyed watching it. I'm still glad I didn't have to spend 13 hours watching it, instead of the eight. The strongest part of the series are the scenes of The Defenders working together as a team. There's a lot of room for improvement but also a lot of promise for a season two.