Okay, this is a long one, so let's settle in.
We are now in the second season of Into the Badlands and the situation has changed greatly for most of the major characters. In the first episode of the season, we find out what happened to the major players of last season, get introduced to some new characters,  and are introduced to  a couple of surprise guests.
Sunny/Bajie:
Sunny tried to dupe the River King, when he substituted the head of one of his Baron's Cogs for MK's, after the River king asked him to kill the person responsible for murdering a hold full of cargo/people. Seriously pissed off, the River King has sold Sunny to a mining consortium. When the show opens, we get the full on dystopia treatment, and a nice fight scene with Sunny's first day at his involuntary job. The theme song for this was:
I'm liking the musical choices for this season. They're much more appropriate to the mood of the show, rather than just some generic background notes. I also hope to see more of the River King this season. He and Baron Jacobi were two of the more interesting characters introduced in the middle of last season.
So far this seems to be one of those alternate worlds where race and skin color doesn't seem to be a huge issue. none of the characters mention different races or cultures, which is just as interesting as if they did, but for opposite reasons. I like that this is a multicultural world, as I'm always suspicious of alternate worlds where there are no PoC, and I automatically give the side-eye to anyone arguing that those worlds shouldn't be.
At the top of the episode we get some great fight scenes, some greater world-building, and an introduction to a new character named Bajie, played by Nick Frost. You may remember him from Hot Fuzz, or Shaun of the Dead, and he's a welcome touch of humor for the series, which is pretty grim and gloomy. It also gives Danny Wu the opportunity to be show his sense of humor by playing straight man to Nick's cutting up. I'm always fascinated by funny Asians on TV,  as the media has a tendency to depict Asian people as grim and moody, or a punchline to someone else's jokes. I know Indians can be deeply funny, but I love to see Asian people of any culture, get snarky.
If you remember my earlier reviews,  I talked about how Into the Badlands was based on a Ming Dynasty era novel titled Journey to the West. Well, Bajie is based on one of the  characters from that story, named Zhu Bajie.  Zhu means pig. He's often called an idiot in the original novel, which I haven't read, but I take it he's the comedy relief.  The Bajie part of his name is based on the eight precepts of Buddhism, which are much stricter versions of the five precepts. Well, its appropriate because the character, Bajie, breaks every single one of them.
The Eight Precepts:
Human  is definitely Sunny's song. That and the title of the episode are both references to Sunny. The Chinese languages are full of these little pithy sayings, which are like the American equivalents of ,"You can lead a horse to water…". I couldn't find a direct translation of the phrase Tiger Pushing Mountains, (its one of the forms of Tai Chi) but once you see the episode, you will understand the references to Sunny.
In episode two, after Bajie betrays Sunny, who has impressed the warden by beating the shit out of his men, while in restraints no less,  Sunny gets drafted to do some pitfighting. In every TV show about prison there must be a pitfight. I believe it's some kind of law.  Naturally Sunny wins and uses the fight as an opportunity to escape, while attached to Bajie with chains.
The show is a lot more gory than it was last season. There's a lot more blood flow as one guy gets thrown into a giant spinning fan, and another guy gets his throat cut onscreen.  I also love the banter between Bajie and Sunny. Sunny never had much of a sense of humor last season (the only person he ever smiled at was Veil) and his responses to Bajie's foolishness gives Daniel Wu a chance to show his acting range, as we get to see him express more than  one emotion.
MK/The Master:
MK as been secreted away at some type of monastery, where he can learn to use his superpowers correctly. The show gives Marvel a big  middle finger by having The Master of the monastery be portrayed by an Asian- Black woman, Chipo Chung, who has starred in the movies Sunshine, and the show Camelot. This is how you cast an Ancient martial arts master when you don't want to adhere to Asian stereotypes.
It turns out,  due to the trauma of having killed people with his powers, he has formed some kind of alternate self, that the master says he must defeat, if he's ever going to leave the monastery. MK is desperate to leave because he thinks Tilda, Sunny and the others needs him. His alternate personality is the master of his powers, and is far stronger than him, so we get a lot of scenes of MK beating the crap out of himself, and the disturbing implication that he may have killed his mother, and doesn't remember that either.
The Master tells him that he's the most powerful Jedi…uhm, student, she has ever had, after she rebuffs his demon self and breaks her arm. We know because we get to see her magically heal the jutting bones of her forearm afterward. Ugh! I'm loving this character though because she's like a more stern version of Yoda. She has little patience for MK's snark. I think its hilarious how he seems to have that effect on all his mentors.
For his part, MK is his usual snarky, whiny self. Yes, he's annoying, but I still like him because he's annoying in an authentically teenagery way, that I just find funny. He' s snarky, impatient, wants to know everything at one time, and seemingly fearless towards people he knows are more powerful than him. And played by Aramis Knight, he's also distractingly pretty, and you can see, in his face, the grown man that he'll later become.
Veil/Quinn:
Veil has given birth to a baby boy she names Henry, after her father. The midwife turns out to be none other than Baron Quinn, who we thought was killed by Sunny last season. He's still as weird as  ever, and although he claims he isn't, he's actually holding Veil prisoner, while making creepy implications that he'd love to be closer to her. He also makes it clear that he has plans for Sunny's, and Veil's, child.
Quinn is a snake oil salesman of the first order. He's always got honey-coated speeches, ready to deploy, against the naive and the gullible. You could see that in the first season. His speeches to his clippers about how wonderful a leader he is, to Sunny about the Badlands, to Veil about Sunny, to MK about Sunny, are all designed to get people to do what he wants, and believe what he  wants, even if he seems to be talking about what they want.
Veil is as lovely as ever, but we have yet to see any backbone from her. She hasn't made any real effort to escape. Despite Quinn having some kind of  weird, Cult of Clippers Ceremonial Bloodening of the baby, she probably just hasn't gotten desperate enough. She also has remained unharmed, although the Baron's men have been leering at her, when he's not paying attention. We await her further entrance into the plot, probably by trying to escape the Baron's craziness, and if his brain tumor has been progressing, then he is definitely a noodle short of a bowl of soup.
To be  clear, a show like Into the Badlands is somewhat unprecedented, so I have no idea what to predict for these characters, or where the plot will take any of them. For all I know, Veil might end up having a baby like MK, and ending up at the monastery with him.
Jade and Ryder:
These two are finally as together as they longed to be, and Ryder is as trifling as he always was. He is still trying to live up to his father's legacy, while being propped up by Jade. I'm sorry, but Ryder doesn't strike me as the brightest penny in the wrapper. It's no wonder no one had any respect for him. He tried to take over some of the Widow's territory but isn't strong enough to hold it,and loses it back to her because, while he is wildly ambitious, he has no idea how to plan ahead.
Just as I suspected, Jade isn't half as light and innocent, as she had Quinn believing. She's got a brand new wardrobe, and new attitude, as the wifey master of Quinn's territory. In her defense,  she does appear to truly be in love with Ryder, although that's not really saying much, because she truly appeared to be in love with Quinn, too. I wonder what will happen if she encounters the Baron again, as she turned out to be a lot more duplicitous than I thought she would be.
The Widow/Tilda/ Waldo: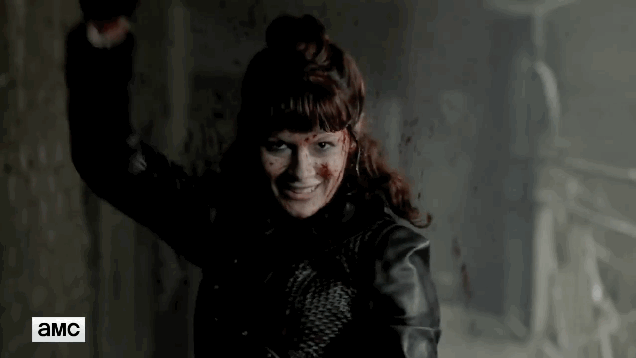 The Widow gets some of the best action in the entire first episode, despite Sunny's antics, and she is always going to be one of my favorite characters.  Unlike most people, I'm not at all put out by the idea of women wearing heels, in a fight. I do get kind of exasperated when they're wearing skimpy little outfits with heels, but I have the greatest admiration for the Widow, who always dresses to the nines, for all her fights. The Widow, with Tilda as her new Regent), mows down a whole crop of Ryder's Clippers, just to deliver the message to Jade that she was taking back possession of her oil fields.
Tilda is still feeling conflicted over her Mother's activities and plans for the Badlands. When her mother decides to release a group of Ryder's Clippers, giving them free passage back to their home, Tilda goes against her mother's express word, and with a posse of her own butterflies, has the Clippers secretly killed. Tilda's become more independent of her mother and I see some future betrayal. I wonder if she and MK will meet again, and how they'll react to the changes in each other's lives and personalities.
Waldo (Quinn's former Regent)has joined the Widow, as her adviser, and is fully on board with her plans to reform the Badlands. He has training sessions with Tilda, who he seems to have taken under his wing, and although he can't walk, he still doesn't go easy on her, or is very nice to her, either.
Lydia/Ryder
Lydia was doing well with her father, but after they're attacked by Nomads, and she kills the two men, her father condemns her again. She killed the men to save her father's life. We finally get to see Lydia kick some ass. Contrast her fight scene, with Jade's complete inability to do any kind of fighting, and you get some idea of the formidable opponent she was for Quinn. She's pretty ferocious, but unlike the Widow, she is completely untrained, too. So everyone in the show has different fighting styles, which is important. I like how the show treats the women. They're at least as dangerous as any of the men, and although rape is sometihng that is implied, it escapes the Game of Thrones problem of showing it to us, or using it as a plot point, all the time. Its interesting to me that a lot of shows have decided to do away with rape, as the entire plot, point all together, and only imply that it might happen, or that it used to happen.
As a side note, we'll use The Walking Dead, as an example, where occasionally one of the Saviors might act  interested in raping someone, but it's never shown. Its explained in the narrative that Negan has forbidden rape, and any man who rapes a woman, he kills. In a show like The Walking Dead, where consequences for one's actions are not necessarily an issue, I expected it to be one of those go-tos, just like on GoT, and I keep being surprised when they don't do it.
It was really frustrating watching Lydia's father  condemn her for killing, saying that killing is only the province of the gods, and what right did she have to step into that space, while entirely neglecting that the nomads kill all the time, and are hardly godlike creatures. In her father's mind, its perfectly okay to not defend his own life, or even the lives of his people. The irony is that Quinn's bloodshed is what kept his people safe, and allowed them the space to form such extreme views, or his little cult would've gone extinct long ago, having been killed off by others, who are also willing to kill. So Lydia's father is willing to accept bloodshed, in his name, as long as he doesn't have to see it, I guess. The moment she killed the men I knew she would be banished though. Her father wouldn't allow her to have a place there with blood on her hands, so I was not surprised to see her visiting Ryder later.
It turns out, Quinn protected her father's little cult from the depredations of the Nomads, and she'd like Ryder to continue doing that. But her advice triggers Ryder's daddy issues and he rejects her request, and her. My advice to her: Go  to the Widow. If Lydia truly wants to keep her father safe, she'll make whatever deal with her that she can. I'd love to see what kind of mischief the Widow could get up to, with both Lydia's, and Waldo's, advice.
As it stands now, most of the characters are paired up, and unaware of what's happened to the other characters. No one has mentioned Waldo, so I don't think they know he's working with the Widow. No one knows Quinn  is alive. Tilda knows nothing about MK's fate. Veil believes Sunny is alive despite Quinn (with his ain't shit ass) trying to convince her that Sunny abandoned her.
The World-building:
I also want to commend the world-building, in these episodes, as we get to see a lot more of not just the Badlands but the world outside of them. There's an entire economy in the Badlands, which is something I had questions about the first season. We also find out, in episode two, that there's a massive wall separating the Badlands from the supposedly civilized parts of the country.
The Fights:
The fight scenes have been stepped up a notch. They're even more wild and outrageous than last seasons fights, being more fun and completely over the top Wuxia style fights. Everybody's fighting styles is different. Bajie doesnt fight like Sunny. His fighting style is more of the Iron Man/Brawler style. He fights like the large man he is. Sunny and the Widow are the two most balletic fighters and eve nstill, the Widow fights like a woman. She's not dainty, or anything like that, but her fighting style fits her personality. Tilda doesn't fight like her mother. She is much more pragmatic and efficient, sort of like Quinn.
Waldo is the most interesting, because the writers have taken the time to come up with a style for a man confined to a wheechair, that's a believable style. We've seen him kick both MK's and Tilda's asses from that chair, and part of his ability to do that, is people keep underestimating what he can do from that chair. They think, because the legs aren't working, that the rest of him is limited too, and one of the low-key messages of last season was people underestimating other people's fighting abilities, because they were handicapped, or because they're  women, or because they're children, and then getting their asses burned. I see this is a theme set to continue this season, as we watch Sunny beat up an entire team of free-roaming nobodies, basically with his hands tied behnd his back both times. The first time, while in stocks, and the second time hobbled, by being chained to Bajie.
This is the first time we've seen Sunny as less than godlike. In the first season he was mostly kind of invincible, and I like how they keep showing him get occasionally defeated by someone like the monks, or the guards in the prison.
Well, I'm going to continue these reviews, hopefuly in a more timely manner than this. I'm as enthused and happy about this show as I was disappointed by Iron Fist.