American Gods began its second season last week.
Let's talk about it!
But first we need to have some behind the scenes discussion, just like in the show itself. Bryan Fuller is no longer the show runner for this season. He was let go after writing a couple of this season's episodes.
American Gods is taking new steps forward today, though; Jesse Alexander, who worked with Fuller on Hannibal and Star Trek: Discovery, has been officially named as its new showrunner. Meanwhile, the six scripts Green and Fuller had already written for the show's second season are allegedly set to be tossed out, with Alexander and Gaiman returning to square one as they fight to get the series back up and running for its anticipated January 2019 return.
  ——  https://www.avclub.com/the-bryan-fuller-american-gods-breakup-was-apparently-e-1822682450
The new show runners are the author of the book, Neil Gaiman, and Jessie Alexander (who is also now out). I'm not sure how I feel about that. I've never watched a show run by Gaiman before, but I am familiar with Fuller's output. Those of you who watched last season are going to notice some differences in how the story gets told, and I am not confident that Gaiman will keep that same in your face attitude that was such a great part of the first season. Its possible the show may end up being little more than a lovely spectacle, but I'm not going to give up on the series just because Fuller isn't on it. I'm really curious about what's going to happen this season, and the show has already been renewed for a third, so even though I have some doubts that it won't be as good as Fuller's version, there might be other compensations. I'm sticking with it.
That Fuller is an openly gay man had a lot of influence on what was depicted on screen, most especially in the episode Head Full of Snow, where we met Salim and the Djinn. Fuller was also responsible for the many subtle layers throughout the season, as he is a master of subtext. There have already been some dramatic changes, because Kristen Chenoweth and Gillian Anderson left the show on Fuller's heels, and the writers have had to accommodate that. So  we do not pick up where we left off at the end of season one, and Ostara's actions at the end of that season seems to have had little effect on the world.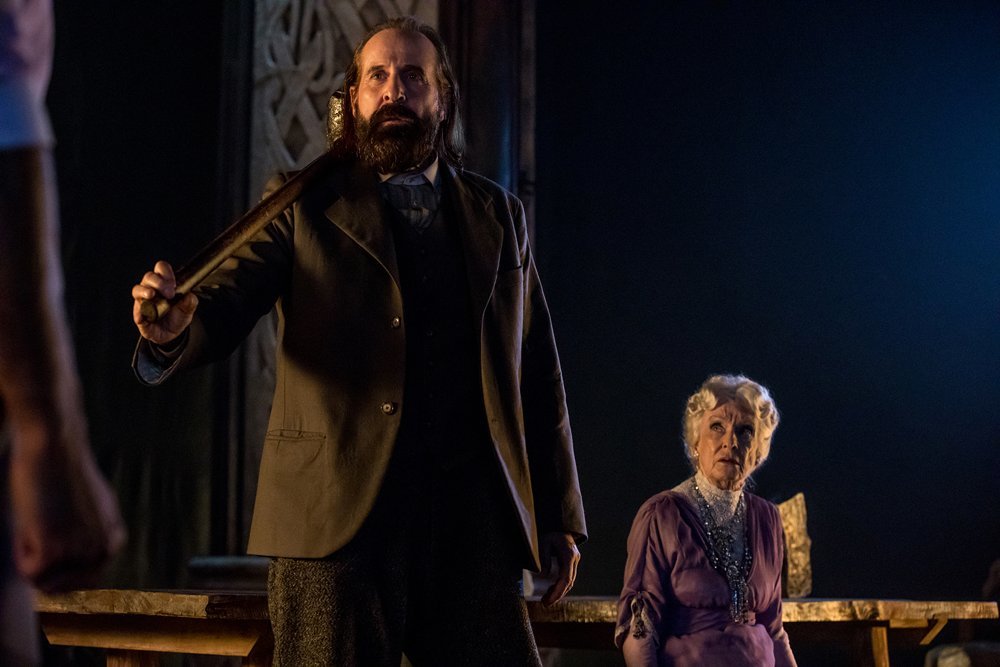 Aside from a brief background news piece, this action has no clear impact on the world, and Easter has apparently turned her back on Wednesday because he ran over some of her bunnies.
And to explain Anderson's absence from the show:
Meanwhile, the New God Media, who Anderson played with an overabundance of confidence as she threatened and cajoled heroes and villains alike, was apparently so shaken by Wednesday's display of power that she's gone into hiding to reinvent herself. 
——-   https://www.theverge.com/2019/3/10/18258816/american-gods-review-season-2-ian-macshane-gillian-anderson-kristin-chenoweth-starz
The story opens with Mr World bruised and battered, being ferried to a secret location by Technical Boy. Media has disappeared, after her run in with Easter, and TB is  tasked with finding her by Mr. World. Mr. World is in this secret location to visit Argus, a secret surveillance site (and an old god of some kind, which is the reason Technical Boy is not allowed to meet him. Mr. World can spy  on the old gods, thanks to the presence of Bilquis, and her tracking device.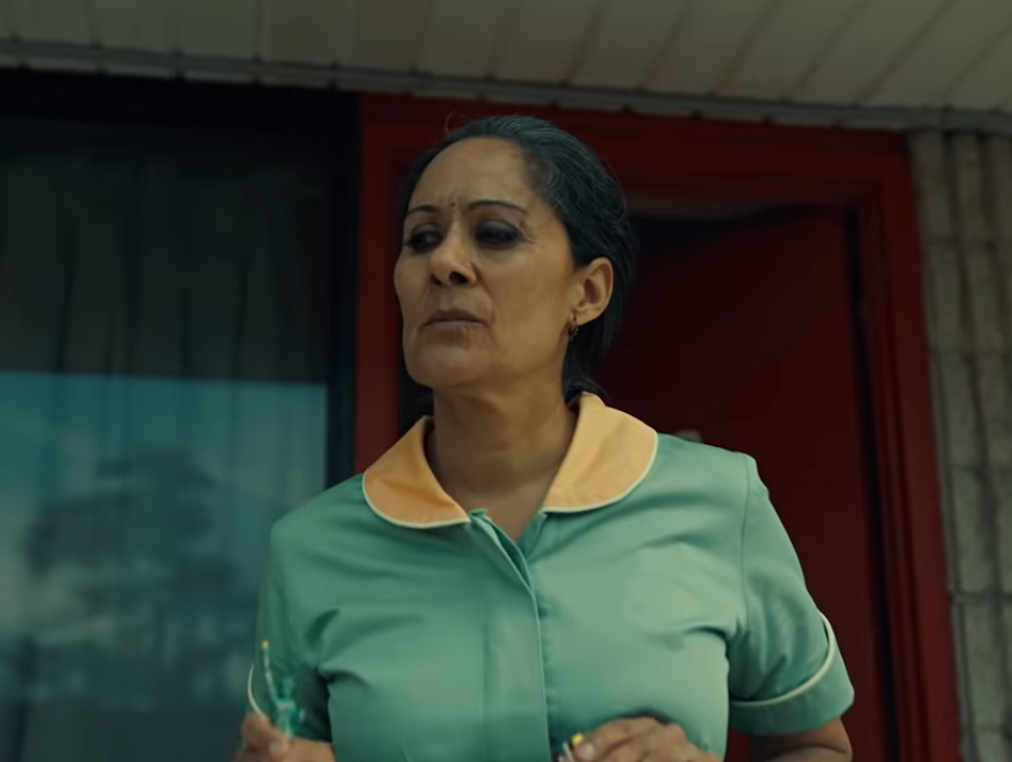 In the meantime, all the gods we saw from the first season make their way to the House on the Rock, along with a couple of hangers on. Sweeney, Laura, Wednesday, and Shadow all travel in the same car and their proximity to each other is not easy. Sweeney hates everyone, and Shadow and Laura are not comfortable with each other.There's a lot more of the book dialogue in the episode, as Nancy ,and Wednesday talk about the history of the House on the Rock. Neil Gaiman wanted more of the book to be on the screen and he has somewhat got his wish.
We are  introduced to Kali, also known as Mama Ji who is one of my favorite characters from the book, even though she doesn't get a lot to do beyond some ass kicking, and her speech in this episode.  I hope we get to see more of her this season. As a human, she works in a local hotel, in the humble position of a housemaid. She argues that she doesn't need a war because her position as an Indian deity is pretty strong, due to the influx of Indian immigrants to America. As am extremely powerful True God, in her own right, she argues that she is in no danger of being forgotten. Whiskey Jack and John Henry also get name checked.
Bilquis was sent by Mr. World to spy on the meeting of the old gods, and according to Mr. World, make her complicit in his act of betrayal later in the movie, which we'll get to in a moment. Bilquis was chosen for this because she owes Technical Boy a favor for creating the dating app that has given her new worshipers, and she is definitely feeling her own power, (as we saw last season when she tried to seduce TB), and she is reluctant to do anything for the new gods. They need a way to keep her in line, and one their side, otherwise she is too powerful to control. So ironically, Bilquis ends up in exactly the situation that was talked about in the first season when she was exiled from her homeland, her sexuality now under the control of a men, to be unleashed when they only with their permission.
At the House, the Djinn, who is working security, is confronted by Salim, who tells him that he is following his heart and wants to stay with him. The Djinn wants him to go away because its too dangerous for him to get involved in this war. The Djinn issues everyone coins to a mechanical oracle as a kind of reverse entry fee to the meeting. Bilquis prophecy has something to do with Shadow because when she receives hers, she glances sharply in his direction. Notice the very warm greeting between her and Mr. Nancy vs. the one between her and Wednesday which is decidedly cooler, as she chastises  him that she is older than him, and he neglected to invite her.
Sweeney, Salim, and Laura are not invited to the meeting, and must wait outside, but Shadow gets a ticket and his prophecy is interesting:
Every ending is a new beginning
Your lucky number is none
Your lucky color is dead
Motto: Like father, like son"
If you've read the book, then YOU know what that prophecy means but Shadow is mystified.
The gods all meet up just before the meeting which involves riding the Carousel. Bilquis expresses some interest in who Shadow is. Everyone is always curious about Shadow and what he's doing hanging out with Wednesday. Bilquis and Nancy admire Shadow's physique although of course Nancy takes every opportunity to belittle him. Nancy's son gets a shout out, too. If you haven't read Anansi Boys, then check it out. Its not directly related to American Gods,  but is related thematically for its theme of  relationships between fathers and sons.
Laura, even though she's not invited, demands a coin for a prophecy too ,and the Djinn tries to refuse her but is warned away from making Laura angry by Salim and Sweeney. Her prophecy is blank, because she's already dead. She has no future. Wednesday meets with the eldest Zoraya, The Evening Star, who looks lovely and is played by the magnificent Cloris Leachman, and her brother Czernobog, who is his usual profane self.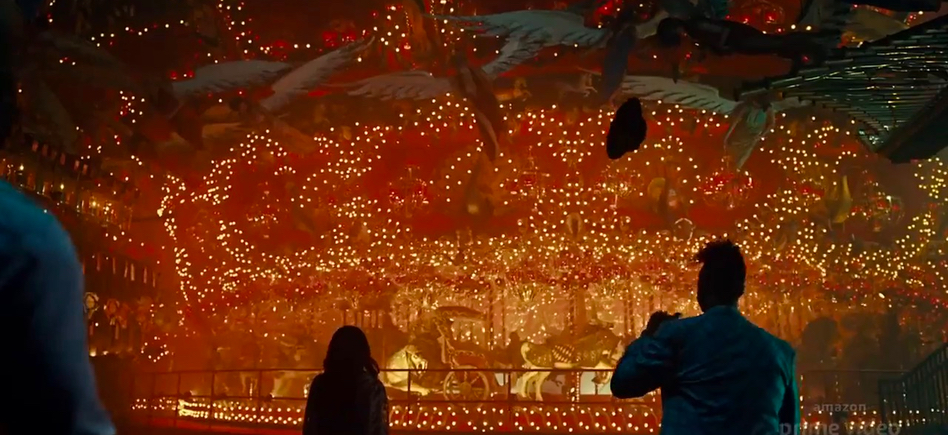 The old gods all meet to ride the Carousel and invite Shadow to ride as well. As I mentioned last season, there are a lot of things the gods do that is related to their worship, like smoking, and prophecy. The act of or the idea of spinning is a theme across several religions, with the most famous being Sufi Whirling, or Whirling Dervishes of Turkey. Whirling in circles is a form of active meditation used  to touch the divine. Even some of the fundamentalist Christian regions mention spinning in circles as a way to connect with God, or a sign that one has connected with God.
This is the purpose of the carousel, as Shadow is connected to the gods by the whirl of the machine, he wakes up in a mental state in which he can see the gods true forms.  The old gods are reluctant to join Wednesday in his war against the new gods, but Shadow gives a rallying speech ,which Wednesday believes will sway some of them.
After the meeting the old gods meet at a local diner where Shadow get gaslighted by the gods, who pretend the carousel event didn't occur, and will not answer his question about whether or not they are all gods. Technically, some of the them are just Personages, not gods. I would call them Powers, like Mad Sweeney, and the Djinn. Shadow also  tries to ignore Laura exists, but she is somewhat compensated by Bilquis' attention to her.
I have no idea if Bilquis has the ability to turn her seduction powers on and off, or if they are simply innate to her, or if they work, or don't work, on some people. Certainly many of the gods, both old and new, seem able to resists her charms, but ordinary humans cannot. It's hard to tell if her powers are working on them. First she tries to guess if Laura is some sort of god, because she recognizes that Laura is different from an ordinary human, and seems attracted to her, until she finds out that Laura is married to Shadow, and then kisses her. Beyond looking bashful Laura doesn't really respond.
Bilquis leaves but has signaled the location to Mr. World , who has sent an assassin to take out as many of the old gods as possible. The primary casualty is Zoraya, The Evening Star, who dies in Wednesday arms. Her brother goes on a long rant about what he pans to do to the killer, and its an interesting speech. You  will recognize the prophetic content of it if you've read the book.
I really do hope we get to see the Zoraya sister again. Cloris Leachman is a favorite of mine, and her character was hilarious, and played to perfection.
Shadow runs outside to beat up the assassin, but gets abducted by what appears to be a UFO. This is the introduction of another character I do not remember from the book, Mr. Town. He works for the new gods and wants to get to the bottom of who Shadow is, and why he is with Wednesday.
So in the second episode we get to find out a lot about Shadow along with some new questions as well.
*I am very late with these reviews, but life has a way of delaying one's well laid out plans and that's what happened this week.  So for the next couple of weeks, it's just going to be reviews of shows I've been watching, rather than my usual essays. Next week is the premiere of the last episodes of the last season of Into the Badlands, and I'll be focusing on those, and I have  reviews of Doom Patrol, Upgrade vs. Venom, and  Siren, coming soon.