Plot:
The plot this season was much more intricate, with multiple characters, arcs, intentions, and designs. There was a lot to fit into eight episodes, and that the show managed to keep so many plot lines coherent, while tying up several from last season, is a testament to the skills of the writers. As outlined in the character reviews, everyone got to have a plot. The overriding theme seemed to be everyone seeking power, in the vacuum left behind by Baron Quinn's rumored death.
The overriding character arcs were the Widow's corrupt rise to power, Sunny's search for his wife, MK's escape, and Baron Quinn's last hurrah. The writers juggled these four plots with a number of subs, managing to keep most of them untangled, and comprehensible, while still throwing  in a number of unpredictable twists and turns, which I enjoyed. The betrayals were flying fast and furious at one point, and if you blinked you'd miss who was aligning with who.
My biggest complaint is the treatment of the black characters, Edgar, Silver Moon, Veil, an unnamed black teenager at the monastery, and an unnamed butterfly, who were all brutally killed. Of them, only Silver, and Veil, had backstories. The show can do better than that.  I don't think the show wants to get embroiled in a discussion of anti-blackness, but it will, if it keeps killing off  all its black characters like that.
Plus, it gives us one of the worst types of  character trope, in the show's finale, with the fridging of Sunny's love interest, a black woman who sacrifices herself, to save her man. It seems no matter how progressive white male writers believe themselves to be, they simply cannot seem to avoid the trope of the Sacrificial Negro.
That said, my favorite character this season was Silver Moon. I loved this character but I don't know why. Probably because he reminds me of the character from the RZA's Martial Arts movie, The Man with the Iron Fists. I also think it's very interesting that Sunny, even after he had his own sword returned to him, kept using the one he took from Silver, giving his old sword to Lydia. This character had lines and a backstory. They tried really hard to flesh him out, and that's to be applauded.
Complaints aside, I am glad that the show remembers there are Black people in the future, and in a fantasy setting, just walking around in the background scenes. The show does need to add more Asian characters though, and Baron Chau is a good start. I loved watching her kick some ass, and liked that she lives to see the next season. She's played by actress Eleanor Matsuuras, who is from Hertfordshire by way of Tokyo, and has mostly starred in British productions.
Worldbuilding:
We didn't get to see much architecture and landscapes in the last season, and what there was, seemed more of an afterthought, but with the show's bigger budget this season, we got some very ambitious, sometimes epic, background scenery. From the shot of the huge walls that cut off the badlands from the rest of the world, to the  intricate and lush gardens surrounding the Widow's home, we got treated to some tremendous worldbuilding. And the details of this world are simply incredible, as seen in the Widow's study, and the map of the Badlands above, that's only glimpsed in a brief moment in a single episode, which outlines where this takes place in the US, and marks the different baronies.
I remember that first season, I had some major questions about food and textile production, and we get a partial answer, in learning that not everyone grows poppies. There are oil fields, and if that is the case, then there are also textile mills somewhere as well. These things aren't knowledge that would be lost, since creating fabrics is one of the most basic human skills. Certainly the working and tooling of leather hasn't been lost, or car repair either, it seems. We got such a small glimpse of the world in the first season, that we were left with a ton of questions, but the show has really built on that in a way that makes sense for the Badlands. This world is set to become even bigger in the third season after Bajie's Morse code message is received.
We're also given some startling glimpses into what type of world we've joined. Apparently this world is set about a hundred or so years from now, (how far into the future is unclear, so I could be wrong), but it's long after some sort of soft apocalypse, that left lots of infrastructure, and fewer people. In one of the episodes, MK and Ava visit a long abandoned mall/dept store, that still has Christmas lights and decorations. It can't be too far into the future because the lights still work. There's electricity in some places. There's little literacy, but some knowledge of medicines and machines ( like X-rays) is still available in the Badlands. And then there's this unseen city (Astra) that everyone keeps talking about.
And it's not just the landscapes, but all the tiny details inside the homes of various characters, like Baron Chau's all white interiors, and grand wall paintings, the dark, old-world, furnishings of the Widows home, the dark majesty of Quinn's home in exile, in an abandoned metro station. We may have started the show traveling through the classic Mad Max dystopia of the mines, but not all of the Badlands looks that way, and it was very exciting to get these glimpses into a broken past.
Costumes:
The series had some stunning costume work this season, with rich colors, and beautiful, very sexy, outlines. This is very probably one of the sexiest martial arts shows I've ever watched, as usually the costumes for this type of genre can be somewhat pragmatic.You can see there's real intent  to create a feeling of lost majesty/ bygone luster.
And every  character (even the most minor of them) gets the luxury treatment. From Silver Moon's  old and tattered Clipper outfit, to Tilda's pragmatic, newly minted Regent uniform,  from Baron Chau's sumptuous furs and glittery dresses, to Quinn's scuffed and grubby finery. These details really bring home the kind of lifestyles of the Baron's, as the Cogs are dressed in the simplest colors and practical, easily cared for, fabrics.
Everything, and everyone, is given gorgeous detail, from hair, to  shoes, to makeup, furniture, and housing. From Baron Chau's pearl jewelry and on-point makeup, to the Widow's more action oriented look, with everyone receiving more elaborate hairstyles, including MK. Even Waldo gets some scrumptious blue velvet to wear.
Each Barony has its own color scheme. Quinn's was dried blood red, but now that it's been taken over by Jade and Ryder, it's a fresher, magenta red color. Baron Chau's color scheme is white. Another Baron's color is green. The Widow's colors are a deep royal blue. The monks and MK are wearing various shades of purples, and oranges. After he escapes the monastery, MK is seeing wearing a gorgeous green surplus, that I wanted for myself, along with some more gentle earthtones.
Even the lowest, most minor characters, got the full costume treatment. Look at the detail on this Junkyard King, in his darkened purple, and mother of pearl buttons. Contrast that with the  fresher and more vibrant purple of MKs monk's robes. I love the matching color schemes in these two photos.

The duplicitous and conniving Jade. Her hair and makeup also reflect her character. Contrast that with her more innocent look in the first season.

Veil is often associated with soft natural colors, and earth tones, in keeping with her honest, down to earth, nature.

The details this season are incredible. Check out Waldo's pince nez glasses, the little crossed cufflinks, and the chair handle ornaments! I also liked MK's more elaborate hairstyle, with its tiny twists. Most of these things you're never going to notice during the series, except for a quick second, but the set designers and prop masters went the full one hundred, anyway. This is the first time I really noticed Waldo's knuckle tattoos, from his time as a Clipper.
I have since learned that the painting in Baron Chau's home is called "Leonidas at Thermopylae", and is a reference to Sunny making a commitment to a fight he knows he won't survive. It's by a Neo-Classical French painter of the 19th century, named Jacques Louis-David. Sunny's and Chau's postures imitate the formal poses in the painting. This was a hallmark of the Classical style in which grand Mythological and Historical themes were painted in a clean, formal manner.
Contrast Chau's white minimalist environment, and  the marble columns, with Minerva's home which is  very Old- World traditional, with lots of greenery, velvet, and hard-wood.  Chau's home, and costumes are also a reflection of her character, which is just as cool and calculating, as Minerva's is cool,yet determined.

I love the details here as one of the girls wears a matching blue ballerina skirt under her coat.Just a touch of whimsy for a little girl Clipper. I also like the natural hairstyles on the black girls. I'm glad this show remembered black women exist, even if they're not treated especially well.

Baron Quinn is like the Badlands version of Darth Vader. Everyone is afraid of this grim creature, come back from the dead, to destroy all their lives. Check out the tiny details like the little glimpses of red in his new outfit, a callback to when he used to be a Baron, and the tiny rivets on his  belts. The rough, nubby, texture of his coat is in keeping with his new rugged lifestyle, and gives the viewer some idea of his rough character, and disturbed mindset. Except for his voice, he's just rough all over.
Contrast Quinn's look with Jade's smoothly streamlined look,  since moving into a more comfortable position of power with Ryder, below. There's more than a touch of the Antebellum South in Ryder's suit coat, which is a deliberate choice on the part of the costume dept.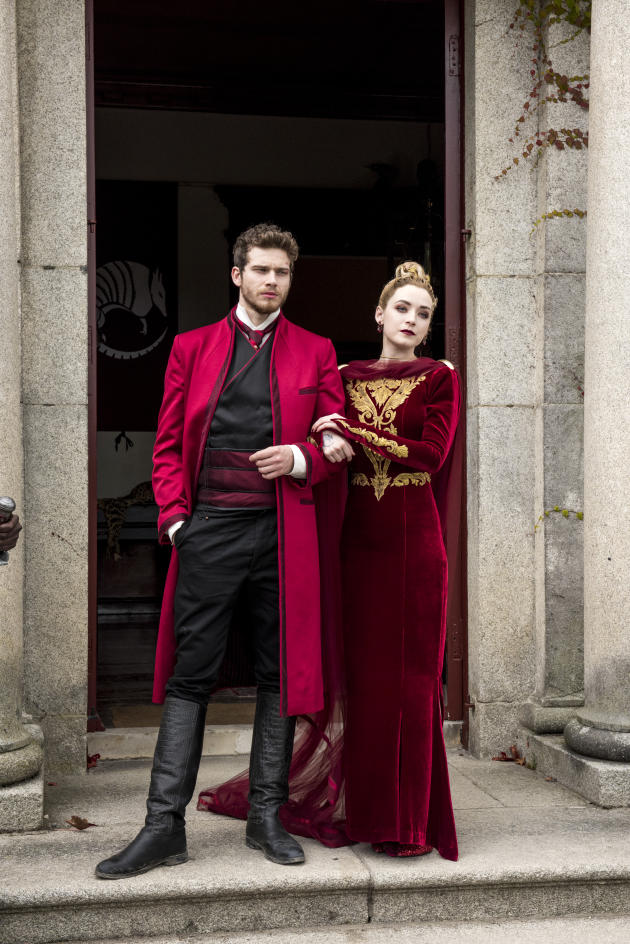 Cinematography: 
Everything this season was given an upgrade, including the lighting and  cinematography. No detail has been spared. There's a rich three dimensional feel to the environment, which allows the viewer to see every detail of a character, or event, and totally immerse themselves in the show. It's equal parts dream and nightmare.
There's some gorgeous lighting happening here, in the final scene of the series, as Sunny walks off into this frosty looking sunset with Baby Henry.
The monastery is full of candle light, giving its inhabitants a deceptively soft appearance. The irony is that these are some of the most lethal beings in the Badlands.


Sunny is fighting the monks in an old, worn, Nativity scene, at an abandoned dept. store. No one knows the meaning of any of the decorations, but check out the penguin with the Christmas wreath around his neck! The old religion has been supplanted by an even older one, that involves dark Chi, and superpowers.
I think it's  really cute that they chose a baby that looks Black and Asian.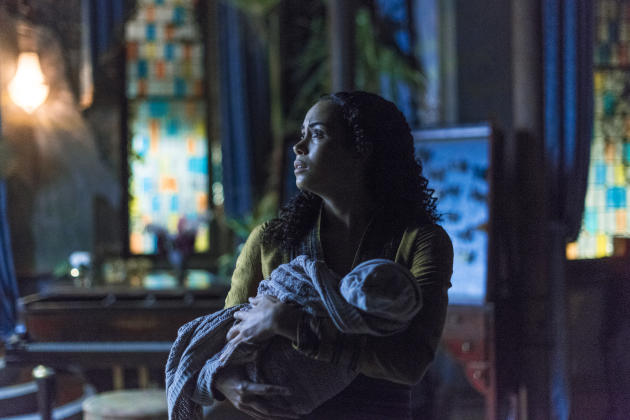 Whenever possible, the creators tried to use natural lighting on all the sets, so we get some wonderfully lit scenes, like Veil with Henry, above, and Sunny's fight with Silver Moon, below. Veil is often given the Madonna treatment with her  lighting.
The show has also upped the ante on the fight choreography this season, with much more elaborate stuntwork, and ambitious fight scenes involving multiple highly trained characters. The show also added some explosives work, which is something most shows don't have a good sized budget for, but the larger budget shows how much confidence the network has in the success of this series. Whereas last season I struggled to get the word out about this show, its popularity has really soared this season because of its move to Netflix, and basic word of mouth. There are also more than a few websites dedicated to the show, on Tumblr.
Bottom line: 
All of this adds up to one of the most visually stunning action series on television, and I'm so happy to be alive during its airing. I cannot wait for whatever new visual treats we'll get next season.