The Old Guard has totally blown up on Tumblr. The movie, which aired on Netflix last month was a real treat for women who love action movies, so much so, that there has been a lot of great meta writing and fanworks on the site.The movie is based on the Graphic Novel, by Greg Rucka, about a team of four immortal warriors, Andromache of Scythia,(Charlize Theron), Nicky, Joe, and Booker,  living in the modern world,  fighting a pharmecutical CEO ,who wants to use them for medical experiments. In the meantime, they need to find and recruit a brand new immortal, named Nile Freeman, and deal with a betrayal within, and outside of, their group.
Its one of those big idea movies, where the rules are all laid out beforehand, and  doesn't stint on the development of its characters. It has some truly lovely scenes between Nicky and Joe, and Nile and Andy. I thought the movie was a lot of fun, and I really enjoyed the characters and their interactions. I think its really worth a watch if you like action movies, with strong, ass kicking, smart women, who interact realistically with one another, along with a well illustrated, found family dynamic. There's also a strong philosophical thread that runs through the movie, which asks questions about the purpose of living, and what its like to be alive for hundreds of years.
The Old Guard is a fairly predictable film as far as the plot. What makes it groundbreaking however is its Black female director, Gina Prince-Bythewood, the well executed action scenes, its racial diversity, its Black female co-lead, and the presence of a canon gay inter-racial couple, who both survive to the end of the movie.
I read a lot of meta on this movie and was moved by how much fans seemed to really embrace this movie, especially Nile, since fandom hasn't always been any good about its approach to black female characters. Its true that some fans tend to infantilize her, but that's somewhat understandable, since the character of Nile is a brand new, baby-immortal, just learning about her powers, and the actress who plays her, Kiki Layne does have a kind of sweet baby face.
The story makes an effort to set up the knowledge that the characters are immortal, but that their survival is not a guarantee, so the tension about who will survive, remains really high, no matter how many fights we see them get into in the film
One of the things I loved about this movie is that the stakes never were less than. You would think, because the characters are unable to die, that there'd be nothing for them to lose in the several firefights, but there are many intangible things they can lose. They can lose their freedom, they can lose their trust, or their friendship, for Nikki and Joe, they could lose each other, or even their sense of purpose, or self, the way Andy did.
Another love of this film was the character arcs. We find out at the beginning of the movie that Andy has been retired from fighting for over a year. She's given up, she's cynical, and has no hope that she has done anything useful for the world, and we watch as her character gets back her reason for fighting and Nile is the key to that. Andy doesn't just go out and save Nile. Nile saves her too.
Even their treatment of Booker's betrayal comes from a place of compassion. Yes, they're very angry with him, but they don't permanently exile him either. They think a hundred years of being separated from his family is punishment enough. They're not out to physically harm him, or cause him emotional damage, but there have to be consequences for what he did. They know being alone however is horrible for him (it's the reason he betrayed them in the first place) but it's the only consequence they have available.
For male directors character development and emotions, may be a 3 or 4 on the scale of priority in a movie, and I normally don't have a problem with that manner of filmmaking. I've watched enough action movies to be able to glean the emotions in them, but usually that's not a male director's focus. I'm mostly thinking of movies like Winter Soldier, Inception, and Fury Road, (and quite a large number of Asian action films,) where the focus is on the plot and action, with character development as more of an afterthought.
I think there are a number of male action directors who do bring emotionalism into their work, and manage to be successful at it, but I think the difference is for male directors their priorities are simply different than female directors. For women directors though, the priority on relationships, character interaction, and character development, may be at a one or a two, thereby making the plot much more character driven than in male directed films, where the plot is more situational, but that's just an observation I've made with my limited sample size.
There really aren't a wealth of action movies out there directed by female directors ,and the ones that do get made, are  either always being trashed as the worst movies ever, or lauded as the second coming of Jesus. There seems to be no in between, reasonably thought out, reviews or critiques. Everything is either the best of times or the worst of times.
And yes, I am geeking out over the addition of a Black female character as an action heroine. There really are not enough female action heroes, but there are almost no Black or Asian ones. This is why I've become a lot more discerning about the kinds of shows and movies I watch now. I'm thoroughly spoiled for diverse content, that has depth and at least some meaning, and  very dubious about sitting through any more all white, all male productions of shows and movies. I'm definitely not willing to sit through any of the lazy, sorry, excuses PoC have gotten in the past for not having diversity both in front of, and behind, the camera.
The Old Guard is a lot of fun, with just a touch of melancholy. Its just deep enough to be satisfying without getting too heavy. The plot isn't really all that remarkable, and very predictable, but what the characters and director do with the plot is worth watching. It's got some great action sequences, and although there are a couple of moments of cringey dialogue,  and the music is sometimes overwhelmingly blase, its not too bad, and doesn't stray very far from its comic book origins, as the script was written by Rucka. Theron carries most of the emotional heavy lifting in the story. In fact, she almost overpowers the story, but that gets nicely weighed by the other characterizations, and action scenes.
Fans are clamoring for a second season ,especially since there was a ice set up for it, in the last 30 seconds, but the word isn't out yet on whether or not there will be one.

As for what Tumblr thinks:
This was a beautifully written examination of the movie's characters. Please visit their Tumblr site for more insightful observations of their newest obseesion.
the old guard: loneliness, connection and immortality
APPARENTLY I am writing a thing about The Old Guard today.
(Bear in mind that I haven't read the graphic novel, although I'm eager to now, so this is solely based on the movie and some things I've read about the comic in articles about the movie.)
Under the cut for spoilers, although the discussion is fairly general.
*********************
the old guard and moral uncertainty
One of the things I love the most about The Old Guard, which I haven't seen discussed much, is that there is no why to their powers. There's no origin story, either via destiny or accident. There's no prophecy, no curse, no ancient god, no super-serum, no lab accident, no mutant spider bite. If there is a reason why these people, in particular, are like this, we don't know it and they don't either. Where their immortality comes from, and why it fades when it does, is a complete unknown.
In other contexts I could see this coming off as a frustrating lack of clarity in worldbuilding. In The Old Guard I think it works as an essential piece of the philosophical landscape in which the story operates.
A parallel and interlocking component of this landscape is the fact that the immortals exist in a world where there are very few, if any, other superpowered beings. There are no pre-ordained forces of darkness, no aliens to fight, no neatly-arranged supervillains that only they can defeat. There are only humans.
This means they have to create their own framework of meaning for their actions, the way the rest of us mortals do. The mythology of their world doesn't provide any built-in delineation of good guys and bad guys and What We're Fighting For. There's no easy certainty of purpose or moral clarity to be had.
***********************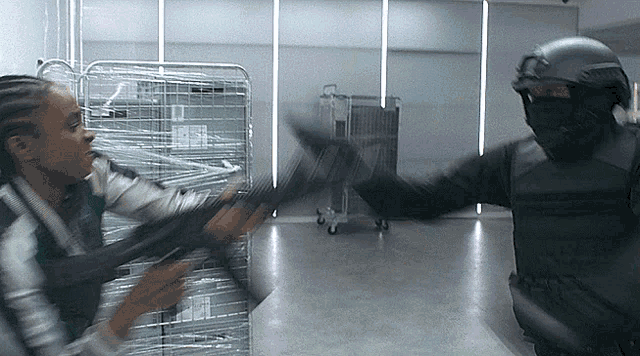 Let's talk for a minute about how
The Old Guard
shows Nile as a character who's worthy of protection and caretaking without infantilizing her or minimizing her agency.
I'm thinking particularly of the scene when Nile wakes up from the nightmare about Quynh, which honestly might be one of my favorite moments in the whole movie. The three guys are all sleeping in the same room as her and they all immediately wake up and reach for their weapons, ready to throw down. Like, at least a couple of them look like they're sleeping on cots. They could have spread out around the space, but all three of them are sleeping in the same room as her, armed. Only Andy has chosen to separate herself and is not-sleeping in the next room.
And their reaction isn't just an ingrained response from a very long life of combat. They're all very clearly focused on Nile and whether she's safe, and once it's clear that there's no physical threat, they want to make sure she's okay emotionally and help her understand what she saw in the nightmare.
This is one of those moments where context sensitivity matters a lot. Because we can easily imagine a scenario where the exact same scene would play as overprotective, condescending or downright creepy. But when the focus of the scene is a Black woman, a moment that says this character is worthy of both physical, bodily protection and emotional support reads very differently.
We already know Nile is a tough and self-sufficient character. She's an elite soldier who grew up in the inner city, raised by a single mom who pushed her to succeed. She has excelled in a dangerous, physically demanding, male-dominated career. She is, in many ways, the template of the Strong Black Woman, and a lot of movies would have left it there. But with this scene, and all the other little moments of care and attention she receives, the other characters are saying, hey, we know you are tough and self-sufficient, but you don't always have to be.
********************
grizvser is writing some very nice meta about this show, especially the two lovers, Joe and Nicky. Please check out their Tumblr site for more astute observations about the show and characters.
grizviser
Okay, so I've seen a lot of people say that Joe and Nicky were way too hard on Booker and that it's out of character for them to have reacted so harshly to his betrayal, but y'all gotta remember (and I say this as someone who loves Booker): Joe and Nicky paid the heaviest price for Booker's betrayal.
They were the ones who were kidnapped and tied up. Nicky had to watch Joe get stabbed repeatedly by Merrick. The two of them were the only ones who got experimented on, poked and prodded at and sliced into, and who knows what could have happened to them if they hadn't been saved so soon. They had to deal with the trauma of possibly being kept there for god knows how long. When Booker and Andy were captured, they were only trapped for a little while before Nile came and rescued everyone. They never had to deal with any of that trauma.
Not only did they suffer the torture themselves, but they had to watch the person they love suffer too. If Booker hadn't betrayed them, none of the events of the movie would've happened. Joe had to watch Nicky not only get tortured, but get shot in the damn head. All of this is because Booker sold them out.
Combine that with the fact that the two of them are clearly very loyal, honourable men, who are undoubtedly devestated that someone they trusted and thought of as their family would sell them out just because HE didn't want to live anymore? Joe and Nicky are happy to be alive because they have each other, but Booker put that at risk because of his own feelings of grief. Even though I understand Booker wasn't motivated by any malice and I'm empathetic to his struggles and feelings, it's understandable why Joe calls him selfish. Joe is willing to live for eternity because he has Nicky (and the whole guard too, of course), and Booker's actions could have taken that away from him.
Nile forgives him quickly because she's new and doesn't fully understand the weight of his actions, meanwhile Andy is more sympathetic because she, too, is a little bit tired of living, yet Joe and Nicky, the ones who want to live, bear the brunt of a lot of the suffering that came along with Booker's choice.
Now, I do think they will get over it sooner than 100 years, but right now, the betrayal was so raw and the impact of what happened so fresh in their mind, I understand their reasoning.
************************
One of the best things about Joe and Nicky in The Old Guard is their sexuality/relationship is a very important traits of both of their characters, but it's not their only trait.
So many times when I hear people talk about gay/queer characters in media, I hear, "their sexuality isn't an important part of their character" or "they just happen to be gay," and I've always thought that was bullshit and a cop-out. Sexuality and romance plays a HUGE part in people's lives. People spend a lot of their time looking for "the one", looking for romance, looking for a relationship or sex or both. Think about classical male heroes and how often they bed women (think James Bond, James Kirk in Star Trek, etc.) Wouldn't you say sexuality is a huge part of their characters? Yet with gay characters it's said to be "not important." It's just a cop-out.
Joe and Nicky's sexualities are very important because their relationship is so incredibly important to both of them. It's portrayed to be the reason they're both still happy to be living while Andy and Booker have grown jaded and suicidal due to loneliness. They are the most important thing in the world to each other. They aren't "badass but just happen to be gay." They are badass AND gay.
They're incredibly competent fighters who can brutalize an entire army but when they go home they flirt, they wink at each other, they snuggle, they kiss, they talk about their love for one another. They're no less masculine when they're expressing their love for one another than they are when they're massacring an army of soldiers.
Yet still, their characters are not reduced to just the token gay guys who are also tough. They have their own distinct personalities. Joe is impassioned, quick to anger, protective, playful, romantic, vengeful, but with a soft heart full of deep love. Nicky is quiet, reserved, compassionate, loving, and sweet, but also calculating and sarcastic and a force to be reckoned with in a fight.
They're both such distinct, powerful personalities and it's portrayed through their individual actions as well as through their love for each other. It fills me with so much joy that these characters were allowed to be so unapologetically, textually gay without it being an afterthought and also without it becoming the centerpiece of the story.
*******************
And these aren't all. Visit Tumblr and type in The Old Guard to find whole blogs devoted to the topic, fanart, and various headcanon, and fictions.