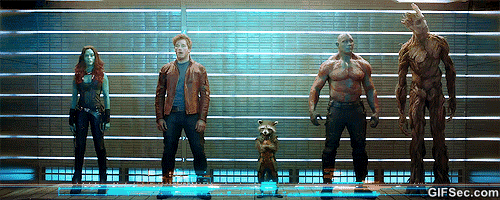 I love ensemble movies that are done well, and James Gunn is exceptionally good at writing, not just the characters, but the relationships between the characters. GOTG isn't just a movie about blowing shit up real good, it's about the creation of a family, specifically the family that one chooses for oneself, something which is layered, threaded, and  referenced repeatedly, throughout both movies. The character's adoptive families have proven to  be either unreliable, or openly abusive, and  it is  their chosen family, their found family (each other) that  turn out to be more trustworthy, and caring.
But they cannot truly be a part of their chosen family until they deal with their traumas, learn to take care of themselves, learn how to treat the others, and in a couple of cases, atone for past misdeeds.
In the first movie, we meet all the characters separately. We get to know their flaws and issues. We are to understand  that these characters are assholes, who can't get along with themselves, let alone each other. They each have personal issues that prevent them from  being close to others. Peter Quill is an arrogant, immature, and reckless man, who is also a carefree womanizer. We later learn that he was kidnapped from Earth, and raised by an emotionally abusive alien, named Yondu. Peter is still suffering the trauma of his mother's death, some twenty years before, which he has never truly dealt with. All of the characters, except for Groot, are suffering from some parental trauma that prohibits them from forming healthy relationships with the others.
Peter is immediately smitten with Gamora, but she is too beset by her own issues, and he is inadequate as a partner, so the two of them cannot be together. The two of them are too damaged. Their issues need to be brought out into the open and dealt with first.
Gamora is the adopted daughter of an abusive father, Thanos, the villain from Infinity War. She hates Thanos for good reason,  but she is also estranged from her adopted sister, Nebula, because of Thanos' abusive upbringing, which pitted the two of them against each other. One of the most telling moments about the nature of their relationship, is Thanos, while in conference with the movie's villain, referring to Gamora as his favorite daughter, as Nebula is standing directly in front of him, while  we get a closeup of her facial expression. Gamora was so caught up in surviving being Thanos' daughter, that she never had time to protect her little sister from him, and the two of them never formed bonds.
This is a staple dynamic of siblings that have abusive parents, especially if one of them is considered to be  favored over another. I would wager that that was very probably Thanos' agenda in treating them the way he did, to keep them from finding solace in each other, so as to keep them from turning on him. Both Nebula and Gamora  are icy in their demeanor, stiff, closed off , and unapproachable. Nebula spends most of the movie trying to kill her sister, although after having reluctantly spent some time with the Guardians, we realize her hatred of Gamora may not be as deep as she thinks, or reciprocated.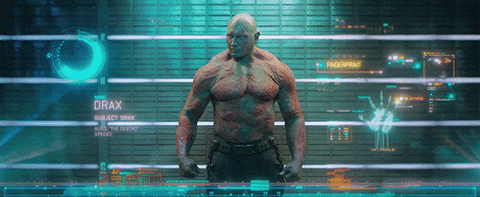 Drax is suffering from the loss of his wife and child through the machinations of the movie's villain, Ronan the Accuser. Drax is, paradoxically, the most emotionally open character in the film, as he frankly discusses the love he had for his wife and child, and how much their deaths pained  him. Of all of the team, Drax is the one who is at least willing to acknowledge that he has trauma, but Drax spends most of the movie in revenge mode, as he tries to attract Ronan's attention, often endangering his team mates in the process. Drax is not malevolent, however, he is deeply insensitive to the feelings of others, and somewhat clueless. After Groot saves his life, and  Rocket  calls him to task for his reckless actions, Drax is contrite and apologetic. It is he and Groot, (with Rocket's reluctant agreement), who make the decision to save their teammates (who have been taken by Yondu).

Of all the characters though, it is Rocket who has the deepest trauma. Rocket is an experimental animal subject, who was abandoned by his creators, (i.e. his parents), when his usefulness to them was over, and most of his negative personality traits stem from that events. He is impatient, mistrustful, arrogant, callous, hurtful, aloof. He pushes people away because he fears getting close to anyone he thinks may leave him. Many of Rocket's worst character traits also come from the   crippling insecurity of being what he is, and being the only one of his kind in existence. Outside of his relationship with Groot, who is non- judgmental, he is profoundly alone, with no family, no culture, and no race that he belongs to. He is very sensitive to being spoken down to or treated as less than he is. These are things he is only willing to acknowledge when he's drunk.

Groot is the most well adjusted of the team. He is a fierce and awesome fighter, but he is also gentle and giving, when the occasion presents itself. We first notice this when we see him offer a small flower to a little girl. He  is the most "even tempered" of the all characters, and is usually unperturbed by the events around him.  His most altruistic moment is when he knowingly gives his life to save his teammates.  It is through his act of love that the other character become aware  that they are indeed a family. Like Drax, he is emotionally open, the one most willing to admit these others into his  life, care about them, and admit they are his family.
James Gunn, the director and writer of GOTG, and its sequel, does us one better. Not only does he introduce each one of these characters with their traumas, but he shows them moving past them to acceptance of each other, working together as an effective team, and then finally trusting each other, across the two films. Slowly, bit by bit, Gunn builds each  moment between the characters, until the  end of the movie, when we see all of them come together to save Peter, and the galaxy,  by managing the Power Stone.
At first, they are together because its convenient. The other characters have something they want. Later, they are together because they want to be.  The action scenes don't just serve to blow things up real good, but to help tell the story of the development of their relationships.
At the beginning of the first movie, the action scenes show all the characters pitted against themselves, or each other. By the time the characters land in prison, they are in the second stage of, at least, being willing to work together to accomplish the goal of getting out of prison, at which they are successful. But  they do not yet realize they are a real  team.They're not friends yet, and  are still very selfish individuals, who are only together because of what they can do for each other. At this point in the action, they are at least  in a place where they are willing to acknowledge they need each other, but not where they trust and like each other. By the time they fight with the Nova Corp against Ronan at the end of the movie, they are together because they want to be, they actually trust each other, and realize they can accomplish more with each other, than against each other, which culminates in Groot's sacrifice for his friends, which he makes clear is an act of love. His statement, "We are Groot.", is his declaration that he loves them, they are his family, and he is willing to do this to save them.
There is a quiet, but beautiful, moment when Drax comforts Rocket, in the aftermath of Groot's death, while Rocket is mourning the loss of his friend. At first, Rocket is surprised, but eventually gives in to Drax petting him. No one has ever shown affection to him before. It is a mark of their friendship, not just that Rocket accepts this comfort, but that Drax offers it, because until this moment he has been deeply insensitive to the feelings of others having  referred to Rocket as "vermin", and Gamora as a "green whore". Rocket has not endeared himself to anyone, and has been openly exasperated with Drax for much of the film. In this one gesture, James Gunn deepens both their characters. Drax learns to recognize another's pain, and not disregard it, and Rocket learns to accept comfort, when he's in pain.
But Gunn doesn't stop there, because that's not the end of these character's personal journeys. In the second movie, he builds on the idea of found family by adding the themes of understanding, forgiveness,  reconciliation, and atonement, to the character's relationships. It's not enough for them to trust each other, work together, and understand their choice to be a family, each one of them must admit their own pain,  recognize and understand  each other's pain, and atone for past mistakes. Gunn does this by pairing specific characters together, like Yondu and Rocket, Nebula and Gamora, and Peter with his biological father, Ego.
At the opening of the second film, they are seen together as a team. They've been lauded as heroes of the galaxy, and have been together for some time, long enough for them to have grown to like Peter's musical tastes, and crack jokes at each other. There is still some tension that is mostly resolved through bickering, but they  have accepted each other, even if they don't understand each other. They cannot be at peace with each other though, because they are not at peace individually, but the title song, Blue Skies, indicates they're in a good place from which to start the process.
The first action sequence exists to show them acting as a successful team, and parenting baby Groot.  Notice that each one of them gets a moment with Groot. (I especially liked Gamora's hurried "Hi!", after Groot waves at her, and Rocket's diligence in making sure he doesn't eat bugs.). Groot is still the warm center of the team. Later, we see Gamora reassuring Groot that she will return from an errand and that everything will be okay. As the group separates to go on different errands, the song, The Chain by Fleetwood Mac plays over that scene. No matter how far apart they are, the chain that binds then will never be broken. They will always be a family.
Over the course of the last movie, we witnessed Gamora being willing to show a softer, more caring, side of herself. Her sister, Nebula, isn't in that place yet, but Gamora is in a an emotional place where she can finally hear Nebula's pain. We saw the estranged relationship between Gamora and her sister, and we get some understanding of why.   Nebula attempts to kill her sister again, (although  we can see that she isn't trying especially hard). At the end of their fight, she declares that she has has beaten Gamora, and this makes her the better daughter to Thanos. All we have seen of Nebula is that she is hard, cold, and jealous of Gamora, because every time she lost a contest to her sister, Thanos would forcibly replace one of her body parts with machinery, as  punishment. Gamora realizes she was so busy surviving  her own trauma, that she failed to see her little sister's need for protection. It is her relationship with her chosen family that lets her realize she has failed to be a big sister. It is Nebula who turns out to be the sensitive one, who longed for a relationship with her sister, she could not have, because of their  shared trauma.
Later, Gamora expresses the first real affection towards her that Nebula has ever experienced. Gamora has listened to her sister, and is ready to atone for her past mistake of not protecting her, (something we see play out in Infinity War) and Nebula, having had her pain recognized and acknowledged, is now in a place where she can forgive and trust.  Nebula's acceptance of Gamora's affection parallels Rocket's acceptance of comfort from Drax in the first movie. Nebula and Gamora are not friends yet, because there is too much trauma between them, but they have reconciled, and have, at least, agreed to stop trying to kill each other. Gamora extends the idea  to Nebula that if she wants a family,  she and the rest of the Guardians will accept her.
Another moment of character growth occurs between Rocket and Yondu. A lot of people have expressed the idea that Yondu's change of character comes out of nowhere, but I disagree. We are given subtle hints, throughout the first movie, that Yondu is not actually evil. He is a flawed man who has done bad things for money, and  is not actually malevolent. For example, our first indication that Yondu might not be all he seems, is his adoption of Peter, when he was meant to deliver him to Ego. In the first movie, he is given plenty of opportunities to punish or kill Peter, but keeps making excuses not to do so. Over the course of the movie, you begin to realize he actually likes him. At the end of the movie, Peter betrays him yet again, but Yondu just smiles, as if he  not only expected Peter to do it, but was proud of him for it.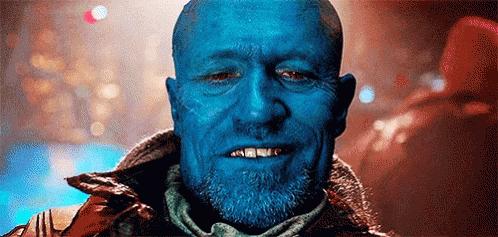 At the opening of the sequel, we see Yondu in a vulnerable moment, pensively looking out a window. He is perhaps haunted by his past, which a few moments later, comes back to bite him in the ass, as he is dressed down by his superior, a father figure that he has always looked up to, and he is  excommunicated from The Ravagers, for trafficking children like Peter, which goes against their rules. Later, his own gang overthrows him, because he treats Peter as his favorite, over them. Yondu eventually acknowledges  that he was wrong to abuse him, that he loved Peter, and atones for his past transgressions by sacrificing  his life, to save his chosen son. (Note: One of the biggest differences between Yondu, Ego, and Thanos is when Yondu lost everything, he apologized and atoned. Thanos and Ego did neither, made excuses, and then sacrificed their children for their goals.)
We finally come to Rocket, who is very probably the most damaged member of the team, who has not dealt with any of his trauma, in any satisfactory manner. His character arc is not fully realized until the end of the second movie, after Yondu's death,  but it is the relationship he develops with Yondu that forces him to rethink himself. This revelation could not have occurred were it not for the relationship he developed with his chosen family, and Groot in particular.
After Groot's sacrifice in the first movie, Rocket saves a fragment of his friend, and grows an offshoot baby Groot. All of the team take turns nurturing and caring for Groot, but Rocket is the closest thing Groot has to a mother, having essentially grew and birthed him. It is through his relationship with his chosen son, and Peter calling out his behavior earlier in the movie, that Rocket is set up to be able to hear Yondu's words about himself, as Yondu accurately reads him, understanding  Rocket's behavior through his own motivation. Fear.
Rocket is afraid people will abandon him, the way his creators did, so he is constantly  pushing them away, so that when and if they reject, him he will be ready. It will be what is expected because he doesn't think highly of himself, and  feels he does not deserve love and acceptance. His family gets angry with him, but they don't leave him, or push him out, so the meaner he behaves. Them rejecting him will prove that he is correct about himself, that he is worthless and should be alone. (Note: Of all the characters in Avengers Infinity War, it is Rocket's predicament that is the most tragic. Having finally accepted  that the team is his family, and will not abandon him, Thanos snaps his fingers, his family is destroyed, and he is as entirely alone as he terribly feared. With a snap of his fingers Thanos has set back Rocket's entire character arc.)
Rocket is not healed by Yondu's words, but he reaches an  understanding, that he is taking his unhappiness with himself, out on his family, and if he does not change, he will end up alienated from  his child,  like Yondu was with Peter. The last time we saw Rocket cry, it was for losing his friend. This time it's for himself. For all the time he wasted being mean to the the people who accepted him, despite that he kept pushing them away. The movie ends with a shot of Rocket's tears, after Peter's acknowledgment of his pain. Peter's recognition and acceptance of Rocket's pain is important, not just for Rocket, but for Peter's character arc, too. It is a sign of Peter's growing maturity.
The foundation of the movie  is Peter's relationship with his two fathers, Ego, and Yondu, and his maturation into an adult. Two of Peter's biggest issues is his arrogance (Ego), and his immaturity. Peter has been living a kind of extended childhood,with responsibilities to no one but himself, as if he stopped growing up after his mother's death. His immature nostalgia for the past is the reason he cannot have a relationship with Gamora, and it made him easily manipulated by Ego, who appealed to that nostalgia. Ego is a planet sized creature that wishes to make over the galaxy in his own image, has tricked Peter into being a conduit for his power, and is another in a line of abusive father figures, throughout both movies.
Peter grows up when he rejects his father's false promises of an idyllic past, he rejects "Ego" (his arrogance), and humbles himself to accept the help to destroy him. A key sign of Peter's maturity is the loss of the Walkman music player that he was ready to kill for in the first movie. The music player represented his mother. When Ego destroys it, its as if he is killing Peter's mother again, ( since Ego was the one responsible for her actual death). Killing Ego is also an act of closure for his mother's death.  Notice how Peter's character trajectory closely  parallels Gamora's relationship with her abusive father.
The second major emotional turning point in the film is Peter's reconciliation with Yondu. Yondu's history is complicated, so I have to spend a moment discussing that. Yondu is the alien that kidnapped Peter when he was twelve, (just after the death of Peter's mother, which is the reason why Peter has never had closure about that.) Yondu was supposed to give Peter to Ego, who has been collecting the children he seeded throughout the universe. When his children proved useless to him he killed them, and has killed thousands of these children, whose bones fill up a cavern in his planet sized interior.
Yondu, while not an evil man, has been complicit in the deaths of hundreds, possibly thousands of children he kidnapped and took to Ego for money. After his kidnapping of Peter, he had an attack of conscience, and  stopped working for Ego. Keeping Peter was an act of rebellion, and an attempt to atone for the other children, because The Ravagers, the union of thieves he belongs to, disapproved of what he did. He justifies keeping Peter by claiming Peter's usefulness to them and, afraid of looking weak to his men, he emotionally abuses Peter in front of them, while quietly approving of Peter's behavior.
The Ravagers (lead by a man he greatly admires) kick him out of the group, and then his own personal team turns against him, captures Rocket, and imprisons the two of them together, which is how he gets to know Rocket so well.
In Rocket, Yondu sees a reflection of himself, and he tells Rocket as much. Everything has been taken from him, even though he followed all the rules of how to be a man. He was cool, and tough, and ruthless. He sublimated his love for Peter into saving his life time, and time, again, but otherwise failed to impress upon Peter that he was loved, choosing to threaten, and emotionally traumatize Peter instead, because he was afraid of being seen as weak. The very behavior he thought would save him from being condemned by his team is what makes his team condemn him. And with the return of Peter's bio-father, he realizes that he lost out on the relationship he could have had with Peter, and he may be in danger of being replaced by Peter's biological father, because he was too afraid. Not only is Yondu's character arc one of atonement for past misdeeds, but is a rebuke of the toxic version of masculinity.
When Peter rejects his biological father, he is aided in this act by Yondu and the others. Yondu gives him some crucial words of advice at just the right time, which helps defeat Ego. Afterwards, Yondu and Peter are trapped on the dying planet, and Yondu sacrifices his life to get Peter to safety, but not before he lets Peter know how much he loved him, referring to himself as Peter's daddy. He gives Peter his survival suit and, like Groot before him,  goes to his death, at peace with his actions. Since he is indirectly responsible for the deaths of possibly hundreds of children, giving up his life for Peter is not just to show Peter how much he loves him, but to atone for the deaths he helped to cause.
After Ego's death, and Yondu's sacrifice, Peter realizes that he has been less of a proper father figure for his own adopted child – Groot. For the first time in the movie we see him have a loving moment with Baby Groot, as he shares some music with him, gently cradling him with affection when Groot comes to him for reassurance. We did not get a chance to see this behavior earlier, as he mostly just barked orders at Groot.  In Infinity War we see him taking a more firm parenting role with him. We also see him taking a more mature stance with his family, not just recognizing Rocket's pain at the end of the movie,  but understanding why.
James Gunn does a masterful job of showing us the dynamics behind the creation of a found family. We start off with individuals so damaged they cannot be a family, and we watch as they learn to forgive, accept, and understand  their own and each other's flaws, recognize each other's pain and trauma, and seek reconciliation and atonement for their past hurts. In the end, the members of the team CHOOSE to be a family, and in order to do so they must grow and change within themselves, and towards each other.