Midnight Texas (NBC)
So, I've watched maybe two episodes of this show and I'm really liking it so far. I'm willing to date this show for a while, because it's good fun and makes me laugh. Midnight Texas isn't a deep show. It's not a Bryan Fuller Joint, or Westworld, but it's a fun little interlude before going to bed, since it airs at ten, Monday nights, and I gotta go to work in the morning.
The main character, Manfred Bernardo, can see ghosts. His Auntie comes from the town of Midnight, and after she dies suddenly, leaving him in debt to some type of criminal, her ghost tells him the town can be a safe place for him, where his skills will be appreciated.
Midnight Texas happens to be the home of various supernatural beings, and Manfred fits right in. Upon his  arrival, Manfred meets a local girl named Creek, and while her father is deeply suspicious of him, the young lady is intrigued, and the two of them develop a relationship very quickly. A lot of things happen quickly in the show, and many of the plot points happen in a kind of throwaway manner that takes some getting used to. I understand the idea is to keep it light, and not get too bogged down in philosophy, meta- physics, and whatnot. The show is supposed to just be fun, and I'll watch it in that spirit.
I have a lot of favorite characters on the show, most of which are supers. There's some good representation on the show, and I'm looking forward to learning more about the various characters. I missed the second episode, but managed to watch the third. The creators are trying to keep things light without being ha-ha funny, which is a fine line. It doesn't look like they're trying so much to reproduce True Blood, as reproduce the mood of True Blood. Some of these characters are mentioned in the True Blood books though.
Manfred, for example, is the psychic that Sookie met when she visited Dallas.  Midnight Texas is based on source material from the same writer, Charlaine Harris. I have not read the books. I opted not to, because I didn't want my brain focusing on the side issues of the books, while watching the show. I may read them at some point in the future, because they seem like fun, but not right now.
We have a full complement of creatures on the show, so you'd think my favorite would be the Reverend Emilio Sheehan, who happens to be a Were-Tiger, which is kinda awesome. He seems rather morose, which is appropriate as I consider actual tigers to be the "crabby old men" of the giant cat world. There are WoC in the cast. One of them owns the local bar/diner, and I don't think she has any superpowers, but I could be wrong, and it's something that could be revealed later. The other is the local witch. The town does have some mundane people inhabiting it, and some of them are aware of the supernatural qualities of the others.
You'd think my next favorite would be the Angel, Joe because he's really, really hot. I'm not into blondes, as a rule, but I'm willing to acknowledge the occasional hotness of some of them. He happens to be living with a Hispanic man named Chuy, who also happens to be an Angel, and I wonder if the two of them being a couple is the reason they've been exiled to Earth.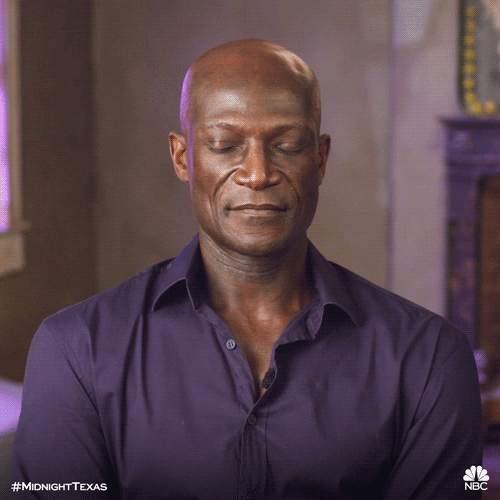 Well, you know who my favorite is. Lemuel, the rather unique vampire who feeds off human energy, and eats other vampires. We get to see his backstory in the third episode. He used to be a slave and there's a scene of Lemuel being whipped for trying to escape, which I didn't appreciate having to look at. That scene is pretty graphic and you may want to skip it if watching Black people being tortured is not your thing. The point of all that is to show how far Lemuel will go to be free, I guess.  After a couple of escape attempts, Lem encounters a Native American vampire, who transforms him. Lem's immediate course of action is to avenge himself on the slave owner, who had him beaten, and that guy's entire family. That's pretty graphic too.
Later, Lem and the other vampires in his clan, have a falling out, because Lem thinks he's become just another slave to his thirst. In the third episode, Len's Maker returns looking to take over Midnight for himself. The townspeople rally together to kill the vampires.
This seems to be the main theme this season, as we've  had three/four episodes, in which the townspeople need to band together to defeat some outside force. In the middle of all this plot, we learn that Lem started off as an ordinary vampire, but after encountering Manfred's aunt when she was a child, she transformed him into something else, a vampire that can feed on other vampires.
The characters often have some deep philosophical insights, but like I said, it's in a blink and you'll miss it manner. (Joe and the Reverend do this too.) Lem is played by Peter Mensah, who is extremely handsome, in his bold blue contacts. You may remember him as a gladiator from the show Spartacus.
I  like Lem's girlfriend, Olivia, who is some type of international assassin. She's a total badass, and she and Lem are the town's heavy hitters, when it comes to defense. I don't normally pay a whole lot of attention to White television actresses, unless they've firmly established themselves with a good track record, but I like this actress. She's blunt spoken, clear-headed, and pragmatic, all qualities I admire, and I see why Lem likes her. She has some secrets from her past, that she's trying to bury, while dealing with  anger issues.  I could do with a lot fewer scenes of Olivia and Lem gettin' it on, though. It doesnt need to be shown in every episode.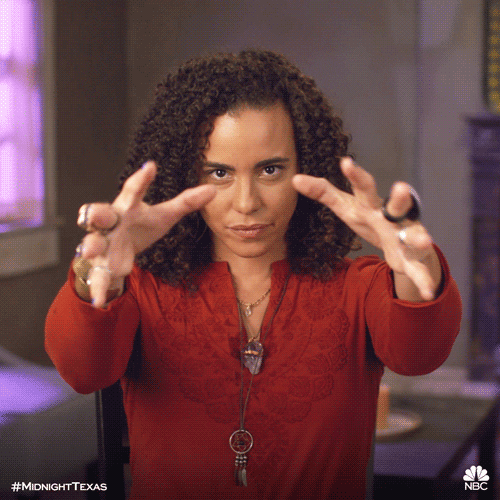 Fiji is another one of my favorites, and I like her, not because she's the town witch, although that's kinda cool, but because she has a talking cat. I don't know much about the cat's backstory but he's snarky, and dismissive, just the way you'd think a cat would be. How it happened that her cat talks, we don't know yet. Fiji is very young, but she's also extremely powerful, and well-respected in the town. Most of the mundanes know what she is, and rely on her to protect them.
Fiji is also really cute, and kind of adorkably nerdy. She has a mad crush on one of the townies, a guy with the unfortunate name of Bobo, and her feelings seems to be reciprocated. One of the more powerful images I have of her, is from the first episode, where she crushes a police vehicle, with little more than her bare hands, and a strong will. Fiji looks sweet and vulnerable, but she ain't the one to mess with. She's  refreshingly different, as Black women rarely get to be emotionally fragile, but powerful love interests, and/or witches either.
I'm going to try to enjoy this show while it lasts. It's on network television, which has a nasty habit of cancelling the shows I like, so I don't hold out much hope that Midnight Texas. will be around next year. This is the same station that just canceled Still Star Crossed. But then I was trying really hard not to get attached to that show. (That didn't work). I'm not gonna try that with this show and it still might get canceled. I might as well get attached. There's always the books, which I'm told, Charlaine intends to keep writing.
Mr. Mercedes (Audience Network)
I liked this show, too. I was expecting it to be a deeply serious dramatic type  show, but it turned out to have a quirky sense of humor, not because the writing is funny, or people are telling jokes, but because certain characters and situations are just odd. It's not like the show Psych, which was a deliberate comedy. This is not a comedy. It's just some of the characters are weird.
The show is based on a trilogy of books by Stephen King, the first title of which is Mr. Mercedes, named after the killer in the book. Brendan Gleason plays Bill Hodges, a retired cop who is trying to figure out what to do with himself, now that he's no longer working. until he is taunted out of retirement by Mr. Mercedes, so-named after he drove a Mercedes into a crowd of job seekers outside a job fair, killing several. I like Gleason's character. One of the funniest recurring issues is when he can't believe various women find him attractive. (It's definitely the beard.)
The show begins with  a very graphic scene, and I was heavily reminded of the events in Charlottesville Virginia. There's no mystery about the killer for the audience, just as in the book. We're introduced to Brady Hartsfield early in the story. The book remains very faithful to the books, except in tiny details like the wacky neighbor lady who lives next door, and Bill feeding a massive tortoise passing through his yard one morning. I'm not sure if this is a pet or what.
Bill is assisted in his sleuthing, by the kid he hired to mow his lawn, and who happens to be a computer wiz. Jerome is played by Jharrel Jerome, and I like him already. His character is a refreshing change from the Black Male Sportsplayer/Jock, we see so often on TV. Black men are rarely cast as hardware nerds. Brady is also a tech-nerd, and works at one of those big box technical stores, which is something like Best Buy, and I like that Jerome seems to be every bit his equal when it comes to the esoteric workings of computers.
I think Bill's quirky neighbor is meant to represent a woman with which Bill has a brief, but satisfying relationship, in the books. Or at least I hope so. I don't know if this will happen on the show, but in the book, Janey is murdered by Brady. This is not a catalyst to make Bill chase after him, because Bill was already unofficially working the Mr. Mercedes case. This is Brady's attmept to make Bill commit suicide. The neighbor, Ida Silver, is played by Holland Taylor, and if she looks familiar, that you may have seen her in every funny show of the 90s.
The villain is played by one of the alumni of the cable show, Penny Dreadful . Harry Treadaway, who played Victor Frankenstein, is as disgusting character here, as he was on the other show. Apparently, this is how he's going to make his career, playing unlikable people in perfectly good shows. The show remains very faithful to the books with him too. He has an incestuous relationship with his mother, whom he later poisons, and it looks like the writers are sticking to this plot, although in the book, the mother  initiates sexual activity. In the show, it appears she doesn't know that her son regularly masturbates with her as his subject. (I know! Ewww!)
Their relationship does have a very Bates Motel feel. Brady works at a Big Box store, with other quirky characters, and a deeply stupid boss, who is constantly shit-talking Brady's dreams of life beyond the store. This goes a long way towards humanizing this incredibly shitty character, who mowed down dozens of people with his car, just for shits and giggles. This is not something that happens  in the books, so I wasn't expecting that.
I'm going to keep watching this because the pilot certainly captured me. The show airs on the Audience Network which may be difficult for some of you to access. I have access to it through DirectTV, and its possible you may need that, to watch this show.
The Void (Netflix)
I love a good creature feature, and I was attracted to this movie because of its use of tentacles in its promotional material. I wasn't expecting a whole lot when I sat down to watch it. I was sort of expecting a little Cthulhu type stuff, and there's certainly a little of that in it, but there was also a lot of it I couldn't make hide, nor hair, of.
It seems to be about a group of cultists attempting to call some dark being to Earth, to inhabit the bodies of humans, and the cultists are partially successful. They're doing this in collusion with a doctor at the local hospital, where they've trapped several people.  Daniel Carter, Maggie, James, and inexplicably, an Asian woman, named Kim, who I lost track of by the end of the movie.
These people have to fight off monsters inhabiting the bodies of their friends, and a couple of trigger happy locals, while working their way through the maze of the hospital, to find and stop the doctor from unleashing Hell on Earth, through the body of his pregnant daughter.
I have to give fair warning. The movie is very gory, with lots of blood and other fluids gushing all over the place. People get skewered with knives and/or shot, and sometimes they get torn apart by creatures. The cult members wear white hooded cloaks and look a little like KKK members, but there is no equivocating in this case. They are definitely villains ,whose job it is to keep the hapless victims trapped in the hospital to be fodder for the monsters. There's also an element of the movie The Thing, as the monster is a conglomeration of various body parts and live people.
The movie doesn't have the happiest ending either. At the end Daniel, and I guess her name is Maggie, get trapped in an alternate universe featuring a giant black pyramid. It's not a bad movie, but it's not an A+ movie either. A lot of the plot seems to have been borrowed from  other Lovecraftian pastiche movies, like Hellraiser, and Re-animator ,and the acting is sometimes a bit dodgy. But I think the key words here are "not bad". It's a good workmanlike plot where bad things happen to bad, and sometimes not so bad,people, who sometimes act like cowards, and occasionally act like heroes.
Daniel isn't the most charismatic guy in the film, although he is set up as our hero, who has the most sense,  and who  is gonna save the world. None of the other characters stand out as especially interesting either, really. Basically, if you're watching this movie, it's just  for the monsters, and gore.