I like how short the seasons are for this show because it means that the plot can move quickly with a minimum of filler episodes. Despite that, the show still manages to throw some surprises in our direction. One of those surprises was the re-introduction of Baron Quinn. Another pleasant surprise, was the addition to the cast, of Nick Frost as Bajie. We got some major worldbuilding going this season, as the story fleshed out the where and the when of this show. I'm going to do this in three parts because otherwise its going to get too long. I'll start with the the top four characters, around which most of the plot revolves.
Sunny: 
The vast majority of the plot this season concerns Sunny's search and return to Veil who, by this time, has given birth to a boy she names Henry. Veil is currently being imprisoned by Sunny's nemesis, and former employer, Baron Quinn. Everything  is leading to the showdown between these two pivotal characters.
This  is all about Sunny coming to grips with his demons,  and laying the spiritual foundation for him to be a father for Henry. He feels he can't do that until he puts his past as a killer for hire behind him. From episode one (Tiger Pushes Mountain), and his theme song, I'm Only Human by Rag 'N Bone Man, to episode seven (Black Heart White Mountain), we see Sunny dealing with all the killing he dealt out in his past, and what kind of man that makes him. Last season we were given the idea that Sunny was sort of superhuman. At the beginning of this season we see him very much humbled. We watched him fall, and now we get to watch him rise up.  In order for him to do that he needs to acknowledge certain things about himself.
He also needs to choose a side. One of the most frustrating things about Sunny's character last season was his passivity. He simply refused to make hard decisions, and would allow things to happen  to the people around him. Not only  would he not do anything, but he often refused to pass judgment. Adopting MK was the first pro-active decision we saw him make. after that it became easier to choose things for himself and his own happiness.
But the primary catalyst for his self reflection this season, like it is for a lot of men, is the birth of his first child, and his encounter with a legendary Clipper named Silver Moon, in the episode Red Sun Silver Moon. Pay attention to the titles here, because many of them refer to Sunny, or the people he encounters, like Silver. Silver has been waiting for a worthy opponent so he can die in style, so you can guess what the Red Sun means in the title. Sunny bests him but in keeping with his new vow, doesn't kill him.
Sunny, like Silver, had made a vow not to kill anymore, for unnecessary reasons. He's going to fail at this, as circumstances will require he keep at it. After escaping the mines, with a new companion named Bajie, he sets out to find his wife and son.  Whereas last season he pretty much lived according to Quinn's whim, we see him fully committing to something unabashedly selfish. His own future happiness. He has a number of adventures along the way that require him to engage in violence to defend himself, as no one in the Badlands can be trusted. His journey into the Badlands is also a journey into his past and his self.
Sunny has always been a kind of true neutral. Last season, he often held himself aloof from moral decisions, like when he stood by and watched Quinn kill Veil's parents. There was a kind of curious moral paralysis, which Veil called him on towards the end of the season. This new moral version of Sunny is best illustrated in  episode five, Monkey Leaps Through Mist. He makes the decision to save a young girl from being sold into prostitution. This is major moral act for Sunny, who has always tried to shy away from being a savior. I think part of Sunny realizes that "not killing" isn't enough. He is going to have to engage with the world to make it a better place, and  can't just stand by and do nothing, if he hopes to become the kind of man he wants to be, that his son can be proud of.
Sunny also has to learn to work with, and trust others. Last season Sunny was very much a loner. This season he meets Bajie and the two of them have to work together to get back into the Badlands, defeat the Monks who want MK returned, and find and save Sunny's  wife and son. This is made incredibly difficult because Bajie has ulterior motives of his own, and appears utterly untrustworthy.
In Black Heart White Mountain, Sunny literally confronts the many dead he's responsible for, after being put in a coma like state by one of the Monks. He dreams of what his life could be, but he realizes on some level that he cannot have that life until he deals with his violent past. Reunited with MK, in  Leopard Stalks In Snow, he is then prepared to acknowledge that he can't do what he needs to do alone,  that MK is his family, and he has a responsibility to him.
In Sting of the Scorpion's Tale, Sunny makes and breaks alliances with Baron Chau (the only other prominent Asian woman we've seen), and The Widow. Taken prisoner by Chau who is in hiding from the Widow, he convinces her that they have one thing in common, they both want Quinn and The Widow dead. Upon contact with the Widow, she convinces Snuny to spare her life, because she knows where Veil is, so he allies with her. That alliance is broken when he discovers she betrayed Veil to form an alliance with Quinn.
Unable to trust the Widow, and having lost MK again, he prepares to go it alone, after entrusting Bajie to find and care for his protege. He's come a long way since the first episode when he could barely bring himself to look at, or even speak, to Bajie.
Sunny finally makes it to Veil's side and we get the reunion we've all been waiting for, with  lots of kissing, soaring music, twirling cameras, and some tears. But its not to last, and we should've known that happiness, normality, and a white picket fence on a farm was never going to be in Sunny's future.
Veil:
Veil has been one of the most frustrating characters but I was starting   to understand her and why Sunny fell in love with her. Its not just her pleasant nature. We saw in season one, that she was willing to challenge others when she was in a position to do so. She was never a floormat when she could help it. The key to understanding Veil is that she was a relatively powerless individual. She had no martial skills, she had no political power, and no kind of social clout, but what power she did have she wielded carefully.
How she operated in the Badlands was by showing a level of integrity, and honesty, that many of the other character's entirely lacked. Jade, Lydia, Quinn, all the people that Sunny knows, are people willing to manipulate and deceive to gain their own ends in the Badlands. Veil was unwilling to do any of those things, was unwilling to compromise her principles to get ahead. Her moral compass remained strong.  Sunny gravitated to her because he could trust her. She was the one steady component in his life. She was honest with him in ways no one else was and so he trusted her like no one else.
Its not that Veil didn't engage in immoral behavior. She did occasionally try to lie. But only  as a form of self defense, or to protect Henry, and usually  her attempts at deception weren't successful.  She occasionally relied on her helplessness to win mercy from others which we saw in Palm of the Iron Fox, where she lies to, poisons, and eventually kills a Clipper named Edgar, when the poison doesn't work. Later, she tries to claim she killed him because he  attempted to rape her, only to be told that was unlikely because Edgar was gay. So she does engage in immoral behavior sometimes, but it never proves profitable for her, and she is never rewarded for it.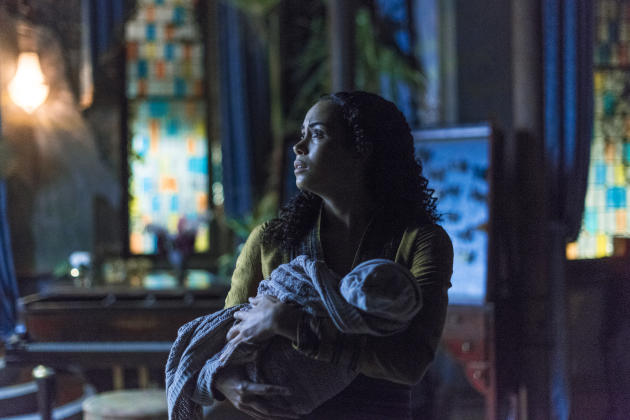 Her moral certitude is illustrated best in  Sting of the Scorpion's Tale, when Quinn forces her to marry him so that he can claim her son as his own. All pretense she made of caring about Quinn in her efforts to protect Baby Henry earlier, fall to the side. She makes no secret of her fear and contempt of Quinn, and shows little patience for the foolishness he keeps spouting to her and Henry. Eventually he has to lock her away to control her.
I have to admit, I was getting very frustrated with her inability to simply go along to get along, in the hopes of getting Henry away. That she would just chill and pretend she liked Quinn like before, but I get now why she didn't do that. That kind of manipulative behavior simply does not come naturally to her, and she has no talent for it really. Her deceptions are always uncovered. In episode three, Red Sun Silver Moon, we find that she's been lying to Quinn about his x-rays, substituting healthy x-rays for his, and that deception gets discovered in the next episode. I understand she's been doing that because if Quinn doesn't think she's curing him he might kill her and Henry.
By the end of the season, Veil has formed an alliance with Lydia, against Quinn, and I have to applaud the show for writing it this way. Lydia is well used to manipulating and deceiving Quinn, and Veil needs someone like her, and I like that the writers show these women as allies against  their oppressor, rather than as competition for his attention. There's a reason for Lydia's behavior which I'll get to in a moment.
I also liked that Veil got to be a love interest at all. The show definitely had that Django Unchained/Ring of the Nibelung vibe, where Sunny has to walk through ten kinds of Hell, the Widow's  Butterflies, and Quinn's wingnut Clippers, to win back his beloved, and I'm all kinds of here for that when its a Black woman, because we rarely get treated like that in genre narratives. That's something that's been the sole province of White women, and I have it on good authority that they find that shit kinda chafing. Its very interesting that neither Jade, nor Lydia, got that kind of treatment in the story.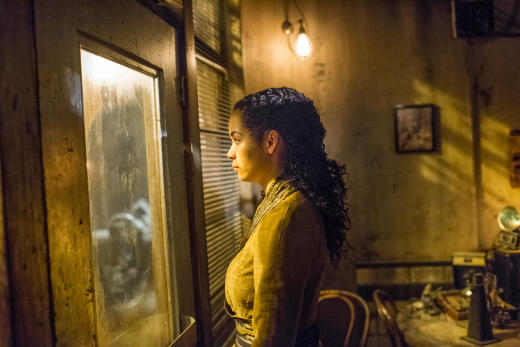 Unfortunately this is all we're ever  getting about Veil, since she dies in the season finale, protecting Henry. I feel some kind of way about this and not just because I'm so tired of women of color being 'fridged and watching  the show runners  sit back and make up bullshit excuses for why that happened.
But to be fair though, I wasn't watching the show for her. I didn't even know who Madeline Mantock was before watching it,  but I faithfully reported on her activities, gave her the benefit of the doubt, and followed what little of an arc she had. My faith in the showrunners was entirely misguided though, believing they might want, at some point, to do something with this character besides kill her off, but Gough and Millar seem unable to see much purpose in having PoC in their narratives except as cannon fodder.
Of the three Black people in the show this season, who had any lines,  they've all been killed. Edgar had a handful of lines, attacked Veil, and was killed. There was a Black Butterfly in The Widow's camp, and she was unnecessarily singled out, and unceremoniously killed, by one of Quinn's Clippers. I know a lot of women had feelings about that scene. And then there's Veil. She's been locked away, betrayed, assaulted multiple times, nearly raped, and then she sacrificed herself to kill Quinn. I think I saw the writing on the wall as soon as she walked into that room with Sunny, who was about to fight Quinn.
This will not stop me from watching the show next season. I wasn't watching the show to see Veil, but I was happy about her presence. Unlike some people I never had the luxury of just picking and choosing  which shows I was going to boycott. I grew up in a time of genre scarcity, where EVERYTHING I watched had problems, and nothing and no one was enlightened. I'm not going to boycott a series for one or two problematic elements. (It would have to be a really bad problem like what happened with Sleepy Hollow, or whitewashing, like with Ghost in the Shell.) I'll watch the series and just keep complaining as loud as possible about the one problem. My attitude towards this type of thing is to reward the good behavior, and beat Hollywood with a rolled up newspaper, when they act a fool.
The Widow:
We spent the bulk of our time this season shuttling back and forth between the Widow, Sunny and Quinn, the three major players in the narrative. We watched as the Widow connived, lied, and killed to consolidate her power, falling  even further into the dark side.
I must admit I was dismayed to see what became of Minerva this season. Its not that I ever thought she was a good person, but I was championing her cause. I believed in it. But it turns out that she really isn't any better than the Barons she hopes to succeed. It turns out that power corrupts because the Widow had the most disappointing character arc of the season and has mostly just gone darkside at this point.
With Waldo (Sunny's former Clipper teacher) as her adviser, she was willing to try diplomacy. When Ryder calls a Conclave of all the Barons in Palm of the Iron Fox, to assess what rules the Widow has broken in her rise to the top, she tries to play the game the way Waldo asks, but she is betrayed by the other Barons, who either attack her, or flee. She is saved by Tilda, who disobeyed a direct order to stay behind.  The event seemed to  crystallize something in Minerva, and she rejects Waldo's advice, and starts following her own decisions from that point forward.
Unfortunately, the Widow  doesn't have a very good moral compass to follow. She makes all the wrong decisions. Decisions that both Waldo, and Tilda, two people with much stronger morality than her, attempt to talk her out of. She forms an alliance with Quinn which was galling enough to Waldo, but to do that, she returned Veil back to his custody, which Tilda found untenable. I never thought of her as a good person, as she always had an "ends justifies the means" attitude, but she lost me as a fan when she displayed complete hypocrisy in returning Veil  and Henry to  Quinn, in Leopard Stalks in Snow.
This is a woman who has championed the rights of Cogs and Women all of last season. I suppose I should have seen the writing on the wall after she kidnapped Veil in season one, as that was a bit extra. She cannot talk about protecting the women of the Badlands and be willing to send another woman into bondage for power. Not only that but it has also become clear that she has been using her emotional link to Tilda to get her to serve her cause. Its not that she doesn't care about Tilda, but just as Veil said, she is willing to send little girls to fight and die for her cause. this makes her little different from Quinn.
In Nightingale Sings No More we get some backstory on the Widow (Minerva). How she used to be like MK, was kidnapped by the same Monks who took MK, and they drained her powers from her. Part of the reason she wants so desperately to decipher the book in her possession is she believes it can give her her powers back. That book that everyone has been passing about, that no one could read, is actually something that belongs to her. She owned it as a child, when she first encountered Bajie, a Monk who named her Flea.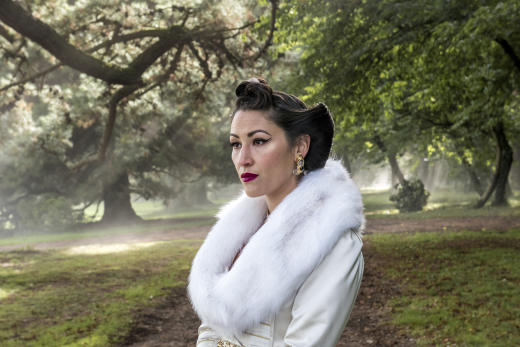 We also get the mother /daughter fight that's been long in the making. This has been coming since season one. Tilda always had the privilege of speaking freely with her, and the Widow trusted her like no other. We started seeing the cracks in their union in the first season when Tilda questioned her mother's warmongering.
This time, Tilda, because she has a much clearer sense of morality than her mother, rightfully calls her out for betraying Veil, and challenges her mother to a duel, which she loses. Minerva can't bring herself to kill her though, even though Tilda challenges her to do it. She locks her up instead. Tilda is rescued by a young woman named Odessa.
After she beat up Tilda,  Waldo turns his back on her too, believing her to be as corrupt as the other Barons. I guess next season we'll have a brand new Big Bad as the Widow consolidates her  power.
Quinn:
He's the one person everyone seems to be hunting at some point. Yes, he's still dying, and still insane.  He spent the first part of the season quietly terrorizing Veil and Henry,  losing it completely after he kills Ryder at a Conclave of the Barons, that Ryder arranged in Palm of the Iron Fox. After that, he must have been haunted by what he'd done  because Ryder's hallucination taunts him for the entirety of the next episode, Monkey Leaps through Mist. Why his tumor hadn't killed him yet is anybody's guess. Why is Quinn still alive? That tumor was the size of a golf ball.
Lydia's attempted capture of Quinn sets off explosives that he booby trapped throughout the compound, (an old transit station) and in the confusion, Veil escapes and goes to the Widow. Quinn forms an alliance with the The Widow, to take down the other Barons in exchange for Veil's return, in Leopard Stalks in Snow, but the alliance doesn't last  long. Neither of them can remotely trust the other, and  turn against one another at the first opportunity.
I've always been somewhat in awe of Quinn's ability to talk complete bullshit and have it be believed, and  we get to see it in full force, up close and personal, all season. We saw him doing this last season but the only people he managed to hold in thrall were all Clippers. Lydia, Jade and Sunny all appeared to be immune to this superpower. I think this says a lot about the Clipper mentality, really.
Quinn gets a lot of speech time, hissing, whispering, and conniving to anyone within earshot, to get what he wants. We get to watch him Jedi a young man named Gabriel, his entire Clipper force, and even tries his wiles on Veil, although I think she might have some immunity. His alliance with the Widow comes to an abrupt halt after he talks Gabriel into a terrorist attack in the Widow's courtyard. He spends the rest of the next two episodes, Nightingale Sings No More, and Wolf's Breath Dragon Fire, wiring the entire compound with explosives, waiting for Sunny to arrive.
It takes Sunny four tries to kill Quinn! At one point I was simply screaming at my TV because, for some reason, Sunny simply would not take this asshole's head. Every time he thought the Baron was down, he would wander off and drop his weapon, and Quinn would just get back up, and cause more mischief. This complete inability to finish him off, was the reason  Quinn was alive at all. I was also pretty salty at the writers because it was all rather clumsily done. I really don't want to have to look at Quinn all of next season again. I was getting pretty tired of all his speechifying. Not that I don't like Martin Csokas. He played the Hell out of this character. Its just that a little bit of Quinn goes a long way and in this season was a bit too much.
In Part 2: Bajie, Tilda and MK get character reviews along with Lydia, one the few other people from season one, who survives to see a third season.