This is Childish Gambino's (Donald Glover from the show, Atlanta) music video for the song This is America. There are a lot of thinkpieces being written, analyzing, and in some cases, over-analyzing, the meaning of this video. For me, its just an emotional very effective statement about how Black people have always lived in this country.
Its interesting to note, in the past few years, (at least since the inception of BLM,) how many popular Black entertainers have decided to put socially relevant commentary in their music, from Beyonce, to Solange, to Gambino., although music has always been at the forefront of social progress.
<Warning for gun violence.>
Outside of the violence being shockingly unexpected, I thought the video was sad, and  interesting. I liked the dancing, and yes, I do realize that it was just a distraction from everything  going on in the background. The background imagery is being interpreted in a lot of different ways, along with the types of dances being performed. I'd also like to point out that our nine days wonder about this video is also a distraction from the daily horrors of American life.
My mom has this old phrase she used to say, "laughing to keep from crying". This is what black people in America have always done, and I thought the video was a neat summation of our lives in this country, dancing and singing, to counteract the horror of daily life. The running was a fitting ending to the video, especially if you contrast that with the joyousness of the dancing at the beginning. Black people have been running in terror since we got here. There's also a deeper message in this for White people, (embodied in his Jim Crow dance move) who have been highly entertained, and distracted, by our reactions to the misery they helped to inflict.
But here are some more takes on this video:
https://www.huffingtonpost.com/entry/childish-gambino-this-is-america_us_5af05c12e4b041fd2d28d8e9
From Jim Crow to Gwara Gwara, there are a lot of references you might've missed.
@@
https://www.newyorker.com/culture/culture-desk/the-carnage-and-chaos-of-childish-gambinos-this-is-america
Among black people, he became the subject of skepticism: Can you trust the black artist who is so fluent in the tastes of a white society that seems genuinely to love him? Is his suaveness some cover for self-loathing?
@@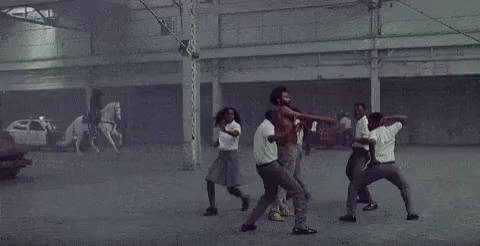 https://www.theatlantic.com/entertainment/archive/2018/05/donald-glover-this-is-america-childish-gambino/559805/
America is a place where black people are chased and gunned down, and it is a place where black people dance and sing to distract—themselves, maybe, but also the country at large—from that carnage. America is a room in which violence and celebration happen together, and the question of which one draws the eye is one of framing, and of what the viewer wants to see.
@@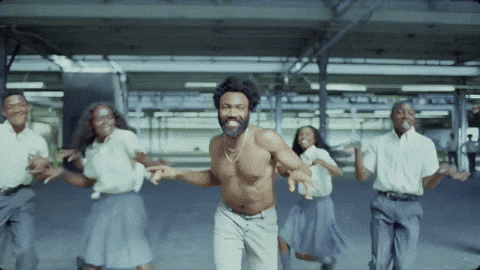 This post is about the meaning of the dancing in the video, especially when contrasted against the violence. A lot of people got bogged down in the surface meaning of the erasure of Whiteness from the violence in the video, but sometimes you have to go deeper than that. Note the scene where Glover points his "empty" hands like a gun and everybody runs. He's unarmed, but they're afraid, anyway. oh, and the links in the article, feel free to read those, as some of the commentary is gorgeous.
https://www.theatlantic.com/entertainment/archive/2018/05/this-is-america-childish-gambino-donald-glover-kinesthetic-empathy-dance/559928/
If you watch "This Is America" on YouTube, you might stumble on videos of people who recorded their own reactions to it. Many of these viewers sway along with Glover at first, rolling their own shoulders, nodding to the afro folk–inspired melody as the musician twists his bare torso, revealing his own musculature and contorting his body in ways both alluring and disturbing. But the benign nature of that contagion is shattered when the first gunshot rings out 53 seconds in, and with the jarring transition of the melody to dark, pulsing trap. In the reaction videos, mouths fall open, and people are stunned into paralysis. The shooting itself is shocking, but so is that fact that Glover carries on dancing as if nothing happened.
@@
https://www.rollingstone.com/donald-glover-childish-gambino-this-is-america-video-visual-w519895
Like several other notable works of black American art in recent years, "This Is America" is about absorption. Onscreen and in real life, the black body gets exposed to so much terror and injustice and keeps going. How does the black body endure, and in what ways or spaces is it allowed to live out its emotions?
@@
https://www.thedailybeast.com/how-childish-gambinos-this-is-america-indicts-and-challenges-its-audience
The controversial new music video by Donald Glover and Hiro Murai has amassed millions of YouTube views while exposing viewers to the horrors of the black experience in America.
@@
https://www.huffingtonpost.com/entry/donald-glover-this-is-america-jim-crow-history_us_5af31588e4b00a3224efcc40
"Every now and again, a racial incident or an expression of art makes us pause and reflect, but we soon return to dancing."
@@
http://time.com/5267890/childish-gambino-this-is-america-meaning/
"The central message is about guns and violence in America and the fact that we deal with them and consume them as part of entertainment on one hand, and on the other hand, is a part of our national conversation," Ramsey tells TIME. "You're not supposed to feel as if this is the standard fare opulence of the music industry. It's about a counter-narrative and it really leaves you with chills."
@@
You would think this video is no laughing matter, but this post would not be complete without the addition of Black silliness. What I've discovered over the years is that Black people can find humor in even the darkest subject matter. Unlike White fratboys,  who just want to shock their audience,  it doesn't come from trying to be edgy, but from trying to control and make sense of narratives we have no control over. 
https://www.theroot.com/donald-glovers-this-is-america-explained-by-2-people-wh-1825858343
I think the true distraction is Gambino's dancing. He dances like someone who thinks he can dance because he only dances when he's around white people. Gambino is showing all his white friends that if he's invited to their wedding, he will lead them in all the line dances they don't understand.
Note: At the time of this post, someone has made gifs of the gun violence  depicted in the video. I have not the capacity ot be disappointed or shocked by that.