Here is part two of my non-comprehensive list of Monstrology, The New School, although some of these aren't so much new as updates of some of the classic monsters. I mostly tried to stick with monsters from the late 20th century, from the 70s to now, so some monsters won't get mentioned, like the tripods from the original War of the Worlds because it hails from the 1950s, and there is a notable atomic theme in there, and the updated remake doesn't quite qualify as new because it's just the same monster. However, Invasion of the Bodysnatchers gets mentioned in the new monster category even though the original film was released in the 50s, because each subsequent remake adopts new scientific knowledge about how the invasion might occur. If you're looking for consistency, my mind isn't the place to find it!
The criteria my brain used for making these lists was a broad combination of form and intent. There are monsters that have a very specific intent,(like possession, or mimicry) and some have the same intent of all the other monsters, just in an unusual form, so that means I have left out a lot of monstrous creatures from these lists. If you don't see your favorite monster that doesn't mean I didn't like or didn't know about it. It just means I ran out of room to mention it. Like I said, this isn't a comprehensive list but there are a lot of my favorites.
The New School: Devourers
These monsters are not regular animals grown to large size, like the ones in the 50s. They're smaller, faster, and in some cases, slightly more intelligent than their kaiju brothers, which makes them capable of reaching into smaller, more intimate spaces, like people's homes, to actively hunt their prey. I'm also going to add to this list the more human-like predators, like the rural-style cannibals that look more or less human but are often twisted and deformed because of environmental factors, and a few alien invaders. These aren't the kind that lurk in caves, and lie underground and wait, on the off-chance, that some humans might drop in but we'll talk about those in a minute. These are the kind that actively stalk and occasionally eat humans in broad daylight. They're not shy or taking any chances about finding their next meal.
The poster children for this type of monster are the creatures from Tremors, released in 1990 and starring Kevin Bacon, Fred Ward, and Reba McEntire. These monsters come from underground and hunt their prey through sound, meaning any vibrations made on the ground will attract their attention.They're also pretty smart, learning from their fellow monster's mistakes, which requires humans to be inventive in dispatching them. The characters in the film had the bright idea to call them Graboids, and the movie was so popular that it spawned an entire franchise of sequels, most of them starring Michael Gross (Yes, the guy from the Family Ties sitcom) as Burt Gummer, a crackpot survivalist. Not all of the movies are any good but all of them try their best to be as much fun as the original.
In the same vein is the 2012 movie Grabbers, which feels like a comedic cross between Aliens and Tremors. Set in Ireland, the movie pokes fun at Irish drinking habits because drunkenness makes humans taste bad. The heroes of the movie spend their time trying to keep the inhabitants of their small town drunk enough to save them from being eaten. In another alien invasion movie are the Quiet Place monsters, who don't appear to eat people but nevertheless stalk and kill them in using the same method as the Graboids from Tremors, sound. It's possible for the Quiet Place alien monsters to go into their own category but I decided they belong here because not all alien invasions are the same, and my brain slotted these here because these monsters seem to have no other motive. They're not trying to take over the planet or replace humanity or anything. In fact, The Quiet Place monsters seemed to have landed on Earth by accident, unlike the Martians from War of the Worlds who came with a specific intent. But this does include the aliens from Pitch Black., though. Yeah, humans dropped into their environment by accident but they do actively hunt and eat people.
One of the newer popular monsters (popular in the last thirty years) is the Wendigo, a creature of Algonquin folklore, a gluttonous spirit that was once human but has been corrupted by cannibalism to always feed on human flesh. Normally this monster abides in forests and out-of-the-way places, as in the historical horror movie Ravenous, which deals with issues of colonialism, greed, and personal cowardice, as a group of American soldiers are possessed by the Wendigo. There are also a few of these films set in urban landscapes, like the 2021 film, Antlers, where a little boy is tasked to take care of his father and brother after they both become possessed after being bitten by one. The movie also addresses issues of poverty and child abuse.
Addressing cultural and social issues is kind of new thing too, at least since 1968s Night of the Living Dead, which set the stage for movies to be about more than just interpersonal relations. Before NOTLD, most Horror movies didn't really discuss social issues like racism or domestic abuse, at least not much beyond anti-nuclear sentiment, or environmentalist issues, and seemed to focus almost entirely on the relationships between the characters.
There are also the modern-day cannibal mutants in the American Southwest, in The Hills Have Eyes. In some of these movies, the monsters are or were once human. We must also not forget the updated versions of vampires in movies like 30 Days of Night, and the highly infectious fast-moving modern zombies in movies like Train to Busan and 28 Days Later, and the deformed and infected zombies of the Resident Evil franchise. The sole purpose of a lot of these monsters is to devour people and that's it. They are creatures with not much motive beyond procuring food.
The New School: Possessive Aliens and Parasites
There is an entire class of monsters that just want to be us, because humans are a great place to hide, or sometimes breed.
These are the body snatchers, and the shape-shifting memory thieves and these type of monsters did not appear until the mid-20th century and are usually based on scientific principles. The original bodysnatchers were human body thieves who stole cadavers from cemeteries, to meet the demands of the nascent English medical establishment, during the 1800s, and there are a few of these type of films made in the early 20th century. Later on, the term bodysnatcher came to mean something very different, a living being, or organism, that uses live human bodies as hosts.
I know some of you are thinking 1979's Alien, and yes, that is one of them, but this actually began in 1956, with the movie adaptation of Albert Finney's horror scifi novel, Invasion of the Bodysnatchers, in which infectious alien spores take over human bodies in a small California town. In the1978 remake, the spores would become more ambitious, taking over the city of San Francisco, then a military base in 1993, and eventually the entire world in 2007. Each remake gets updated with a new version of how the invasion and possession of the human body occurs.
In the original and 1978 versions, there are actual plant-like pods that grow imitations of human bodies, while in the 1993 movie Body Snatchers the possession of a human body takes the form of tentacles, and in the 2007 version, the possession occurs in the form of a contractable virus. The three early versions had human bodies be destroyed as the alien took over their consciousness, but in the last one, the bodies are not broken down to make a new plant-like body. In the new version the invason behaves like a virus that overwrites the mind of its host, so that it is possible for a person to be converted back to their original self, once the infection is destroyed.
Let's not forget all of the many alien invasion movies that have a somewhat similar idea like 2018's Annihilation,where a team of women are sent into a spreading patch of Earth that's been taken over by an alien threat. There is 2019's Assimilate, where a small town gets invaded by bodysnatcing aliens from a swamp, and 2013's The World's End, where humans get replaced with robot-like aliens during a pub crawl by some high school friends.
One of the most famous bodysnatching alien invasions films is John Carpenter's gory 1982 remake of the 1951 movie,The Thing From Another World, which was based on John W. Campbell's Who Goes There. Here, the alien consumes the entire person, after which it can mimic their form perfectly, with their knowledge and personality intact, thereby making it indistinguishable from the original person.
The Thing is notable because in the other body snatcher films, there is a noticeable emotional flattening that gives away the mimicry. Not so here. A mimicked person is completely indistinguishable from the person they were before, and there has been much argument among fans if a person knows if they are a Thing, and if so, are they truly dead. Unlike in 1979s Alien this isn't a parasitic relationship, nor is it like some of the later versions of the bodysnatcher invasion where the human host isn't destroyed, although The Thing's invasion contains elements of the infection storyline. The human body is invaded and destroyed, with the person becoming another component of the alien mind, which possesses all of their knowledge and sense of self.
In Ridley Scott's Alien, human bodies are used as incubators for alien young. Consuming humans isn't the alien's ultimate intent but I find it difficult to believe that the aliens don't eat the leftovers. Many fans have likened this particular monster to Earth's parasitic wasps, a creature which uses other insects as hosts for its young. Birthed from eggs this monster has a complicated three part lifecycle, which culminates in the implantation of yet another egg into a human body, and the eventual live birth of an alien, called appropriately enough, the chestburster.
As was said in the 1978 Invasion movie: Aliens don't always need metal ships.
The New School: Possessive Ghosts and Demons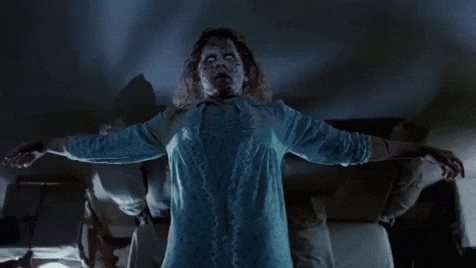 These are possessive monsters too, the only differences are they're usually supernatural in origin, are non-corporeal entities, and aren't so much interested in becoming someone, so much as being alive again. They're non-corporeal beings that, hating their non-corporeal state, are looking for a physical shell in which to exist.
Possession films are a genuinely new category appearing for the first time in the late 60s/ early 70s. The Exorcist, released in 1972 was based on the book by Wm. Peter Blatty who claims that it's based on the real story of an exorcism performed by the Catholic Church, and this paved the way for an entire sub-genre of film, with hundreds of ripoffs, lookalikes, and related miscellanea. Almost any movie starring Satanic rituals and/or demonic possession can be traced back to it, and/or 1968s Rosemary's Baby. To be sure movies with a demonic theme existed long before The Exorcist, but it was this movie that set the template for all the possession movies that came afterward, including comedies like The Evil Dead, which spawned its on sub-sub-category. In fact, The Exorcist was so influential that most of the body horror imagery of demonic possession and exorcism has not changed in over forty years.
The Exorcist was a deeply controversial film at the time and I suspect that it, and Rosemary's Baby set the stage for the Satanic panic of the 80s, since people had been imbibing a steady diet of demonic films all throughout the 70s, and which were often about Satanic conspiracies in otherwise innocuous jobs and communities. Movies like 1975's The Devil's Rain, 1978's The Omen, its sequel, and 1973's Satan's School for Girls were set in small towns, the world of politics, and private schools, positing the idea that people who worshipped Satan could be found anywhere and everywhere, and appear quite innocent. (Actually, there were a helluva lot of movies with Satan in their titles during the 70s, so there's that.) During the Satanic Panic the police formed whole units dedicated to deciphering satanic symbols and people actually went to prison on Satanic conspiracy charges.
The Evil Dead movies spawned an entire sub genre of its own during the 80s about people being possessed by demons and going on killing sprees in movies like 1985s Demons, and The Night of the Demons from 1988.
I should include haunted house movies since there is a common theme of incorporeal beings inhabiting a physical structure, but it's a little bit different since hauntings mostly occur against the will of the haunters. They just happen to be stuck in a place they can't leave. Even though the trope is a classic, there aren't a whole lot of these types of movies in Hollywood's early history. There is the 1927 Cat and the Canary, a couple of movies in the 40s, namely Rebecca by Alfred Hitchcock, and 1959s House on haunted Hill. So although there can be spirits possessing a person in such movies as 1983s Amityville 3D: The Demon, it's not quite the same thing, and Haunted Houses are a much older trope.
The New School: Cellar Dwellers
These kinds of monsters are hidden in the out-of-the-way places where humans generally don't make a home, like outer space, the desert, caves, sewers, and jungles. These monsters don't normally go on the hunt for human beings unless they drop in uninvited. These are opportunistic predators that lie in wait, sometimes for centuries, for their prey to come to them. This is a relatively new sub-genre as there are only a handful of early films with this theme, like the 1925 Phantom of the Opera, and the 1959 Beast From Haunted Cave, in which a group of thieves flee into the jungle while being pursued by a giant spider creature.
I suppose one could add those Lost World-type movies, and even King Kong, but the primary goal of those type of movies is adventure. In Cellar Dweller films the primary goal of the monster is usually to eat people, or use them for some other reason, and there is a rich history of this type of film despite it having only really sprung up in the 80s, with movies about extra-large crocodiles, alligators, and various sea creatures coming out of the depths of wherever they were to terrorize. (Sea Creatures can be another sub-genre itself.)
Movies like Alligator from 1980 were based on the US urban legend that people were buying baby alligators as pets and flushing them into the sewers when they couldn't take care of them. I am including movies where people are unsafe in watery conditions, with 1976's Jaws setting the stage. These include all the Jaws ripoffs that have ever been made in its wake, like Lake Placid, Deep Star Six, Leviathan, Deep Rising, and the newest addition, Sea Fever. I didn't include any of the Sharknado-style movies because I refuse to sit through one of those, and the point is humans usually have to encroach into the monster's territory (the water), although according to such films, being on land is not a guarantee of safety either.
Cellar Dweller movies play on humanity's innate claustrophobia, fear of the dark, and/or enclosed spaces that are not easily escaped. 1979s Alien set the stage by being the perfect Cellar Dweller movie with a group of people trapped in a spaceship while being picked off by a stealthy vicious creature. Since then there have been several standout movies of this sort, like the famous Descent films from 2005, where a group of women cave hikers are hunted by weird humanoid predators, and The Cave, where yet another group of cave explorers are hunted by some unnameable humanoid creatures. For some reason, there was a huge slate of these movies released in the early aughts. I'm not sure exactly what America was going through at that time but this was a very popular sub-genre.
And then we have the jungle dwellers, in movies like The Ritual where a Norse forest god menaces a group of hikers for the rather vague purpose of collecting worshipers. But there are also lots of reptiles grown to large size in the jungles, in movies like Anaconda, and Rogue Crocodile. I want to include some of the Predator films, since only one of those takes place in an urban environment. The rest are in the jungles and one is set in the Arctic, these are the kind of places that are just a little bit out of the way for a regular person, a person must actually travel to or through them. If you stick close to your urban home you may be able to avoid giant spiders, small spiders, small snakes, giant snakes, any monsters that live in lagoons, and giant rats that have grown to large size after eating The Food of the Gods.
My point is that by avoiding traveling to these places you may also avoid being eaten by jungle cannibals, killer shrews, and giant wasps and chickens. However, I cannot vouchsafe your safety if you live near a sewer system, or catacombs since things like demons, rat gods, giant roaches, regular size snakes, and other monsters are given access to your basements and toilets.
https://www.imdb.com/list/ls002119103/
The New School: Machines
Humans battling against murderous machines are almost a staple of the genre in movies like The Terminator and Maximum Overdrive, but I'm classifying them as new monsters because this particular horror of technology is relatively new (about mid 20th century) and because there have been so many of these movies in the latter half of the 20th century that killer machines have become their own subgenre of Scifi Horror.
Horror Scifi started with the golem-like Frankenstein and fears of the robot revolution of 1927s Metropolis, but updated movie-making techniques have moved us beyond techno-paranoia to full-on technophobia. The machines aren't simply going to rebel. They're going to kill us all. From movies like 1999s The Matrix to Ex-Machina, from the alien style Virus, to the futuristic Saturn 3, murderous robots are not simply content to win their freedom from human bondage, but wipe out specific human beings and sometimes humanity altogether. I wrote about this topic for Medium, where I discussed where the foundation of this particular fear might have sprung.
The Slave Rebellion Genre (by Lakitha Tolbert)
White Hollywood loves slave rebellion movies starring robots, but starring Black people, not so much.
New and Weird
This category is the repository for all those monsters where there is simply no real classification and sometimes not even a name. They don't make up a sub-genre, and are often stand-alone, without a franchise or sometimes even a comprehensive theme. Some of them don't seem much interested in eating people even though they are inimical to human life, because hating, and/or killing humans seems to be their primary objective. Personally, I blame Stephen King for this as he has made an entire career out of making innocuous items terrifying.
Outside of masquerading as an innocent-looking object many of them don't usually lurk or sneak, often committing their murderous behavior right out in the open where the victims can see them. They've basically got no chill, and tend to be the kinds of objects that are not commonly associated with killing people, or even being considered animated, like dolls, rubber tires, plants, shopping carts, donuts, and tomatoes, as a result, many of these types of films fall into the comedy spectrum, like Attack of the Killer Tomatoes, and yes I did indeed watch the exceptionally stupid Attack of the Killer Donuts.
No, I'm not talking about haunted dolls that cause supernatural mischief. Those belong directly in the Supernatural genre. I mean creatures like Richard Matheson's murderous doll from 1975's Trilogy of Terror, 1988's Chucky, and the cast of Demonic Toys from 1992. This category applies to inanimate objects that come to life and try to kill and/or eat human beings. Sometimes they stalk their prey, imitating the template of the slasher film and sometimes they like to be a little more stealthy, but most of these beings and creatures don't get that no one is supposed to be seeing them.
This type of movie is sometimes one that is genuinely scary for me because I have a thing about inanimate objects, that aren't supposed to be moving, moving! In Trilogy of Terror Karen Black plays a woman named Amelia who buys a doll that proceeds to hunt her through her apartment. It's not so much that it's a killer doll that scares me, so much that the little thing is small, sneaky, and frighteningly intelligent. He is also appropriately named "He Who Kills". I consider myself reasonably intelligent so part of the fun, and terror, of watching this movie is figuring out how I would outsmart such a thing. Yeah, I think I could take him. Not that I would ever want to, but I think I could.
This category includes movies such as Killer Klowns from Outer Space from 1988, about …guess what? A murderous conjoined twin in 1982's Basketcase, Society from 1989 is a new take on the rich consuming the poor, Zombeavers from 2014 is a new take on, well…zombies, in Street Trash, the monster is a deadly bottle of liquor that melts its imbibers into puddles of goo, and sometimes, well sometimes, the monster is one's parents, like the cannibal parents from1989s Parents, 2018's Mom and Dad, where kids have to survive against their suddenly murderous parents..oh hell! Killer parents, siblings, and grandparents can probably all be part of their own sub-sub-genre! (No, The Shining doesn't count because that's a Haunted House movie!) There are also a whole host of movies that feature randomly possessed childhood objects like Frosty the Snowman, The Gingerbread Man, and other food items like donuts and tomatoes.
There are also some rather unique monsters that haven't really been copied anywhere else, like The Blob, both the 1956 version and its 1988 remake, and the highly unique The Stuff from 1985. There are insectile monsters, like the alien induced giant bugs from Love and Monsters, the folkloric Babadook, the science-based The Fly, The Yautja aliens from the Predator franchise, the Krites from the Critters movies, and technically speaking, the monsters from Gremlins are kind of unique, but it's success did spawn a bunch of replicas like Ghoulies, and Trolls. I would also include comedies like the genetically engineered, zombie-like creatures, from the 2006 comedy, Black Sheep.
Sometimes it's not so much the monster as the movie itself is just unique. Movies like the Final Destination franchise, in which the thematic purpose of Horror movies is made explicit because Death itself is the villain, as really all monsters, no matter what their form, are simply manifestations of death.
There are one-off movies like Cabin in the Woods, which features all the monsters and film tropes, as well as The Mist, with entirely unique creatures from another dimension, some of which kinda resemble the monsters of this one, and wholly unique Cosmic horror movies like From Beyond, about a machine that creates portals to a hell universe, and Event Horizon about people trapped on a Hellish ship. There are some interesting stand-alone films, like Pontypool, and the uniquely terrifying Birdbox.
This list also includes monsters for which there is simply no description because they are non-corporeal entities or simply remain unseen, and yet, they don't necessarily have a supernatural origin, like the invisible monster from It Follows, the invisible rapist from the 1982 film, The Entity, and the nameless god-like creature from Children of the Corn, He Who Walks Behind the Rows.
Okay, this is obviously turning into Monster May! I have a couple more SCP posts coming up, and some mini reviews of things I've seen, like the new Dr. Strange movie, and a movie called Underground Monster, from China!