What I've actually  noticed about the MCU version of Tony Stark, is that a lot of the people who stan hard for this character, are people without a fundamental understanding of what he is, why he is, and why, after everything that happened in the MCU, Tony was never meant to be the one who got to ride off into the sunset, while holding his sweetheart's hand.
In other words, Tony had to die.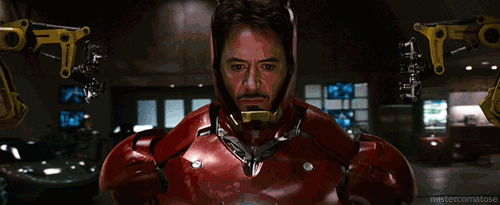 Often, when a character who has done something bad or evil sees the error of their ways and does a Heel–Face Turnin the course of fighting to undo the damage, their redemption comes at the cost of their own life.
——– https://tvtropes.org/pmwiki/pmwiki.php/Main/RedemptionEqualsDeath
Tony needed to pay for the misdeeds of his past, (something he's been trying to do since the first film), and according to the conventions of  Western literature, such characters can only atone for their sins by dying, and when they do die, their motivation must be pure.Tony is a redemptive figure, who tried sacrificing his life to atone for his sins multiple times, but only experiences a true atonement, at the end of his arc, as it should be.
Darth Vader from Star Wars, Yondu from Guardians of the Galaxy, Diablo from Suicide Squad, Venom, the father from A Quiet Place, Gandalf from Lord of the Rings, and Steve Rogers, are all examples of pure self sacrifice. It is the kind of sacrifice that comes from a place of pure love, of one's son, of one's friends, of the world in general, or one's children, with no thought to how your death might benefit  you.
Although giving one's life out of love for another is rare, it is not as uncommon as might be thought. Perhaps we only hear about it occasionally because the circumstances in which it might manifest itself are, fortunately, not so common. This self-sacrificing love was referred to by the Buddha when he said that a loving friend would "give what is hard to give" [1] or be prepared "to sacrifice his life for his friend". [2] The Jatakas say something similar concerning one's family: "Whatever your circumstances, do the necessary to alleviate the suffering of your father, your mother or your sister, even to your last breath." [3] One is reminded of what Jesus said some five centuries later: "Greater love hath no man than this, that he lay down his life for his friend." [4] 
—-  https://www.bhantedhammika.net/like-milk-and-water-mixed/self-sacrificing-love
Redemption arcs make their way into Western Literature,  through the  Christian belief system, (although other religions also feature this belief), with the ultimate sacrifice  in the Bible's New Testament, referring  to the  deliverance of Christians from sin (salvation), through the death of Christ. In this instance, Tony, who is established as a Christ figure, (a very common trope in Western films), sacrifices his life for the salvation of the human race from Thanos, (who is set up as a Satanic figure, in the Avengers narrative, but Thanos is a whole other story.).)
In the movie, Constantine, which is also heavily based on Christian narratives, the main character knows he's going  to Hell for the sins he committed in life. He's seen Hell, and knows its demons are waiting to have a reckoning with him. He is terrified of it, but knows it is  soon, when he finds out he has lung cancer. At the end of the film, he saves the soul of a young woman named Isabel, who committed suicide, and consequently, went to Hell. He commits suicide too, knowing that the Devil will come to collect him personally, which he does. Lucifer grants Constantine a wish out of gratitude for thwarting another demon's plans, (quid pro quo). Instead of wishing for a longer life, or not to go to Hell, Constantine wishes for Isabel to be released to Heaven. Lucifer agrees, but realizes just too late, that he cannot take Constantine to Hell now, because he committed a genuinely  pure act of self sacrifice.
Tony has tried a few times to sacrifice his life, but his motives were never pure, and his act of sacrifice was interrupted each time.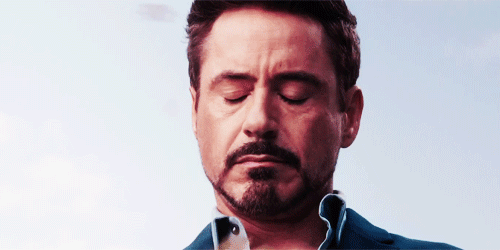 I'm honestly baffled that people didn't see his death coming, but then, I have never seen Tony through rose tinted glasses. I actually like Tony, and appreciated that most of his  character arc was him being an unremitting shit, but  at least trying to atone for his sins, and failing as much as he succeeded, but I will not lie about the type of man he was.
Tony Stark was an asshole.
And what's more, Tony knew he was an asshole, too, which is why I posit that the many sacrifices of his life he tried to make, came from a selfish foundation. Even after his death, the MCU is still dealing with the aftermath of the decisions he made, and the people he hurt, when he was alive. Most of the villains that Tony fought throughout his own trilogy, in The Avengers, and Spiderman, came about through  his callous disregard for how his decisions affected the lives of the average man. I spoke before, about how Tony's shortsightedness limited his morality.
https://tvgeekingout.wordpress.com/2016/07/19/on-the-right-captain-america-and-iron-man/
Stark was an arms dealer, and war profiteer. He made money from war, and up until  that came back to bite him on the ass by nearly killing him, he spent no time thinking about the amount of death  his weapons, (the guns, the missiles, the ammunition), caused in the world. Tony  always had a close relationship with death.  He and death were old friends, and he was one of Death's greatest enablers, through The Stark Corporation.
It is not until his own weapons are used against him that Tony experiences "SATORI", a moment of sudden enlightenment. He broke up with Death, and had been dodging Death's retaliation ever since. Sooner, or later, it would have caught up to him. He  takes steps to rectify the damage he caused, by stopping his company's arms dealing, but that is not enough. He creates the Iron man suit, so he can stop those he once armed, but that opens a whole new can of worms, because now other weapons dealers, following Tony's  example, want their own version of the Iron Man suit. He's simply created a new weapon for people to fight over.
At every step, Tony creates some new world horror, in his attempt to atone for the harm he caused earlier in his career, when he didn't care. Ironically, one of the better things that came out of his creation of Iron Man, was the creation of the Avenger's Initiative, which Nick Fury was inspired to create. (Nick Fury went on to commit his own sins in his attempt to protect the world.)
In the second Iron Man film, the events that occur may stem from decisions his father made before he was born, but Tony's decision to go public with his identity in the first movie, has repercussions in this, and  the third movie. In the third movie, we learned that Tony's earlier, callous, disregard for other people's feelings is what helped create The Mandarin, and his decision to directly challenge The Mandarin in a public forum, nearly cost his and Pepper's life.
Throughout the movies, Tony, people often confront Tony. People like to pull out his sins, and slap him in the face with them, and that often works to change his behavior, so this is how I know Tony feels some type of way about the kind of life and living he made for himself. When he thinks he's going to die in Iron Man 2, Tony goes on a drunken spree, and has to be saved by his friends. In Civil War, he's confronted by the mother of one of the victims of the Ultron Incident which spurs him to sign The Accords, and the entire plot is based off the events in Sokovia, in Age of Ultron, which would never have happened, if Tony had not made the decision to try to protect the world via robot. Even Steve gets in on the act, in the first Avengers film , calling Tony out as a useless coward. Tony tries to prove he isn't, by attempting to sacrifice his life at the end of that movie.
Tony often put himself in situations where death was inevitable. He is afraid to die, but he can't seem to stop himself from challenging the thing he most fears. (Challenging the things he fears is one of the things he has in common with Steve Rogers, although Tony does it for different reasons.) He is saved several times, by Rhodey, by Pepper, by his team, in The Avengers, and Captain Marvel in Endgame. I suspect that Tony doesn't think much of his life, of how he has used it, and he probably thinks his death would have more meaning,  yet he doesn't really  want to die. When Doctor Strange gives him the signal, there is no doubt in his mind what he is meant to do, and he doesn't hesitate.
Tony once served death, chased after death, challenged death, and flirted with death. Yet, so terrified was he of dying, that he was willing to commit rather extreme acts of self harm to stave it off (the ARC reactor in his chest, for example).  The other times, when Tony tried to sacrifice his life, his motivation was not pure. He was doing it because he thought he deserved to die, and that is a selfish reason. It is only fitting that at the denouement of Endgame, Tony finally, gracefully, and willingly accepts death, and is not doing so to punish himself, or for his own salvation, or the accolades he think he will get when he's gone. He does it to save the lives of his friends, and loved ones, standing just a few feet away. Removing the immediate threat is his primary goal ,and his death is just the price he must pay for that. His motivation this time is love, and unlike all the other times when he nearly died, his motive is pure.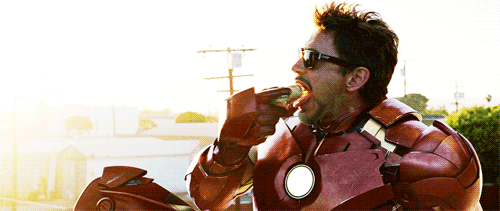 Tony is the only White male character, I've ever  liked, who was so incredibly flawed, and in some instances, actively shitty. In any other circumstances, Tony would have been considered a sympathetic villain, but here, in the MCU, he is cast as a damaged, but heroic, character. I don't like Tony because he is a hero. I like him because he knows how flawed he is, and desperately wants and tries to be one. (I also love Robert Downey's performance, which closely echoes Tony's character arc, if you know anything about his personal life.)
I am not comfortable with the lionization of Tony Stark, by his fans since  his death, however. They build up his character in ways he was not, which does a disservice to the character, his story arc, and Downey's performance. All along, Downey knew exactly the type of character he was portraying.
I feel it is disrespectful to the character, to make him out to be something he was not, because that ignores his character arc, and diminishes the meaning of his death.This is not the story of a "good" man, who did even more good when he died. This is the story of a horribly flawed man looking for salvation from his sins. I'm probably one of the few fans who doesn't mourn Tony's death. In an earlier post, about Endgame,, I said I was alright with Tony dying, and this is  why. In Avengers Endgame, he actually achieved the redemption he was always seeking, and did so without hesitation.
Tony died very well, because he deserved to.