Apertivo, is  a beverage, usually wine,  that's consumed before eating a meal, to clear the palette, and stimulate the appetite. This episode is  prelude to the  meal to come that is season three.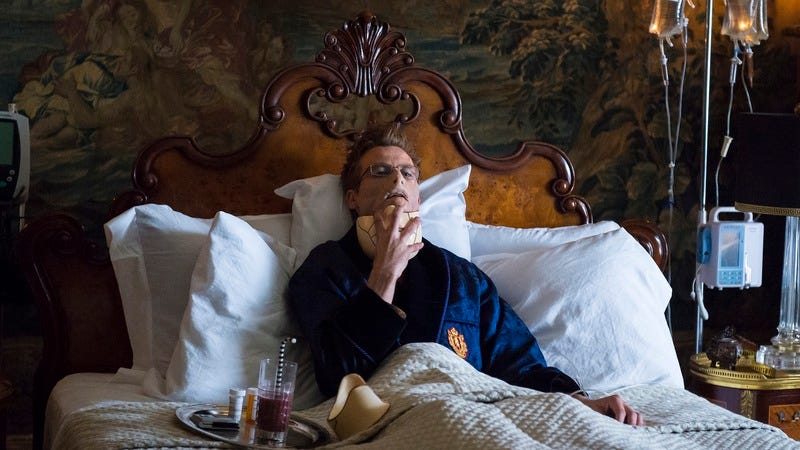 In this episode, there's not a lot of plot, but there is a lot of maneuvering, as the various players state their goals, and move themselves into position to resume the chase for Hannibal Lecter, who is living in exile in Florence, with Bedelia Du Maurier. Its not that nothing of consequence occurs during this episode, but we've spent the first three episodes of the season finding out where Hannibal and Will are, and what they've been doing, and this is our chance to find out who survived the Red Dinner, and  see what they have been doing since that night.
In a flashback, we see Crawford in the hospital next to his wife, Bella, who is dying of cancer. Just before she dies, she admonishes him for nearly getting killed, saying that unlike her he can stop what's killing him, his obsession with the Chesapeake Ripper.Will Graham has gone home, back to fixing boat motors. The most startling change in the aftermath of The Red Dinner however, is Alana Bloom, who has become Mason Verger's new therapist. Frederick Chilton encounters Alana when he visits Mason in an attempt to scheme the capture of Hannibal, but Mason rejects him, in favor of hiring  Alana. We start with Chilton and Mason Verger in a face off, as Mason takes off his mask, and Chilton removes his makeup, both of them showing off  facial scars received as a result of Lecter's machinations.
You can see that Alana has undergone some radical emotional change, since her last encounter with Hannibal, when she was pushed out of a window by Abigail. Alana was as significantly changed by the events of that night as much as Will,  and Hannibal (who of course claims that he was not.) Alana is on a mission of revenge, but she goes about it in such a subtle manner that it's difficult to tell what her plans are exactly, until she comes right out and states to Mason Verger that she is there to offer her services in capturing Hannibal. Mason is his usual vile self, making sexual jokes and asides to her, although I think he says these things to see how she will react to them. When she shows no reaction, (Alana has far more pressing concerns than Mason's bullshit), we don't see him talk that way to her again.
This is also when Alana first meets Margot Verger, and you can immediately see that Margot is smitten  by her. Until now, we've been given no idea that Alana might be bisexual. Later, we see that the two of them have developed a romance, and are  working together to defeat Mason. The reason I find Alana so fascinating is that her survival of that night at Hannibal's has really scarred her on an emotional level, to the point where her entire demeanor has changed, and she seems entirely unlike the woman we met in the first season.
Alana has hardened. She is cool, blunt, and  pragmatic. She certainly seems less warm and motherly than she was three years ago. She is more calculating. This isn't just the trauma of  having been thrown from a window by Hannibal's protege. She is reacting to the final loss of Abigail ,a young woman she couldn't save, the shame and guilt at not having listened to Will's warning about getting close to Lecter, and whatever shame and guilt she felt as a result of having fallen for Lecter's ruse that he loved her, and  the fact that he had been feeding her the bodies of his victims.
Alana also dresses differently from the first and second seasons. Where before she wore pretty feminine wrap dresses, she now wears boldly patterned pants suits, with high collared coats and jackets, as an expression of power. In fact, she dresses the way Margot used to dress. What's interesting is that Margot begins to dress in a more relaxed and casual manner than when we first met her, and I think it's because her relationship with Alana has opened her  in a way she couldn't express before. Remember when we first met Margot she wore a very severe wardrobe with high collars in stark colors, as a kind of armor against her brother.  In other words, Alana is good for her.
As usual though, no matter how progressive  male  showrunners believe themselves to be, they almost always fall into some of the same traps regarding female characters, by neglecting relationships between women on their shows. Often there's just a lone female character, and when there's more than one, the women are often in adversarial relationships with each other. This is starting to change as shows begin to hire more women writers and showrunners. I'm glad to see the show has moved away from that dynamic in the third season. We only just met Margot halfway through season two,  so don't know enough about her other than she is a woman who knows what she wants, and has no problem making it known, and she makes it clear ,she wants Alana.
In flashback we see Crawford visit Will Graham at his home and ask Will why he contacted Lecter to warn him that the police were coming that night. Will Confesses that he did it because Hannibal was his friend, and that he wanted to leave with him, but couldn't. It is interesting that he and Hannibal, as far apart as they are, are emotionally sitting in the same place, regretting their actions towards each other, and missing one another terribly while  both of them are engaged in a semi-contentious relationship with a close friend.
Chilton, still scheming, goes to Crawford to ask for his help in capturing Lecter, after his rejection by Mason. Crawford tell him that he is officially out of the business of  chasing Hannibal. He says he has had enough and only wants to tend to his wife in her last days. We later find out that this is a lie, and that he has hatched a plan for Will to lure Hannibal out of hiding, so they can kill him. Or rather say, he has decided to follow Will to Hannibal. Chilton has come to the party too late, because all the key players have already formed their personal Hannibal Recapture teams.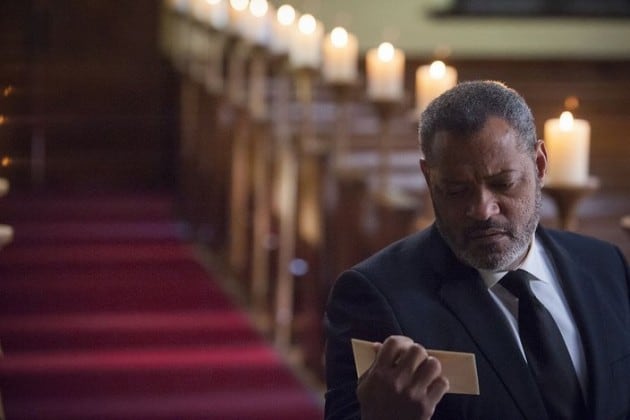 Eventually, Bella dies, and Crawford is enraged to find that Hannibal has sent him a condolence card. Will Graham attends the funeral and Crawford tries to talk him out of the plan to capture Hannibal. He warns Will that he will probably be killed. But Will is determined (for a number of reasons) and sets out on a boat to Florence. How does he know where Hannibal is? He simply knows Hannibal. Both Chilton and Alana are aware that Will can lead them to Lecter, but it is only Chilton who mentions this to Jack ,who follows Will to Europe. Alana elects to find out on her own, rather than attempt talking to Will again, as the last time they spoke, he rejected her.
Essentially this episode is about a bunch of horribly scarred and vengeful people teaming up to hunt down the man who did this to them before he skipped town. Its almost as if they had learned nothing from their previous inability to capture Hannibal. Later, these same scheming tactics will be in used at the tail end of the season in an attempt to not only capture the Red Dragon, but destroy Hannibal Lecter, once and for all.