Barbarella (1968)
I watched this late one night, when I was a teenager, and the only things that really impressed me were, how badly the movie sucked, and how fun and funky the costumes were. I watched it because I was a huge fan of Duran Duran, at the time, and they said this movie was where they'd gotten their name from.
Barabrella, played by Jane Fonda, was an astronaut from the 41st century, who was sent through time to stop a mad scientist, named Durand Durand.
Now, you have to remember that outfits this skimpy were  liberating for women back then, and were a direct backlash against the severe conservatism of the fifties., where the agenda had been getting White women to go back into the home, after having been in the workspace, during the war.
Also, there was the breakdown of the movie studio system after the war which ushered in a new ways of approaching filmmaking, and new ways of depicting both men and women in film. You had the rise of new hotness, like Paul Newman, James Dean, and Sidney Poitier, and  a younger, more virile, casual male expression, to go along with the women's skimpy attire.
Oh, yeah, if you think the costumes were only skimpy for her:
The Matrix (1999)
About every decade or so a movie is released that affects every other movie for the next decade, and The Matrix was it. This movie didn't just affect other movies, like Inception, it affected politics, and inspired  real world events, and social movements, like the Columbine shooting, and the Men's Rights Movement, which uses this movie's dialogue of the red and blue pills, to fuel its agenda.
http://www.vision.org/visionmedia/society-and-culture/The-Matrix-reality-check-truth/883.aspx
Oddly, what it did not affect was real world dress. Black people were already dressing this cool, so we didn't need it, and whenever we saw White guys trying to dress like Neo, we laughed at them. But this shit looked great in the movie. Observe Neo's, and the Twin's monkish silhouettes, and Niobe's bantu knots.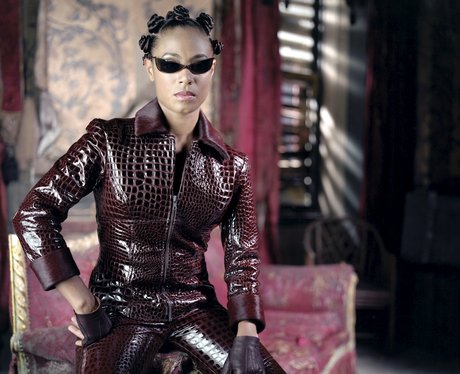 Dune (1984)
I remember watching this about three years after its release, and loving the costumes. The stillsuits worn by the Fremen were very much exactly the way I imagined them, but I thought the movie excelled in its use of costumes for the female characters, especially the Bene Gesserit's severe, nun-like, attire, which are reminiscent of the Middle Eastern Chador.
I remember trying to imitate Jessica's hairstyle in the bathroom mirror, a style which heavily reminded me of Rachel's from Bladerunner, which had been released a couple of years earlier. This style is sort of like those 30s  Hollywood glamour shots, with a touch of Elizabethan silhouette thrown in:
And who doesn't remember this image?
Pacific Rim (2013)
Okay, I liked the "nauts outfits just fine, but what I really fell in love with was Ron Perlman's shoes. He played a disreputable character named Hannibal Chau, who also happened to be a snazzy dresser.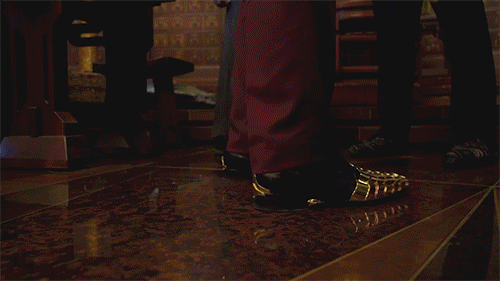 The Chronicles of Riddick (2004)
I'm not a huge fan of this movie, because it's just not very good, but I will watch it anyway, as  Thandie Newton's Dame Vaako wears some of the baddest, slinky dresses ever seen in a Scifi movie. No Black woman has ever looked that damn good in outer space.
This reminds me of the slinky dress scene from Serenity:
Bladerunner (1982)
I don't think I even need to go into how influential this movie has been, not just on American Cinema, but Japanese cinema too, as Akira, and Ghost in the Shell are both direct stylistic offshoots.
https://www.gamespot.com/gallery/blade-runners-legacy-10-movies-and-tv-shows-inspir/2900-1519/
http://www.indiewire.com/2017/10/blade-runner-influence-cyberpunk-sci-fi-ridley-scott-1201883053/
The costumes were inspired by 1930s/40s neo-noir films, most keenly seen in Rachel's costumes. Roy Blatty and Pris' costumes were inspired by the burgeoning punk scene of the 1980s. Bladerunner's costumes still manage to look cutting edge even in 2017.
Rachel's broad shouldered silhouette was entirely in keeping with the eighties aesthetic, too. Lots of women were moving into male dominated workspaces, at that time, and were trying to fit in, in some cases, by out-men-ing the men, trying to appear intimidating, using pantsuits and shoulder pads, while also trying to appear feminine by wearing pink, large bows, and high heels.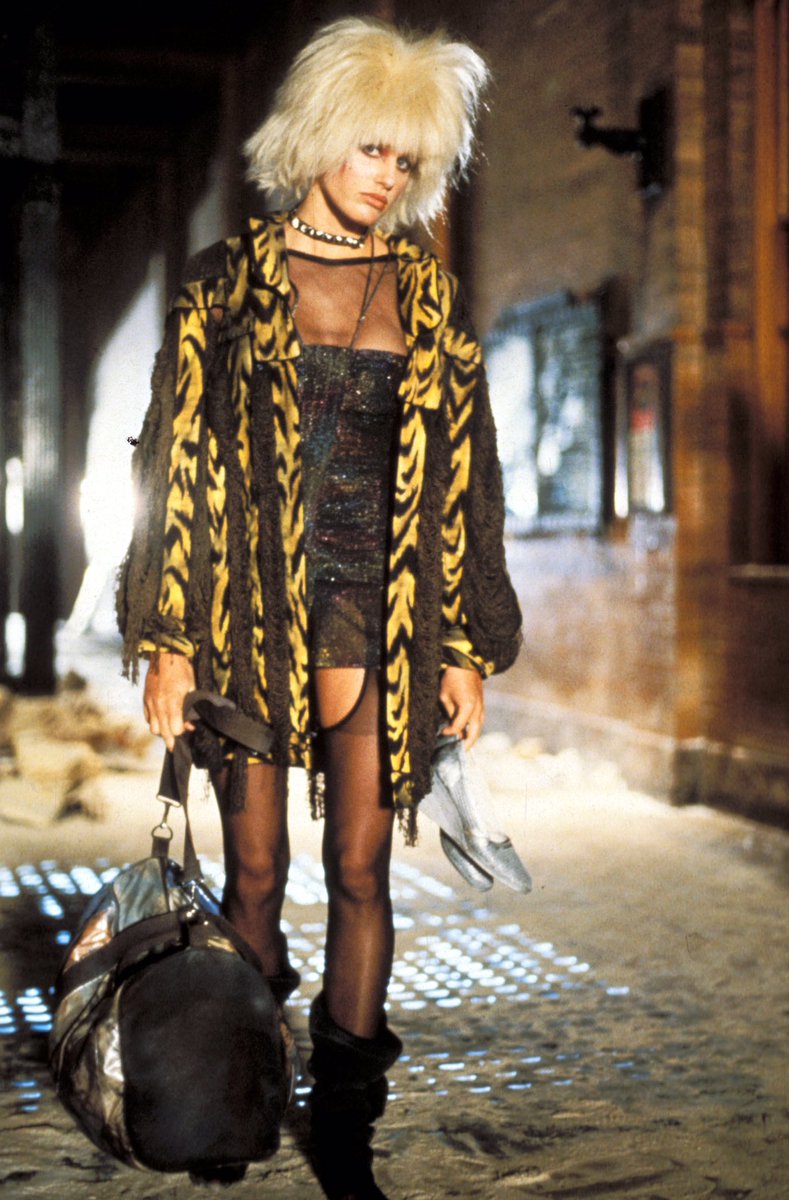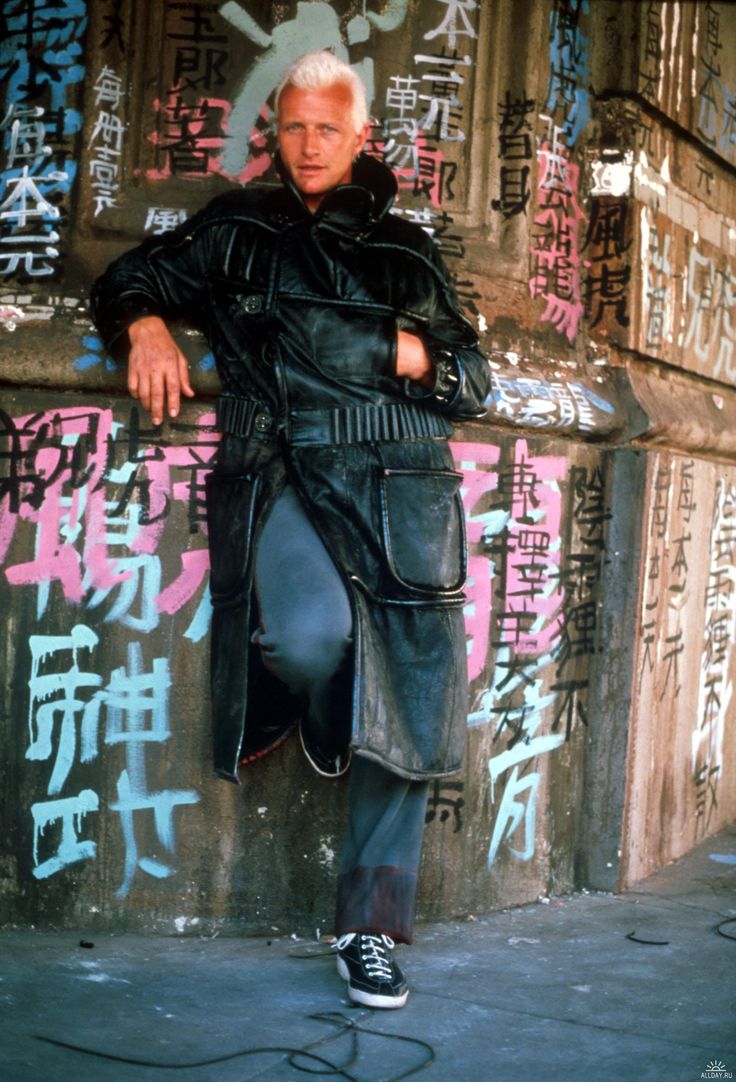 As for Rachel's chinchilla coat. In the world of Bladerunner, it wouldnt be real, since the animals are probably extinct, and even the idea of  killing animals in that world is taboo.
"Chinchilla fur is amongst the most rare and expensive in the world. It takes 100-150 pelts for a waist length coat and at least 250 for a full-length coat."
– — http://www.chinchillaguide.com/chinchilla-information/history-origin/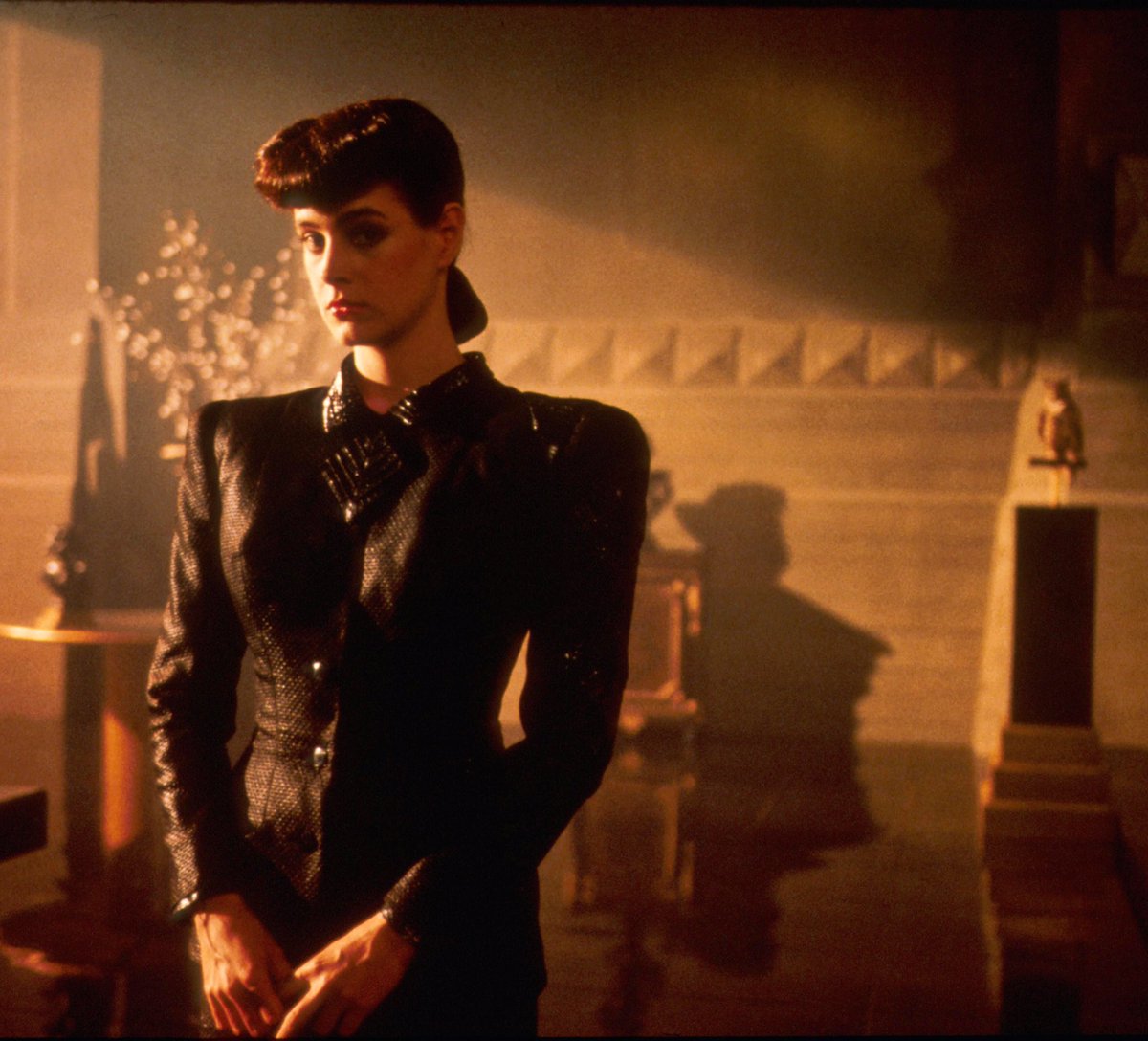 Big shoulders, a cinched waist, and a short skirt was the female power suit of the 80s. Actually that silhouette has been the symbol of feminine power since the Renaissance:
And these are the women's work clothes during and just after the war, which Rachel's outfits are loosely based on, with the cinched waist and big shoulders. As the men went off to war, women moved into the workspaces they left vacant, a parallel to the many women moving into the workspaces in the 80s.
Rachel's hair and makeup are straight out of 1930s Hollywood glamour shots: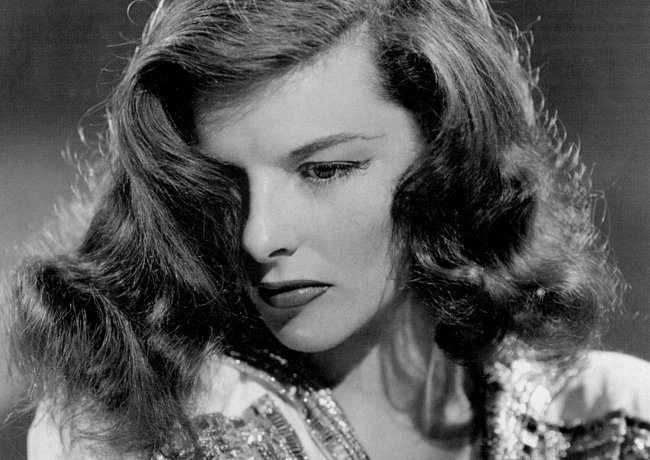 The Mad Max Franchise
The Mad Max franchise is also heavily influenced by the Punk scene of the 1980s, combined with the practicality of desert existence. In Thunderdome, and The Road Warrior, we can see the influence of American football in the giant padded shoulders on Auntie Entity's guards, and most of the "warriors" in Road Warrior.
Incidentally, the hairstyle shown, in the photo below, is called the Fish Spine, or the Mohawk.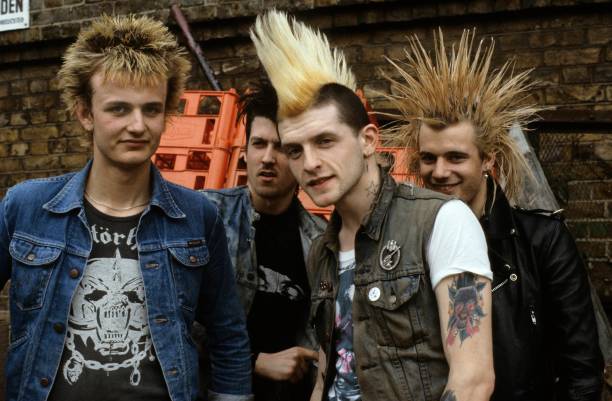 One of Auntie Entity's men wears a Noh mask as a headdress. Notice the football pads everyone is wearing, and the loose interpretation of Ancient Roman battle helmets. Auntie's chain mail dress,and stockings are unique unto themselves. There hasn't been anything like it in film since. Tina Turner states the dress weighed more than  120 pounds.
From Rolling Stone Magazine, August 1985: "The dress Moriceau concocted for Entity is an expressionist classic: a seventy-pound soldered amalgam of dog muzzles, coat hangers and chicken wire, the whole overlaid with gleaming chain–mail butcher aprons and accessorized with pendulant auto-spring earrings.
Her earrings were inspired by springs from a car part.
Star Wars: The Phantom Menace (1999)
If you are seriously into costume, and want to know more about Queen Amidala's fashions, then check out this book. It's also one of the only ways you can get some idea of the  incredibly rich detail of the  fabric and decorations.
Most of the costumes were desinged by Trisha Biggar, and were heavily influenced by several Ancient Asian cultures. This first one was  influenced by Mongolian culture, specifically the Mongolian wedding dress.. Its my personal favorite.
'These two designs have asian cultural inspirations. The color red, popular in east asian culture (esp. in China), symbolize traditional bridal colour, good luck, celebration, joy, vitality, long life, money, recognition, propriety… etc.'
—- https://hayochifabricfilms.wordpress.com/2014/09/25/queen-amidala-and-her-dress-inspirations/
This article also discusses the origin of the two little red dots on Padme's cheeks, and the  inspiration for her white makeup.
This outfit is clearly influenced by Japanese Culture. The headdress is influenced by a Roman battle helmet.
The Fifth Element (1997)
This was one of Luc Besson's first sci-fi movies, and it's a classic. The clothing was designed by the French Designer Jean Paul Gaultier. The movie is kinda meh, for me personally, but the two stand out characters, that everyone remembers, are the non-binary, Ruby Rhod, played by Chris Tucker, and the alien opera singer, Diva Plavalaguna.
The Black Panther (2018)
A Black woman is the designer for this movies Costumes. I'm loving what I've seen already, but I'll wait until I've seen the movie to comment on the Costumes because there's going to be a lot to say, and a lot of research to determine the cultural influences. There is nothing that you see on a movie screen that isn't carefully planned, from Costumes to colors, to makeup, and hairstyles, and every single design element. If you can see it, it's there for a reason, and has a purpose. The creators of these movies put a lot of thought and effort into these things, and I'd like to think they appreciate our appreciation.
Next up in the coming couple of months: The Design and Themes of Bladerunner 2049, Black Panther, and the Design work of Guillermo Del Toro.