Just some of the conversations I've been reading, and sometimes participating in, on Tumblr. Incidentally, you should check out my Tumblr page. It's a bit different from this one, in that I post more about politics, and social issues, along with more casual things like goofy animals, and silly discussions.
Robots and Race
* The TV Series Humans has just finished its third season, and quite a number of fans are unhappy. I watched the second season and noticed that race wasn't much talked about, although since many of the robots featured depict different races, it should have.
The star character for some of the major plotlines was Gemma Chan's, Mia. She was killed in the season finale, and fans felt some type of way about that. I didn't watch the third season because I had gotten bored with the show.
But something in EAWS's essay, about how Mia was treated on the show, and the third season's approach to racial issues, prompted thoughts from me about how the subject of racism is depicted in science fiction/fantasy shows, especially when the writers are White. I've noticed that they are often not honest about White culpability in the invention of modern racism.
I've been noticing this trend, and I had some things to say about.
Humans is one of those shows that is racially diverse on the surface, but in reality is very safe, very white-centric (yes, even with having Mia and Max in the main cast).
"Äkta människor", the original Swedish show had its own problems with writing the characters of color,  but it was always very clear that the in-universe "Real Humans" ("We are People") movement was a direct parallel to the white supremacist, anti-immigrant alt right groups / political parties, and all their members were portrayed by the white actors.
Humans, however, while also pretending to be a sci fi allegory of real life racism and xenophobia, makes sure that for each bigoted white character there's always a Bigoted Character of Color. Just a few examples –
a random Black man, a member of alt-right "We Are People" movement, in s1 holding an anti-synth banner and shouting anti-synth propaganda;
Thusitha Jayasundera's Neha in s2 was leading a case against Niska, yes, she went through massive character development in s3, and became an active synth rights supporter, but in her own words, she changed her views mainly because of Laura (a white woman);
a xenophobic anti-synth cameo character played by Naoko Mori in s2;
Ed's bigoted Black friend, who persuaded Ed to sell Mia (which in turn made it easier for the writers to redeem Ed in s3 – "Ed wasn't a racist who dehumanized his girlfriend of color, he was just a weak man, who followed an advice from his Black friend, it's the Black friend, who is the /real/ racist" – that's the writers' message here);
a Black woman police officer, who profiled Mia in s3;
a random Angry Black Woman on the street, that attacked Mia in s3;
a Brown Muslim politician on the Synth commission, that was presented more anti-synth, than a white guy, who lead the commission (s3);
an anti-synth Brown Head of the Police, member of the commission;
an unnamed Black man leading the human supremacist group against the synth compound, targeting Max and Mia (3×08).
Once is an accident, twice is a coincidence, third time is a pattern, as they say.
What was the point in changing what was basically a white nationalist into a Black xenophobe? Intersectional bigotry exists, yes. But white writers of Äkta människor managed to show intersectional bigotry through white characters – they had xenophobic white gay character and a homophobic white hubot/synth, they even had a weeb. Brown writers of Cleverman showed intersectional bigotry through Koen (in s1) and Waruu West in s2. But when white writers prefer to show Black and Brown characters as the "real" racists (like Sense8) the only reason for that is that the writers don't want to touch the subject of white supremacy because it makes them uncomfortable. *
I love this, and I just want to piggyback a little bit off this post for a minute:
This is one of the major reasons why I dislike racism allegories written by White writers. They often, and very deliberately, get these allegories wrong by trying to equate racism and white nationalism, with "reverse racism" (which is not a thing, btw). They often do this by casting PoC as virulent racists against whatever out-group is the stand-in for a marginalized group in the narrative, whether its robots, supernatural creatures, or aliens.
I've seen this happen in a lot of fantasy, and sci-fi narratives written by White writers, who are attempting to lecture their audience on how bad racism is, all while trying never to acknowledge the elephant in the room: That our current model of racism, they are riffing on, was invented by White people.
They often make these virulently racist characters Black as well. In Heroes, the nasty racist, who wanted to kill all heroes, was a Black woman, who actually killed children. In District 9, the African characters were racist against the aliens, monetarily prostituting them, exploiting them, and even cannibalizing them, (which is a whole other nastily racist trope about people from the African continent, that I simply cannot believe no one caught.) In the X-Men/New Mutants TV Series, The Gifted, you have a Black man, as a member of the government, hunting down the mutants, to put them in concentration camps, and in Teen Wolf, you have a Black woman who wants to destroy all supernatural creatures, and yet again, advocates killing children to accomplish her goal.
It's even worse when sometimes these are the only Black characters in the entire narrative, or worse yet, Black women.
There is already a dearth of Black women in fantasy and sci-fi media, so Black women being cast in these roles (of killing children) is an especially nasty trope, that needs to fucking die, especially when you consider that it is real life Black women, who know, above all else, what it is like to lose their children to violence, and are working hard right now to protect their children from things like gang violence and police brutality. Real life Black women work damn hard to counter the very narratives these characters are advocating in these shows. To then cast these (always dark-skinned, with natural hair, because its simply not enough that they be Black) women as the advocates and killers of children, in these shows, is an especially insulting slap in the face to Black fans, as Black women are some of the hardest fighters against racism and sexism, being so often on the receiving end of both, and to keep seeing them cast in these roles is more than a little enraging.
I know the point the writers are trying to make is that there's racism on all sides and that anybody can be racist, but that message is more than a little self-serving, especially when you consider that it is only White writers who tout this message, in their allegories about bigotry. So, not only are they appropriating our stories of oppression (all things that have been done by Whites to everyone else) to use for non-human beings, but casting PoC in these roles as the oppressors, because they want to express the idea that that type of racism and bigotry is an equal opportunity position. By doing that, they thereby remove themselves from collusion with the issue and relieve their own guilt.
@@
*And then there's this problem, which is seen in every scifi/ fantasy racial allegory from True Blood, to Zootopia, to Bladerunner, to Bright, to The X-Men……… 
Yet it's the kind of parable that turns up over and over again in science fiction and fantasy stories that are reportedly trying to convey a message of tolerance. "Look, we get that you're having trouble seeing minorities as humans, so perhaps it would help if you imagined them as something that is A) objectively not human and B) inherently dangerous."…
…What makes it worse — and weirder — is that writers can't resist giving these marginalized groups some kind of superpowers, which in turn actually gives the fictional society a legitimate reason to fear them.
@@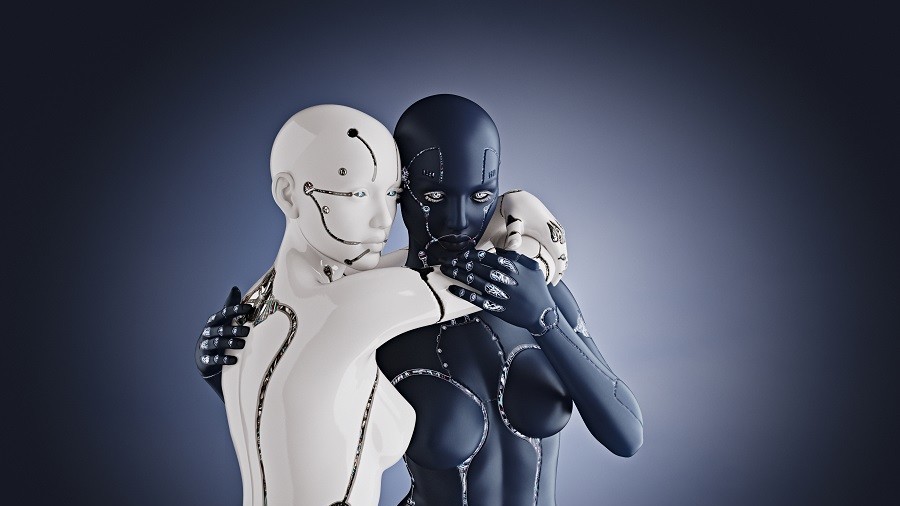 @@
Science Fiction Genre and Race
 *White writers also have a tendency to be lacking when it comes to imagining futuristic depictions of race, often simply reproducing the same racial issues (and many of the same stereotypes) that exist right now. The situations of various PoC simply never changed. We're still sassy sidekicks, living in poverty, model minorities, or just erased.
https://psmag.com/social-justice/welcome-to-the-post-racial-future-its-still-pretty-racist
Altered Carbon presents a world that looks post-racial, and in which humanity has escaped from identity, and identity politics, once and for all. But even when bodies are interchangeable commodities, certain bodies are treated as having more value than others. for the greater profit of rich people and white people, and especially of rich white people.
I'm surprised a film of this magnitude and of this scale decided to show one of the most regressive and most racially-charged images I'd seen in a while; replicant Luv (Sylvia Hoeks), the replicant assistant to Niander Wallace (Jared Leto)  is shown getting her nails electronically altered by a small Asian man, whose hunched over, deep in his work.
The stereotype of the Asian nail salon tech has made its way into the future.
@@
Black Feminism
*Discussion of Black women as love interests. By saying that Thor is only interested in Valkyrie, as a heroic figure, it  is akin to saying she's a strong, independent, Black woman, who don't need no man, and how this does not take into account intersectional femininity:
The Problem with Valkyrie Being Simply a "Hero" to Thor
So…I get not everyone is going to understand this, especially if someone is not a Black woman and doesn't have our experiences, so I'm going to try to lay this out as nicely as possible and try not to come off too harsh.
I'm going to start off with a quote from Alice Walker:
"Black women are called, in the folklore that so aptly indentifies one's status in society, 'the mule of the world,' because we have been handed the burdens that everyone else–everyone else–refused to carry. We have also been called 'Matriarchs,' 'Superwomen,' and 'Mean and Evil Bitches.' Not to mention 'Castraters' and 'Sapphire's Mama.'"
You see, Black women are expected to be the "hero" of someone else's story. We're expected to be "the help." The "mystical hero." The "sassy friend." We're always there to help out the lead, but we're never the love interest.
Chris Hemsworth has said himself that Thor is "smitten" by Valkyrie…when you disregard that and say she's simply his hero and that it's refreshing that he's not admiring her in a romantic way, you are confusing your experience as a non-Black woman with ours.
Black women have historically been masculinized and fetishized. We're either seen as too unattractive for love or too sexual to be romanticized. So, when we are put on a pedestal as a hero, it's not at all refreshing. It's the same ol' same ol'. Now, being adored and loved? That's something Black women never get to see for themselves.
It's something that has slowly been changing, but the more it changes, the more pushback is given in response. CW's Iris West is nitpicked as a character for the silliest things while the fandom constantly ships Barry with Caitlin, a white character who has shown no interest in him or vice versa. Even the actress cannot escape the anger from fans who prefer the lead be paired with a white woman. She faces constant harassment on her social media on a regular basis.
So, while it might be revolutionary for white female leads and other non-Black female leads to be looked at like heroes rather than love interests, it's not so much for Black women. So rarely are we given the message that we too can be worthy of love. Please tread carefully when you suggest that a Black woman being seen as a man's hero rather than love interest is "refreshing."
@@
Humorous Interlude
*The discussion, on the adoption and care of the Roomba, continues: 
just remember they're social animals and should always be kept in pairs, don't get a roomba if you aren't prepared for that responsibility
@@
Representation
*I loved this speech about the importance of representation and inclusion:
Rick Riordan was awarded the Stonewall Book Award for his second Magnus Chase book, due to the inclusion of the character Alex Fierro who is gender fluid. This was the speech he gave, and it really distills why I love this author and his works so much, and why I will always recommend his works to anyone and everyone.
"Thank you for inviting me here today. As I told the Stonewall Award Committee, this is an honor both humbling and unexpected.
So, what is an old cis straight white male doing up here? Where did I get the nerve to write Alex Fierro, a transgender, gender fluid child of Loki in The Hammer of Thor, and why should I get cookies for that?
These are all fair and valid questions, which I have been asking myself a lot.
I think, to support young LGBTQ readers, the most important thing publishing can do is to publish and promote more stories by LGBTQ authors, authentic experiences by authentic voices. We have to keep pushing for this. The Stonewall committee's work is a critical part of that effort. I can only accept the Stonewall Award in the sense that I accept a call to action – firstly, to do more myself to read and promote books by LGBTQ authors.
But also, it's a call to do better in my own writing. As one of my genderqueer readers told me recently, "Hey, thanks for Alex. You didn't do a terrible job!" I thought: Yes! Not doing a terrible job was my goal!
As important as it is to offer authentic voices and empower authors and role models from within LGBTQ community, it's is also important that LGBTQ kids see themselves reflected and valued in the larger world of mass media, including my books. I know this because my non-heteronormative readers tell me so. They actively lobby to see characters like themselves in my books. They like the universe I've created. They want to be part of it. They deserve that opportunity. It's important that I, as a mainstream author, say, "I see you. You matter. Your life experience may not be like mine, but it is no less valid and no less real. I will do whatever I can to understand and accurately include you in my stories, in my world. I will not erase you."
People all over the political spectrum often ask me, "Why can't you just stay silent on these issues? Just don't include LGBTQ material and everybody will be happy." This assumes that silence is the natural neutral position. But silence is not neutral. It's an active choice. Silence is great when you are listening. Silence is not so great when you are using it to ignore or exclude.
But that's all macro, 'big picture' stuff. Yes, I think the principles are important. Yes, in the abstract, I feel an obligation to write the world as I see it: beautiful because of its variations. Where I can't draw on personal experience, I listen, I read a lot – in particular I want to credit Beyond Magenta and Gender Outlaws for helping me understand more about the perspective of my character Alex Fierro – and I trust that much of the human experience is universal. You can't go too far wrong if you use empathy as your lens. But the reason I wrote Alex Fierro, or Nico di Angelo, or any of my characters, is much more personal.
I was a teacher for many years, in public and private school, California and Texas. During those years, I taught all kinds of kids. I want them all to know that I see them. They matter. I write characters to honor my students, and to make up for what I wished I could have done for them in the classroom.
I think about my former student Adrian (a pseudonym), back in the 90s in San Francisco. Adrian used the pronouns he and him, so I will call him that, but I suspect Adrian might have had more freedom and more options as to how he self-identified in school were he growing up today. His peers, his teachers, his family all understood that Adrian was female, despite his birth designation. Since kindergarten, he had self-selected to be among the girls – socially, athletically, academically. He was one of our girls. And although he got support and acceptance at the school, I don't know that I helped him as much as I could, or that I tried to understand his needs and his journey. At that time in my life, I didn't have the experience, the vocabulary, or frankly the emotional capacity to have that conversation. When we broke into social skills groups, for instance, boys apart from girls, he came into my group with the boys, I think because he felt it was required, but I feel like I missed the opportunity to sit with him and ask him what he wanted. And to assure him it was okay, whichever choice he made. I learned more from Adrian than I taught him. Twenty years later, Alex Fierro is for Adrian.
I think about Jane (pseudonym), another one of my students who was a straight cis-female with two fantastic moms. Again, for LGBTQ families, San Francisco was a pretty good place to live in the 90s, but as we know, prejudice has no geographical border. You cannot build a wall high enough to keep it out. I know Jane got flack about her family. I did what I could to support her, but I don't think I did enough. I remember the day Jane's drama class was happening in my classroom. The teacher was new – our first African American male teacher, which we were all really excited about – and this was only his third week. I was sitting at my desk, grading papers, while the teacher did a free association exercise. One of his examples was 'fruit – gay.' I think he did it because he thought it would be funny to middle schoolers. After the class, I asked to see the teacher one on one. I asked him to be aware of what he was saying and how that might be hurtful. I know. Me, a white guy, lecturing this Black teacher about hurtful words. He got defensive and quit because he said he could not promise to not use that language again. At the time, I felt like I needed to do something, to stand up especially for Jane and her family. But did I make things better handling it as I did? I think I missed an opportunity to open a dialogue about how different people experience hurtful labels. Emmie and Josephine and their daughter Georgina, the family I introduced in The Dark Prophecy, are for Jane.
I think about Amy, and Mark, and Nicholas … All former students who have come out as gay since I taught them in middle school. All have gone on to have successful careers and happy families. When I taught them, I knew they were different. Their struggles were greater, their perspectives more divergent than some of my other students. I tried to provide a safe space for them, to model respect, but in retrospect, I don't think I supported them as well as I could have, or reached out as much as they might have needed. I was too busy preparing lessons on Shakespeare or adjectives, and not focusing enough on my students' emotional health. Adjectives were a lot easier for me to reconcile than feelings. Would they have felt comfortable coming out earlier than college or high school if they had found more support in middle school? Would they have wanted to? I don't know. But I don't think they felt it was a safe option, which leaves me thinking that I did not do enough for them at that critical middle school time. I do not want any kid to feel alone, invisible, misunderstood. Nico di Angelo is for Amy, and Mark and Nicholas.
I am trying to do more. Percy Jackson started as a way to empower kids, in particular, my son, who had learning differences. As my platform grew, I felt obliged to use it to empower all kids who are struggling through middle school for whatever reason. I don't always do enough. I don't always get it right. Good intentions are wonderful things, but at the end of a manuscript, the text has to stand on its own. What I meant ceases to matter. Kids just see what I wrote. But I have to keep trying. My kids are counting on me.
So thank you, above all, to my former students who taught me. Alex Fierro is for you.
To you, I pledge myself to do better – to apologize when I screw up, to learn from my mistakes, to be there for LGBTQ youth and make sure they know that in my books, they are included. They matter. I am going to stop talking now, but I promise you I won't stop listening."
@@
Dinosaurs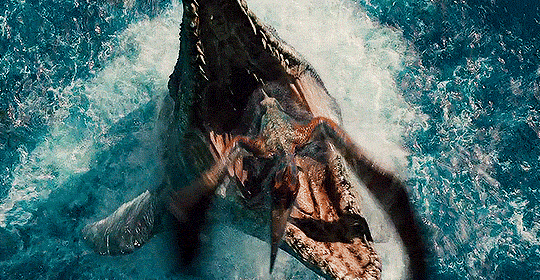 *This entire review is basically the only reason people got to see these films. We're certainly not watching them for the people in them.
Now, I've told you guys how much my Mom loves movies about people being eaten by things, so if she says something was a bad movie, take what she says as the truth. This woman will watch almost anything with giant creatures chasing and eating people, and she hated this movie!
I'm probably one of the few people that didn't actually hate this movie, although I hated most of the people in it, and spent some amount of time rooting for my three favorite dinosaurs: the T-Rex(which I have named Sue), the velociraptor named Blue, and the mosasaur from the last movie, which I have, henceforth, named Molly.
@@
The Apocalypse
*I had to leave a response to this because the whole idea of the zombie apocalypse has now become nothing more than power a fantasy for White men, who all imagine they're gonna be Negan, from The Walking Dead. 
I'm not watching any more shows, or reading any more zombie apocalypse novels, with White men in the center of the story. Most zombie novels and movies only feature White, middle-class people, and focus on their reactions to the loss of electricity, I guess.  Despite the existence of most of the world's infrastructure, and the clear examples of what human beings would actually do when encountering catastrophe, in places like Puerto Rico and  Katrina, apparently one's immediate reaction is to run amok in the streets, trying to kill each other for food.
I'm ready for some stories featuring unconventional heroes, in diverse environments. This is why I enjoyed World War Z (the book). How does the zombie apocalypse affect the plains of Africa or the mountains of Tibet? The slums of India? Or the favelas of Brazil?
Its also interesting to note that none of the pop culture we know, exists in any of these universe created by the zombie apocalypse. It's always a surprise to the inhabitants of these stories as if they'd never heard of zombies. They always have to start from scratch. What if we just didn't? I want to read a story (or watch a show) where all the Black, and Latinx people, in the 'hood,  lived, because we've all been watching movies about the zombie apocalypse for decades, and we know all the rules and the tropes.
something people writing post-apocalyptic fiction always seem to forget is how extremely easy basic 20th century technology is to achieve if you have a high school education (or the equivalent books from an abandoned library), a few tools (of the type that take 20 years to rust away even if left out in the elements), and the kind of metal scrap you can strip out of a trashed building.
if you want an 18th century tech level, you really need to somehow explain the total failure of humanity as a whole to rebuild their basic tech infrastructure in the decade after your apocalypse event.
i am not a scientist or an engineer, i'm just a house husband with about the level of tech know-how it takes to troubleshoot a lawn mower engine, but i could set up a series of wind turbines and storage batteries for a survivor compound with a few weeks of trial and error out of the stuff my neighbors could loot from the wreckage of the menards out on highway 3. hell, chances are the menards has a couple roof turbines in stock right now. or you could retrofit some from ceiling fans; electric motors and electric generators are the same thing, basically.
radio is garage-tinkering level tech too. so are electric/mechanical medical devices like ventilators and blood pressure cuffs. internal combustion's trickiest engineering challenge is maintaining your seals without a good source of replacement parts, so after a few years you're going to be experimenting with o-rings cut out of hot water bottles, but fuel is nbd. you can use alcohol. you can make bio diesel in your back yard. you can use left-over cooking oil, ffs.
what i'm saying is, we really have to stop doing the thing where after the meteor/zombies/alien invasion/whatever everyone is suddenly doing 'little house on the prairie' cosplay. unless every bit of metal or every bit of knowlege is somehow erased, folks are going to get set back to 1950 at the most. and you need to account somehow for stopping them from rebuilding the modern world, because that's going to be a lot of people's main life goal from the moment the apocalypse lets them have a minute to breathe.
nobody who remembers flush toilets will ever be content with living the medieval life, is what i'm saying. let's stop writing the No Tech World scenario.
As a corollary to the above:
I've been saying this about the Zombie apocalypse for years. What city dwellers do you know are gonna immediately drop everything, run out to the woods, and live at a subsistence level, just because dead people are walking around? People with disabilities, allergies, or elderly parents to care for, ain't going to be doing any such thing. Why is the advice given to people, that they need a "bug out" plan just because the dead are walking? I'm not buying it.
I live in the hood. Do you know how many handymen we have in the hood? How many military personnel? Or even homebody engineers? Do you have any clue how resourceful and cooperative poor people are, and have to be, to survive even with electricity? And how many of us have been trained to expect the best, but plan for the worst case scenario. No, you don't, because that idea of poverty is never represented in popular culture. Shit! A zombie apocalypse won't even ruffle our fucking hair. We'll come up with ways to kill the zombies while keeping it moving. Hell, my brother, all by himself, could have the electricity up and running, a defensive tower, a moat, schooling, and gardening, all in the space of two weeks, and entirely organized by my mother.
It's also interesting to me that all zombie apocalypse narratives only seem to consist of middle-class, white, suburbanites trying to survive, with a handful of PoC thrown in like confetti. The most that White writers can imagine, for PoC, even during the apocalypse, is that we all die? Really! That seems to be their only scenario. They don't take into account that poor Black people have been taking care of each other since the invention of poor people. The poor have never believed in an isolationist, go it alone, ruggedly individual attitude, when it comes to surviving, because we couldn't afford that! That's the kind of attitude that only people, with all of their basic needs met, could adopt as a life strategy. Poor people are not lazy, and of everyone, they would be the most likely to survive the apocalypse, because we have experience with surviving hardship and insecurity!
On the other hand, the middle-class white guys who invent these types of stories are obsessed with that attitude. They really think that as soon as the electricity stops, people are gonna lose their gotdamn minds, and start trying to kill their neighbors for fun and food, or planning a long journey to go find their wife, son, daughter, lost somewhere in the pre-tech Badlands! Not even taking into account that we have real-life scenarios right here, right now, that we can look at and figure out that most people aren't gonna act like that. (*cough, ahem! Puerto Rico! Cough*).
I have long come to understand that apocalypse scenario are just wish fulfillment fantasies for middle-class white guys who think that the end of the world will make them the heroes they always wanted to be. As a result, I'm no longer interested in apocalypse scenarios with white men in the center of them as the heroes, and yes, I'm also talking about a certain TV show, too.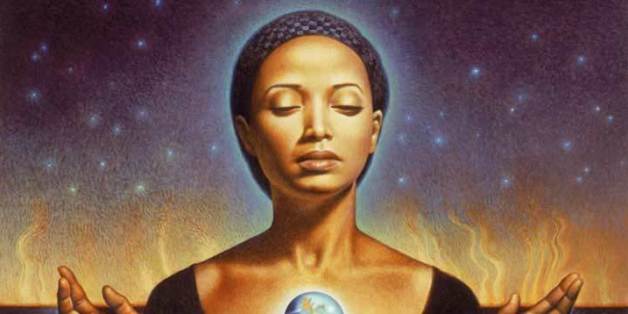 Actually, I've noticed one staple of almost all apocalyptic fiction written by White people: In everything, from those Purge movies, to alien invasion, and zombie apocalypse movies, the White Western reaction seems to be "go out and kill each other".
I'm mostly talking about the Purge films, where the premise is that all crime is free for 12 or 24 hours, but all people can think of to do is kill each other. Are you kidding me? Can we get an Oceans 11 version of The Purge, where someone has been planning the perfect heist, all year long? Actually,  I hate the Purge movies because the movies create more questions than they answer, and my super-villain brain keeps trying to organize the cultural, social, and legal implications of such an arrangement.
In a lot of American apocalyptic fiction, we never get any idea how the rest of the world is handling the destruction of the "civilized" world, or even if the rest of the world is experiencing it at all. For all we know, it's only the Americans and Europeans who have lost their damn minds, and the Canadians are doing just fine! How do we know the Aussies haven't just all gone punchy from the heat,  put on some fetish gear,  and decide to ride around in the desert?
When White men write about the apocalypse, they often seem to write about destroying whatever, and whoever is left.  Now contrast all that with how Women and PoC write about the apocalypse:
@@
Fandom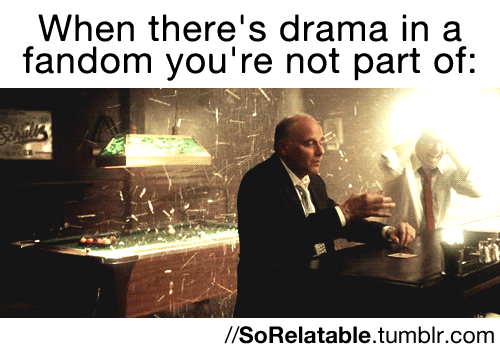 *Advice on how to NOT be a shitty fanfiction writer:
There IS such a thing as a bad premise. A story that relies on accepting racism, sexism, homophobia etc as valid or justifiable or not something that needs to be contested, like any story that can not exist or function as is if you take those elements out…is a fundamentally bad fucking premise.
Nobody questions the existence of good ideas. Why do some people fight so damn hard to deny that there is such a thing as a bad idea?
Every idea a person has ever had does not NEED to be put out there. Not every idea leads somewhere good.
And each and everyone of us is capable of evaluating whether an idea we have is good or not. If it'll do harm or not. We each have the capacity to look at an idea we have and say…yeah that's not really workable. And just….not share it.
This isn't an imposition. This isn't censorship. This is basic human awareness of the fact that ideas in our brain impact us and us alone. Ideas we make the choice to enact in the world in some fashion impact others as well as us.
So fucking many of you resort to crying censorship when all that's being asked of you is applying some scrutiny to what ideas you decide to share, because you can't seem to wrap your heads around the idea that someone else telling you what you can and can't write isn't the only conclusion to be made from conversations about creative responsibility.
Because you just can't seem to fathom the concept that you could just decide for yourself…oh, huh, I don't actually HAVE to do this thing I'm digging my heels in about. It's not a binary equation. It's not either I do this or I do nothing at all and I might as well just have no rights or freedoms whatsoever gawd.
It's almost like it's actually….hmmm when examining the endless array of possibilities that go into crafting ideas and honing them and all the variables that act as search filters to narrow down my selection process of what areas to focus on, what elements to include….what if 'hey is this idea one that appropriates shit that's outside my lane or perpetuates harmful and toxic tropes' was just an added search filter used in that process?
@@
if you find bones in the forest, sit a bit and listen. they are old and have some good stories to tell. maybe they'll teach you a spell or two, or explain where the water on our planet came from.
if you find bones by the ocean, run. don't look back. run, faster, faster. the sea may love you but there are nights where she knows neither mercy nor science, and the bones warn you only once.
boi if you find bones call the police i hate this website so much
this is a piece of creative writing, in case you couldn't tell from the fact that real bones don't usually go hey lil' mama lemme whisper bony secrets in your ear or warn you of the incoming tides like a calcified weather frog.