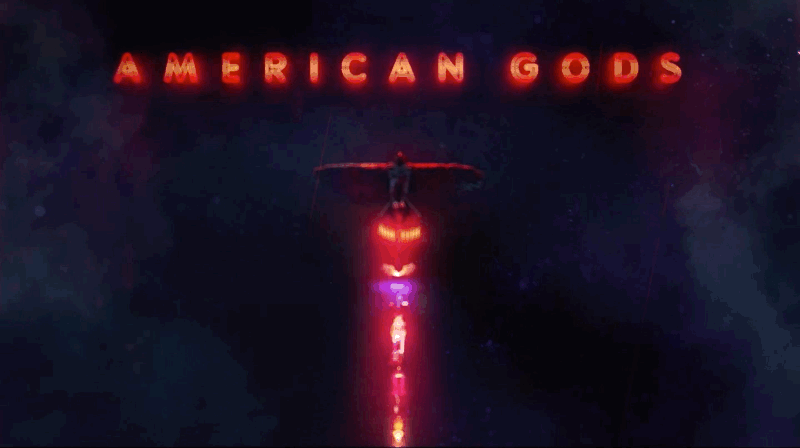 This  took some time to write because so many delicious things happened in the finale. I've been pretty busy and tired this week, but I'm determined to get this post out, doggonit! I'm also  going to have to do this in installments, because its already long enough. The next post is about the series as a whole, including its future incarnations, and an entire post devoted to speculation about the show's lead, Shadow Moon, and his relationship with Wednesday.
Fuller and Green pulled out every stop in Come to Jesus. This episode was funny, cute, and awesome, in ways I wasn't expecting. And that ending? Wow! This episode was also just gorgeous. The cinematography was  incredible, from Bilquis backstory, to the final scenes featuring Ostara,  tonight's episode belonged to the women.
We open with Shadow and Wednesday, looking bored, while Nancy crafts new suits for them from spider silk, of course. Why am I not even surprised that he's a tailor? It's Easter holiday, and the two men plan to visit the goddess for which the holiday is named. For that, they need to look presentable. Nancy's  house is an arachnophobic nightmare, though. All of his tailoring scenes, and even the clothing, is crawling with tiny spiders. (I think the spider's are making the fabric, and there's a giant loom in the background. How do I know this? I used to have  that kind of loom when I was a child.) I was a little squicked out by the spiders, though. If you have severe anxiety about spiders, then skip this scene. What's interesting is that all of these gods have animals associated with them, and that they communicate with. Wednesday has his ravens, and the wolf we saw in A Murder of Gods, Nancy has his spiders, Ostara has bunnies.
Afterward, we get another gorgeous scene of Nancy telling a story, despite Wednesday's protestations, and Nancy's  signature catchphrase, "Angry gets shit done!" is aimed, this time, at Shadow, who is pissed at Wednesday for killing Vulcan. This episode has so many favorite moments, this is simply the best episode of the season. Mr. Nancy generating his own spotlight is hilarious! (I just love this character!) At first I thought Nancy was going to tell the story he told in the book, about how the monkey got the lion's balls, but no, he tells Bilquis' tragic backstory, which is a very neat way to tie her to the other characters we've met this season, and tie her presence in this episode to Easter. How he knows her backstory is anyone's guess, unless he's making it up (in the book, he and Bilquis never meet) but it's fitting that he be the one to tell her story here. I think Nancy is probably a little in love with her too, and it makes sense, in this series universe, they would've met.
Note: Once again, only the barest bones of this comes from the book. This series follows the foundation, and spirit, of the books, but is very heavily embellished with lots of extra stuff.
http://nerdist.com/american-gods-history-primer-bilquis-a-k-a-queen-of-sheba/
Bilquis  is a very, very old Queen, (Sheba) with her own temple, and congregation. We're talking about 3,000 years ago, in ancient Iran, where she was incredibly powerful, and openly worshiped. Of course, you could visit her temple, and worship her if you wanted, but you would very probably be eaten. It's a beautiful, sensual scene that doesn't feel gratuitous. Fuller has an unerring talent for crafting sex scenes that are titillating, without being raunchy. Bilquis was so powerful then, like a spider, she just liquefied her companions (whole groups of people), before sucking them into her vagina. Where, according to Technical Boy, they spend an eternity worshiping her in the Vagina Nebula, as she feeds off their energy.
Nancy narrates how various patriarchies went out of their way to destroy her, and failed. That handsome young man with the crown, I believe just represents royalty in general, and no God in particular. At the height of her powers, she devoured kings too. Later, as men became more and more desperate to control and contain her and her followers, out of fear and hatred, they resorted to violence, which seemed to work. As the centuries passed she fell on harder and harder times and, like Nunyunnini, was slowly forgotten, even by herself. Unlike him, she was still potent enough to be revived. As long as people wanted what she had to give she could still take sustenance. Bilquis' story is a perfect metaphor  of the suppression of female sexual agency and  power by patriarchy, which is why it was important to Fuller that she be a  dark skinned Black woman. In the history of America, Black women have had little sexual agency, they're bodies often exploited by men for labor and reproductive purposes. We've all been taught that woman's sexuality needs to be carefully harnessed, and are only just now moving away from this concept in the US.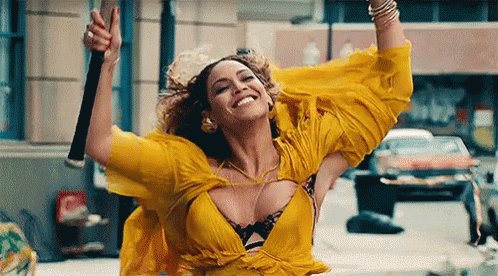 Also, women who look like the gorgeous Yetide Badaki, are rarely shown as sexual icons in  media, or  as women who own their sexuality, serving no one but themselves. Women  who use their sexuality for their own ends, often have their sexuality heavily policed by men and women of all races. Witness how black women like Beyoncé, and Serena Williams have been vilified by social media for expressing themselves, slut shamed by respectability politics, and made to seem less than white women who have engaged in the exact same behavior, but are considered empowered when they do it. The true irony,  in this scenario, are white women who think the freedom to express their sexuality is something only reserved for them, and who seek to suppress and castigate WoC for expressing theirs.  Bilquis story is all the more tragic because, as Bilquis' power diminishes, she comes to accept this shame and self hatred, along with her lowly status. She isn't just forgotten by the world. She forgets her power.
The  passing eras, and her rise to power again, are beautifully rendered by the changes in costume and makeup. We see her in her original jewelry, at the temple. There's a scene of her in a disco, with a huge Afro,  reminding me of Wednesday's first statements to Shadow about his mother. (I do wonder if the show will go that route with her. It would be a nice touch, and explain a number of odd things about Shadow, who we still have no backstory for.) She even takes another WoC ,as her lover and I'm sure there are fans who loved this representation of WoC pansexuality. In 1979, during the Iranian Revolt,  she is exiled from her homeland, along with many of her followers, and years later, watches in despair, as ISIL destroys her last temple. Later, she finds her lover again, but she is dying from AIDS, which has been seen a punishment for people  who are considered too free with their sexuality.
Bilquis is, once again, visiting her display at the museum. She is so ancient, that almost no one now alive knows what any of the  objects representing her were for. She is visited by Technical Boy, (who is wearing yet another shitty, ridiculous hairstyle) to whom she owes a huge favor, as he was the one who found her when she was at her absolute lowest ebb, homeless, and sleeping in the gutter. He offers her tribute in the form of a modern dating app, which is where we find her in episode one. What he has tasked her to do, we're not sure, but she's meant to meet everyone at the House on the Rock, a place of major importance in the book.
Nancy says Bilquis is reluctantly on the side of the new gods, and that Wednesday needs to collect another ancient goddess as her counterpoint.  During all Bilquis' scenes, we get some idea of what her powers are, and while she's not at her height, she possesses the ability to charm, beguile, or seduce any human being. Who she is meant to turn this power to at House on the Rock, is unclear. Wednesday, or Shadow? Nevertheless, it's clear she's not entirely willing to do Technical Boy's bidding, and there is hope for her breaking her deal with TB, because we notice she is not carrying her phone, or using her app, when she seduces one of her travel companions.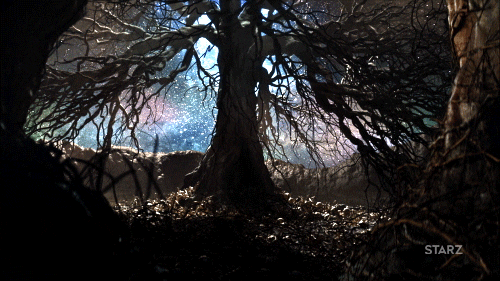 On the way to Easter, Shadow dreams about climbing a mountain of skulls. This is his prophecy about the war, hanging  over his subconscious like Wednesday's storms. On some level, he knows and believes in what's happening, but refuses to commit, and Wednesday calls him out on this. No matter how angry he gets at Wednesday, or pretends to, he still likes the old con, and I think Wednesday is counting on that fondness to keep him by his side.  Shadow also sees the White Buffalo again, and the World tree, Yggdrasil, which is also a representation of the War of the Gods (Ragnarok) spoken of in Norse mythology.
**Ragnarok (Old Norse Ragnarök, "The Doom of the Gods") is the name the pre-Christian Norse gave to the end of their mythical cycle, during which the cosmos is destroyed and is subsequently re-created.
—– http://norse-mythology.org/tales/ragnarok/
When Shadow wakes up, he finds that he and Wednesday are being chased by bunnies. It turns out that the bunny that overturned Laura's truck was not sent by Easter, although it is her animal to call, and they report to her. I thought that was one of the cutest things ever. The bunnies try to stop Wednesday  from reaching his destination too, but unlike Laura, he is unimpressed. He just runs them over, which makes Shadow give him the side eye. So the bunny's job seems to be stopping uninvited  people from reaching Easter's home, I guess.
Obstructionist Bunnies!
Easter is, naturally, celebrating Easter, but she's celebrating it with all the various Jesuses, which I thought was hilarious. This is notable because Jesus is treated just like any of the other gods in the narrative, and most of the current versions are present at the party. The whole damn thing was just deeply, deeply funny to me, including the scenes where, whenever any of the Jesuses got near a light source, a halo would appear, and Shadow's meeting with Jeremy Davis' regular white guy Jesus, AKA Jesus Prime, for some reason. I did see Hippie Jesus, Black Jesus, and even a baby Jesus. Some of the Jesuses I couldn't pinpoint, although I am told Mexican Jesus managed to resurrect long enough to show up.
Your basic guide to Jesus:
What do you call them? A flock? A gaggle? A Halo of Jesi?  But it's the details that really fetched me up, and made me laugh out loud. From the flock of sheep that follow Ostara in all her outdoor background shots, to the tiny halo on the infant Jesus, being nursed by a woman dressed like old-school Mary, to  the jellybean stigmata of the Russian Orthodox Jesus, and the bunnies that poop jellybeans, it's an incredibly rich, and thoroughly charming backdrop. And if I was a bit dubious about Ostara, at first, I was totally in love with her by the end of the episode.
On Ostara:
https://www.thoughtco.com/eostre-spring-goddess-or-neopagan-fancy-2562488
https://www.themonastery.org/blog/2013/03/easter-and-ostara-converging-traditions/
Easter receives several uninvited guests, along with Shadow and Wednesday. Laura and Mad Sweeney, Media and Technical Boy also arrive. The meeting of Shadow and Easter is just cute in the books but they're shown here as being much more smitten with each other, which is a good foundation for Easter's actions towards Shadow later in the series. In the book, she is delighted to meet Shadow and flirts shamelessly, in that way that only Southern Belles can get away with. The two of them are just the most darling thing I've ever seen on this show. Shadow blushes like a shy teenager with his first crush, and while she offensively refers to him as pink chocolate! she gets a pass, because I wholeheartedly agree.
That boy is foine!
Kristen Chenoweth is wonderful in this role. I was prepared to be annoyed by her because of the trailer, (and because Chenoweth has a sordid past as a Broadway singer),  but she turned out to be a delightful character who, like a lot of southern women, is warm, gracious, and mushy, on the surface, but has a backbone of pure steel underneath. Easter is not happy that Wednesday is crashing her party, and upsetting the Jesuses, who are very nice men.
Laura and Sweeney also arrive, but unfortunately, Easter is unable to resurrect Laura, as Sweeney requests. Looking deeply into Laura's eyes, Ostara sees the shadow of a raven, and the face of Mad Sweeney, and determines  that Laura was killed by a god. Since Laura was killed through Wednesday's machinations, Ostara cannot interfere in  another god's plans. Laura figures that Sweeney knows more than he's been telling her and tortures the truth out of him. It turns out, Wednesday isn't just responsible for Laura's death, but just as I suspected, is also responsible for that perfect casino heist that went horribly wrong, that landed Shadow in prison, being guarded over by Loki. You need to ask yourself why Wednesday would go through so much trouble, to procure a nobody, from nowhere. Easter also admits that the other gods have been talking about Shadow too, speculating who he is, and why he's with Wednesday.
I like how they've kept Laura's decomposition consistent. She's definitely getting to the liquid stage, as her eyes have become milky, and she coughs up maggots. She can't even begin to hide her smell now, (in the books she covered it up with perfume), and she has her own halo of flies. In the meantime, Shadow has a conversation with one of the Jesuses about the nature of belief. I laughed too hard at Jesus setting his drink down, and losing it in the pool he was floating on top of,  because Drunk Jesus!
One of Easter's bunnies whispers in her ear that Media has arrived, also without  invitation. Before I start gushing about Gillian Anderson in this role, I need to give some backstory. Irving Berlin's Easter Parade was released in 1948, and starred Judy Garland and Fred Astaire. The plot involves an older veteran dancer, who replaces his older partner with a young dancer, he hopes to mold in his image, until he finds himself falling in love with her. The faceless drone we see Media dancing with, is dressed in a replica of his suit, from the movie, and Gillian is wearing a pink replica of Judy Garland's dress from the movie's title scene, at the end. The drones are even attempting to dance like Astaire. Media mostly speaks in quotes from the movie. From her opening statement about Easter's heart beating faster, to the mention of their date, these are all quotes from the movie. Guess how I know this!😊😊😊
Unlike Wednesday, Easter didn't turn down Media's offer of aid, although she never asked for it either. In exchange for making certain that Easter traditions remain popular (eggs and chocolate), Easter has gotten a significant boost in her reputation, and followers, even if she has to share her holiday with the Jesuses. In exchange, Media requests her loyalty. When Wednesday approaches, he is confronted by Media and Technical Boy, but he upsets their plans, winning Easter's loyalty with a combination of lies and tribute. He tells  her the Shadow-unapproved story, that Vulcan was killed by the New Gods, for taking his side in the coming war, and making him a sword. He also offers her a sacrifice.
Here, we see Odin for the first time this season. In an awesome display of power,Wednesday shows Shadow his true face, and speaks his many names.
 Odin's backstory:
http://norse-mythology.org/gods-and-creatures/the-aesir-gods-and-goddesses/odin/
Now once again we come back to the idea of sacrifice. By offering Easter the  deaths of his enemies, he gives her enough power to free her from the bargain she made with Media. Throughout the series, he has outlined the basic idea of godhood, and how it works. Give a little, and get a little in return, whether it be worship, tribute, prayer, or sacrifice. It's fairly simple. Quid pro quo! If you dedicate something precious to a god, you will receive something in return, although not necessarily what you asked for. Media, Technical Boy, and the other new gods, have corrupted this arrangement, and think this makes them more powerful than the old ones. They have never seen the old gods powers fully unleashed, and have nothing but disdain for creatures they see as old and weak, the way so many young people view the elderly.
It's not that Media and Technology don't affect the world in some way, but they can't control the seasons, rainfall, or lightning. They cannot truly control anything on the physical plane, and are not grounded in the real world of human physical sensation. Bilquis can compel people to love her and eats them, Wednesday can control the weather and destroy them, Vulcan can make weapons that kill them. As I said in an earlier post, the old gods are physical in a way the the new gods are not. The new gods are virtual, ephemeral. They promise dreams and fantasies, but give little or nothing  in return, for all the attention humans give them. Or rather, what they give in return for human attention is just as ephemeral, shallow, and unreal as they are.
And this is Wednesday's key to his argument with Easter. Media can't really give her power. She can influence humanity and she can tug on their bargain to procure Easter's loyalty, but with the influx of direct power from Wednesday's sacrifice, she no longer needs Media. The new gods can aid and abet, cajole, promise and seduce, but they can't really offer her a sacrifice. It's not just about human attention. Power comes from being offered tribute.We saw this with Bilquis and Technical Boy earlier. If it weren't for the bargain she made with him, she would be capable of devouring him too. He doesn't have nearly as much control over Bilquis as he thinks he does, and he is too shallow, and ignorant, of who she is, to know what he has awakened. The same way he underestimated Wednesday,  in A Murder of Gods, Media has underestimated the degree of power she is dealing with regarding Easter.
But I also said that neither side in this war is  good or bad. There's no right or wrong from a human perspective. Gods have their own concerns and most are only concerned with what humans  can give them. This mindset (and Wednesday's actions towards Easter) is the key to understanding why Wednesday wants this war, and why he's willing to kill Laura to procure Shadow for himself, and is also willing to unleash untold misery on humanity, by encouraging Easter to take away the harvest season.
Wednesday did the same thing to Shadow that TB did to Bilquis. He found her at her lowest point and offered her a chance to regain power. Wednesday orchestrates the complete destruction  of Shadow's life, and at his lowest point, when Shadow has nothing and no one, he steps in, and offers him a way out, winning his loyalty. If you want a clue as to who Shadow is, think about why Wednesday would want to collect him, and why he needs Shadow to believe.
We see an awesome display of power, and some truly gorgeous cinematography, as Easter, high on the sacrifices given to her by Wednesday, unleashes the full meaning of her name, as Goddess of the Dawn, and kills off all the plant life in a several mile radius of her home. Humanity can have Spring back when they pray to her for it.
My  favorite moments were all the wonderful details like:
Mr. Nancy's interjections in his scenes with Shadow.
Media's presence this entire season, which is in keeping with the fact that Fuller is an out gay man, has been a showcase of gay icons. Marilyn Monroe, Lucille Ball, David Bowie, and Judy Garland, are all extremely popular gay icons, from the forties through the sixties.
The Security Rabbits jobs are to stop traffic on the road to Easter's home, so they can see who is in the vehicle, and then report the occupants back to Easter. I suspect this is what the rabbit that caused Laura's accident was trying to do. No one approaches her home without her knowing about it , except in the case where Wednesday killed them all.
The deviled eggs at Easters party. It was a tradition in our house to eat those every Spring.
Easter's tiny halo.
The tiny polka dots on Shadow's suit.
That poor waiter who was wearing an egg shaped helmet.
The tiny cookies shaped like hands with red centers representing the stigmata.
Wednesday connecting Spring Break raunchiness to the worship of Easter.
The diversity of Easter's party guests.
Those ridiculous striped silk robes Nancy made Shadow and Wednesday wear while awaiting their new outfits.
Easters slightly tattered finery. If you look closely enough, the flower in her hat has just a bit of rough edging.
When Media's hat blows off during the storm, that's also a scene from  a Judy Garland movie.
Shadow disapproves of Wednesday's buunycidal behavior.
*In part two, I'll discuss my thoughts about Shadow Moon, and in part three I'll talk about the costumes, cinematography, and visual aesthetics.