I did give some light mid-season reviews for both of these shows, and I said I'd have something to say about each one of these seasons.
Hmmm…lets go with some statements about Into the Badlands, first.
Into the Badlands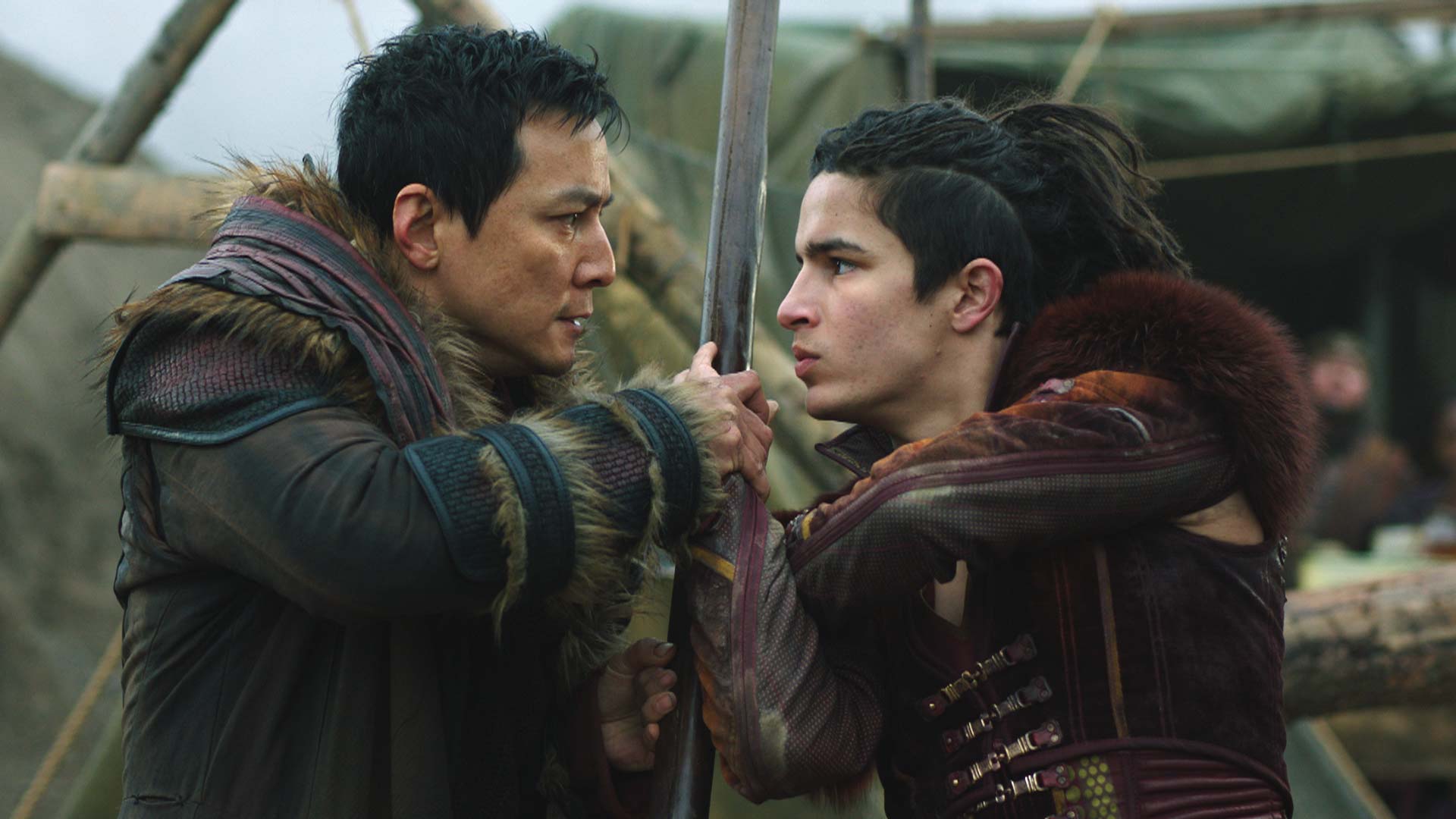 This season ended on another cliffhanger, which was not as intriguing for me as the last one. Sunny has spent the entire season trying to get help for Henry, who is sick because of his genetic heritage of Black Chi, from Sunny. It turns out that Sunny is a catalyst, who can induce it, in those with latent abilities. We find out what that really means when he finally makes his way to the Sanctuary run by Pilgrim.
Pilgrim insists on referring to  Sunny as his brother, (and I'm not sure if this is literal, or metaphorical), and says his real name is Sanzo, (and one of the earlier characters, in the season, mentioned he has a sister). So we are just beginning to find out tiny details of Sunny's backstory. Sunny encounters an angry MK, who only wants to fight. Sunny tries to talk him down, and stave off the fight as long as possible. He's not trying to hurt MK, and has far more pressing concerns.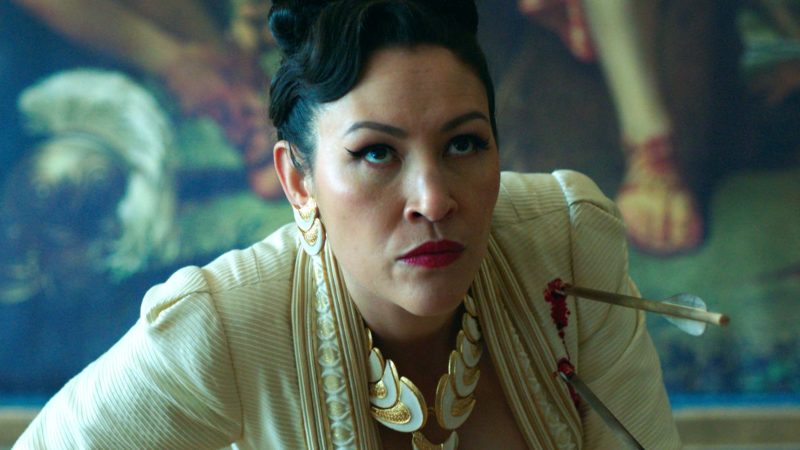 Pilgrim has started to show he's not as much of a good guy as he wants the denizens of the Badlands to believe he is, as he kills Castor, tries to cover it up, lies to Nyx, and  attacks Cressida, when she confronts him. He's not as stable as he seems. He and his followers unearth a massive machine, and when he and Sunny touch it, he is imbued with Henry's  Black Chi. How this is going to help him rebuild Azra is anyone's guess. Now he's more powerful than any of the others in the Badlands, except for one Wild Card. And it is not The Widow.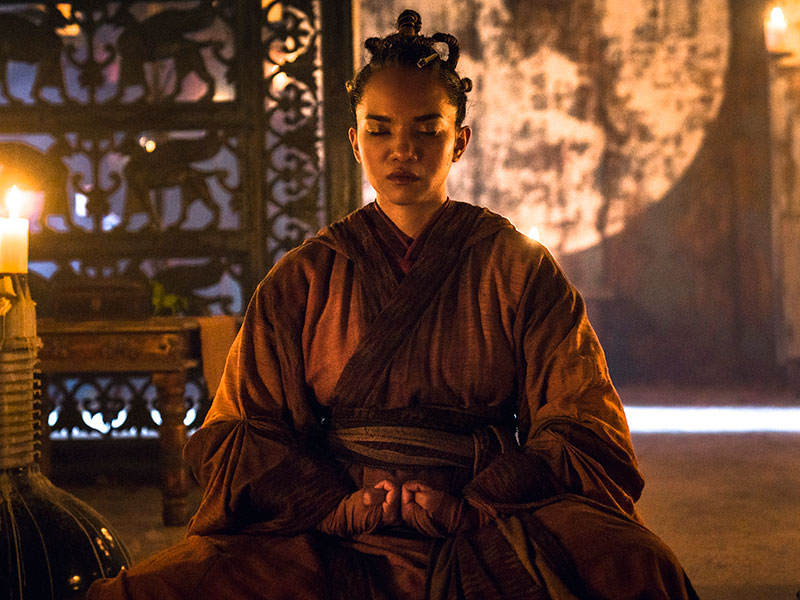 I like to call her The Abbess, but The Master of the Abbey, that MK escaped from last season, and played by the African-Chinese actress, Chipo Chung, has a role to play in this new dynamic. When The Widow finds herself trapped, and near death, after walking into a trap in Baron Chau's home, the Abbess, freezes, then reverses Chau's wweapons, and rescues Minerva. With this one act, the writers have officially added magic to the worldbuilding of the Badlands, (although it was always heavily implied that this world was magical).
I am interested to see what role the Abbess is going to play in the next season. Somehow, I don't think she and Pilgrim are going to be on the same side, and we might find out the reason it appeared as if she were siphoning the Black Chi from the students at the Abbey.
Some of the relationships were foreshadowed, as Lydia and Nathaniel Moon have renewed their old romance. The most interesting, (yet completely unsurprising), relationship is between Gaius Chau and The Widow. The Widow has really sort of lost everything, by the end, as her people turned against her, held her prisoner, and she was lead into a trap by some false information. She has seemingly teamed up with The Abbess, and it'll be interesting to see what these two heavyweights will get into next season, as the Abbess has promised to return Minerva's Chi powers to her.
The Westworld Finale:
Opening Credits/Themes
One of the most noticeable changes to the opening credits, for season two of Westworld,  is the addition of a woman, (it appears to be Maeve), holding a baby. This is not, (according to the show's creators), meant to convey the idea that the Hosts can get pregnant, (as these are not organic beings), but an illustration of the concept of family. The major theme this season is the relationship between parent and child. This is examined, in the plot, as the idea of fidelity. This is a word Dolores says to Bernard when she is testing him for his authenticity to Arnold. William says it to the James Delos hybrid when he tests him, and The MIB's daughter, Emily, says this to him, in the end credits. Remember, the linchpin of a Host's sentience  is often based on the loss of family, and note that William, James, Bernard, and Maeve all have the memories of having killed, or lost, their children.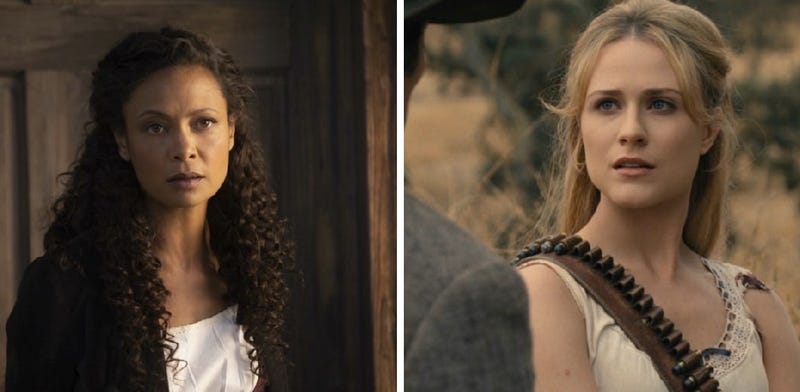 (Side note: One of the more implausible fan theories I saw floating about, was the idea that the mother and child image, meant that Dolores was pregnant with Teddy's baby. The idea of two "non-organic" constructs having a child, is what's known as "fan wank". But outside of that, is the incredibly annoying act of applying that particular image to Dolores, rather than the Black star of the series, whose narrative is actually searching for her  "child". That image is a direct reference to Maeve, so why would you take an image of a Black woman, with a  child, and apply it, in a fan-wank no less, to her White co-star? *Sigh* White fans stay trying my fucking patience!)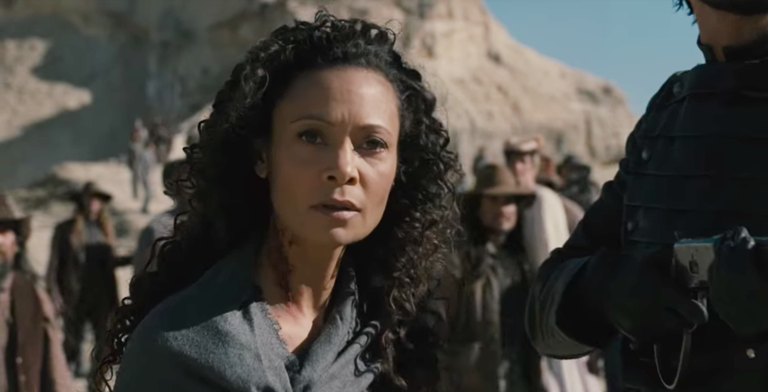 The most obvious reference, for that image, is Maeve's storyline, to find and rescue her daughter, but Maeve's companions, Hector, Armistice, Felix, and even Lee have also, through their adventures, formed a family, of sorts, and this is a theme peppered throughout  Maeve's entire arc, extending into the story of Akecheta of the Ghost Nation, and Akane's parallel story of her daughter. The revelation of Akecheta's nature, and the world, is through his connection to family, and the loss of his wife. Akane's story is a parallel to Maeve's relationship to Clementine, the adopted daughter she has to kill in the finale.
Dolores, as much as Ford,  has control issues, and her character  arc is to learn to let the other Hosts be themselves, and learn to rely on other's strengths. Teddy's strength ,after finding out what he was, was his compassion. He would have been able to temper Dolores, and help her accomplish her goals that way, had she trusted it.  Just as Maeve has learned to rely on the individual strengths of her companions, Dolores has not learned to appreciate these qualities in hers, and learns the hard way, by losing Teddy, who rebels against her manipulation of him by destroying himself.
I think, for Dolores to be more successful in her next goal, she needs to make the idea of family a personal one, rather than an abstract concept, that is less important than her objective. Her story arc is the reverse of the others though. She spends the first half of the season trying to rescue Peter Abernathy from the Delos Corporation.
The theme of parents, destroying, or rescuing their children  is also illustrated through James Delos, and William (The Man in Black). The aim of the Delos corporation was to put human brains into Host bodies, and they semi-succeeded. Just like the Hosts, the Human/Host hybrids also have a linchpin memory, which is the key to their sentience. For the James Delos hybrid, it was the death of his son Logan, who he rejected just before Logan overdosed on drugs. The Host version of Delos seemingly cannot get past that incident, and is eventually destroyed. James and William both rejected (and thereby, killed) their children, and neither of them seems to be able to get past the memory of that.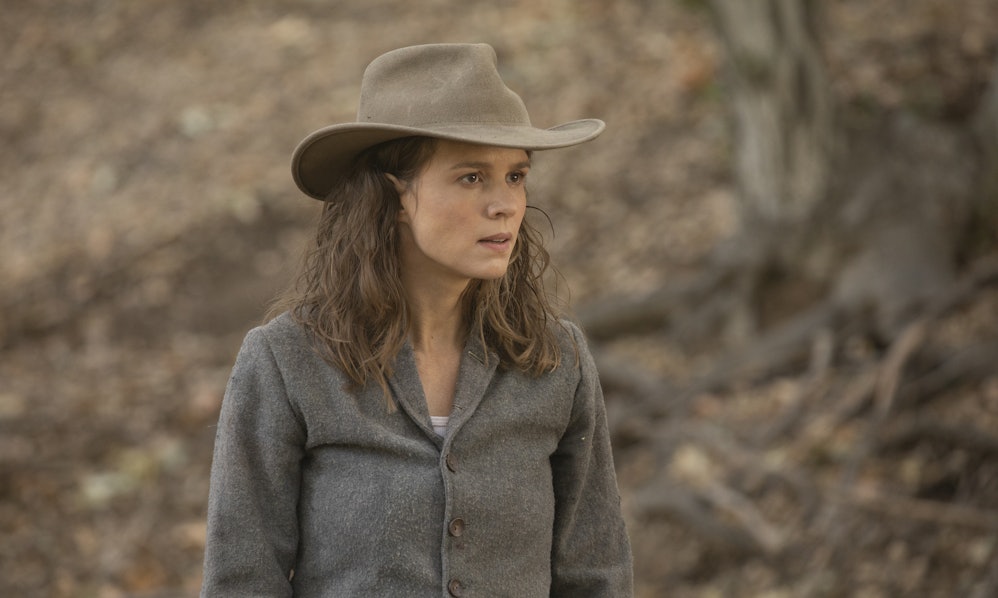 For The Man in Black, some parts of the season were scenes of him doubling back and forth in his loop, and attempting to make different decisions than we saw him make the first season, and some parts are of a different timeline ,where he is actually making the bad decisions. Basically if you see him making different choices than he made before, its probably the hybrid/Host version. The linchpin memory for him is when he shot his daughter, Emily. (This is what the end credits scene is about.) The scene where he kills her is an actual flashback, according to the writers.
(Side Note: I don't pay attention to the idea of the different timelines, because that's not especially fascinating to me. I keep a loose idea of when things happen, in my forethoughts, but  I refuse to get hung up on it, because when things happen, is essentially meaningless. In my mind, all of the decisions of the Hosts, humans, and Hybrids, are of a piece, and its not as important for me to understand when something happened, so much as why it happened. I think the writers feel this way, as well, which is why they jumbled up the timelines, in the first place. I don't think they want viewers to get hung up on when something occurs. For me, Westworld is about the characters, personalities, and relationships, and how they all serve the primary theme. It is not about the minutiae of when, and I don't spend a lot of time parsing that.)
It's almost as if, for the Hosts to move forward, to move out of the stagnancy of their loop, they need to confront their greatest sins, realize that, and then undo them. Many of the mind concepts on this show are based in various psychotherapies and PTSD. Although, unlike humans, the Hosts don't just hold on to  painful memories, they actually live them, over and over. One thing the show took pains to mention is the idea of humans remaining in their loops as well. (I mentioned this in one of my posts last season, about the idea of Karmic Debt.) The humans are less free than the Hosts. I think this is illustrated in William's story and his inability to move past Emily's death, and James Delos' inability to move beyond Logan's death.
https://www.recoveryranch.com/mental-health/why-do-people-with-ptsd-relive-traumatic-experiences/
The one person, who is able to move beyond the loss of their child, is Maeve.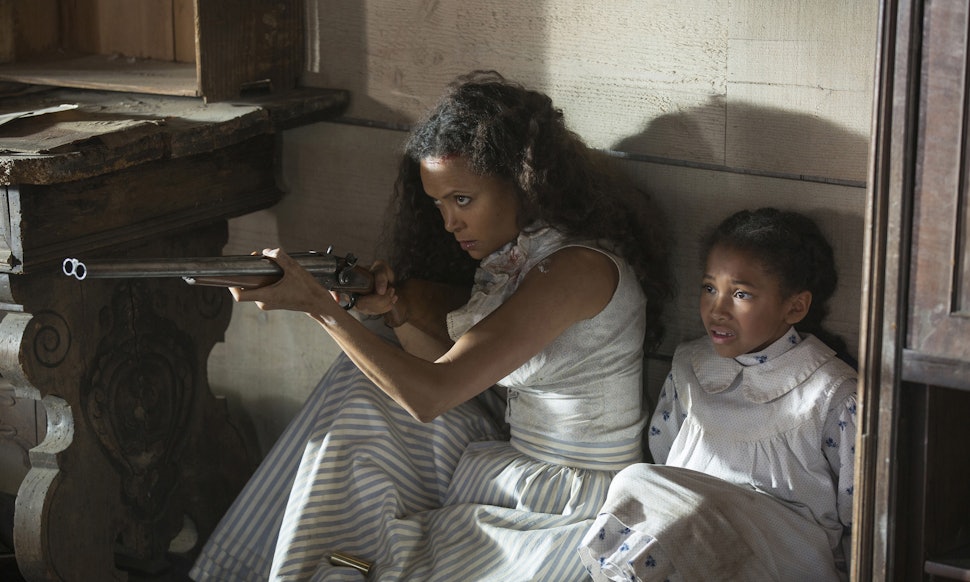 For Maeve, her emotional linchpin was her inability to save her daughter from the MIB, and she, just like him, had to circle back to the place and time where she lost her. To save her daughter, she had to respond  differently and, (to reach a kind of emotional equilibrium), she takes on and defeats The MIB, which gives her some small amount of closure, (even if she doesn't kill him).  For her to keep moving forward, she needed to confront one of her greatest sins, and the demon that came with it.
More importantly, Maeve doesn't do this alone. She accomplished her goal because of the coalition of humans, of different races, and Hosts, with different strengths and skills, (like Hector and Akecheta). She forms this "family' through a combination of mercy and compassion, unlike Dolores, who coerces her accomplices, through brute force, sacrificing them when they are no longer needed, and remaking them to suit her needs, like she did with Teddy. There is a reason that Dolores is nicknamed The Deathbringer by Ghost Nation.
For Delores, her linchpin  was the killing of Arnold, her biological father. We know this because it's the one memory she kept revisiting, again and again, in season one. In fact, Dolores could be said to have reached full sentience, when she circled back to her beginning and Arnold's killing. She spends the first half of the season attempting to rescue and protect her Host father, Peter Abernathy, from Charlotte's machinations, but Arnold is her linchpin memory, and she is responsible for his death. She can't save him, but she can save Peter Abernathy, and Bernard, the replica of her biological father. Unlike the others, Dolore's sentience is through the loss of a parent.
The Finale
*Maeve escapes the Mesa and reunites with her group, and they, Bernard, Dolores, Akecheta, William, and Delos all converge on the Valley Beyond. Dolores and Bernard enter first and find the Forge, a more advanced version of the Cradle. Dolores reads some of the guest data as the Forge opens "the Door" for Akecheta and his followers to upload their minds into "the Sublime", a digital world cut off from the physical world. Bernard kills Dolores to prevent her from destroying the Forge and flees with Elsie back to the Mesa.
Maeve and her group sacrifice themselves holding off Delos forces to ensure Akecheta and Maeve's daughter escape to the Sublime. Charlotte murders Elsie to keep her quiet, which convinces Bernard to build a host version of Charlotte with Dolores' control unit. Dolores kills and replaces Charlotte while Bernard scrambles his own memories. In the present, Dolores kills Strand and Bernard while transferring the host minds in the Sublime to a safer location. She then escapes back to the mainland where she rebuilds Bernard, knowing that he will oppose her plan to destroy humanity and hoping their resulting conflict will ensure the survival of the hosts.
In a flash-forward, William enters the Forge to find it abandoned save for Emily, who tests him for "fidelity", revealing that his consciousness has been implanted in a host body.
Overall Plot: The Cradle/The Forge/ The Valley Beyond
This season was very very busy. There were multiple threads, timelines, motivations, and a lot of dying! I am ill equipped to explain all of the plot to you because I mostly watch to see how the characters are navigating the plot,  their emotions, and relationships. This can leave me ignorant of some of the finer  details. So, how about some links from people who are either marginally smarter than me, or just paid closer attention to the plot.
https://www.gq.com/story/westworld-finale-explained
Still trying to wrap your head around all those crazy twists? We're here to help.
@@
*And from the creators themselves, Lisa Joy and Jonathan Nolan:
https://mashable.com/2018/06/25/westworld-season-2-finale-explained-lisa-joy-jonathan-nolan/#VqdG.8m3.Oqg
Maeve:
One of my biggest pet peeves, for the first season, was how many critics slept on Maeve's story. I knew that her story would be important, in comparison to Dolores' story, and that there would be a payoff, for it.
https://io9.gizmodo.com/sorry-maeve-had-a-more-satisfying-story-than-dolores-i-1827122416
Maeve, unlike Delores gets to have a certain amount of  closure to her story. Her original objective was simply to break out of the Matrix Westworld, and she almost succeeded, but gave that up in favor of finding her "once" daughter, who has undergone her own awakening,  and still remembers the mother she once had. She accomplished this goal, aided by a group of Hosts,  Lee,  a couple of Westworld technicians, and the leader of the Ghost Tribe. In the finale, she safely escorted her daughter into a pocket digital universe, called The Valley Beyond, where humans can't go. Maeve may never see her daughter again, but at least she knows that she is safe.
It was interesting watching Maeve's character arc all season, as she not only grew in power, but in her compassion, and her ability to love and sacrifice. She started off as a much more selfish character, and though there are criticisms that could be made of her character within the narrative of Black female stereotypes, overall, I'm satisfied with her story and how it ended this season.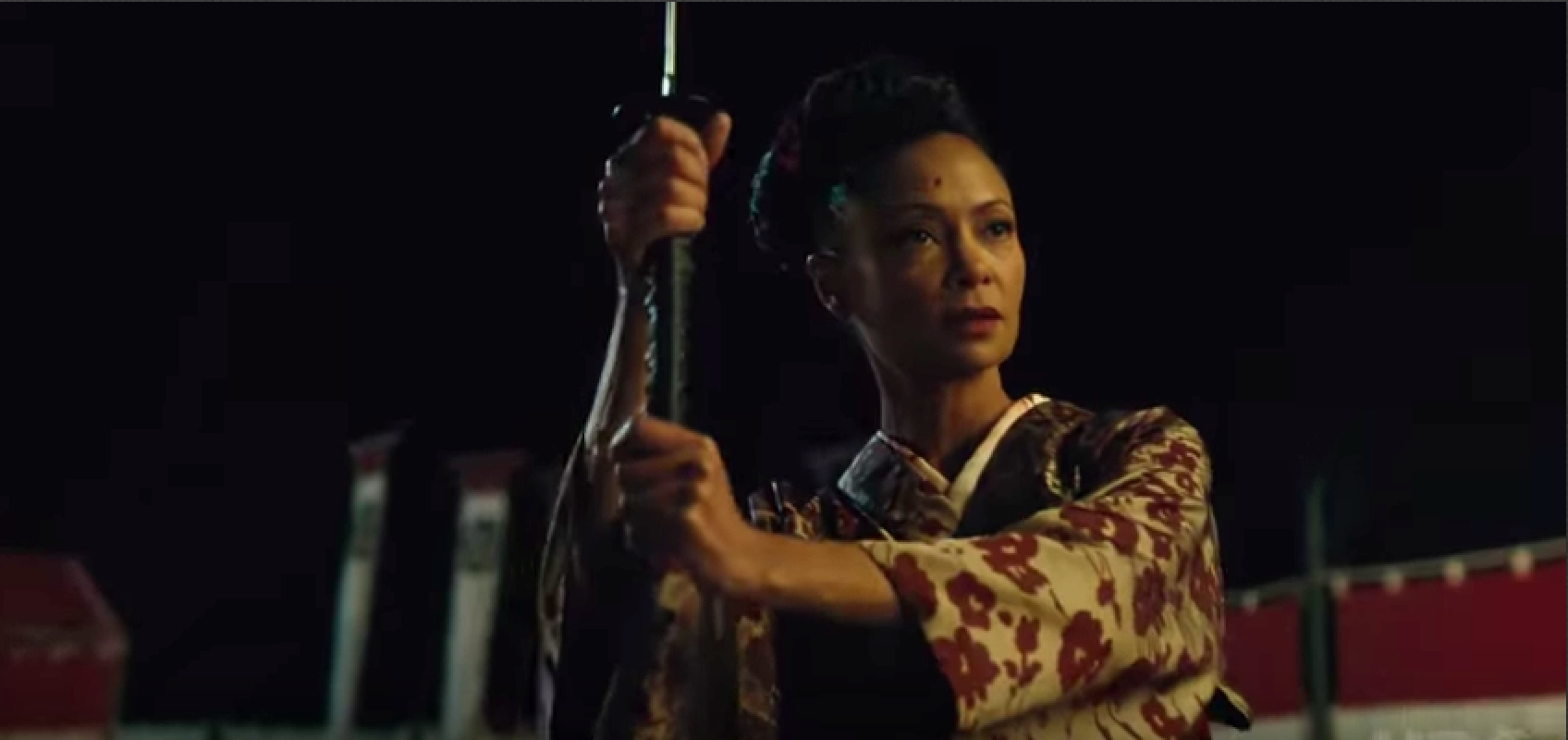 That said, my favorite episode is Akane No Mai, as it was a showcase episode for her character, emphasizing her deep humanity and compassion. And I just love the sight of Black women wielding samurai swords, for some reason.
Since the Delos Corp. have no idea that what happened was the robots reaching sentience, they intend to start the various Parks up again, after wiping and fixing the Hosts. They  believe it was all some sort sabotage by Ford, to destroy the Park, because he was forced to relinquish control of it. The issue of the Hosts sentience has not been resolved, and Dolores and a handful of other Hosts are now out in the actual world, as well.
When we last see Maeve, she and her crew have all been decommissioned, but we know she will be one of the ones to be revived, as Felix is one of the technicians who has been tasked with reprogramming the Hosts. Unlike Dolores, Maeve isn't trying to do what she does all alone. She has a team, and they work as a team. Maeve is the Mastermind, with each member of the group working to their strengths, with Hector,  Armistice, and her Japanese twin, often working as "the muscle", and Felix and the other humans, acting as the technical specialists. And then there's Lee.
Remember how I said I disliked Lee, who is the hack writer of most of the storylines of Westworld, and even Shogun World. Well, he proved himself to be redeemable, and much more complicated, than he was when we first met him. After Maeve's shootout with The Man in Black, she gets taken back to the facility, where everyone tries to figure out how it was possible for her to control the other Hosts, after which they plan to decommission her. But it is Lee, who pleads with the technicians to save her life, and he seems to be so deeply affected by her imminent death, that he is in tears, and sits by her table, and talks to her, the entire time.
She so transcended the limited narrative that he wrote for her, that, like Hector, and Felix, he has fallen in love with her. (there's a very neat parallel to her and Hector in Akane No Mai, when you realize Musashi might very well be in love with Akane.) This is very possibly one of my favorite moments in the season, because I love to be surprised by  changes in a character. Later, he actually sacrifices his life so she can rescue her daughter.
Once again,  the name Maeve means "to enchant". And that is what she does, both literally, and figuratively.
Dolores: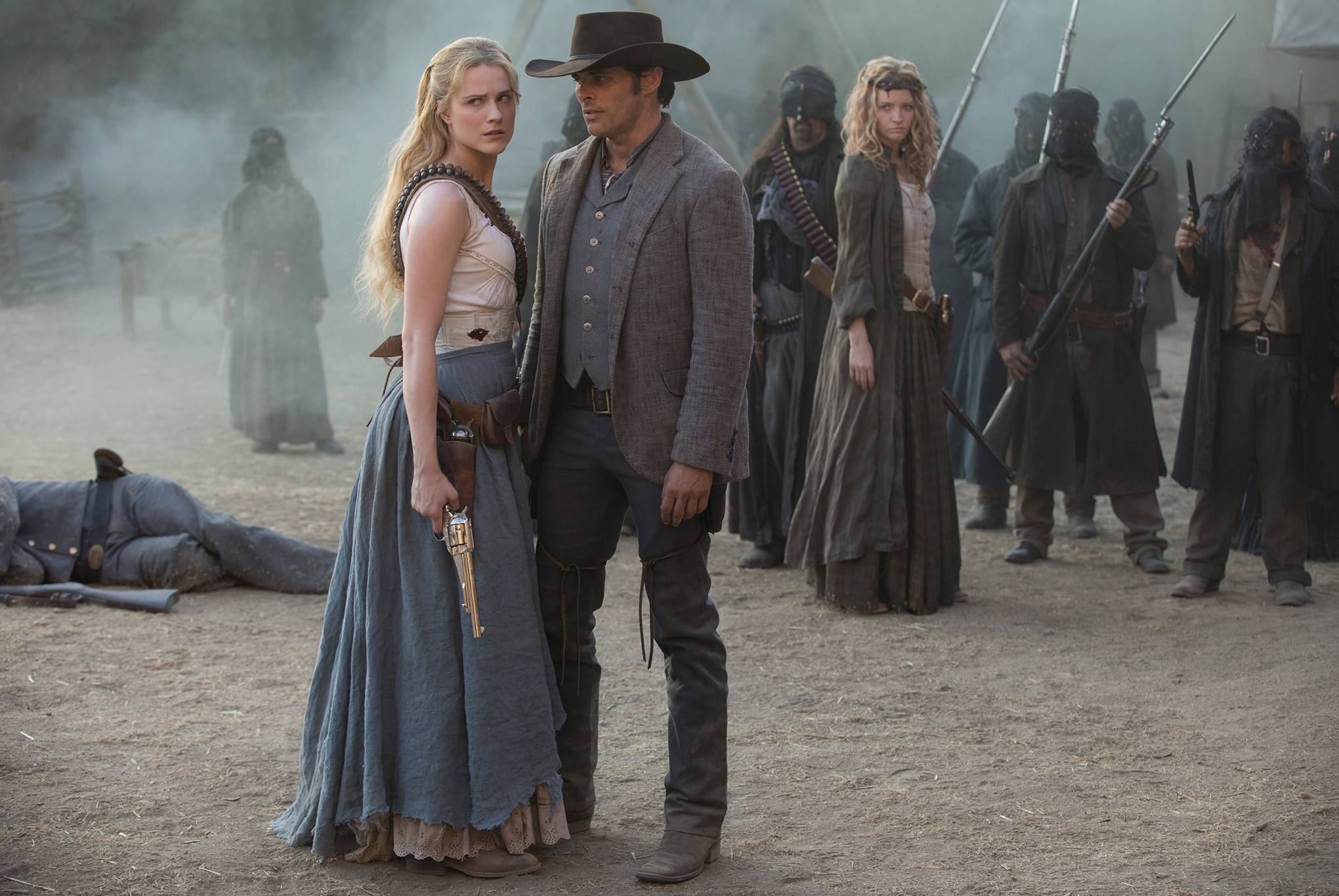 Dolores is on a different journey from Maeve. Her objective was to free the Hosts from the Park, and she mostly succeeded at this, having uploaded the minds of  many of the Hosts (at least the ones who went into the Valley) to an undisclosed location. She and Bernard leave the park and go out into the real world. Her new objective is, I think, to destroy the human world, or close all the parks, or something.
Dolores is learning how to work with others, which is to the good. Maybe she learned her lesson after Teddy decommissioned himself, but she seems willing to work with Bernard to accomplish her next goal, and she managed to rescue several of the mind pearls from the park.
I don't have as much to say about Dolores, because her story wandered in some unexpected directions, and there's a lot of mystery about her new goals. At any rate a lot has already been written about her, that's much more in-depth than what I could provide:
https://www.express.co.uk/showbiz/tv-radio/979084/Westworld-season-2-finale-explained-Is-Dolores-alive-S02E10-Charlotte-Hale
Overall, though I've seen some reviews bashing this season, (there's always several of those, by people who probably shouldn't be watching the series, if they're not into, or even getting, the point), but I enjoyed it. I don't think it was as good as the first season, but the first season had the benefit of novelty, and we are now well used to all these characters now. I'm looking forward to season three. I'm eager to see what kind of mischief Dolores can get up to in the real world, if there are other Hosts already walking about, will Maeve be back, and in what capacity, and will the Delos Corporation figure out that their problem is much, much, bigger than Ford?