Ghost Wars
I'm  impressed with this show, ,not just for its good production, but because it's actually scary. I don't normally pay much attention to literary ghost stories, but movies and TV shows seem to work for me a bit, although I still prefer monster movies, where normalcy has been upheaved by something that's blatantly malicious, and then order is restored after the creature is defeated. Ghost stories are too open ended for me to really get into them, and sometimes they're just not very scary to me.
The ghost stories that actually scared me were The Sixth Sense, Ju-On, and, The Ring. In my mind, everything made since those movies have been nothing but ripoffs of the originals. But I actually like this show. There's just enough uncanny shit happening to keep me off balance. I like the characters and their issues. The acting is better than I expected (because Vincent D'onofrio is present as a town preacher.) and there's also just enough social subtext to make it compelling.
Roman Mercer is the town outcast because he can see ghosts, especially the ghosts of regular townspeople, so he has a reputation. In the pilot, he was attempting to leave town, but there was some type of explosive paranormal event that prevented that, and killed the bus full of people he'd been on. (His best friend is a young lady who is also a ghost, and she warned him about the bus crash in advance.)
So now this remote Alaskan town is being overrun by ghosts, who are definitely malevolent. What event awakened them all, and what the ghosts want, is still a delicious mystery, that I'm here for. The ghosts can possess people, cause nasty hallucinations, like when the town preacher, while giving a wake in the town bar, sees blood pouring from his drinking glass, and they cause people to believe the town bridge  is still intact, when its been destroyed. The only thing that saves everyone is that Roman can see through the hallucination, and prevent people from trying to drive across.
There have also been some interesting character changes as the townsfolk who didn't believe in Roman's abilities, now have no choice but to believe, as they are being attacked by ghosts, and those who did believe in Roman's powers, and hated him for it, have since realized his usefulness, and stopped bullying him.
Kim Coates and Meatloaf also star in the show. I've liked Coates ever since I first saw him in Waterworld, although he's been around since the late 80s. In the show he plays either a lovable rogue, who is responsible for his little brother's death, or the town ne'er do well. I wasn't sure of Meatloaf's acting abilities until I saw him in Fight Club, although I'd also seen him in other projects. He plays one of the town bullies.
I think I'm going to stick with this show for a while. The Syfy Channel is slowly starting to build back its reputation for interesting shows, and I'm glad. The Expanse, Dark Matters, Killjoys, Z Nation, Superstition, Ghost Wars. By focusing on character, paying close attention to diversity, (lots of women in these shows, lots of PoC, and most importantly lots of different WoC), and coupling these things with interesting  concepts, Syfy is slowly getting back its street cred as a network that geeks are not ashamed to admit to watching.
Superstition
I really like the idea of this Black family that fights supernatural creatures in this small town, and I have tremendous respect for Van Peebles for breaking new ground, just by adding racial diversity to genre shows. He's done Westerns (Posse), and werewolves, (Full Eclipse), and now he's taking a crack at the Supernatural/Buffy style show, involving family dynamics with monster killing.  I don't know how long this show is going to last because I haven't seen many people talking about it anywhere, but I hope it at least finishes out one season.
The problem I have is with the execution of the ideas on the show. The acting could be better, (its a little dodgy) and the plot needs to be beefier. I feel like it should've lead with the demons/monster plot, and then worked in the soap opera aspects, once we got to really know the characters. I  think the plot leans a little too heavy on the drama, and we just met all these characters, so we have no incentive to care about their emotional issues.
The Hastings are basically a bunch of badasses who use deadly weapons and magic to battle the forces of evil. The eldest son was estranged from the family, but has come back home, and been welcomed back into the family business of monster killing, so we learn about what's going on just as he does, as he needs to be taught the ropes.
Sadly, not much was known about this show before it aired and the only place I saw any promos was on the Syfy network itself. The network does not appear to be as invested in this show as it seems to be in other shows, like The Expanse, and Z Nation, and that's why I don't think this show is going to last very long. But I'm here for it while it airs.
Stranger Things Season Two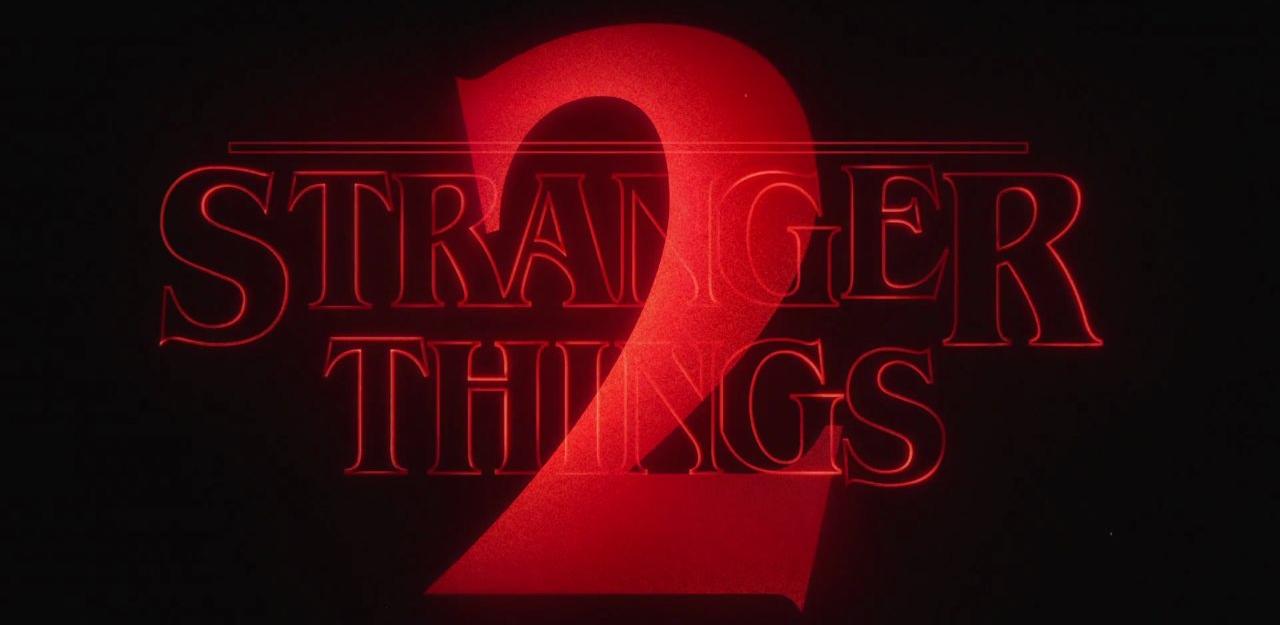 I get why people like this show. There's a definite nostalgia factor, and those kids are cute as all heck, but My feeling about the show was kinda meh. its not a bad show, and it has excellent production values, but I just wasn't deeply invested. I wasn't carried away, I guess.
Maybe part of the reason I didn't find this especially compelling is because I didn't watch the entire first season. I saw bits and pieces of it. Enough to get a general idea of what was happening, but not all the tiny details, like names. I liked all the little 80s callbacks, and I liked quite a few of the characters. Wynona Ryder plays Michael's Mom, and she was her usual excellent self. Sean Astin plays her love interest, and he is a goofily cheerful character that I sort of liked. The most interesting two characters were Lucas, and his seeming love interest, a ginger haired skater- girl ,who just moved into town. Lucas' friendship with her causes a minor riff between the four friends.
Eleven escapes from her overprotective adoptive father, but after the two of them have a falling out,  she finds herself having adventures in the city, where she falls in with a group of thieves led by another girl with tattoos, and the ability to cause illusions. She eventually leaves them when she receives a premonition that Mike is in danger. Eleven's activities are the most interesting part of the show.
Michael, the boy who befriended Eleven in the first season keeps having visions of a massive creature that has infested (infected) the entire town. He develops a connection to it, and eventually becomes possessed by the creature. When the rest of his family and friends realize what's happening they spring into action to prevent the creature's release, into the town, from the local  medical facility, but its already too late, as one of Michael's friends has befriended a small  frog-like creature that turns out to be a juvenile form of the monster.
I didn't dislike the show, and I bingewatched all ten episodes, but I wasn't wildly enthused either. I can recommend it if you don't have anything more pressing to watch, or if you just really love 80s nostalgia. Really, the most compelling thing in the entire show was the monster, and I want to see season three because I'd like to know what's going to happen to it, and Eleven.
Jeepers Creepers 3
Don't worry. I didn't pay money to see this movie. At any rate I couldn't have even if I wanted to. Sensing that people wouldn't want to associate too much with the cinematic output of a convicted pedophile, the movie's creators sought only a limited, one day, release, before sending it directly to video, or rather the Syfy Channel where I saw it the weekend before Halloween.
I did not care for this movie because it's a confusing mess. It takes place between the first and second films, but that isn't immediately apparent, as only two of the characters from the first film appear in it, and only one of the characters from the second. Ridiculous things happen in the movie that I couldn't make sense of, and even though there's a lot of exposition, (I mean a LOT! People talk and talk and talk.) all the talking didn't make anything about this movie any clearer.
Most of that talking is is from a brand new character, a cop named Tashtego, who is constantly stressing to the other characters how evil The Creeper is and that he must be killed. There's lots of shots of he Creeper being his usual weird and nasty self, terrorizing teenagers, eating people, etc. For some reason, someone thought it would be a grand idea to prominently feature the creature's truck, which is tricked out with various booby traps, which is what the police find out when they try to investigate the dead bodies lying in it, and a pack of obnoxious teenagers find this out too before they're promptly caught and killed by The Creeper. He still likes to hunt  pretty young men, but occasionally takes time out of his busy schedule to terrify a woman or two.
One ofthe most baffling scenes is the discovery of a disembodied hand of The Creeper that gives people visions when they touch it. This isn't something that was even hinted at in the first movie, although in every film, there's the one character who seems to mystically know shit about The Creeper, so as to give more exposition on him. Exposition that illuminates not at all.
Since The Creeper can't actually be killed, and we saw him in the second movie that was released we pretty much know how this one ends. He doesn't get caught. At any rate, it matters not one bit, because I don't believe Salva will be making any more of these. I sense that the makers of this movie just wanted to release it quietly, and get it off their books, and get Salva out of their hair, so I don't think he'll be making another Creeper movie any time soon. It's very possible that he won't ever be making any more movies again, since no one wants to be associated with him, especially in this new climate of awareness involving past sex scandals.
Seoul Station
I was really excited to get to see this, the moment I heard of it, especially after watching Train to Busan. Seoul Station is an animated pre-quel to the live action Train to Busan, and its every bit as harrowing, nerve wracking, and action packed as the movie, despite the medium. It takes its time getting started but like the live action movie, once it gets going it doesn't let up, doesn't let you have a rest, and you get attached to the primary character just as in the other film.
In Seoul Sta. we see the beginning of the zombie infestation, and how it managed to escape notice until it got out of hand. This happens the way it always does by affecting the poor and underclass first. We meet a young woman who just escaped prostitution with  an abusive pimp, but the man she's currently  living with isn't much better. He's having money issues and keeps trying to convince her to sell herself so they can pay the rent. At one point he hits her, and she;s so used to being treated that way she doesn't even fight back.. (I wasn't expecting that scene and it kind of threw me for a bit, so here's my warning in advance. If you have trouble watching such things,s know the movie contains scenes of stalking and domestic abuse.)
We follow this young woman for the rest of the movie, after she breaks up with her current boyfriend. She barely manages to stay one step ahead of the zombie infestation, running from one seemingly safe place to another, only for those places to be overrun by the dead. From a police station, to the subway, to an alley that's been cordoned off by the police (who think its all some type of insurrection), she has to use all her strength, and wits to stay ahead of the zombies, while wearing nothing more than a little pink dress and bare feet. She's not an entirely sympathetic character either, as one of her most annoying traits is a complete inability to close doors behind her, thereby exacerbating her zombie issues.
In the meantime she's also being pursued by her current boyfriend and her former pimp, both of whom have try to make their way through the zombie infested streets of Seoul. I was a little confused at first, because I thought her former pimp was her father, but it turns out he's just lying to enlist her boyfriend's aid in finding her.
A funny observation  about this movie (and I don't know if this is just something that's done in the movie, or if people in Seoul actually behave this way) are the many people who are  willing to verbally harangue strangers in public. From her landlady screaming at her about her late rent, to when she screams at her boyfriend at a cyber cafe, to random disturbed people on the street, characters are forever running up to others and screaming at them. Needless to say you cannot do that shit in America, where you just run up on somebody and start yelling, especially during a Zombie apocalypse. (You will get your ass beat for that just on a regular Tuesday.) Sometimes they just scream gibberish, but sometimes the rants are very specific. At any rate, some of this behavior serves too illustrate the lives of the rather downtrodden, and in some cases, criminal individuals.
Unlike the live action film, none of the characters are your typical salaried workers, which is a refreshing change from American made films, in which we watch your standard  American family endure some kind of crisis. Some of them are not the least bit nice, or innocent, either. There are homeless people bullying each other, and salaried workers, who treat the homeless characters with disdain and contempt. I don't know if the creator is trying to make some kind of social argument about life in Seoul, or not, though.
Seoul Station is available right now for free on Amazon Prime, (or for rent). This is an absolutely excellent double bill, with its sequel, but you're going to have to rest between films, because neither will give you a moment.
The Mummy
I was not impressed by this movie. In fact, I think I hated it. Tom Cruise looks worn and tired, the plot is rather lackluster, and I was not expecting Russell Crowe to be shamelessly overacting in this movie. Its not a bad film, in the sense that the people who cared about it, tried their best, to make it look good, but the movie is simply uninspired. The first Mummy movie in the last trilogy at least had a feeling of freshness in its lead female character, Evie. Here the only female character we are meant to pay attention to is boring and flat, and the other one is the villain.
Essentially, The Mummy tells the origin story of how a modern man gets chosen by an ancient priestess, Ahmanet, to be the avatar of the Egyptian god, Set. It would've been a much more interesting movie, if they had just stuck to the portion dealing with Ahmanet, but you know Hollywood hates WoC, because its unthinkable to them that one of them (namely Sofia Boutella, who is actually Egyptian) would ever be the head of her own franchise. Franchises must be led by your standard white guy named Chris, or Tom in this case. One of these days Miss Boutella will be treated with respect and won't have to kiss tired looking men, twice her age, to be in a movie.
Tom should  stick with those Mission Impossible, and Jack Reacher movies, which I actually like. He looks as if he's enjoying himself in those, and I like a Tom Cruise film in which he appears to at least be having some fun. Here, he  looks like he can't wait for the movie to be over, and seems like he's just going through the motions until it ends.
I was only mildly excited to see this in the theater, and I'm glad I didn't waste my money. My advice is to skip this and watch the 1999 version again.