Star Trek: Discovery
I watched the second season premiere of this, and I'm sensing a theme. If the first two episodes are any indication then the overarching theme for this season will be Faith vs. Science. In the first episode, the Discovery is sent to investigate several light flares throughout the galaxy, as people claim to have seen "Red Angels" figures at those sites. Micheal is hoping to meet with Spock, from whom she has been estranged, but learns from Captain Pike that Spock checked himself into a mental institution just before the Enterprise met up with Discovery. (The series is set about ten years before the original series. Pike is the Capt. of the Enterprise, at this time, and Spock is his Science Officer.)
In the second episode, the Discovery follows one of these flares to a planet humans were brought to just before WW3, by some unknown alien benefactors. There's not a lot of discussion surrounding who these mysterious benefactors are, which is the part of the show I was most interested in. There are some long discussions about having religious faith versus faith in science, which would be a lot more convincing if the writers made clear exactly what they meant by religion, and faith.
The underlying themes of the season will be watching the crew actually become a crew, after Lorca's betrayal last season, and Pike is just the Captain they need to regain their equilibrium, as he is much more relaxed in his captaining style, slightly looser in his interpretation of the rules, and also "not evil". This season's focus, while not taking the main camera off Michael's journey, will also be the viewers getting to know the rest of the crew. We'll be getting to know the bridge crew, following Tilly's and Saru's development as officers, and following Stamets' journey as he mourns his late partner, Dr. Culber. Not every episode is going to centered on Michael, but just as with last season, she's in nearly every scene, and we're always well informed about where she is physically and emotionally during any episode, even if that episode isn't strictly about her.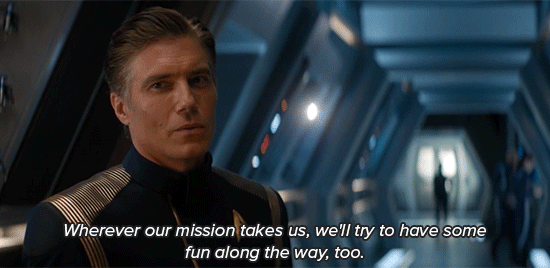 Tilly gets into some physical trouble after which she begins to see the ghost of a former high school friend. This "ghost" may or may not be related to the return of Dr. Culber, as fans have been very upset at his fridging, and we were promised his return. I'm inclined to believe the creators because they very emphatically promised the return of Phillipa, and she did return, just not in a manner we thought she would.
We also get some more backstory on Michael's relationship with her adoptive family, and her first meeting with Sarek's wife Amanda, who took to this little girl as if she were her own, and I loved seeing their relationship. Spock was less welcoming to her, so he, for sure, had some feelings about her living in the house.
On the away team mission of the second episode, we get some interesting backstory on the bridge crewmember, Owesekun (pronounced Owe-WAY-sha-kun). We discover she is from a community of Luddites, so I can't help but think that her making it to Starfleet had to be an interesting journey, and I hope we get an episode devoted to her past. We get a statement from Detmer that she got her pilot's licence when she was 12 years old, which I find intriguing. Piloting what? So we have started getting these intriguing little glimpses of the bridge crew's personal lives. There's an Asian man on the bridge who we know nothing about, and a Black man, with no backstory, so yeah, we've got plenty of stories to be told. I think I noted before that outside of Pike there are no White men in the bridge crew at all. (No, Saru does not count.)
But I think the most intriguing character on the bridge is this person. Is she like Robocop? What is she/he/they? We havent even gotten a hint yet, and she hasn't said a whole lot, but I hope we find out this season.
http://trekcore.com/blog/2017/12/meet-the-star-trek-discovery-bridge-crew-cast/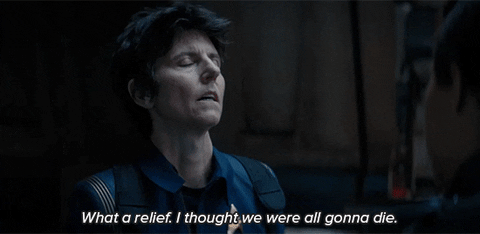 For some reason, this iteration of Star Trek has been successfully hiring comedians as extras on the show, and I just want to shout out to the woman above, Tig Notaro. if you haven't heard any of her stand up, go take a listen. She's hilarious on stage and she's very refreshing here, and  I hope she stays on the ship. I'd like to see a more of her.
In the first episode, we get this awesome look at he crew working like a well oiled machine. They are simply fantastic, and it was a real joy to watch,  as they worked to save Michael's life, when she is injured on an away mission. Now this is the Star Trek I remember, (only everyone talks a lot faster). My advice for those complaining that the show didn't feel very Trek-like in that first season was to give it time, because the show had to get its main character's  primary backstory out of the way, after which we could actually focus on the mission, and their  characters.
A lot of the feel of the first season was due to the presence of Lorca, who had a heavier, more intense persona, and this episode really shows how a Captain influences the mood of the bridge, and it's crew. With the addition of Pike, the show feels lighter, and well…happier. Probably because that's how he is, and while I actually did like Lorca, I definitely prefer Pike, even though he's not much like the original series Pike. It's not that the show lacks drama. It just doesn't feel as dark and heavy. Starfleet isn't involved in a war, and the Captain isn't secretly evil. Yay!
Now, I have to talk about something really quick here. I'm having some kind of emotional reaction to Michael, that for some reason, I did not foresee, and part of it is because there has never been a character like Michael in a mainstream scifi show. I knew she was a groundbreaking character, but I didn't give it deep thought, and really, the closest we fans have ever gotten is Uhura, and it took decades to start fleshing her character out, even a little bit. (We won't mention Abby from Sleepy Hollow.)
I really cannot think of  a Black female character that has been, not just the emotional focus of a Scifi show,  but one who has been given so much backstory, and depth, and I'm having some trouble articulating how I feel about that level of representation. What's even more interesting, for me, is that we are getting this type of character development, that isn't centered around her race. Its not that there have never been Black women in such shows, there are a few I've greatly admired, including Uhura, Guinan, Auntie Entity from Thunderdome, Grace Jones, Martha from Doctor Who, but none like Michael. (There are other Black female characters in other shows, and I love them too, but they usually are not the center or focus of the entire show. The show isn't exactly about them. I think the closest we get to such characters are Thunder from Black Lightning, and Iris West from The Flash.)
I want to say I like Michael, but it goes far beyond liking her. I want to love her, but I am nervous about getting too close to her, (not because she's a bad character, but because I cannot trust the writers to do right by her. I fully expect them to fuck this up because that has always been the pattern). I cannot imagine what it must be like for Black women, younger than me, to see themselves so represented, so closely, in one of the most iconic television shows in  history. I can't imagine it for them, because I couldn't imagine what it would be like for me, although I knew what I wanted. One of the very first posts I ever wrote for this blog was called "Black Women like to have adventures too". I didn't for-see, nor could I have possibly known, that I would (or even could) get this kind of representation when I wrote that. I got exactly what I asked for, and I'm really happy, but the moment is somewhat bittersweet, because I wish I had gotten it sooner, and because I'm not entirely sure I knew exactly what I was asking for, and now I don't know how to handle it. (Probably, I should just act a fool! Whaddaya think?!)
One of the most moving videos I ever watched was a young man looking at a Black Panther poster and he started yelling, and he said something like, "This is what it must feel like for White people all the time!" In the past ten years this is the first time we've gotten any kind of representation in popular culture, like this. My mom has actually become interested in comic book characters, (she's never read a superhero comic in her life. My biggest highlight as an adult was arguing with her, in the car, about whether or not Superman could beat the Hulk!) and started watching different TV shows, and movies. that she mostly would have ignored, because they only starred white people.
I have always had firm reasons for loving Star Trek, despite its issues. Star Trek has done right by me in ways no other show has, even when I didn't particularly care for some of them, and I'm always gonna stan for this franchise. Even if the creators never do another show correctly, there is at least this one. I will never (nor do I want to) listen to any White man's idea of what this specific show is about, or what he thinks of the characters. I  just don't give a flying cooch what anybody who is White and male thinks of this show, or Michael, or Pike even. I won't look for the reviews, or opinion pieces, and I don't need their affirmation either. I made up my mind about this a long time ago.
Am I biased? Sure!
But I don't care.