We have conculded with the portion of the Hannibal/Will Graham story that began in season one, when they first met over the body of Abigail  Hobbs, and ending with the capture/surrender to the authorities of Hannibal Lecter. This is one of the first episodes that doesn't have a reference to food or dining in its title.
The story has moved forward three years, to begin  The Red Dragon storyline, from the book of the same name, along with two films, one from 1986, titled Manhunter, starring Brian Cox as Hannibal, and the other directed by Brett Ratner in 2002,  starring Edward Norton. This last part of the season follows the book, and the two films, closely enough, with Will Graham coming out of retirement to catch a serial killer called  The Tooth Fairy, or as he calls himself, The Red Dragon. But there is also a lot of new stuff added as we find out what the other characters have been doing.
Alana Bloom  has become the Administrator of the asylum which houses Hannibal Lecter. As she says, she is holding all the keys, and has him exactly where where she wants him. She was the surrogate mother to her and Margot's son,  who is also the heir to  the Verger fortune, and she lives with Margot, who we don't get to see this season. Jack Crawford is still doing his thing at the Criminal Minds Bureau, and has not remarried after the death of his wife.
Crawford's old forensic team, (Price and Zeller), have  moved on, achieved promotions, and gone their separate ways, and we don't learn anything new about him. Chilton stepped down from his position at the hospital to become a true crime author. He wrote a bestselling book that  absolved Hannibal of responsibility for his murders, which Hannibal rebuts in a popular psychiatric journal, just to spite him.
We do get to see Hannibal too, and when we first meet him, he is sharing some Blood Pudding with Chilton as they discuss their past together. Hannibal has entered a state of mind where he has zero fucks to give about being a cannibal, as he cheerfully needles both Chilton and Alana about how he adulterated the foods and beverages he gave them.
Chilton then Hannibal by claiming that he is old news, and that nobody wants to hear about him anymore, because a new star has risen, The Tooth Fairy, so named because he likes to bite his victims. If you'll remember, that is a callback to a speech, that Alana was giving to Will's profiling class, in the first season.
The greatest change has been to Will Graham's life. He has moved on from Lecter and married  a woman named Molly, with a son, Wally. The three of them live on a farm with their stray dogs, while Will fixes boat motors, and tries to ignore any news of The Tooth Fairy. After the Tooth Fairy's latest killing, Jack Crawford  shows up to pull Will back in, desperate for his help in capturing  him. Molly doesn't like this, but realizes that Crawford will take Will anyway.
Crawford makes the same futile promise to Molly that he made to Alana several years ago, that he would keep Will safe, so he has not learned from that time period, it seems. But Molly relents, actually encouraging Will to leave his family, and go help Crawford. Crawford hands Will a letter from Lecter, who has been writing to him regularly. Wil lreads it and the press clipping of Dollarhyde's most recent muder ,and burns both in the fireplace.
And I just want to talk about this moment, because one of my biggest pet peeves, in a lot of series and shows, is the depiction of wives and mothers. They are often depicted as clingy and disapproving of their husband's work, especially in crime and cop stories. The movie version of Molly is exactly like that, but it is a cliche I've seen across a lot of media, so its very refreshing to see that Molly understands Will's talent, knows the good he has done, and knows that he is saving lives, and encourages him to do so. Its very refreshing to see her give her approval here, rather than nag him for leaving her, or endangering himself.
We get to do a profiling walk-through with Will, as he tours the home of The Tooth Fairy's latest victims, the Leeds. I just want to point out one more time that this is not anything like the way actual profiling gets done. Profilers rarely get to visit the actual crime scenes and touch stuff. They normally work from photographs and investigative reports.
I find it difficult to believe that Will can do any profiling since he never turns on any lights in the house. For some reason, Hollywood has decided that profiling needs to dramatized by having it be done in darkened rooms, with flashlights, since this is the exact approach that was used in the movie.
Price and Zeller return after a long hiatus from the series. Price's character is now an agent, and Graham, Zeller, and Price  pick up their dynamic right where they left off in their forensic investigation of the Leeds' homicide. Price and Zeller had long gotten used to Graham's interruptions of their analysis with insights into the killer's mind.
Unlike the police procedural versions of the  first and second season, we spend a not inconsiderable amount of time in the presence of The Tooth Fairy, aka The Red Dragon, aka Francis Dollarhyde. Fuller doesn't dwell on showing Francis committing his crimes, focusing instead on Francis' mental illness, motivations, and private life. The end result is not the  sensationalism of the murders, but the mindset of the perpetrator, resulting in the profile of a man who, as Will Graham says, with his usual level of empathy, later in the season, was not a freak, so much as a man with a freak on his back.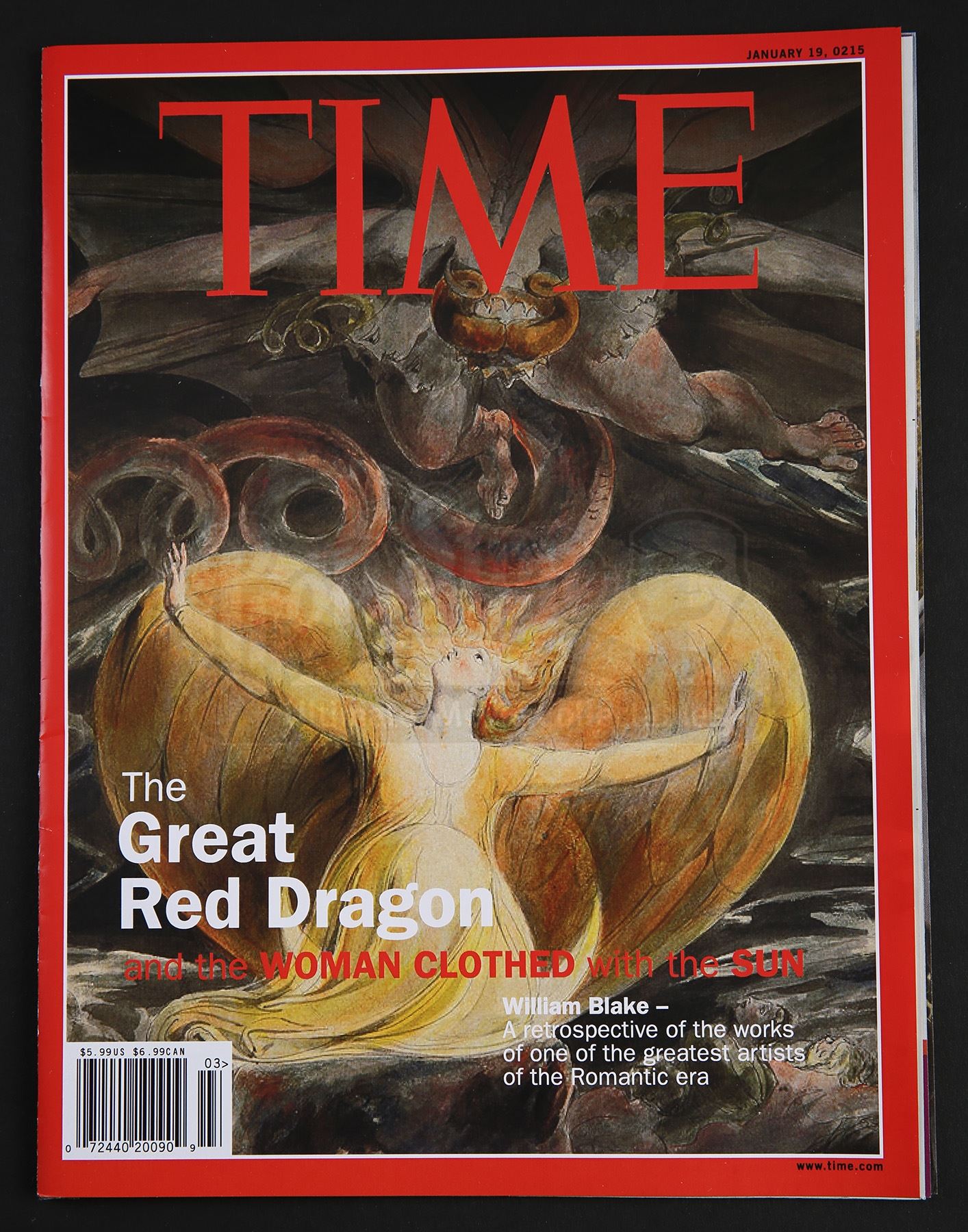 We are introduced to Francis, and I'm assuming this scene is set sometime around, or just before, the time that Hannibal was captured,  as Francis sits in the cafeteria at his job, contemplating an issue of Time magazine, in which there is an article about Blake's painting of The Great Red Dragon and the Woman Clothed with the Sun. He is so enamored of the painting that he gets one of the paintings tattooed on his back. He also has a great deal of admiration for Hannibal  Lecter, and  like a lot of serial killers in movies, has a murder scrapbook filled with press clippings of his and Hannibal's murders.
As we will discuss in a later post, the Red Dragon painting is actually a series of watercolor paintings, based on Blake's images from the Biblical Book of Revelations. This has the effect of bringing a religious element into the discussion of this season.
The reason we know this scene happened several years ago, is that it takes about that long for someone to get the kind of full body tattoo, that's displayed on Francis' back, at the end of this scene. Tattoos of that size, with such photo realistic detail, are often called "Full Suit" or "Body Suit" tattoos, and can take upwards of a 100 hours to finish, especially if the recipient has never had experience with tattoos before.
Francis then has a set of specially made dentures that are copies of his grandmother's dentures. In the book, he simply used his grandmother's old dentures, and they were ill fitting. This is definitely  giving me some Psycho/Norman Bates vibes. According to the book, (and only shown in some of the episodes), his grandmother was emotionally and physically abusive, and one could argue, she was sexually abusive as well, as she regularly threatened his manhood, for urinating in bed. We learn this during a scene where Francis hallucinates in her voice, which is also a callback to the movie Psycho, with Norman's mother berating him in a voiceover. All of this has to be put in the perspective of serial killing, as two of the markers for it is childhood abuse, and bedwetting.
https://en.wikipedia.org/wiki/Serial_killer#Development
After Will does his walkthrough of the crime scene, he feels he's not in the correct mindset to be able to solve the crime. He thinks he needs Lecter to help him get there, and tells Crawford he's going to see him at the Hospital. Crawford agrees.
At the end of the episode is  Hannibal's  long hoped for reunion with the man Freddy Lounds referred to as his Murder-Husband. This too is a callback to the last episode of the first season, when Hannibal approached Will's cell, after he was falsely arrested for the murder of Abigail Hobbs, as the same melancholy music plays in the background.