Just in case you find yourself with nothing in particular to do this Memorial Day, here are some articles I found interesting this week. They don't actually have anything to do with Memorial Day but I liked them, anyway. This also doesn't mean they were published this week, just that they were new for me. (For those of you who are not US citizens, Memorial Day is one of those martial holidays that America celebrates by taking off from work, to burn various meats, over open flames, in our backyards.)
@@
*This is a song I'm going to keep singing until people memorize the lyrics. I've noticed this is a trend throughout a lot of science fiction, where White people, for those are the ones primarily writing these futures, are oppressed or terrorized in the same manner that they have historically oppressed others.
I read somewhere that the reason why the opioid crisis happened the way it did in the US, is because White people cannot envision any future in which they do not maintain primacy. They can only imagine the future as a dystopia for themselves, whereas marginalized people are hopeful about the future because we've already experienced the worst.
https://www.theatlantic.com/entertainment/archive/2014/04/why-sci-fi-keeps-imagining-the-enslavement-of-white-people/361173/
In Terminator, as well, the fact that the robots are treating us as inhumanly as we treated them doesn't exactly create any sympathy. Instead, the paranoid fear of servants overthrowing masters just becomes a spur to uberviolence (as shown in Linda Hamilton's transformation from naïve good girl to paramilitary extremist). The one heroic reprogrammed Terminator, who must do everything John Connor tells him even unto hopping on one leg, doesn't inspire a broader sympathy for SkyNet. Instead, Schwarzenegger is good because he identifies with the humans totally, sacrificing himself to destroy his own people. Terminator II is, in a lot of ways, a retelling of Gunga Din.
@@
*I really enjoyed this post discussing why the lack of racial diversity in the Bladerunner movies, is so troubling. The only show I can think of that comes close to getting it right is the BBC series titled Humans. It has a diverse cast of robots, and deals with the same things, but as is usual, for shows written from a White person's point of view, it falls short of discussing the racial implications. (Of course Britain has a different relationship with racial slavery, having abolished it much earlier than America did.)
https://www.thestranger.com/slog/2017/10/06/25457531/race-and-blade-runner-2049
BLADE RUNNER 2049: White Appropriation of Black Oppression
White audiences watching a white character being subjugated to sci-fi racism can invest safely. We're obviously now in the land of make believe if anyone is randomly pulling over Ryan Reynolds. Moviegoers can pick and choose what parts of the African-American experience they want. They cheer the underdog, they hiss at the police force, but once the movie's over, they will go home, and post #blacklivesmatter from a distance.
@@
*I wanted to write this long piece about how the lyrics of Donald Glover's This is America cannot be divorced from the visuals, without losing their meaning. For example, most of the lyrics are about the usual gangsta rap subject matter, with the same lyrics being repeated over and over. Get your money! Get your money! Get your money! But these typical admonishments from rap music take on new meaning when being joyously sung by the church choir in the video. Just as there is the veneration of guns in the video, that scene represents  the veneration of money and capitalism as well. The Church of the Holy Dollar! This makes the video  not just an indictment of America's gun culture, but a critique  of the capitalist system which fuels it. This article is about how Black Americans sell their pain to get money. Black pain, and trauma, is the only currency we have, and it's what sells.
https://www.rollingstone.com/donald-glover-childish-gambino-this-is-america-video-visual-w519895
A child is the one to handle Glover's weapon after each shooting, and it's children who sit in the rafters above, recording the bedlam with their phones. Our normalization of racist violence has come at the cost of not only black lives, but black innocence.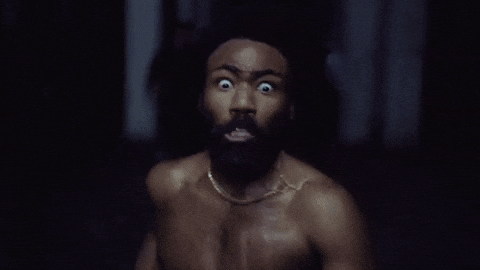 *Genius breaks it down a little bit more, although it still doesn't touch on the  the very first lyrics, "We just wanna party, just for you". I think this is really telling, because these are your usual "let's party" rap lyrics, which are then contrasted with the violence. We want to party FOR you, not with you, is important in this context. Even Black violence is entertainment for a White audience. 
@@
*This article is about how creators of fantasy and scifi seem to   have no problem approaching the topic of sexism, but cannot seem to approach the topic of race, with any depth. 
White people like to reimagine history as a peaceful time in which they never had to think about race, hence the nostalgia for times past. But really what they like about the past was the  unobstructed dominance of White supremacy. Nostalgia for the past and fear of the future seems to make up the bulk of  White people's imaginings in speculative fiction. 
http://www.vulture.com/2017/08/why-dont-dystopias-know-how-to-talk-about-race.html
Fantasy novelist Daniel José Older sees the problem as a failure of imagination and craft. "I find it very telling how little these worlds that are so much about power and oppression and ways of resistance also magically somehow have solved race," he said. "On the one hand it's a truth failure in the sense of it doesn't feel real to anyone who knows about the lasting power of racism and to anyone who is paying attention to the world today. And it's a craft failure in that it is a tremendous missed opportunity to develop the world more deeply."
@@
*This article touches on all the points I made in my review of this film, and I'm glad I found it. I was irked because critics were so focused on the romantic relationship, that they were neglecting to see the wider social messages of the film. It's nice to know that someone else got it, while tying these themes to the movie's broader critique of capitalism, colonialism, and imperialism, which I didn't see.
http://msenscene.com/2018/04/04/the-shape-of-waters-strickland-as-the-ur-american/
The reproduction of consumer capitalist values is taught to all Americans; you simply can't not participate in capitalism (unless you want to starve, of course). But the film goes further than just a surface-level critique. We get to see how marginalized people assimilate to cultivate respectability at the expense of their peers. 
@@
*I realized this while I was watching the movie. Ronan's motivational speeches about what a genius he is, and how he is unappreciated, basically boils down to, "The world didn't kiss my ass like I wanted, so now everyone must die."  Its one of the reasons online fanboys hated this movie, because Ronan  is a direct indictment of them.
https://www.bustle.com/articles/172212-the-ghostbusters-villain-is-basically-an-internet-troll-its-a-brilliant-way-to-silence-the
Most of Rowan's dialogue reflects a feeling of entitlement and that of someone seeking out revenge for some past hardship. But much like the supposed oppression that trolls and MRAs feel, Rowan's hardship doesn't actually exist, at least to the extreme he makes it seem like it does. Rowan may have been bullied, of course, but that, nor being a janitor or not having a girlfriend isn't warranted cause to unleash havoc on the public or cause harm in order to get "revenge."
@@
*I was a huge fan of the HBO show Oz. Its been off the air for some time now, but during its time, it was groundbreaking, for its depiction of a homosexual relationship between two men, Tobias Beecher, and Chris Keller. What I found most fascinating about the relationship is Beecher's psychology in falling for Keller. Here was a man who probably had always thought of himself as being straight, and was, due to circumstances, in a relationship with a known killer.
http://www.newnownext.com/oz-ten-years-later/07/2007/
Being set in prison, however, the show also dealt frankly with the sexuality of prisoners who did not consider themselves gay, yet were driven into same-sex relations either through loneliness or through rape. One of the primary ways these themes were explored was through the character of Tobias Beecher. Beecher was a wealthy, middle-class lawyer, husband and father, who found himself in Oz (the nickname for the Oswald State Correctional Facility) after accidentally killing a girl while driving drunk.