I actually liked this series, although I was more than a little dubious about it from looking at the trailer. The trailer for this show should just be ignored. The show has a few problems, but those problems can be overcome.
The show starts with Raven, and her superpowers, being pursued by some unknown agents. She ends up in jail where she meets Dick Grayson. She knows who he is and pleads with him to help her. There are several suspenseful escapes from the people pursuing her. Along the way, she meets Garth (Beast Boy) and his family, the Doom Patrol, in episode four, and eventually, she encounters a superteam duo, called Hawk and Dove, who were also in the comic books, but I don't remember them, which shows you how little of an impression they made on me. I don't know if they're going to have a spin off show of their own.
It turns out the people pursuing her are the members of a cult that worship her demon father, Trigun, and are trying to procure her to work for them, so they can summon him to Earth. They are unsuccessful for the most part but then, of course, her mother (who she thought was dead), reappears, claiming to want to take care of her, or something. Naturally, since she was the one who slept with Trigun she's on his side, which is a plot point you can see coming a mile away, but Rachel doesn't even think about asking her mother why she slept with a demon. So yeah, her mother tricks her into summoning her father, even though Rachel knows she's probably not supposed to do that.
And let's just say the comic book version of Trigun made a huge impression on me as a kid. Yeah, this show version was deeply underwhelming. I was not whelmed at all.
I think one of the main problems, with this show, is the focus on Raven as a character. The actress makes this character less than compelling because she simply isn't a very good actress. I mean she is an adequate actress, who is not good enough to pull off this role, and I found myself more interested in Beast Boy's story because Ryan Potter is just better. At every opportunity, the other actors outshine her, and are much more interesting as characters. Yes, even Dick.
There's also the small sideplot point of Beast Boy having trouble controlling himself (along with some PTSD) after he kills (and eats) a man in the form of a tiger, which seems to be his go-to animal. I found Garth's questions about the nature of his abilities to be much more interesting than anything Raven was getting up to. On the other hand, watching the two of them bonding as friends, was really sweet, and Beast Boy is very quickly becoming one of my favorite characters. He was mostly just annoying in the comic books but Ryan Potter's incredibly expressive face perfectly captures both the sunniness, and the menace, of this character. Most of the time Garth is a friendly and open person, but when he goes to his animal form, he can be pretty terrifying, which is not necessarily something that can be conveyed in illustrations.
Seeing certain characters brought to life, seeing their powers manifest for real, rather than on a page, has a different effect on how you think of them sometimes. I thought the idea of all his animals being green would be kind of silly, but the way its shown isn't silly, at all. Potter's body language really sells it, and you get some idea of how much power this guy has (especially if you just ignored him in the books.)
I am reasonably familiar with the Teen Titans comic books, (even though I'm not a DC fan, in general), and the Teen Titans Go TV show. In the comic books, my favorite character was Raven. I found her backstory, as the daughter of the world destroying demon, Trigun, very fascinating. If you're a fan of the cartoon, that Raven isn't all that different from the comic book version, except for being funnier and snarkier. Oddly, the Starfire from the cartoon isn't all that different either, at least in temperament, from the comic book version either, except in the comic book, she's a lot sexier, which brings us to Ana Diop as Starfire.
My least favorite character from the comic books is Starfire, although my niece, The Potato, loves her. I mostly found the character uninteresting, and occasionally, annoying. I thought of her as "chirpy", but then I was a lot younger when I read those. In the show, as portrayed by Ana Diop, she's a much more interesting character, who, at first, isn't much like her comic book version at all. She's kind of broody and dark, but there's a reason for that. Its only towards the end of the season that she starts to get more snarky, but she still lacks the sunny, happy go lucky, problem free attitude, of the woman from the comic books ,although she has an incredible smile, that when she bothers to use it, just makes you smile too.
She's one of my favorite characters on the show. I especially love that everytime we see her, just like in the comic books, she's wearing purple, and unlike the comic books, her scenes are always accompanied by disco music, which I thought was hilarious. Of all the characters, she's the most knowing and mature, while paradoxically, knowing the least.
The Starfire from the comic books is an exceptionally powerful character. which is something people tend to forget. She is a very visually distracting character, because she barely wears any clothes, (she really does love the color purple, though). She does things in the comic books that I didn't think about seeing on the screen because I got caught up in how she looks too. I didn't like her hair. I didn't like her outfits. Her attitude is different. When she uses those massive force blasts in the show, literally incinerating a roomful of men into a pile of charcoal briquets, that shit is… let's just say, I was a bit taken aback. This was not what I'd thought about when I thought about her. Like I said, it's different when you see it brought to life, in this manner.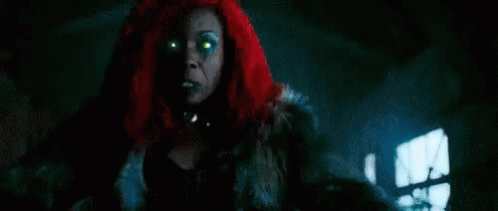 When we first meet Starfire, or Kory , as the show refers to her, she has lost all her memory, which accounts for the change in attitude, at least. She encounters Rachel and adopts her as a little sister, and vows to protect her. It isn't until near the end of the season that she gets her memory back, and her relationship with Rachel suffers for it, which is really tragic because you could see that the four of them, Beast Boy, Robin, Kory and Rachel were beginning to form a family. I was not impressed by the comic book version of the character but the onscreen version is truly impressive and Ana Diop is doing a wonderful job with it. I can see why she was chosen for this role. (We're not about to address the racist wtf*ery from the fandom, and which has surrounded the character, from the moment the actress was announced. Ain't nobody got time for that!)
This is not a great show, but I'm interested in the family dynamics at play, and the relationships between the characters, as they develop. Kory and Dick develop a relationship which is canon to some of the comic books, and I liked seeing that. Brendan Thwaites, I have no idea who he is, is an adequate Robin, and it was a lot of fun watching him interact with Jason Todd, the Robin who replaced him.
Dick has some anger issues, and a chip on his shoulder with Batman, which is also kind of true to the comic books, despite that silliness in the trailer. I have to admit I mostly think of Batman's various kids as a huge, squabbling bunch of emos, and I would love to see some of the other Batkids in the show. I find it amusing to watch them fight amongst themselves, but they will still kick the asses of anyone who messes with their siblings. (Batman has, like, a dozen kids! I have never found that NOT funny.)
I wish the show had been a little more focused and not sort of all over the place, though. Its not that the plot points are not resolved, its that characters (Hawk, Dove, The Nuclear Family, Doom Patrol, Jason Todd, Donna Troy) are introduced, and disappeared, so fast we barely get to know them, and the characters keep moving from place to place. The show appears to be both moving too fast and meandering slowly towards its conclusion. The pacing needs to be better. It just felt like the writers were trying to squeeze in as many cameos from the comic books as possible.
Marvel and DC seem to have carved out their respective territories with Marvel tearing it up on the big screen, while the Prime Time TV market is seems well settled by DC, with 7 to 8 shows airing now, and some 8 more on the way, most of which will be on the DCEU app. (Marvel and DC both have a f**kton of animated works too.)
Titans is available on the DC app. Ignore the awful trailer and give it try if you can.