I want to talk, yet again, about the need for diversity in film and television criticism. We need this badly, especially with the increase in PoC in genre films and TV shows. We don't just need diversity but we need people who can put the images we're seeing of PoC into some greater context beyond their mere presence. We need critics who can elucidate exactly WHY some piece media we've consumed is, or isn't, racist, homophobic or anti-Semitic, for example.
This was brought back to my attention after I scoured the internet for reviews of Black Mirror, a Netflix Scifi anthology show, which featured an episode about racial retribution, titled Black Museum, and starring Letitia Wright, the young actress from Black Panther. The majority of the critics panned that particular episode. Many of those critiques were written by White men and women, which made me suspicious that many of their critiques came more from their discomfort with the episode, than its quality.
It is certainly within the realm of possibility that the episode sucked, but then I came across an article on The Root, written by a Black critic, that says everything I wanted to say about that episode, and which deeply affected me. Black Mirror critiques our addiction to, and fetishization of, modern technology, and as a result, a lot of it deals with the virtual monitoring of mental and emotional space. Of the six episodes in this 4th season of Black Mirror, Black Museum is the most difficult to watch. And it has also been the most panned, and lowest ranked episode, by White critics at The Verge, Vulture, and Collider specifically, and I wondered why that was. I want to give a comparison between two of these critiques:
(This review contains spoilers.)
https://www.theroot.com/black-mirror-black-museum-reckons-with-america-s-histo-1821814356
Notice how she links the narrative to a Socio-Historical context in which Black people's pain has always been commodified, monetized, and available for White consumption, outlining why some White people are in no hurry to dismantle White supremacy, the source of so much of that pain. Her points are direct and her review is uncompromising.
One of my mantras has always been "everything is connected to everything", and Nkadi touches on those connections in her article, how various social movements collapse through commodification, for example, and how White fans consume media that includes marginalized people, and their reactions to it. Black critics of various fandoms have been saying, over and over, that White people's consumption of media does not occur in a vacuum, no matter how much some of them want to separate, disconnect, and distance themselves from these issues, from each other, insist they are unrelated, or that they have no bearing on actual lived experiences. Part of my purpose on is to delineate how connected all of this is, and draw parallels between popular media, and the real world.
A critic at The Nerdist:
https://nerdist.com/black-mirror-black-museum-recap/
And by Sophie Gilbert at The Atlantic:
https://www.theatlantic.com/entertainment/archive/2017/12/black-mirror-black-museum-is-a-throwback-to-episodes-past/549389/
Nkadi is very blunt about the issue of race in that particular episode, but the writer from The Nerdist only glides up to the subject of race, only to slip past it without much mention. He has nothing to say about that. He either has no interest in it, or is too uncomfortable to approach it directly.
Another comparison review from The Black Youth Project:
https://blackyouthproject.com/black-mirrors-black-museum-slave-revolt-fantasy-hollywood-never-intended-make/
—- I do not trust my enjoyment of this, but I trust that what white people see when they watch a story isn't supposed to be what I see. And maybe for them this was simply a cautionary tale for what might happen when they do business with "supremacists." Maybe that's why they placed themselves in the "main character" Haynes' shoes. But if you are Nish, not Haynes, you would know it is too late for cautions now. And if all of us Black folks are Nish, maybe burning down one man, one prison, one museum each is enough.
Now to be fair, The Root is a website for Black writers, about Black media, so it would seem especially precious for them to avoid the subject of race. The Nerdist is mostly White male writers writing about genre media. Their priority is to appeal to everyone, so approaching the topic of race in media is not going to be important to them, because they may not want to make their White readers uncomfortable, and that's if they can even see the racial implications in the media they critique. Or perhaps, the retribution against the White male character, in the story, made the writers uncomfortable, in a way they did not wish to examine too closely. I prefer to take the more positive approach, that they don't see it, rather than assume they did, but simply didn't care.
I'm not the only person to notice this or feel this way:
https://www.vice.com/en_ca/article/59w53k/im-a-black-critic-who-dismissed-the-black-museum-episode
—– 'But listen, I'm not trying to say that "Black Museum" was peak Black Mirror. I'm not even saying that all its concepts are put together well. What I'm saying is that we need more people like myself and more women of colour in general that can see these messages and interpret them for the masses—free of filter. Because diversity on the big screen without diversity among critics is like planting fruits without tending to the damn weeds. The message is liable to get lost.'
And at The Mary Sue
https://www.themarysue.com/black-museum-black-reviewers/
— ' Let's not forget, as well, Clayton is accused of killing a white woman. None of this is accidental and yet, none of this is mentioned in any of the reviews I've seen. Maybe a word or two about the racism, but nothing digging deeper to show why this episode reflects a narrative about the black catharsis that we might need in 2018.'
And from Ira Madison III at The Daily Beast.
https://www.thedailybeast.com/black-mirrors-season-4-finale-black-museum-is-a-horrifying-critique-of-american-racism?ref=wrap
—– 'The problem with most science fiction that uses race as an allegory is how it reduces racism to hatred based on emotion and circumstance. Human beings hate aliens, orcs, vampires or whatever else because they're different than them. It ignores the sinister ways that racism has entrenched our legal and political system. "Black Museum" tackles that and much more, using the American curiosity framework—a roadside museum—to tell its story.'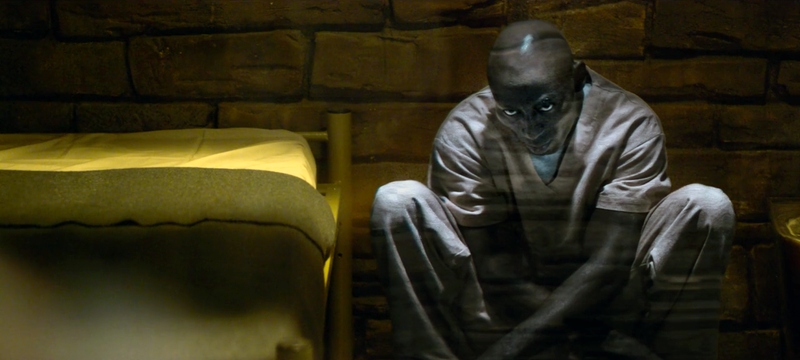 I'm not arguing that these White writers are bigots. That's not my point. What I'm arguing is that a White writer's need to make their audience comfortable, will hamstring their review, and that some of them have a huge blind spot when it comes to critiquing race in the media we all consume,
especially media that's of importance to PoC.
Although it could be said that some white writers probably just wish to stay in their lane, and not comment on racial topics, on which they are simply not well versed, the problem with that approach, is that their silence allows their audience to be lazy, to simply go on "not thinking" about the deeper implications behind their entertainments they consume. In any comment section there are always calls for the writer to ignore racial issues, "Why does it have to be about race?" And"Why can't you just find it entertaining?" There are parts of fandom that simply don't want to think very deeply about anything they consume, claiming entertainment as a safe space for themselves, but not affording the same to marginalized people.
And I don't know what to think of those writers who claim to want to challenge their readers, and don't, or write the same bigoted drivel that marginalized people are regularly subjected to, in an attempt to seem "edgy", (but I know I feel about it, though.)
I'm not avoiding critiques from White writers because I dislike White people, or think they're being racist. (FTR: Black Mirror is a British show created by a White writer named Charlie Brooker,) I mostly avoid these critiques because many of the writers don't, won't, or can't see the details, and nuances, behind media created with PoC as the audience. Most of them are unable to put the images they've seen into any Socio-Historical context, as Nkadi did, to devastating effect, in the above review.
White writers will not see the broader ramifications in movies like Black Panther, and Get Out, or the meaning behind Luke Cage's wearing of a bullet riddled hoodie, and Black Mariah's respectability politics. Many of them are not educated enough on the subjects to be able to speak on them. It took Black reviewers to see and state these things. It took Asian American reviewers to outline the racist implications of whitewashing Ghost in the Shell, and to explain why Danny Rand needed to be Asian. Left to White reviewers these kinds of things are not mentioned.
Because all the media we consume is still primarily written by straight, white, cis-gender men who are only really capable, through a combination of ignorance, malice, and laziness, of writing from their own perspective, we learn what it is they care about, what subjects they think are important, and who they believe matter.
Not that White writers aren't capable of thinking and writing beyond such boundaries (I've discovered a few who can, but most of them can't write cis- gender, straight, White women very well , and these are, presumably, the people they most often come in contact with). How much less accurate are they going they be when writing about lifestyles even more divorced from their own, like a transgender woman of color, or an Asian immigrant. Why is Hollywood still so reliant on White men to tell stories they can't possibly know anything about, except through copious research, and most of them are too lazy to do that, relying instead on the same old established shorthand of such groups written long ago by other white men, who not only didn't do any research either, but didn't care, because those people didn't matter.
Most white critics are not familiar enough with the various topics of race, within any sociocultural and/or historical context, and then there are those who don't think it matters at all. But it matters to PoC and other marginalized groups, not just that they are represented in popular culture, but how they are represented, what kind of story is being told.
Earlier in this country's history, marginalized groups focused on entering the field of politics, and that was helpful in addressing some of our grievances, and furthering cultural progress. But our realization now is that we need to change the culture. And we can see that the way that a culture can be changed, is through popular media. Until we control ,write, direct, and disseminate our own stories, in film, television, and books, we cannot change a culture that had long ago decided, with the aid of that same media, that we were less than.
Only we can (will) declare our own worth. And there is always going to be a certain amount of push-back from those who don't like it, because it benefits them, on a near spiritual level, to see "The Other" be emotionally downtrodden.
Not only do we need to be able to control our own image, but we need to be in a position to critique those images, because apparently, the reason why those images exist, will only be ignored by members of the dominant culture. The critiques of stories about us need to be done through a diverse lens, otherwise it will only result in reviews that say nothing, of any meaning, about our images.
White writers cannot talk about racial issues in media, and make their audience comfortable, at the same time. It's not possible to do that and write about the Soci-Cultural issues being addressed in a show like Luke Cage, Beyoncé's Lemonade, the movie Get Out, or the upcoming Black Lightning, and Black Panther, as that might come across to their White audiences as a indictment, and an attack, on Whiteness. And some of them won't take the step of approaching their own discomfort.
PoC, who critique the media that is about us, don't have that problem, because we're not necessarily interested in being liked by our readers. (I mean, it's important. But it's not out top priority. ) We're interested in delineating the hard truths, and hope people are willing to come on that journey with us.