Here's a list of shows I'm actually watching and ones I plan to watch. Here are also some shows I'm interested in watching but may never get around to for some time, as I'm afraid my dance card is quite full.
Gentleman Jack (Sun.9P/HBO)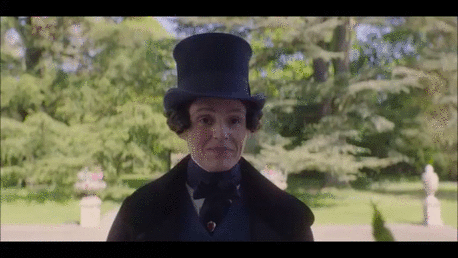 I had only recently heard about this show when I saw the ad on HBO, and I watched the first episode and now I'm hooked. It was so much fun watching the lead character, that I watched the next two encores.
The show is set in the mid-1800s, and is based on a true story about a woman named Ann Lister, who lived her life openly as a lesbian at the time. The show is based on her diaries that chronicled everything about her life, including the women she loved, and the one she actually married. Like a lot of Queer people, I'm off the Tragic Gay Stereotype. I really don't want to see any more gay and lesbian characters in pain or getting killed just for fun.
https://www.theguardian.com/society/2018/jul/28/anne-lister-blue-plaque-lesbian-marriage-church
"She never experienced any difficulty in reconciling her lesbian sexuality with her Christianity," said Helena Whitbread, who has studied Lister's diaries for 35 years and is writing a biography. "Her firm belief was that as God had endowed her with her sexual nature, it would be wrong to act against it."
I loved her character immediately, especially  her outfits. In the first episode, Ann comes home to find her father too ill to collect rents from their tenants, and sets out to do it herself. This is a lot of the reason why I liked her. She is always being admonished to behave in a womanly manner, but she is the kind of person who sees that something needs to be done, and when no one steps up, simply does it herself. When we first meet her, she is recklessly driving a coach through the streets of the nearby town after the driver was injured.. When she was asked why she did it, she just says that no one else stepped up to do it, and she didn't want to wait for the injured driver to get better.
She discovers that a  coal seam has been discovered on her land, and she decides, against everyone's judgement, that she wants to mine it, so she can make that paper. She is having an affair with a local woman, whose husband leaves her alone too much, and yes, there are sex scenes. The show is not shy about it, and its filmed very matter of factly, rather than in some kind of soft porn type of way. Her future wife (yes, there is a happy ending) is a shy young woman, who lives in the nearby town, and Ann makes a strong play for her affections. It also doesn't hurt that the woman is very wealthy.
I actually liked most of the supporting characters, except for her harridan sister,who keeps telling her what she can't do. Ann usually just explains things, or waves her away.  She lives a very open life, and everyone knows her business, and her aunt and neighbors try to set her up with eligible young women, especially after they find out about her recent breakup with a young woman who loved her, but bowed to tradition, and  chose to marry a man.
I can see the show is setting up some interesting issues for later. She has a bi-racial, Ladies Maid, who is secretly (or maybe not) pregnant, and one of the house servants keeps giving her significant glances, which makes me think that Ann maybe dallied with her once, or twice, and the servant is jealous to see Ann in relationships now. From time to time, Ann breaks the fourth wall ato address the viewer. She is very bold, and charming, and brash, and I liked that about her. The show packs a lot of information into that first hour, becasue the series is  only about eight  episodes long, and is written by Sally Wainwright.
There's  some brief discussion of social issues like voting rights for women, and some of the show is taken up with plotlines that have her come fact to face with men seeking to thwart her aims, and her finding ways around them. At one point, she almost comes to blows with one of her tenants, who is trying to cheat her out of her rent money.
https://www.indiewire.com/2019/04/gentleman-jack-hbo-review-anne-lister-1202126654/
So, if you're looking for some wlw representation, then you need to check it out.
What We Do In The Shadows (Wed. 10P/FX)
This show is, hands down one of the funniest vampire shows on TV. Of course it helps that there are only a few of those on TV, at any one time. It's based on the movie, What We Do In The Shadows, which stars Jermaine Clement, and Taika Waititi (the director of Thor Ragnarok), and centers around four vampires, who are  living as flatmates in Wellington, New Zealand, and are being followed by a film crew. This is the second spinoff from the movie. The first one was called Wellington Paranormal, and centered around the police, and a film crew, dealing with supernatural creatures and events in the city.
This second spinoff from the movie repeats that formula, but makes some significant changes, centering around four vampires, who  live on Staten Island. The characters are rough equivalents to the ones from the movie, except that the writers learned from their mistakes from the rather low budget film, and added a female vampire, who is one of the smartest and funniest of the group.
There's Nadja, her husband Lazlo, and their flatmate, Nandor the Relentless, who is relentlessly obtuse. There's also a new type of vampire, an emotional vampire named Colin, who is both incredibly funny, and tremendously boring,  but that's his superpower. There's  also the addition of  Nandor's long suffering, put-upon, familiar, Guillermo, and a recurring character, the several thousand year old Baron, who has come to oversee the group's takeover of NY.
I don't think I can express how much I love this show. Almost as much as I love Brooklyn 99. I usually get into a show through my attraction to the characters, and I was immediately drawn to, of all people, Colin. This is probably because I work in an office space, and have met plenty of Colins.
All of the characters are well drawn.. The each have their own adventures, which is the hallmark of a good multi-cast show. Nadja gets restless and occasionally cheats on her husband, with various humans she finds attractive. She turns a young woman she is attracted to, and at some point this is something that's going to come back to bite her in the ass, as Nadja and the others are unaware this has happened.
Nandor seems to think he's actually in charge of things. He's neat, fussy,  and detail oriented. He's the one who comes up with ideas to do certain things, or go certain places. Sometimes he remembers to be nice to his familiar, Guillermo, who he's been stringing along for ten years. His most recent adventure involves losing his Witch's Hat, which he refuses to believe is cursed, and a fight with a local werewolf pack, who are every bit as lamely funny as they are in the movie. Nandor enjoys trimming the shrubbery around the house into various animal, and erotic, shapes, and  is constantly hypnotizing their neighbor into not noticing the things going on at the vampire's house.
Lazlo is the most hapless and clueless of the group. He's completely devoted to Nadja, who was the one who turned him. Lazlo is not the brightest vampire. His most recent adventure involved turning into a bat, and being unable to change back, so he gets captured by animal control, and locked in  a shelter. The other vampires have to go rescue him, while Nadja decides to ignore the whole thing, and go off to have an affair with a parking garage attendant, that she believes is the reincarnation of a past lover.
Colin Robinson is a non-descript vampire that feeds off other vampires. He's incredibly boring and also kind of petty. He openly delights in the other's misfortunes, actually feeding off their unhappiness. The subjects he uses to drain people of their vitality are boringly hilarious. He drains other vampires, so the others always try to avoid him, or disavow knowing who he is. He loves to tag along on their adventures anyway, often just inviting himself. He mostly feeds at work, or goes to public civic meetings.
Colin's latest adventure involved meeting another psychic vampire. At first they try to drain each other, but then have the great idea to team up. and  end up draining the entire office too much. Its a testament to the writers that she is a different type of emotional vampire than Colin, Colin just drains a person's will to live, while she feeds on sympathy, by  being pathetic. Something horrible is always happening to her, like dead grandparents, a dog with autism, getting kicked out of her apartment… In some ways, vampires like her and  Colin are the most ruthless, as they are completely opportunistic, and will feed on anyone, at any time, anywhere.
One of the most recent episodes was groundbreaking, in that it featured vampire guest stars from other shows and movies. Those vampires that didn't show up in the show were name checked by the others, in a kind of Vampire Council, headed by the three actors from the original movie. The three primary actors used their character names, but the other actors just used their regular actor names, Wesley, Tilda, Paul, Evan Rachael Wood, and Dave Bautista. Once again we get to meet some more familiars, and its always funny when they all get stashed in a room together to talk about their particular vampires.
I like that the show remembers that other types of vampires exist besides the White ones, and its hilarious how they call attention to/call out, the different types of tropey modern  vampires, including two sisters who aren't actually sisters, and a hip-hop Asian vampire, who only talks in rhymes. The trio also meet other types of supernatural creatures, including the werewolves, and of course they have a fight.
The show has just been renewed for a second season.
Of Interest
Now Apocalypse (STARZ) is a show about various pretty, gay, people having adventures in LA, while trying to avoid the coming apocalypse, that only one of them can see coming.
Barry (HBO) is about a former assassin who is attempting to leave that life to become an actor. He takes acting classes, but keeps being drawn back into his former life by his classmates, and the people he used to work for.
Shrill (Netflix) is about an oversize young lady, along with her Black, lesbian, roommate,  having various love adventures. The show is surprisingly positive about her size, and actually, pretty funny and uplifting.
Killing Eve (BBC) is a show I keep meaning to watch, but never actually getting around to, outside of a single episode a season. I love the two lead characters, and Sandra Oh absolutely deserves her Emmy. She is incredible in the show. This show heavily reminds me of a female version of the show Hannibal. There's  a love/hate/fear relationship, developing between the two leads that's fascinating.
Santa Clarita Diet (Netflix) just got canceled after two seasons. I had been meaning to watch it, but never got around to it, about a woman who becomes a flesh eating zombie, who gets aided and abetted in her hunt for human flesh by her husband. In the meantime, they deal with perfectly mundane neighborhood and household issues.
Good Omens (May 31st/Amazon) is something I'm really looking forward to at the end of this month. It stars David Tennant.  I'm always up for watching what he's getting up to, and the original story was  written by Neil Gaiman.