I know its been a while since I posted a Hannibal review. I promise I'm not neglecting what I'd said I'd do with this show, which was do in depth reviews of all three seasons, which are currently available to stream on Amazon Prime. Here's my review of Dolce, which is episode six of season three.
In the sixth episode of this season, we see the long awaited reunion between Hannibal Lecter and Will Graham, and naturally, by the end of the episode, the two of them try to kill each other, because that's just  how  they are.
Jack Crawford and Will Graham meet at Pazzi's gruesome murder scene for the first time since last season. It turns out that this was always the plan between the two of them. We had been led to believe that Will had simply run off to be with Hannibal, but it turns out, that Will went to Europe to find him, while Jack could follow later, and by a different route, so that the two of them would not appear to be in tandem. At their meeting, Will asks Jack why he didn't kill Hannibal, and Jack says he was saving him for Will.
Throughout this entire series, Will has been a hound caught between two masters. Earlier in season one, Hannibal referred to Will as Jack Crawford's  hound, and this is an apt description, because Will has the instincts of one, Lecter and Jack sent him out to do their bidding, and often fought over their possession of him. At one point Jack just comes right out and asks if Will is his man, or is he Hannibal's, and Will had to think about that for a minute, as he neatly sidestepped that question.
When viewed from one angle, Will's actions make no sense, but if you take into account that Jack Crawford and Hannibal represent opposing sides of who he is, and what he wants: stability, justice, and order, or mayhem, lawlessness, and the freedom to do what he will, then it is understandable why Will is torn. If Lecter is coded as a satanic figure, then Jack is God, or at least Will's better angel, (in fact, Jack says as much to Lecter, in a later episode), and naturally, Lecter exists in opposition to all that Jack represents. Does Will want to serve, or be served? Hannibal's power, and ability to flout authority, is intoxicating to a part of Will's personality, and he seems to constantly be at war, not just with Hannibal, but that part of himself.
Hannibal is severely injured after his fight with Jack Crawford, and limps his way back to his quarters, where Bedelia has already crafted an excuse for her dalliance with him in Rome. She tells him she is preparing for his eventual capture, and wonders if he is drawing his enemies to him. If he, in fact, wants to be caught. One of the biggest movie tropes about serial killers is that they secretly want to be caught, because if they don't, how can they have their egos fed by becoming famous? How can they be known if no one knows who they are?
In the movie Seven, the killer turns himself in to the police at the end of the movie, for this exact reason. How are people to know his grand plan and admire it, if he doesn't get caught. There is a real life basis for this common movie trope. For example,  mass killers often leave manifestos for why they kill, because they want to be known and admired, and on occasion a serial killer has tried to insinuate themselves  into their own investigation, by contacting the detectives involved, as in the Son of Sam investigation. But largely, the idea that serial killers want to be caught, is a myth.
Gillian Anderson is excellent this episode as Bedelia. Her performance is just one of the highlights. Up to now, she has appeared to be Hannibal's prisoner, she is with him because of the constant underlying threat that he will kill her. In a sense she is keeping her enemy close to her, because its better for her to know exactly where he is than to be free, and not know where he is, or what he's doing, which is an issue that will come into play later in the season, between Will and Hannibal.
But Bedelia is going to need to explain to the authorities why she stayed with him, She comes up with the excuse that she was out of her mind, with the same drug cocktail Hannibal used to subdue Miriam Lass, (in season 2), so she genuinely believed herself to be Lydia Fell, the wife of the man Hannibal is impersonating, Norman Fell. Hannibal admires her cleverness, and the two of them agree to support each other's stories.
When Hannibal leaves, Bedelia shoots up her special cocktail, and is found first by Chiyo. Bedelia seems to be one of those people who develops a semi-adversarial relationship, with everyone she meets, and Chiyoh is no exception. Probably because Bedelia is one of those characters that seemingly every TV show must have, that person who speaks uncomfortable truths to the other characters.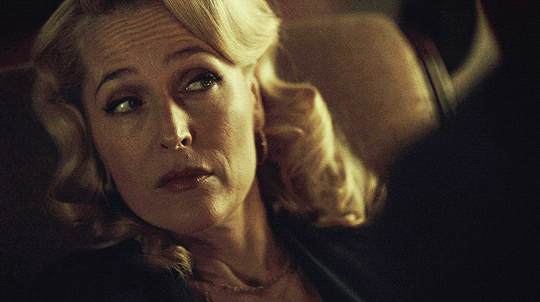 Then Will and Jack encounter Bedelia, in Hannibal's apartments, and she already has her answers ready. Jack and Will are not buying any of her story, but I can't tell if the police inspector does. There's definitely some kind of "frission", or attraction, going on between the two of them. One of the more amusing scenes is watching Bedelia's interaction with  Jack and Will. Gillian Anderson, always brings her A game to every project, she looks like she's having a helluva lot of fun, and that entire scene is hilarious to watch, as Bedelia drunkenly slurs her way through the initial interview, and its one of the few scenes of genuine humor, in the series.
Hannibal doesn't leave Rome. Instead he makes his way to the Uffizzi Gallery, to view Boticelli's Primavera, which I talked about in my review of the second episode of the season, titled Primavera. For some reason he is obsessed with this panting. He had a arranged one of his murders to resemble the painting, many years ago, before he left Italy. Here we see him drawing another representation of the painting but replacing the faces of the angel, Zephpyrus, and the nymph Chloris, with the faces of Will Graham, and Bedelia, his two closest "associates".
Will's unexpected presence is a source of unmitigated happiness to Hannibal, and he almost loses his chill, telling Will, in a somewhat poetic manner, how much he missed him, and how overjoyed he is to see him again, (for Hannibal, this is practically gushing), even though he had the chance to see him when the two of them were running around in the catacombs, in an earlier episode, but admittedly that was before Will, supposedly,  forgave him. The two of them leave the Gallery together, and Will, feeling some type of way again, pulls out a knife and tries to stab Hannibal. I'm unsure if he was trying to incapacitate him, to capture him, or if the stabbing was revenge for Hannibal stabbing him last season, or just general assholery on Will's part. Chiyo, sitting on a nearby roof, shoots Will through the shoulder. Since she only kills under the most dire of circumstances, as she did in Lithuania, she would not have killed Will, but she would not allow him to harm Hannibal, either.
Hannibal is, naturally, completely unperturbed by Will trying to kill him, because what's a little homicide among friends?. He takes Will back to some rented rooms, and minsters to his woulds, before deciding (and I don't know if this is revenge for Will trying to kill him, or general asssholery on his part), to eat Will's brain. Notice how he takes the opportunity ,while dressing Will's wounds, to give him a warm hug, since Will is in far too much pain to fight back, or try to stab him again.
Now, let's be clear here, Hannibal does love Will, but he still wants to eat him.  He wants to be with Will, but Will is still dangerous to him. One of the many philosophies behind human cannibalism (outside of desperation) is the idea that eating someone is a way of keeping that person close, so that they can never leave. This was the motivation behind the serial killer, Jeffrey Dahmer. Either that, or he believes he will gain Will's power and energy through consumption. Normally Hannibal's reasons for eating others is because he has nothing but contempt for them, so treats them like food.
In the meantime, the police have allowed Jack Crawford to leave, urging him to go back to America, which, of course, Jack doesn't do. How he manages to find Will and Hannibal is carefully not mentioned, but in a funny moment he encounters Chiyo in the elevator of Hannibal's building. She either knows who he is, or senses he is a cop, or is just generally cagey, but she manages to avoid his, too close,  attention, although they each sneak suspicious glances at the other.
This entire time we keep switching back and forth between Italy and America where Mason, Alana, and Margot, have been plotting to capture Hannibal, so that Mason can cook and eat him. Alana's and Margot's relationship is revealed in this episode, along with Mason's plans to have a Verger baby with his sister, to be carried by Alana.
We'll talk more about that particular trio in the next post.
Jack makes his way to Hannibal's rented apartments, (I'm unclear how he found them, but he was following Will, at the time). Jack gets there, not just in time to watch Hannibal begin his meal of Will Graham, but to be ambushed by Hannibal,  taken prisoner, and made to watch the ordeal, which he vehemently protests, to no avail. Will's face gets attacked a to this season, for some reason. I think somewhere in there is a statement about the actors prettiness. He is  more attractive than previous actors who played Will Graham, who looked a little more  like Will's  working class roots.
Hannibal's feast is interrupted by the Florentine police, who found the apartment by following Jack, in the hope that Jack (and Will) would lead them to Hannibal, having been suspicious of Jack's motivations, for visiting their city, right from the beginning. They are still in the employ of Mason Verger actually, and they kidnap Will and Hannibal, and send them to the Verger's Muskrat Farm, for the reward money. They attempt to kill Jack, but Chiyoh, hiding out on a nearby rooftop, assassinates them. Jack is freed by Chiyoh, after arguing that he just wants to go home, and in exchange for telling her where Will and Lecter were taken.Can I just add that Chiyoh is a total bad ass who is not to be trifled with, and that she really should have just had her own show?
Will and Lecter are taken to Muskrat Farm, and trussed like prized birds, while Mason gloats over his victory.
One of the things we haven't talked about much in the series is the subject of Classism. Particularly the class differences between Will and Hannibal, and Hannibal and everyone else. Its especially important considering Hannibal's philosophy about  the people he kills, and his attitude towards Will. One of Hannibal's guiding philosophies is to "Eat the Rude." so we get lots of instances where Hannibal kills and consumes people he believes were disrespectful to him. And not just to him, he kills and eats one of Abigail Hobbes friends, after seeing her be rude to her own mother.
I am a firm believer that at least part of Hannibal's motivations for killing and consuming his victims is because of class prejudice. Hannibal's family was once Lithuanian nobility, and while it may not be a major factor, I certainly think it  informs his feeling of entitlement to respect. he doesn't feel he needs to earn respect. He thinks he should be given respect by dint of having been born, and all beings should recognize his inherent superiority. When looked at from this standpoint, it is unsurprising that Hannibal would kill (and even eat) those he considered less than, because that is entirely in keeping, with the proletariat philosophy, that the wealthy are parasites, who prey on society.
Next episode however, the tables have been turned, as Hannibal is the one about to be eaten. Mason Verger has Hannibal exactly where he wants him, to exact his revenge for what Hannibal did to him, over a year ago. Unfortunately he has captured Will as well, and we'll find out just how far Hannibal is willing to go to save them both from an ironic fate.