So this week was the premiere of the new slasher series, Wolf Creek, which is based on the movie Wolf Creek, from 2005. It airs on the Pop Channel and is based on the true story behind the Backpack Murders that took place in New South Wales, during the 90's. The actual killer is now serving  7 consecutive life terms.The show is filmed in Australia with a largely Australian and native supporting cast.
I'm not a fan of serial killer movies, or shows , but I decided to review this because I was curious.  This is one of my Mom's favorite movies, even though she's not a huge fan of serial killer movies, either. I'd watched the movie (and didn't care for it), and wondered how the creators would turn that movie into a six part mini-series, without falling into the trap of making six hours of torture porn. I feel like the show is off to a promising start. I don't have plans to watch the entire run, but I am intrigued, and I might.
This is largely due to the young actress who plays Eve. Eve is a former gymnast, who is on vacation with her family, after having gone through rehab for addiction to pain killers. The relationship between Eve and her father is a tense one, as he's dealing with a lot of anger regarding her addiction, (warning for some amount of emotional abuse) but all of this doesn't get much play because her entire family, (Mom, Dad, little brother) are murdered in the first ten minutes, before the opening credits, by Mick Taylor, who is played by John Jarratt, the actor from the film.
When her younger brother gets attacked by an animal, Mick shoots it, and decides to hang with Eve's family for the rest of the evening. He is a crude, but jovial man, who cracks jokes about murdering people, right before he murders people. When he makes a crude joke about Eve being on her period, she goes into the RV to listen to music and can't hear her family being slaughtered, just outside.  I thought the murder of Eve's family would play out a lot longer ,as we got to know them, but that doesn't appear to be the show's focus. You know its going to happen but Mick attacks them so suddenly that it still manages to be a surprise.
He shoots Eve too but she manages to survive. Now suffering from her wounds, and survivor's guilt, she has dedicated herself to tracking down the man who killed her family. I found this intriguing because I went into this with a certain set of expectations, and the show managed to upturn those, from time to time. I thought for certain Eve would be blamed for the death of her family, and while the idea is brought up, its also quickly shot down.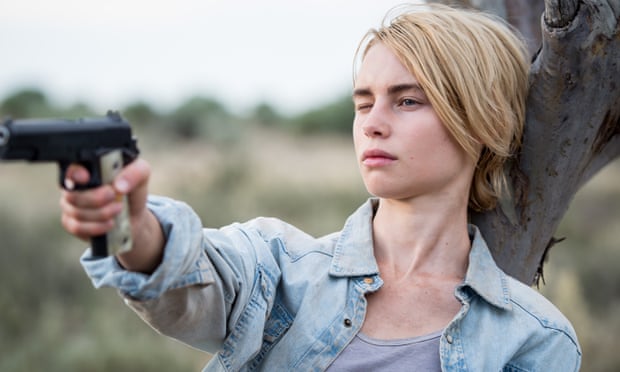 I also thought Eve's  story wouldn't be believed, but Sullivan Hill is the one cop in Australia who believes her, having kept track of several of Mick's murders for some time. Sullivan is played by Dustin Clare and you may remember him from Strikeback and Spartacus. I don't but then I consider Sullivan to be a rather bland character.
It's obvious that all the character focus  is going to be on Eve, as Sullivan doesn't make much of an impression, beyond being blandly handsome. No there is no sexual tension set up between these two, at least not on Eve's part, although I think Sullivan is intrigued. Understanding what she is about to do after she steals one of his casefiles, he sets off in pursuit of the strongheaded girl.
I did ask myself what the Hell it is that Eve thinks she's going to do when she catches up to Mick, but I'm not too worried about that now. She's been shown to have some amount of grit and backbone, and the rest of the season will consist of a cat and mouse game being played between her and Mick.
I like that the show is  so female-centric. The story is entirely focused on Eve, and her point of view, so there's an element of that "Final Girl" quality that I always thought was an interesting trope for such films. We spend very little time in Mick's presence which is probably a good thing. He thinks he's hilarious but the show never presents him as comedy relief, even if you laugh at some of the things he says. His good humor only serves to make him more terrifying, as he greatly enjoys killing, and is just doing all this for fun. There's only so much of that type of mindset you want to be exposed to. (There's even a Crocodile Dundee joke thrown in.) Both he and Eve appear to be about equal in intelligence and drive, so Eve winning this contest of wills is not necessarily a foregone conclusion.
Despite all these things to recommend it, I would advise caution for those who are more sensitive. The show is exceptionally gory. At least for the first ten minutes, it does not stint in showing Mick killing Eve's family, and  shows him shooting a child. So you may be happier skipping the first few minutes, after which the show calms down somewhat (but its still very bloody.)
I may actually watch next week's episode which airs on Friday. It looks like a good substitute for The Exorcist, which is beginning to drag.