The Mist (TV Pilot)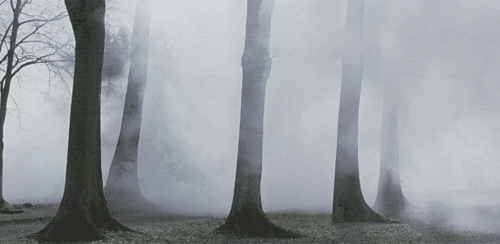 I've only seen the first episode of this, but I'm unimpressed. I think my expectations were a bit high for this show, as it's nothing like the movie. For one thing, the characters are either bland or unlikable. The characters who come closest to being liked is a young person of indeterminate gender designation, and the tough Mom, of the series.
There's a mother, dad, and daughter grouping in the movie. The dad is the permissive, easy-going sort, while Mom is a woman of strong opinions and convictions. She gets fired from her job at school for sticking to her principles, and NOT teaching abstinence to her students. I can respect that, even if the local parent's group can't. She also forbids her 17-year-old daughter from going to the local  teen party. Dad gives his daughter permission to sneak out to the party, where she gets roofied/raped by the local football star she has a crush on. I saw that coming a mile away, as he just looked untrustworthy to me. He claims he didn't do it, but her father reports him to the police, and the family gets harassed by the townspeople. The situation is complicated because there is also the possibility that he didn't.
There's the story line of a young military man, who wakes up in the forest, with no memory of how he got there, just as the mist rolls into town. He heads into town to warn the populace about the mist, only to be arrested by the police. I can definitely say I absolutely DID NOT appreciate watching this Black man get roughed up by the police, just for not answering their questions.  And no, it's not okay just because that same cop gets eaten by bugs soon afterwards. Just before the dysfunctional nuclear family is about to leave town, the mist shows up, cutting off all escape.
There are several stories mixed up in this. Various people get trapped in at least three different locations during the mist's siege of the town. Mom and daughter are trapped at the local mall; Dad, the sheriff, the military guy, and the non-gender designated young person, get trapped in the jail. There's also a thoroughly unlikable woman who threatens, and insult the non-gendered teen. This woman, who has no connection to anyone else in the plot, was seemingly added just to make me furious with her, and hope she'd quickly be eaten by something. She is so reprehensible, that I seriously considered turning this shit off, and just going to bed, but I put up with crap like that in order to bring you, my loyal readers, the quality snark I feel you deserve.
Oh yeah, there's also some  people trapped in a church with Frances Conroy, who you can tell is gonna go batshit, in about two episodes, or less.
So basically, this first episode is all set up for the tensions that will reach a boil during the mist's invasion of the town, which is not unlike the movie I guess. Mom and daughter are trapped in the mall with the parents who got her fired, and who believe her daughter is lying about being raped. The football hero perpetrator is also trapped there. The a-gendered teen is trapped at the police station with a father who refuses to speak to him because he won't act like a son, and an abusive inmate. And Frances Conroy's husband gets killed by something in the mist.
The main difference between the show and the movie is that there aren't really giant monsters in the mist. I had the impression that people are being killed by either a singular malevolent entity, or their own fears and weaknesses, or possibly both. While that's an interesting idea that's much easier to sustain for  an entire season, I was still hoping to see giant monsters. Maybe those show up later.
Blood Drive: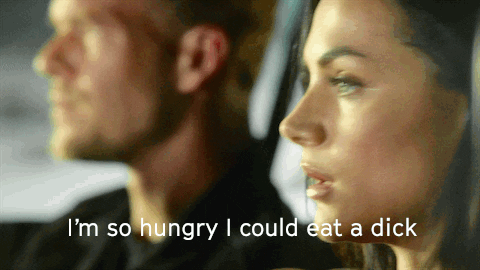 If you like this type of over the top excessiveness, then go for it. I ain't judging. The plot of this seems to involve people being forced to race each other, by some type of post apocalyptic tyrant, who has nevertheless found a way to wear too much Maybelline. The contestants lives are forfeit if they stop for any reason, up to, and including, running out of gas, which prompts some of them to cannibalize their  opponents, (and partners) and use them for fuel.
I am not a fan of excessive pulp. I was cautiously excited about this show from the trailers, and was willing to give it a try, but some things are just too far over the top even for my tastes, which even some others would consider excessive. I think it's because so much of this particular genre is spectacle, solely for the sake of spectacle, without rhyme, or reason, to any of it. If it's a crazy image, the creators will throw it in, no matter if it breaks, or creates  characters, or subverts an already established plot, and Blood Drive appears to be no different.
Somewhere, someone is having a grand old-time watching this show. That person is not me. I don't think I'm the correct audience for this. At every level of creation, the show looks tasteless, cheap, and ugly. The characters, world-building, costumes, and even the plot, is just ugly. I couldn't sit through more than half of it. By the time we reached the point where the two main protagonists appear to be having sex in a moving vehicle, I had had enough, and turned it off. I would rather hate-watch The Strain.
Blood Drive gets a resounding NOPE!
Dr. Strange: 
Yeah, I know I talked shit about this movie but I didn't spend money to specifically see this movie, and it was on Netflix, so I thought I'd give it a try. It wasn't a bad film, and I also don't feel too bad about the whitewashing angle, for reasons having to do with the plot. Let's just say, I was pissed off that the Ancient One was not Asian, but I would have been equally pissed off if an Asian woman had been cast. So, spoilers ahead.
The movie is the basic origin story type stuff, except now starring an actual asshole, as an asshole who doesn't actually get to be a better person by the end of the movie, which is rather different. Strange is a first class shit at the beginning of the movie, and although the story, and the actor try really hard to make him a sympathetic character, I didn't buy it. I liked every character but him. He's just a full-time douche. I still didn't like him even after he cleverly saved the world, but I do admit that may have more to do with the actor than the character.
Tilda Swinton plays The Ancient One, pretty much the way she plays all of her more soft-spoken characters. I generally dismiss her because, like most white actresses in Hollywood, she is thoroughly clueless on issues race and/or whitewashing. I'm also less than secretly  glad that they didn't choose an Asian Woman to portray this character because 1.) She dies at the end; 2.)she dies to further another character's manpain; 3.) she turned out to be a huge hypocrite.
So, there's this alternate world called The Dark Dimension, which naturally means its evil, but basically, she's been warning her students against having anything to do with this dimension for centuries. Hannibal…I mean, Kaecilius (which sounds like a nasty bacterial infection) is in contact with the being who rules that dimension and he gets drummed out of the corp. This Dark  Being wants to "try to take over the world" and is just lying in wait for someone to invite him to the cookout, which is what Kaecilius does.
Dr. Strange loses the use of his fine surgical dexterity after a horrible car accident. Do not watch this scene if you have car accident terror, because it's unnecessarily graphic. He decides to travel the world searching for a cure to his neurological problem, and winds up in Kamar -Taj, where he meets the Ancient One, who teaches him how to be a sorcerer, and her eldest assistant, Baron Mordo. (I do not remember this guy from the comic books, and I should, because he is in them. I'm hoping Baron is his actual name, in the  way that some Black people name their sons Prince, or King.)
For the record, The Ancient One doesn't actually choose Strange as her successor. See, what happened was…all the other sorcerers of the great houses of the Landsraad…I mean the other sorcery nexi, get murdered by Kaecilius. Strange, Wong, and Mordo are the only ones left alive. So he gets to be a master of Sorcery through a combination of. hubris and default.
Those two, and Strange, spend the bulk of the  movie fighting Kaecilius and his minions. Baron Karl Mordo is played by Chewitel Ejiofor, and Wong is played by a man who is, conveniently, named Benedict Wong.
I liked Wong a lot, although there were some unnecessary scenes of Wong being played for a fool by Strange, that I did not care for. The Ancient One turns out to be, while not exactly a bad guy, her betrayal of the Baron's trust does lead to him being a villain. So really, the movie isn't  nice to any of the PoC that star in it.
The break-out character is  Strange's Cloak of Levitation, a semi-sentient magical object that adopts Strange as a Master. This isn't like in the books where its the Eye of Agamotto that's sentient. Why they switched it in the movie is anyone's guess.
So overall, not a bad movie. It's got some great eye candy, the magic looks really cool and worldbendy, and except for some serious eyeball rolling moments, I didn't hate it. If you can get pass watching two hours of Benegeserrit Cucumbersnatch, then the movie isn't a complete waste. On the other hand, if you had no intention of ever watching this movie, you ain't missed nothing!
The Accountant:
I had no intention of seeing this movie. It was on HBO last weekend and I  was not doing anything in particular that needed my eyeballs, so I ended up watching this movie. I'm not a Ben Affleck fan, but I liked him in this movie, and it was surprisingly good.
Here he plays an assassin who has autism. His father began teaching him how to kill people, as a child, in an attempt to make him more independent, and he became exceedingly good at it. He comes across some corruption at a tech company and feels like he has to protect the young woman he was working with on that case, when she's targeted by another assassin. The other assassin turns out to be his estranged brother, and I found that particular drama  intriguing.
I initially though the movie was a ripoff of the Bourne Trilogy, but it turned out to be nothing like that, with more heart, and more depth than any of the Bourne sequels. I liked the relationship that developed between Affleck and his co-star, which she thinks is supposed to develop into romance, but he is not particularly interested in her interest. It's a romance that never develops, even though he likes her, and I thought that was a refreshing change.
The movie kept upending my expectations, and Affleck comes across as a smoothly competent killer. The movie also doesn't end in car chases, explosions, or dramatic surprises, but in a quiet conversation between two brothers, who have some shit to hash out between them, before they could move on, and I  liked that. I would recommend watching this on some quiet Sunday evening.
Alien Covenant: 
Oh, my gob! This movie was bleak, bleak, and even more importantly, it was bleak. It was even bleaker than the very first Alien movie, if you can believe that. I mean, basically, everybody dies. Well, rather say, that any humans that  were walking around at any point during this film, ain't walking around by the end of it. If you liked the first Alien movie, then you will like this one, as it is effective at scaring the shit out of you, even when you sort of know what's going to happen. I mean, Ive watched the first Alien movie multiple times, and I still get scared.
Oh, did I forget to mention that this movie also stars Michael Fassbender, and get this…another Michael Fassbender. So it's like getting two Fassbenders, for the admission price of only one of them, (even though I spent no money to watch this movie.) Did I mention that I love Michael Fassbender. I feel like I may have mentioned that in some earlier post, or something. If not, then let me reiterate..I love Michael Fassbender who, I am absolutely certain, is a total dick in real life. (If he is, don't tell me. )
I would talk about the plot, but really that's all there is to it. Somebody's gon' die! and people do stupid shit, to help facilitate their deaths, just like in the first movie, Prometheus. Things like, taking their helmets off just because they can breathe the atmosphere, running towards danger, or wandering off alone, or trusting strange androids.
Not to go off on a tangent, but why do people on strange new worlds always take off their helmets as soon as they learn the atmosphere is breathable? Have they never heard of airborne pathogens? Which is exactly what happens in the case of one of the characters, when he steps on a plant, that releases spores, that go into his ears. His demise is suitably horrible.
Later, the two Fassbenders, David, from the first movie, and some new guy named Walter,  get into a fight, as Walter tries to protect the remaining humans. I would have preferred some loincloth mud-wrestling, but that probably would not have been in keeping with the mood of the film, which is, well…kinda bleak.
Suicide Squad:
Apparently, I'm one of five people on Earth who enjoyed this movie. Its been airing on HBO recently and I've watched it multiple times. I think the main reason I enjoy it is because I'm a Will Smith fan and will watch movies with him that I normally wouldn't pay attention to. Not that the movie isn't flawed, annoying, and occasionally stupid,  it's just those moments were not enough to detract from what I was enjoying about it, which is namely Will Smith, and Viola Davis, in an anti-superhero movie together.
I could go through and list everything wrong with this movie, because it's got a lot of problems, but IT'S WILL SMITH!!!! I love Will Smith!!! Will Smith makes every movie worth looking at, just by being in it. Plus, he's with Viola Davis, and they actually get to exchange words in the movie, rather than pretending the other doesn't exist.
Okay, I did like the other characters, too. In fact, my only reasons for liking the movie, was some of the characters, and the action scenes. I enjoyed seeing Killer Croc, onscreen for the first time, and Diablo turned out to be a huge favorite of mine, but then, I'm a fan of seeing Incan Fire Gods in movies, so yeah, his scenes were both hot, and cool.  Outside of Deadshot, I got really attached to Harley Quinn, who I enjoy in the comic books, and the nascent friendship I saw developing between the two of them. I'm here for a Deadshot/Harley Quinn team-up movie, as long as Amanda Waller can be in it. Viola Davis perfectly captured the idea of the Amanda (The Wall) Waller that I had in my head, as the only human on Earth, who can get away with dressing down the Batman.
The plot was deeply, (and I do mean deeply), fucking stupid though, and I have no idea what the villain's motivation was, or how she actually hoped to accomplish her goals. Yeah, some of the characters were totally undeveloped, like Katana, or just straight up hateable,  like Captain Boomerang, and The Joker. But the movie was pleasant eye candy for its two-hour running time. It's not a good movie, but I found it mostly inoffensive, unlike some people who found the movie deeply offensive to their intelligence. I can say that part of the reason I'm okay with the movie is because I went into it expecting nothing more than to be distracted for a while, and the movie accomplished that goal. The trailer looked like fun, and that's what the movie delivered.
Its okay if you haven't seen this movie, you can rectify the problem of not having enough Will Smith in your life, by watching…Concussion!
Note:
I'm still watching stuff because new shows keep being released. Next week I should have a review of the new season of Cleverman, now airing on the Sundance Channel, and the second season of Preacher, on AMC, which looks like a lot of fun, so far.