Normally this would be a comparison between The Mist film, and the TV show, but I didn't watch the TV show beyond the first couple of episodes, because I got bored. Let's just  say that the TV show ain't got nothing on the movie, probably because Frank Darabont had nothing to do with it, and the two people who were involved with it had a very different vision of what the Mist was about.
The series was a hot mess, that was slow and mostly incoherent, and was finally canceled.  I was hopeful that it would be good, (I'm always hopeful that a show will be good), but I was a bit dubious when I heard there wouldn't be any monsters in the show, and I think part of the reason for its failure, is  fans of the movie had one idea of how it should be, and the creators had a completely different, and incompatible, idea
And of course, it's really hard to top the original movie that it was based on. Frank Darabont has proven to be something of a genius when it comes to adapting Stephen King's stories, having directed not just The Mist, but The Shawshank Redemption (which I loved), and The Green Mile, (which I hated for  different reasons.)
Except for the controversial ending, The Mist is faithful to the novella on which it's based, and that's part of its success, because  the story is a very effective study of human nature under extreme conditions, and you can't get more extreme than being trapped in an enclosed space, while being menaced by giant hungry monsters.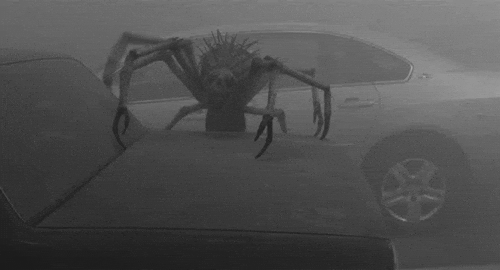 I wrote an essay on how to write the apocalypse novel, and I used The Mist as the type of  framework that many writers could try to hang such a story on, but really I have to credit Agatha Christie with making the premise famous, (although its much, much older than her) of a small group of people, trapped in a  space they can't leave, who start mysteriously dying. So many books and movies have been based on this idea that you can't count them, and it's an idea that seems to work especially well with horror movies, in everything from Alien (outer space), to Friday the 13th (the woods), to Night of the Living Dead (the apocalypse). The only thing that you can truly change about such stories is the size, and nature, of the space, (jungles, warehouses, summer camps, and spaceships) the type of people dying (probably White), and why (probably monsters). Along the way, the survivors have to navigate the very human monsters of greed, stupidity, callousness, cowardice, insanity…
In The Mist, David Drayton, his son Billy, and neighbor, Brent Norton get trapped inside a local grocery when a mysterious mist descends, a mist that contains some very hungry creatures. Also trapped with them is a small contingent of local people, along with Mrs. Carmody, a woman with the reputation of being a kind of hedge witch, who is also a  religious fanatic.The two standout performances are from Andre Braugher as Norton , and Marcia Gay Harden, as  Mrs. Carmody, with Melissa Mcbride (aka Carol from The Walking Dead) in her big film debut, making this a grand trifecta of awesome. Bringing up the rear, but never slouching, is Toby Jones, William Sadler, Sam Witwer, and Laurie Holden as Amanda Dunfrey, a woman David has an attraction to.
The Stephen King Multiverse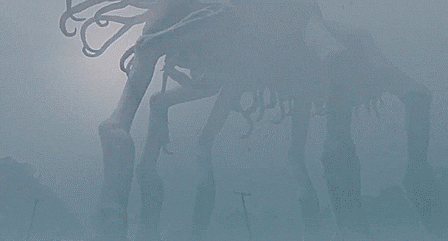 Near the small town of Bridgton Maine is a military facility that's believed to be responsible for the descent of the Mist, after a huge thunderstorm knocks out  the power in the town. The book suggests it was some experimental physics event created by something called The Arrowhead Project, that triggered the Mist, and Stephen King (and many fans ) have made this story part of the Stephen King Universe by suggesting that the Project opened what's known in other King books, as a "thinny", a portal between the worlds.
My personal assumption was that the portal opened into what King calls "todash" space, the dark void between the different worlds, which is inhabited by different types of monsters, like Tak , from The Regulators, and the creatures in this story. Todash Space is also something heavily referenced in The Dark Tower books, and at the opening of the movie, we can see David Drayton painting a picture of Roland Deschain, from The Gunslinger.
.
David Drayton
Thomas Jane, as David Drayton, just manages to just hold his own in this movie, which is impressive, as I never credited him as a particularly fine actor, although he has had a long career in film. Here, he's supposed to be our everyman character, with whom the audience is meant to identify, and through which we're meant to get into the story. His most direct nemesis' is not the mist, but Edward Norton, a representative of disbelief, and Mrs. Carmody, who represents too much belief.
David tries to navigate these two approaches to their extreme circumstances, without falling into either the camp of delusion and denial, called The Flat Earth Society, in the book, or hysterical religious ideation, like Mrs. Carmody. In the novel, David has an affair with Amanda Dunfrey, as a form of solace over the loss of his wife, but in the film, Darabont stated that the two of them having an affair would make David's character less sympathetic, so that was removed from the script. It would also have had the unintended side effect of the audience supposing that David was being punished for his adultery with her, especially if that was coupled with Darabont's ending.
The ending sparked some controversy, because it's completely at odds from what happened in the book, and some viewers claim that it defeats the purpose of everything David Drayton survived beforehand. The story itself is open-ended, David and the others never find their way out of the mist, although it ends on a hopeful note. In the movie, David and his friends elect to kill themselves, rather than be eaten by the monsters,, when their car runs out of gas. This made some people angry because they felt he went through so much to survive Mrs. Carmody, only to give up at the end.
But I felt this was an entirely reasonable response, if looked at along a continuum  of the kinds of  behavior we'd seen from everyone caught in the mist. In the book, some of the characters retreat from their circumstances by getting drunk, and a number of people who David says "went over", simply go insane. People commit suicide, and retreat into religious hysteria, and denial. But the bottom line is that most of these people (except for a handful) do not want to face their situation head on. In the movie, David does, but even he and his friends are eventually defeated by the mist, and take their own lives.
Eventually, the only survivor is David, and he realizes the futility of what they've done after he steps out of his vehicle, intending to just give up and be eaten by whatever monster finds him first, only to encounter the retreat of the mist, and the American military destroying any monsters left over. That was something that infuriated a lot of people. David and the others having given up too soon. Had they waited just another hour or two, they would have all survived. But many people don't understand that this is all an illustration of how hopelessness works. It's immediate and intense, and must be taken care of right away. Hopelessness has no patience, and believes there is no time.
At any rate, staying in the store wouldn't have saved them. They would have had to leave because of Mrs. Carmody anyway, as the military would never have arrived before she started killing more people.
Edward Norton
Andre Braugher is incredible as Edward Norton. Heperfectly  captures Norton's officious resentment, from the book, and even manages to add an uncomfortable racial component, to his discussion with David in the market. So watch that scene again where he insinuates that people are racist, wtihout actually saying people are racist towards him.. In the book, he becomes the leader of the Flat Earth Society ,a faction of people withing the store who simply refuse to believe that the mist is  dangerous., or that there are monsters.
It's never made exactly clear what Norton does for a living, but I suspect he's a lawyer. He approaches the entire event from an argumentative stance, as if his clinging to a rational approach to their circumstances should be enough to survive it. He and his crew represent just one approach to what has happened, and they (and the bagboy, who also didn't believe the mist was dangerous.) are the first of the store's customers to die. After those people are dead, we are left with the  those who believe their circumstances are real, and that the monsters exist.
In the book, David states that there are so many different ways that the mind can approach what's happened, but really there aren't that many. People can only respond in about three ways to extreme fear: flight (whether it's  physical (suicide), mental (insanity)) from their circumstances, confrontating the situation head on, in an attempt to get around it, which is what David does, and negotiation, which is what Mrs. Carmody does. Edward Norton, and Norm the bagboy, tried disbelief and confrontation, and that promptly got them killed. In the novel, several people choose flight from their circumstances. They just mentally check out, (they go insane), still others use alcohol, or suicide to escape. This is somewhat less evident in the movie than in the story. We don't see any of the characters getting drunk as a way of coping with the situation, for example.
And then  there's Mrs. Carmody. I think, in the movie, she's meant to represent insanity, but I don't believe she is insane, and I'll explain why in a moment.
Mrs. Carmody
In the book, Mrs. Carmody is  a caricature of religious insanity, screaming about the abominations in the mist, in a bright yellow pantsuit. She starts off the story as a joke, a figure of mockery. Over the years King has become better at writing radically religious people, but Mrs. Carmody is one of the weakest characters in the novel, as she is very one-note, and over the top. When we first meet her in the novel, she only has one setting and that is "crazy", and she remains that way for the rest of the story. There's no background or depth given to her. She's little better than the monsters in the mist.
This is where Darabont's talent for adapting King's films comes into play. Under his creative control, Mrs. Carmody is considerably  deepened as a character. We don't  learn anything new about her backstory, but we do learn that she is not as sure of herself as she would like everyone to believe. In the movie, she begins as a simple curmudgeon,  complaining about the smallest thing. Like Norton, she sees her response to what's happening as entirely reasonable, calmly and quietly explaining to the imprisoned crowd what will happen to everyone, if they don't do as she says,  which is one of the best changes from the book. As the movie progresses, you  get a much better grasp of her character, especially in the scene with Amanda.
Amanda Dunfrey comes across Carmody in the lady's restroom, and finds her in tears, as she prays to God to give her the strength to commit to His will. Amanda offers her comfort, but Mrs. Carmody's response lets you know that she is  aware of what contempt she is held in the town, and she rejects her. She speaks from  the perspective of someone who sees herself as an underdog, a figure of mockery and disdain. She doesn't accept Amanda's overture of friendship because she knows Amanda doesn't care about her, and that none of the people in the market are worthy.
That scenes lends a new perspective to her actions in the market. She is not as certain of her strength as she seems, not as sure she's doing the right thing but she forges ahead anyway, and since you get the subtle impression she has just as much contempt for the townsfolk ( they are all horrible sinners) as they do for her (as the town crazy), we have to question her motivations for calling for more and more extreme ends to deal with the  mist. Her way of dealing with the mist is to try to appease the deity, from whom she beleives the mist comes, but she goes about it the wrong way.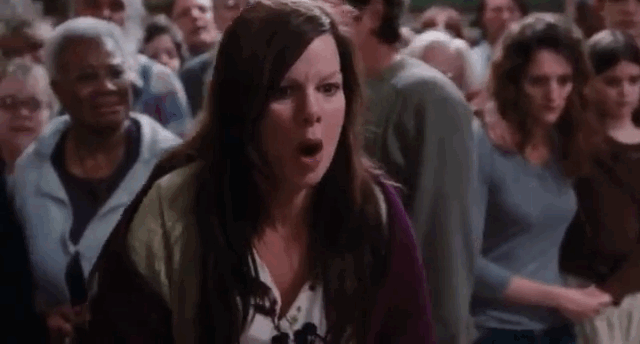 Carmody's belief, that she is doing God's will, is abetted by surviving an attack by one of the mist creatures. A large dragonfly creature, with a venomous stinger lands on her, while she prays that it won't kill her. When it doesn't harm her, I think she sees that as a sign of God's approval, that she is indeed doing the right thing, (after which she starts to show a certain degree of pride, and certainty, in knowing what God wants). She also shows pride in believing that she can save these people from certain damnation. But I don't believe she is insane, as that's too easy. (I think her motivations are a lot darker than insanity, and some of it may be revenge against the townspeople, she feels hate her, although that's something that's not immediately clear, and is just my supposition.) In other words, her motivations are not pure.
If Norton, and David, represent forms of confrontation, then Mrs. Carmody represents negotiation, which also doesn't work in their circumstances either. Norton tries confrontation and dies, Carmody's approach is appeasement and negotiation, and she dies, and this is why Darabont's ending doesn't upset me overmuch, as its entirely in keeping with the theme of the movie, that there's only one response that saved anyone from the mist.
David's confrontational approach doesn't work because it is self-serving, and he  ends up losing everything, his wife, son, friends, and endangering his sanity. Everyone around David dies, every time he goes into the mist. But he miraculously  survives, because his reasons for going into the mist, while altruistic, are not completely pure. One can even make the argument that only the impure, the sinners, die, and that the reason David survives while others do not, is because, although he is tainted,  he is still never directly responsible for anyone's death, and does make efforts to save people, like Norm the bagboy, and Edward Norton. But he is the one who talks the others into going to the pharmacy,  and talks them into escaping the market. And those actions could be considered a form of hubris, as Mrs. Carmody says.
One can make a comparison between David and Mrs Carmody, in that it is their pride and hubris  that get other people killed, as they are both guilty of these things. Norton's pride and disbelief got him killed, and David's pride lets him believe he can somehow defeat the mist by confronting it head on. Carmody's prideful belief that she knows God's will results in her death, too.
It's interesting to note that Ollie Weeks dies just after he kills Mrs Carmody. He is not a prideful character, and seemed to genuinely regret killing her, and even though he had a very good reason for doing so, murder is still a sin. In the novel, the soldiers commit suicide, but in the movie Carmody is directly responsible for the death of at least one of them, when she talks the crowd into sacrificing him to the mist, which is still murder. Their situation can be likened to a form of purgatory, in which there is nothing they can do to escape their fate,except for  the one character who actually does.
Melissa McBride's character is one of the few people who actually survives walking out onto the mist, and I suspect it's because she doesn't  negotiate with it, or try to run from it. She surrenders to it with faith, and humility, that she will be safe to save her children. She is also one of the purest people to do so, as she has harmed no one,  unlike Mrs. Carmody. She believes the mist is dangerous, but leaves the market anyway, to save her kids, and hers is one of the few motivations which is pure and not entirely self serving, the love for her children. At the end of the movie, we see her riding with the soldiers, both her children with her. It is interesting that David survives only after he does what she did, which is knowingly surrender himself to the will of the mist, and simply walk out into it.
All that said, I don't believe Darabont (or Stephen King) set out to tell a religious allegory, but the presence of Mr.s Carmody allows one to see it in that light.