Last weekend I did go see Bladerunner 2049 because Mum changed her mind about going to see The Mt. Between Us. I went to see this alone, which is what I prefer when I go see such movies, so I don't feel a burden to socialize with the person next to me, or talk about the movie afterwards. I can take my time and get my thoughts and feelings in order.
I had a lot of feels about this movie, but wonderfully, I also got a bit of intellectual stimulation too, as I tried to puzzle out what the plot meant, and what the characters symbolize. Also, the movie is just great eye candy. Let me start from the very beginning with a primer on the two movies and how they're related to the book on which they are both based. This is going to be a long one, with lots of spoilers, so I'm going to need to break into two parts. Forgive me if I get some things wrong because I'm writing this from memory.
Warning For Spoilers
There really isn't any direct need to watch the short films, but watching them will enhance your Bladerunner 2049 viewing experience because there are some things in the movie which are not made explicitly clear, or if you blink, you'll miss it.
https://www.inverse.com/article/35997-blade-runner-shorts-2049-prequels-connections-canon

The Plot:
Foundation
I cannot talk about Bladeruner 2049, without discussing the plot of the first film, because so much of that film is the foundation of this one, and I can't discuss that movie without talking about the book on which all of this is based. So much of the new movie is built from the original that it's difficult to understand the full scope of what Villanueve has done without looking at his sources.
In the original novel, by Philip K. Dick, titled Do Androids Dream of Electric Sheep, the primary themes of Self, Identity, and the meaning of Humanity are still present. One of the major changes from the book is that the replicants in the book are different from the ones in the movies. In the book they're definitely robots/androids. In the movies, they are genetic constructs, that are alive, need to breathe, can be drowned, bleed out, and die just like humans. Except for being stronger, faster, and largely immune to pain, ( or indifferent to it, as illustrated in the first movie, when Pris sticks her hand in a vat of boiling water), they are indistinguishable in appearance from human beings.
In the new movie, all replicants after the Nexus Six are distinguished by having lit tattoos of their serial number in their right eye, as we saw in the film short, Nexus Dawn. This is something that figures into the plot of the short film Blackout 2022.
For all intents and purposes, just as in the book, all replicants were indistinguishable from humans, which is why the Voight-Kampff test was created. The Voight-Kampff Test is what you see happening at the beginning of the first Bladerunner movie, and it detects emotional responses in human beings, specifically pupillary response to emotion. Replicants, specifically the Nexus 6, built by the Tyrell Corporation, (from the first movie), don't have normal human emotional responses because they only had a four-year life span, which doesn't give them time to develop such things. This, and Eldon Tyrell's conversation with Roy Batty in that movie, is important to remember, because it directly pertains to Rachael (Deckard's lover), and the replicants of the current movie. Rachael was Tyrell's experimental success, in that she had an unlimited lifespan. This must have been a successful line because all Nexus 8 replicants have unlimited lifespans.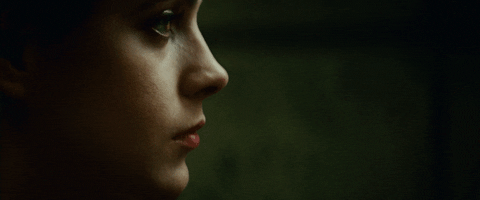 The new replicants in the current film are built by a different creator than was featured in the first, Niander Wallace, here played by Jared Leto. The Tyrell Corporation went bankrupt after the Blackout of 2022, I think, which occurs after the creation of the Nexus 8. The Wallace Corporation stepped in to build on Tyrell's foundation. Just as in the first movie, all the replicants, the current ones built by Niander Wallace, and the Nexus 8s built by Tyrell, know what they are, and don't seem to like it any more than the Nexus 6s. The major difference between Wallace's replicants and Tyrell's is that the new replicants are programmed tonever question their submission to humans, to always obey.
In Nexus Dawn, Wallace has a meeting with some of the city's governing bodies about removing the replicant ban on Earth. If you will remember from the first film, replicants were banned from Earth after a bloody rebellion shortly before 2019. Replicants are only allowed in the off world colonies. Keeping them off Earth is the reason the Bladerunners were created. The current Bladerunner's job is to "retire" the Nexus 8s. (There's a list.) Niander's argument is that the ban needs to be lifted because humanity is dying, just like most of the Earth, and he thinks the replicants could replace them.
In Blackout 2022, the Nexus 8s cause a massive blackout over the city, destroying all the city's digital information. In conjunction with the removal of their right eyes, they hoped to erase the knowledge of any Nexus 8s left on Earth, and remain undetected. The Blackout also plays a major part in the plot of the sequel.
Niander's theories are related to another theme from the original book and movie, ecological destruction. In the book, one of the major ways that humanity differentiates itself from replicants is by caring for animals. Showing care for animals is a way of proving you have human feelings. Deckard owns an android sheep that lives on the roof of his building, and other characters own other types of robot animals, because they are too poor to own real ones. This world is so damaged, that most of its animals are extinct, or specially protected, and no city dweller, unless they're extremely wealthy, has ever seen a real animal. The movies remains faithful to this idea, so all the animals you see in the first movie, are all replications of animals, made by humans.
The world is so ravaged, that Officer K, played by Ryan Gosling, marvels at small plants (Sapper Morton's window garden) and bees, because he doesn't know what they are. One of the standout images in this movie is when he sticks his hand into a beehive without flinching. He not only doesn't know that they sting, he doesn't register it when they do.
The Earth is dying, humanity has killed off most of its plant and animal life, and the ones left behind are dying too, from various abnormalities and illnesses. It is implied that humans without illnesses, or afflictions, are highly encouraged and incentivized to move off-world, and Wallace claims that humans have colonized some nine different worlds. But he thinks this is not enough to ensure mankind's survival, and believes humans should colonize all the known universe.
Now
Officer K is a replicant programmed to retire other replicants, namely any Nexus 8s left on the planet after the blackout of 2022. The first replicant we see him retire is Sapper Morton, the replicant from the third short film, as a direct result of Sapper's actions there. Afterwards, K discovers the bones of a woman interred beneath a dead tree, located on Sapper's protein farm. These are the bones of Rachael, Deckard's lover from the first movie. It is discovered, under examination, that she gave birth to two children, a boy and a girl, which is considered impossible, because replicant women are infertile. And if Deckard is a replicant, as was theorized in the first movie, this is doubly impossible.
Officer K is tasked by his boss, Lt. Joshi, played by an unrecognizable Robin Wright, with finding these now adult children, and retiring them, lest word gets out that replicants can now reproduce. It would make it that much harder to tell the difference between manufactured beings and naturally born human beings. K is aided in his investigation by his, implanted childhood memories, and his holographic lover named Joi, and thwarted by Niander Wallace's personal replicant assistant, Luv, who has also been given the task of finding Rachael's children.
K follows the trail of his memories all the way to a children's workhouse, where he discovers there was only one child, and it was a girl, but her records were obscured during the Blackout. He makes his way to a devastated Las Vegas, where Deckard lives in exile. K believes himself to be the lost child of Rachael because of the memory that was planted in his programming by Rachael's daughter, Ana, until he encounters a group of replicants who all were implanted with that same memory. Ana is alive and well, but living in isolation because of an immunity disease. She creates replicant memories for the Wallace Corporation, and the memory in K's mind, and in all the others minds, is actually hers, even though giving repplicants real memories is illegal.. She seeded this memory in all the replicants she worked on, in the hope that one day one of them would find her father.
K finds and loses Deckard in a fight with Luv, who destroys Joi, and kidnaps Deckard. He defeats Niander Wallace's plans to torture Deckard for information on Rachael's pregnancy, kills Luv, then reunites Deckard with his daughter. Fatally injured in his fight with Luv, K lies down to die in the snow.
The Characters:
Officer K

When we first meet K he is as cool as they come, and completely unperturbed by the thought of the danger in his job, at which he is extremely good. The only character who can get anywhere beneath this placid exterior is Joi. He is a replicant who kills other replicants, but by the end of the movie, he is willing to sacrifice his life for the cause of reuniting Deckard with his child. For love.
K does have a character arc, but its a quiet one, that's not as obvious as Deckard's, although it parallels that one. It requires some effort to see, as it is not neatly or clearly spelled out. His arc is the opposite of Deckard's. Deckard goes from being a cold and unfeeling human being who disregards the lives of the replicants enough to kill them, to rediscovering his humanity by realizing it doesn't matter whether or not they're human. By falling in love with Rachael. K goes from being a replicant that is callous enough to kill his own kind, to sacrificing his life for Deckard's goal, because it's the closest he will ever be to being human.
Lt. Joshi, his superior makes a point of stating that replicants, at least the newer models like K, can't lie but he does actually lie to her about finding and retiring Deckard's child, which I find interesting. After every mission, K is subjected to a post-trauma debriefing that establishes his emotional base parameters, and determines whether or not he should be retired. By the time he's lying to Joshi, his programming has become so compromised (he has become so human in hs responses) that he can no longer pass it. Joshi, as a grace, gives him the opportunity to run, which is ironic after what he said to Sapper earlier in the movie. His kind don't run.
Incidentally, the test K undergoes is a series of keywords that he must repeat in sequence. Those words are based on a poem Vladimir Nabokov's novel Pale Fire.
*Decode the test, and you realize that the computer is quoting verse:
Cells interlinked within cells interlinked
Within one stem. And dreadfully distinct
Against the dark, a tall white fountain played.
There is a Pinocchio element to K's character, as he comes to believe that he may be Rachael's special child and you can see the heartbreak in his eyes when he discovers that those childhood memories are not his, and he is not the one. For a brief moment in time he was truly special. In the original film, the unicorn is associated with Deckard, as being special, as being unique. K thinks he is a unicorn for a fleeting moment and when it passes, it is devastating to him, and Gosling conveys all of this with just his eyes.
Ryan Gosling carries the bulk of this movie as Officer K. I have to admit, I'd paid not an ounce of attention to this actor except to note that White women seemed to be crazy about him, while I was simply unimpressed. Now I am impressed. He's phenomenal as K. I have to admit I had some doubts he could pull off this role because the trailers lead you to believe that all he does is look stoic for the entirety of the film. It's a lowkey performance as befits the character. The majority of what Gosling does is in his eyes, which is appropriate, as the eyes being the windows to the soul, is one of the primary themes of both movies.
As an often despised minority, I identified with him on a certain level. K lives in a world where he is disdained for who, and what, he is. Chillingly, as he is walking down a crowded corridor, one of his co-workers spits the word "skinjob" at him, and I am heavily reminded of the narration from the first movie which equates that word with the N word. People just sort of casually say this word to him, or around him, and I'm reminded that there was a time when the N word was so casually said, in the presence of Black people, that nobody raised the slightest eyebrow at its use. And no one blinks at the use of the word "skinjob" in this movie.
Sapper Morton
Sapper is played by Dave Bautista, who you may remember as Drax from Guardians of the Galaxy. He's the replicant we met in the short film set in 2048. He works as a protein farmer in one of Earth's dead zones. When K comes to retire him, just after the events in the short film, he claims to have witnessed a miracle and, it is heavily implied, was present at the birth of Rachael's child. After Rachael's death, he buried her bones beneath the tree on his property.
I just want to commend Bautista. He is killing it in the serious acting category, and is hilarious as Drax. I never expected this level of acting quality from a Championship wrestler, which is something I just found out about as I only know Bautista through his acting career, in Spectre and Bushwick. He is definitely one to watch.
Rick Deckard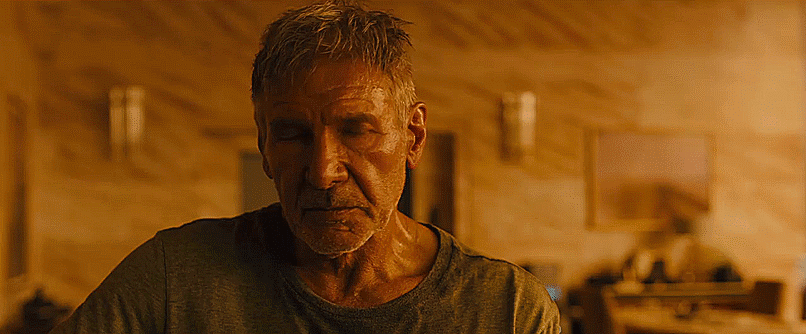 Harrison Ford reprises his role as Deckard. If you're hoping to find out if he's a human or a replicant, you're not going to find out in this movie. It's heavily implied by Wallace and Luv that he is a replicant. But he has clearly aged, and every replicant he's ever fought has thoroughly kicked his ass. So he's not fast, or especially strong, and unlike K, he definitely seems to feel pain.
According to Ridley Scott, Deckard is a replicant, but Harrison Ford doesn't believe he is. After watching the first film, I was convinced he was, but now I'm not so sure. Also, I just like the idea that he's human, as it sets up a thematic parallel to K's journey of finding his humanity. Both of them end up finding their humanity through the love of women the rest of the world disregards as unimprtant and disposable.
When K finds Deckard, he is living in what's left of an irradiated Las Vegas, and has reached a point in his life where he simply doesn't care what's real or synthetic. When K asks if his dog is real, he says he doesn't know. He has long since ceased to care about such things because his love for Rachael was as real to him as K's love for Joi.
Its important to remember that part of the reason for the dynamic seen between Deckard and K, is that K, at this point in the narrative, falsely believes he is Deckard's son, and tells him the name Joi provided him. Joe.
We do not get to see Deckard's reunion with his daughter, and I feel some type of way about that.
Joi
Joi is K's holographic girlfriend, played by actress Ana De Armis. I actually liked Joi, although she doesn't really have a huge role to play in the film's plot. She is, rather, emotional support for K. She serves as the embodiment of joy for K. Like many "real" women, she grounds K, giving him a homebase. She is his refuge in a loud, and untidy world, and later in the movie, she accompanies him on his quest to find Deckard. This feeling of safety is as ephemeral as her body, though. She cannot really save K.
K can't physically touch her, although there is a scene where Joi takes it on herself to hire a local sex worker that she can possess so that K can imagine having sex with her. She is tied to the emitter in his apartment until K buys her a mobile version. He tells her she can go anywhere, but naturally her first request is to go outside, where she experiences rain for the first time. Despite all this, Joi is capable of making decisions for herself, or for K. She is capable of delight, and wonder, and who is to say that how she experiences the world isn't real. That she isn't real.
After the apartment emitter is destroyed, she is confined only to her mobile emitter until Luv destroys it, and her, in her fight with K. Dejected and bereft, having lost both Deckard and Joi, K wanders the streets of LA until he encounters a giant nude hologram which looks like Joi. When she refers to him as Joe, he realizes that what he had with Joi was always meant to be fleeting and was probably never real. Earlier in the movie, when he believed himself to be human, Joi had re-named him Joe. In the background of this scene can be seen the shadow of a small horse, possibly a unicorn. Joe thought he was special, and unique. He thought Joi was special.
Luv
Luv is Niander Wallace's personal assassin/henchman. She appears to be as calm and callous in her treatment of humans as K is with replicants. Where K develops a soft spot for humanity, Luv has nothing but contempt for them. This is best illustrated in the scene where she kills Lt. Joshi, after referring to her as a small thing. She makes the deliberate choice to destroy Joi's emitter, after Joi pleads for K's life.
There's not a lot of character development with her. She remains as hard and cold at the end of the movie, as she does in the beginning, except for one slight surprise.When Wallace kills replicants in front of her you can see her shocked reaction. Later she kills a fake version of Rachael, not because she wants to do it, but because she is designed to obey Wallace without question. And in another surprising moment, she shows a certain amount of compassion towards Deckard. Luv takes out her hatred of Wallace on people he sends her to kill. She seems to have no trouble killing humans. Her more softened approach to Deckard is puzzling, if you believe Deckard is human.
Luv is deeply affected by Wallace's treament of his supposed children, and I believe she hates him. She is also deeply afraid of him as he could decide to kill her on a whim like so many of the other replicants we watch him abuse. She's not capable of expressing that hatred to him because he is too powerful. He controls her. But she can express that rage towards humans less powerful than she is, like Lt. Joshi, as she screams in rage while she kills her. (We'll talk more about this movie's treatment of women in Part Two.) I do wonder about her past. I know she can't be the first version of Luv to exist, and if not, was she forced to kill her predecessor?
Luv also knows how to lie, which is something else Wallace has not seemed to notice, probably becasue they don't lie to him. But K blatantly lies to Joshi, and so does Luv. Most people think that replicants can't, which might be true of the older models, but apparently Wallace's can. I don't think Zhora and Sapper outright lie when others ask them questons. I think they sort of derail or sidestep the questions. SoTyrell's replicants couldnt lie, maybe, but they made up for that by being openly rebellious. Wallace's replicants are extremely obedient, but their programs can be just as corrupted from being around humans, or K's baseline wouldn't need to be checked so often.
Niander Wallace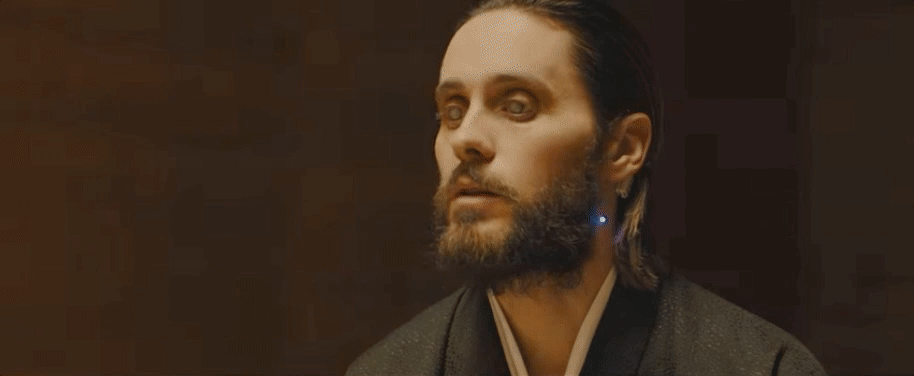 Niander is an egomaniac who likens himself to god. He often refers to the replicants as angels, or his children, but that doesn't stop him from casually ending their lives on a whim. In the film short, he orders the replicant to take its own life, but in the movie he's a bit more hands on, disemboweling a female replicant, to prove a minor point, and ordering Luv to shoot the Rachael replicant he was using to torture Deckard.
Wallace is as incompassionate, in his behavior towards the replicants, as Deckard was in the first movie. In Bladerunner, Deckard had a conscience, and bemoaned having feelings about what he did, especially after killing Zhora. When we see K kill Sapper, he is emotionless. It's just work, although later we see his warmth and regard for Joi, buying her presents, and bantering with her. We can see that he is visibly touched by her willingness to endanger her existence to aid him, and his grief at her destruction. Later, he kills Luv with his bare hands, with all the rage and grief at his disposal. He hates her for killing Joi.
So here we have (potentially) a human who lost and regained his humanity, a replicant searching for his, and another human who is so out of touch with his humanity that he thinks he's God. Wallace is more than just physically blind. He doesnt see what is right under his nose (or he does but disregards it.) He doesn,t, for example, see that Luv hates him. He says he has built his replicants to always obey and never run, but K is a perfect example of never saying never. Wallace's replicants can be compromised and are highly emotional creatures. We can see this in K, and in Luv as well. Niander also doesn't see something else directly under his nose, that the child he is looking for, Ana Stelline, has been working for him for years.
Tyrell's attempt to make the replicants tractable by giving them memories, did not work to make them less violent, and Wallace's ability to make them obedient doesn't seem to have worked either. Luv is just as violent as Batty from the original, and K's programming becomes so corrupted that he rebels. Wallace doesn't see that his goal is doomed to failure, as there is no way to make replicants happily accept being the slaves of lesser beings.
Dr. Ana Stelline
Ana is the woman who implanted the memory that leads K to her. She is subcontracted by the Wallace Corporation to create false memories for replicants. It's illegal to plant real memories, nevertheless, she has seeded her childhood memory, of a small wooden horse, into the minds of dozens (possibly hundreds) of replicants, in the hope that one day, one of them would find her, or her parents.
As the daughter of a replicant, is she one as well? If Deckard is human, does it make her human? It has been theorized by fans that the immunity disease she claims to have is merely a false front to keep her isolated, and away from the suspicion of being Rachael's daughter. It also has the added benefit of protecting her unique DNA from further scrutiny. Its just another layer of false information, like the memories, the obscuring of her gender, and where and when she was born.
She has a deep well of compassion for the replicants. She tells K she can't make their lives easier but she can give them happy memories.