Sometimes I sit down to watch a movie I had absolutely no plans to watch. I wasn't going to spend money on it in the theater. I wasn't going to watch it on cable. Yet there I am, looking at a movie I hadn't planned on looking at. Sometimes I'm mad at the movie because the trailer was bad,  or the discourse surrounding the movie pissed me off, or the movie just doesn't sound particularly interesting, but apparently, none of those reasons  has ever stopped my nosy-ass from watching some stuff. 
Curiosity is my middle name, I guess.
So here it is. The top ten movies I was surprised I liked.
Fantastic Beasts (& Where to Find Them) (2016)
Okay, this one was just me straight asking, "Oh hey, what's this movie about?" It turned out to be an unexpected pleasure.
I'd heard a lot of not so good things about this movie, and there are some things that are just irksome, and make me not want to watch something. One of the biggest turnoffs for me was the lack of PoC in turn of the century, Harlem Renaissance, New York. New York, like London, has always been very cosmopolitan and full of many different types of people, and it was kinda disheartening to see that the creators of this movie hadn't even considered PoC,  as part of the fabric of this city.
In fact, one of the biggest drawbacks to my watching the movie, was I didn't get any sense of New York as a hodgepodge of cultures. Everyone in the movie seemed like your standard, White, English speaking, suburbanite, instead of the Italians, Irish,  and various ethnicities  that were actually there. In the movie, the city feels curiously clean, and antiseptic.
Nevertheless, despite the absence of PoC, (and grittiness), it did have adequate representation of the kinds of women  who actually affect the plot. I liked most of the female characters, and thought they were intriguing, but I was also inspired to watch it because of a review I read on Stitch's Media Mix, that talked about the treatment of Creedence, one of the primary characters.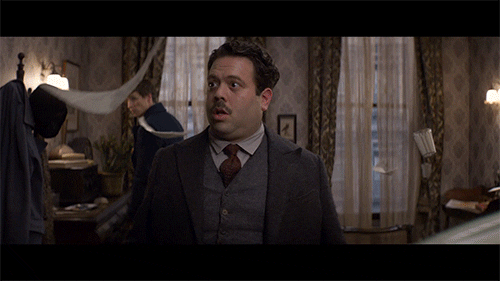 I fell in love with the two male lead characters, though. These two men, Newt Scamander ,and Jacob Kowalski, are written so differently than the way most men are written in action/fantasy films, that' it's a really pleasurable experience to watch them, something you don't realize until after the film is over. The two of them are just sweet and likable characters. Even Creedence is less a villain than a victim.
Don't get me wrong, the Fantastic Beasts of the title are, by turns, cute, terrifying, and deeply funny (and I now want a tiny, sassy, Mr. Picket for my own). But the real draw for me was the relationships between the characters, and Newt. I'm not a huge Eddie Redmayne fan, but he's great as Newt, as he's unlike your typical movie hero being, because he's gentle, fearless, compassionate, slightly snarky, emotionally vulnerable, and unimposing. Redmayne also turns out to have great  comedic timing, as one of my favorite scenes was the mating dance of the Erumpant.
Raising Arizona (1987)
https://tvgeekingout.wordpress.com/2017/05/02/speaking-of-crime-raising-arizona-1987/
My best friend in college was the person who talked me into watching this film. Well, not talked, exactly. She mentioned it to me a couple of times, while I scoffed at her, (You don't know me!), but eventually, she had enough of my  disrespect, and  forcefully pushed me into a chair to make me watch it. I wasn't a Coen brothers fan back then. I didn't know anything about them, but she insisted that this was a type of movie I would enjoy. I was very resistant to watching this, because she was so insistent and, like most housecats, I enjoy being contrary, just for the sake of it.
One Saturday, she physically pushed my ass down in front of her little 20 inch TV, and said, "Sit down! You're gonna watch this movie!" I was a little huffy about this, and said so, but really, she knew I wasn't doing anything important that day, because I was hanging out at her place, so she knew I had no excuses.
Lemme tell you, those were two of the funniest, most memorable, hours I'd ever had in her presence. Raising Arizona will probably always be the funniest Coen Bros. movie, ever. What captured me  was the music, and the language. The incongruity of Hi's low class actions, along with his lordly manner of speaking, thoroughly tickled me, and the yodeling soundtrack was totally ridiculous.
She and I didn't remain friends, but whatever her faults, bad taste in movies wasn't one of them, because she also introduced me to:
Seven Samurai (1954)
The same roommate, referenced above, was also the person who introduced me to this movie.  I watched this at her parents house, at their insistence. Until this movie, I'd only ever watched Chinese Action movies. The closest I ever got to watching something like this was The Streetfighter with Sonny Chiba, which is a much, much, shorter film. I hadn't paid any actual attention to the samurai genre. Didn't even know it was a thing, although I had watched those gawdawful ninja movies Hollywood kept pumping out during the eighties, that had nan' Japanese person in them.
I fell asleep towards the end of the movie, but not because the movie was bad, or  boring. I was engaged right up until I could no longer resist the room's temperature. Cold rooms make me sleepy, no matter what I'm doing. Add in  a crackling fireplace, and a comfy chair however…and sleep is guaranteed to occur. (Later that week, I watched it again, in the daytime, without the fireplace.)
Do you have any idea how many movies this influenced the making of over the years? Everything from Magnificent Seven, to A Bug's Life, to the Three Amigos was a riff on this movie. If you loved any of the films that it influenced, then you have to see the original .
https://filmschoolrejects.com/legacy-seven-samurai/
Not only did I develop an appreciation of Samurai movies, I developed a love for the movies of Akira Kurosawa, (Drunken Angel, and Dreams are two of my favorites) and through him, a number of other  notable Japanese directors.
Cabin in the Woods (2011)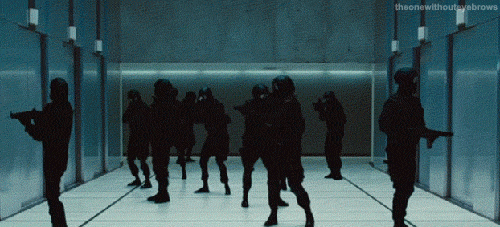 My first instinct was to turn up my nose at this movie, thinking it was going to be your typical Agatha Christie type,  "ten little Indians" in the woods plot, where pretty, young people, who had planned on having Teh Sex, would be brutally killed by something, or someone. And yeah, there is an element of that in the movie, but it turned out to be so much more, I was kinda kicking myself for having passed it up for so long.
I gave a review of this here:
https://tvgeekingout.wordpress.com/tag/cabin-in-the-woods/
Mystery Men (1999)
I wasn't sure what I was expecting when I sat down to watch this. I knew I liked Ben Stiller, that the characters were meant to have superpowers,  that they  didn't actually have superpowers, except when they actually do have them, which was a whole lot funnier to me, than if the writers had simply been upfront about their powers. I do remember the trailers for this movie which emphasized Paul Reubens and Janeane Garofolo.
Supposedly this movie is based on some type of indie comic from the 80s, which I had never heard of, called Flaming Carrot, which features an image of a man with a giant carrot for a head, that is, naturally, on fire.
This movie turned out to be exceptionally funny, and I really liked all the characters, including The Invisible Boy, played by Kel Mitchell from the Nickelodeon show, Keenan and Kel, who can only turn invisible when no one is watching,  Mr. Furious played by Ben Stiller, whose only superpower is the ability to become really, really angry, and my favorite, The Bowler, or rather his daughter, played by Janeane Garofalo, who keeps her father's skull encased in a clear plastic bowling ball.
We watch them become a team and defeat the villain, saving Champion City from Casanova Frankenstein as played by Geoffrey Rush, and his ridiculous henchpeople, The Disco Boys, lead by Eddie Izzard, who are conquering the world through the power of …well, Disco, I guess. They are aided in their quest for superhero stardom by Wes Studi, who is as baffling as his name states, (The Sphinx), and this movie's version of James Bond's Q, played by Tom Waits.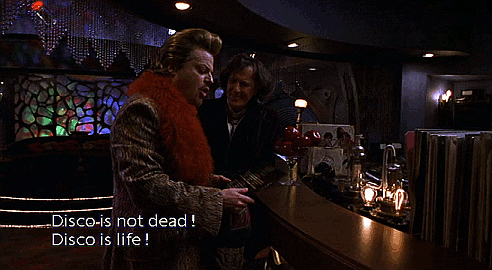 It also stars Greg Kinnear as Captain Amazing, a smug Superman/Batman parody, William H. Macy as The Shoveler, who gets one of the best speeches in the entire movie, Hank Azaria, as the Blue Raja, Master of Silverware, and in one of his many quiet, comeback roles, Paul Reubens (PeeWee Herman) as The Spleen, Master of Flatulence. (I hope to one day grow up to be as cool as The Bowler,  although, according to my friends and family, I have already mastered The Shovel.)
With such a great cast, this movie really doesn't get enough love. I chalk it up to timing, Had this been released five years earlier, or five years later, it would've been a real hit. People should recognize this movie more, especially since the whole superhero thing has taken off.
Paddington (2014)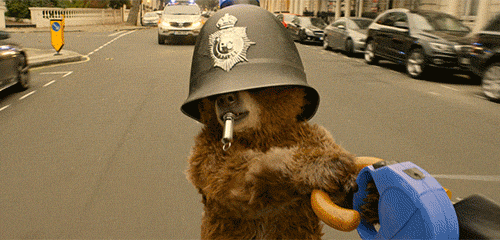 I had absolutely no plans to watch this movie, but it was on TV one night, and I didn't change the channel fast enough, and just sat through it. I do have to admit to some mild curiosity beforehand, but not enough to make an effort to see it. I do remember watching the trailers, and thinking to myself that the little talking bear was kinda creepy, and who would watch something like that. Apparently, I will.
It turned out to be a perfectly sweet and lovely film, and now Paddington is one of my favorite bears, right up there with Pooh, and those  baby pandas on YouTube, that like to terrorize  their Chinese handlers. If you liked the movie Babe (a 1995 movie about the little pig that could herd sheep) than you'll like this movie. (And now I want a meetup between Babe and Paddington.)
Dr. Strange (2017)
I know I wasn't supposed to like this movie, especially considering how much shit I talked about it, but it actually turned out to be pretty enjoyable, and not at all the grease fire I thought it was going to be, because of the whitewashing of The Ancient One, and the presence of Benedictine Cucumberpatch. (To be absolutely fair, I'm still not a Cumberbatch fan.) The man is a lofty twat, but then, so is Doctor Strange himself. I'm still not happy about the whitewashing either, because Lucy Liu (Or Michelle Yeoh)  should have been in this movie, and I'm still mad about the movie we could have had, with a Hispanic Dr. Strange, and an Ancient One of some type of ethnicity, other than pasty.
But this movie wasn't bad. It was actually kind of fun. I mostly enjoyed the special effects, (I liked all the pretty colors), which were excellent, and the plot was not objectionable. My favorite character turned out to be Wong, played by, appropriately enough, Benedict Wong, who I'm excited to see has  been getting more roles in popular films. I just saw him last in the movie Annihilation, and he needs bigger roles, and should do more comedy. (I was glad to catch a glimpse of him in the Infinity War trailer.)
In my defense, I didn't spend any money on this movie, beyond what I spent on Netflix.
(Seriously though, Wong, Peter Parker, The Falcon, Drax the Destroyer, and Shuri need to meet. I guarantee you, that would be one of the funniest discussions ever had by any five people on, or off, Earth.)
The Accountant (2016)
Lets make this clear – I am not a Ben Affleck fan. I've disliked him since he messed up Daredevil, and I refused to forgive him enough to watch any of his movies, until I saw this movie, and decided maybe I can try to forget about Daredevil. (I'm still not gonna forgive him for it though.)
I had heard about this film but I wasn't particularly interested in it until I saw the trailer on HBO, which was a little different from the mainstream trailer. Then I read about it in some magazine, and my curiosity got the better of me this time, (although occasionally, I do manage to wrestle it it into submission), and I was in. Also, it came on HBO, one idle Saturday, and I was too lazy to look for something else to watch.
This turned out to be a surprisingly good, and emotionally touching film though, about an assassin who is autistic, who comes to the aid of a young woman being set up to take the fall for a corrupt company CEO, because she knows too much about what happened. After he protects her, the company  hires an assassin to kill him (not knowing that is his actual career), and his brother, played by Jon Bernthal, is the one who takes the job. (His brother didn't know this was his target.)
There's also a subplot with  J.K.Simmons, as a detective who has been on Affleck's trail for years, and tells the story, in flashback, to his protege. This is interspersed with flashbacks of Affleck's character as a child, being raised by his brother and father, while being taught the various military skills his father insisted the two of them learn. This is also connected to a special home, for children with autism, that the accountant secretly funds through his illegal activities.
I didn't find the subplot to be especially interesting beyond Simmons acting,  but Affleck was very good in this film, and Jon Bernthal was pretty good too, and I wasn't expecting the film to be quite as emotional as it was. One of my favorite scenes is when the woman he's protecting tries to establish a romantic connection by kissing him, but that scene doesn't play out in any typical way, which I found refreshing.
I can see why most people ignored it, or never heard of it. They probably would've just been confused by it, because the movie wants to be a drama, but has too much action to be thought of as such. Its not a thriller, either because there's too much drama, and its kinda melancholy. This is not a loud, action-y type of movie, although there are some good hand to hand fight scenes, and some shooting, of course. Its more like a Jason Bourne type  drama, and the ending is especially low key, and I thought it was  really beautiful, as it involves a painting by Jackson Pollock.
Troll Hunter (2010)
I was just being nosy again, when I watched this. It came up as a recommendation for me on Netflix, and it kept coming up, no matter how much I tried to ignore it. I've been fascinated by trolls since I was a little girl, reading about them in the school library. This was the very first book I ever read about trolls:
D'Aulaires' Book of Trolls (New York Review Children's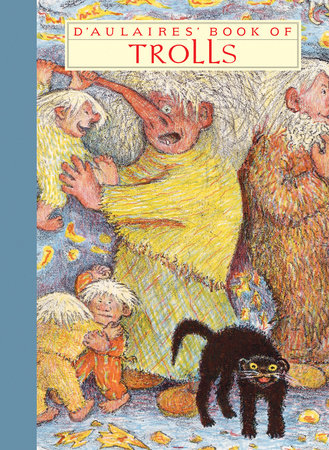 So, despite my background in Troll-Lore, I refused to take the bait and watch the movie. I gave in late one night, as these things always seem to happen late one night. (I should really stop doing that, and take my ass to bed, like regular people, but then I wouldn't be able to bring you guys this kind of quality entertainment.)
I thought it was going to be a comedy, because all of  the reviews I've read say it's a comedy, it has  comedians in it, and its called a mockumentary, like the movie What We Do In The Shadows, but I didn't find it especially funny. In fact, it was occasionally terrifying, but I liked it just fine, even though I didn't laugh once.
This is not the animated cartoon of the same name. This is a Norwegian movie that was released in 2010.
The title is pretty much what its about. It's set someplace cold, (there's a lot of snow, which is always attractive to me), and its about an "intrepid group" of crew-members who have taken it upon themselves to not just prove the existence of trolls, but capture them on film, in their natural habitats. Its one of those live action camera type things, so if you hate those types of movies, watch it anyway, because even though it sounds typical, it moves in unexpected directions. I suspect it does so because its not an American made film.
It consists of a series of interviews, and raw footage, of a man who hunts trolls, and thinks they're a secret from the government, but the government knows all about them, and employs other people to keep the trolls a secret. I have to admit, I didn't pay much attention to all that stuff. I mostly wanted to see the trolls, and I think Norwegian humor just  escapes me or something. Okay, I  did find the idea funny, that trolls like to kill Christians, so the group hires a Muslim woman, and aren't sure how the trolls will react to her.
The trolls are genuinely scary, and I can't imagine living in an environment in which such creatures happened to be real,  lurking around bridges and overpasses, or just wandering around in the woods. At one point there's a mega-troll, that's several stories tall, that gets blown up by a UV rocket of some kind, because remember, sunlight turns trolls to stone.
I thought this movie was a lot of fun, even though there was Norwegian humor in it.
Bring It On 

(2000)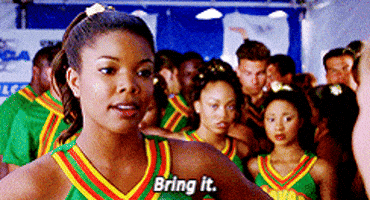 I only watched  this movie because one of my little sisters insisted that she wanted to see this. I held no hopes at all that it would be a good film, or even mildly interesting , although I liked both Eliza Dushku, and Kirsten Dunst. I wasn't entirely aware that it was a comedy, either. I'd paid only peripheral attention to the trailers, although looking back on the trailers now, I don't see how I could have missed that it was a straight up comedy, rather than the teen soap opera I expected.
It turned out to be a fairly pleasant experience and I can now count Bring It On as the only cheer-leading movie in my comedy lineup. I wasn't expecting the performances to be so good, I wasn't expecting any Black people of substance to be in it, like Gabrielle Union. I wasn't expecting any of these very young actors to be especially funny, but there you go. I was expecting to fall asleep while my sister watched the movie. But I was actually engaged, and it was definitely the performances.
But then they had to throw some icing on top, and that was the theme of cultural appropriation. You have an all white middle class suburban cheerleading squad, called the Toros, competing to go to some national competition. When it turns out that all of their successful cheers were stolen from a Black cheerleading team in Compton, called the Clovers, the Toros have a decision to make. That decision is made a lot easier, when the Clovers show up at one of their home games, and embarrasses them by performing their entire routine in front of the school, after which the Toros fully understand they need to come up with a routine of their own. They figure the best way to make amends for what they've done is to help the Toros make it to the competition, but Isis, the team leader of the Clovers rejects their help, and she appeals to a television talkshow host, who grew up in Compton, to help finance their trip to the Nationals, where they win first place.
The plot is just enough  to keep a person engaged, and the romantic subplot between Dunst's character, the brother of the newest cheerleader, and one of the male cheerleaders on her team, is interesting for people who like romance. I  generally have no patience for romantic subplots (except when I feel like having some patience) and I was able to tolerate it, in this movie, solely on the basis of the actor's performances.
It was also interesting to watch the cheer-leading parts of the show. I had never harbored the belief that cheer-leading was easy. Like most little girls, I was fascinated by it, and I had pom poms as toys, and learned how to twirl a baton, too, but I didn't expect the choreography to be so good, and the music was fun.
This was not a deep movie, and it was a kinda silly, but still a lot of fun. The performances were good, and my little sisters both loved it, and all the women in the family have  watched it multiple times.
Yep! Even Mom.