This is my love letter to the MCU Sam Wilson, AKA Falcon:
One of my all-time favorite Sam Wilson moments is in The Winter Soldier, when Sam experiences the love of flying again, in his fight with the Helicarrier, and he lets out a huge war whoop: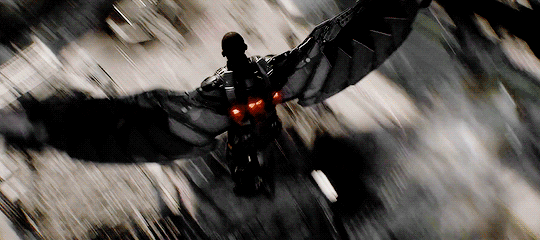 This makes what he said earlier to Steve, about being glad to be out of the military, a complete lie. He may be glad no one is giving him orders but he's glad to be back in the air doing what he does best.
First introduced in Captain America: The  Winter Soldier, Sam Wilson has been in three MCU films (The Winter Soldier, Antman,  and Captain America: Civil War) and  he just doesn't get enough love. He's one of my favorite characters. He's also the most underrated, and one of the most consistently written, characters across the MCU. I think that has more to do with Anthony Mackie's portrayal than it does the writers. Its obvious that Mackie loves this character, and he has the freedom to make this character what he wants him to be, because unlike Evans, he doesn't have the weight of the entire plot hanging on him.
The Falcon, as he's called in the comic books , was the first African American superhero to debut in Marvel Comics (in 1969) so its entirely correct that he should appear in the MCU. Not just because of that, but also  because he's one of the contenders for Captain America's mantle, now that Chris Evans has dropped the shield. (In the books, Sam  has taken up the title of Captain America.) He has been changed from his original comic book character though. In the books, Sam had limited telepathic/empathic control over birds, and is accompanied by an actual falcon named Redwing. The only nod we get to this, in the movies, is Sam being teased about his "bird costume", and his little personal drone, named Redwing, in Civil War.
http://channel.nationalgeographic.com/inside-combat-rescue/
In the movies Sam is a former Pararescue officer, and like Tony Stark's friend, Iron Patriot, (Rhodey), he's a member of the US Air Force.
*Pararescuemen (also known as PJs) are United States Air Force Special Operations Command (AFSOC) and Air Combat Command (ACC) operators tasked with recovery and medical treatment of personnel in humanitarian and combat environments.
We're first introduced to Sam in The Winter Soldier, where he's still rescuing his fellow soldiers, only instead of going into hostile environments, he's rescuing them from their own inner demons, as a VA Counselor. At first he tries to do the same for Steve ,sensing that the Icon of American Patriotism may require some emotional assistance, after being displaced in time. In fact that's Sam's first question to Steve. Not can he have his autograph, or a  confirmation  of some rumor he read in a history book. Sam's very first statement to Steve is an offer of assistance, if  Steve would like to talk, because that's what he does, its what he is, and has spent his entire career doing.
There is criticism of Sam online, about his role as Steve's  Black sidekick, but I choose not to see it that way, because of  Sam's character, and how its established and presented within the narrative, and because I myself choose to live a life of service to others and find  a degree of satisfaction in doing so. Sam isn't presented as some sort of Angel who can do no wrong, though.  He's snarky and doesn't easily forgive transgressions against himself, or those he's adopted as his friends. He's competent, pragmatic, and probably not quite as idealistic as Steve, as he occasionally plays Devil's Advocate to some of Steve's decisions. He is nuanced enough within the story for me to identify with his motivations, so no I don't consider Sam to be a stereotype, although as I said, I think much of his character comes from Mackie's depiction, rather than the writers.
One of the reasons I don't see Sam as being Steve's flunky is he's not the only Black man in the movie. The other Black man is Nick Fury, whose relationship to Steve is much grayer than Sam's. Nick Fury, because of the nature of his position in Shield, cannot commit to being Steve's friend, but Sam can, and Steve does need a friend. Sam also serves the purpose in the narrative of anchoring Steve in the modern world to which he must adapt.Sam is also more of a civilian than Natasha, who like Fury, is too much a part of the lifestyle of espionage, to be trusted in the same manner.
Also, it is Sam who makes the first overture of friendship to Steve, not the other way around. He makes the offer, and then leaves it up to Steve whether or not he will respond to the overture, leaving an open space for Steve to step into, and trust him. I think this tactic works because Steve really is looking for someone to talk to. He's looking for something, or someone, to tie him to a world he barely recognizes. He's looking for someone to trust, and Natasha is just not a good candidate at the time, no matter how well meaning she is. He chooses to take Sam up on his offer.
I believe that Steve and Sam  bond because Sam has a tragic backstory too, that closely mirrors Steve's, in that he lost a  brother in a very similar manner to how Steve lost Bucky, helplessly watching his friend fall to his death, during combat. I think that's something that resonates with Steve. Although we never see Sam and Steve discuss it, there's an understanding between them of each other's pain and grief, and within much the same time period. For Sam its only been a year since he lost Riley. For Steve it feels like only a couple of years.
Since he lost Riley, Sam's been out running in the early hours of the morning, like Steve, he's probably trying to cope with sleeplessness. We don't know much about his day to day life but we do know he lives alone. And although we've seen how easily he makes friends with Steve, we get the distinct impression, that just like Steve, he doesn't have many close friends.
I like to think that Steve rescued Sam, too.
When the call to adventure comes, in the form of Steve and Natasha showing up on his doorstep because he's the only person they're willing to trust, he doesn't hesitate to answer it. Despite his grief, he hasn't lost some of his childlike playfulness. He knows that if Captain America comes calling, its going to be the adventure of a lifetime, and he'd be crazy to turn it down, despite his earlier statements that he was glad to be out of the military. Nowhere is this attitude more evident than when he's flying against the Shield Helicarrier, in full battle gear.
Sam is our Everyman character. He's the regular human being through whose eyes we're meant to see the plot. This is important because normally this type of character is often played by a scruffy White dude, with whom the audience is supposed to identify, here played by a handsome Black man.Sam is a bit of a Captain America fanboy, and we're meant to put ourselves in Sam's shoes, and imagine ourselves racing Steve around the reflecting pond, or fixing breakfast, or going on a mission with him. He says the things we want to say and expresses the excitement we have at that moment. And he looks cool doing all of this.
Another of my favorite moments in Winter Soldier is the lowkey way Sam goes about taking care of business during the bridge scene. He's not as flashy as Steve and Natasha, but watching Sam quietly kick ass during the scene on the bridge is a quiet joy as we can imagine ourselves doing that. He walks into that situation armed with nothing but a K-Bar knife, and smoothly, competently, with very little effort,  walks out of it with a machine gun. Sam makes the movie fun, but he is not the comic relief. He takes what he does very seriously and brings all his skills to the game without the toxic masculinity we see in Rumlow, for example. It is a testament to the Russo Brothers directing skills, and Mackie's acting, that we manage to maintain our  identification with him,  as Sam's abilities are gradually depicted as more, and more superheroic, in  subsequent movies.
Sam is competitive, but in a good way. His ego doesn't seem to hinge on being the better man, but on just  being the best Sam Wilson. He initially races Steve when they first meet, but he knows who he's up against, and he's not there to try to prove his manhood. He' knows who he is, and what his talents are, and he's not threatened by Steve, being sensitive enough to see that Steve is in pain, comfortable enough  with himself to acknowledge that they both are, and willing to share his confidences with him.
Sam is thoughtful to his friends and  I like the movie's honest depiction of  male friendship, with Sam waiting for  Steve to wake up in the hospital, playing the Marvin Gaye they'd discussed earlier, because that's what friends do, and Sam remembered that. I liked that Steve was just a tiny bit surprised to see Sam  there because I think Steve was expecting to be alone. In a nice callback to Steve's past, it may have reminded him of how many times Bucky sat by his side, when he was sick as a child. And who knows, he's 90 years old, but he still might have missed being cared for like that.
In Antman, Sam goes up against Scott, who manages to best him. While he's initially frustrated (and mildly embarrassed) he doesn't hold a grudge about it, and in Civil War,  he good-naturedly seeks out Scott's help,  while genially reminding him, that it'll never happen again.
The nature of his job as a Pararescue, and as a counselor, sort of preclude  him being overly aggressive, yet he's not passive. Like any good soldier, he  knows when to take the initiative, whether on the bridge, or in his fight with Rumlow.  He also has no patience for grandstanding,  so when Rumlow wants to talk smack during their fight,  Sam  tells him to  shut the hell up. He's got no time for nonsense.
And then there's his relationship to Bucky, which is complicated.
If you've ever see the movie The Color Purple, Steven Spielberg depicts the kind of  relationship in the movie between Celie and Shugg, (two women who are both sleeping with the same man, who are meant to be rivals, but eventually become lovers), that's depicted between Sam and Bucky. When they first met ,Shugg referred to Celie as ugly, and when Celie asks why, she tells her, "Its just Salt n' the Sugah".
That's basically Sam and Bucky.
Salt n' the Sugah.
I don't think Sam actually hates Bucky, but Bucky did try to kill him several times, after which the two of them were forced to work together because they're both Steve's friends. Sam doesn't hate him, but he doesn't like Bucky either, seeing Bucky as someone that Steve keeps getting into trouble for, like that ex-girlfriend who keeps calling your buddy up every time her car needs a jump. Yet, he's willing to work with Bucky and save his life because he loves Steve, Steve loves Bucky, and Sam is loyal to his friends. Bucky for his part barely knows Sam. I think, for him, Sam is just some guy hanging out with Steve, but he's willing to like him if Sam will let him. Sam is willing to put aside his grudges, but not let go of them altogether, because he likes Steve.
In Civil War, we get another glimpse of Sam's trauma. Just as Steve gets to relive that moment of terror when he lost Bucky (in The Winter Soldier), Sam gets the unpleasant experience of watching another friend get shot out of the sky, while he helplessly watches (and the added indignation of Tony's overreaction in shooting him.) Sam, who really does rise to sainthood after that, as far as I'm concerned, manages to refrain from force choking the shit out of Tony when he comes begging for help, later in the movie. In fact Sam's first words to Tony are to ask after Rhodey's health and (having probably worked through most of his issues about Riley, and put in place coping mechanisms) that's the only indication we get of how shaken he must have been at reliving that trauma.
And finally , I just love this scene. You can see how Sam never had any doubt that Steve would come for him, just as Steve came for Bucky.
After all Steve is loyal to his friends, and in many ways just like Steve, just like Bucky, Sam needed saving, too.
Favorited:
Sam and Natasha – Each movie gives Sam and a Natasha a couple of moments to banter with each other which basically ends up fueling lots of shipping meta between these two. In The Winter Soldier, Sam's slightly suggestive "How  you doin?", just tickled the heck out of  me.
Sam's signature move is what I like to call the Kick Out. He usually does this  mid-flight, where he likes to kick people and things into another time zone. He did it to Bucky in Winter Soldier, and a helicopter in Civil War.
Sam Wilson's Greatest Hits: