Black Widow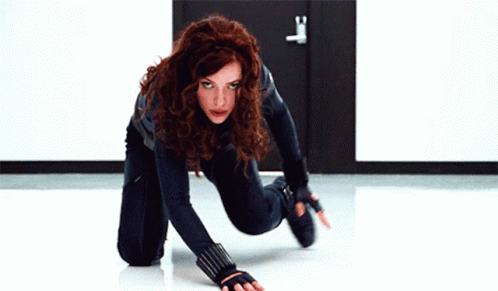 Overall, I liked this movie a lot. I can't say I was especially enthused when I heard they were going to be making it, because at the time I was clamoring for a Black Widow movie, Disney insisted on not giving us one, and I felt that this movie was too little too late, and I had a strong desire to be petty, but I also decided to show some appreciation for what was given.. I wouldn't call this movie a joy to watch, because if you saw Avengers Endgame, you know why, but it was a lot of fun, and that was largely due to Florence Pugh.
The first time I saw Miss Pugh she was having an English food mukbang on Youtube, which I found enjoyable, even though I had no idea who she was at the time. The last time I saw Miss Pugh was in Midsommar, where she did an exemplary job as a woman in distress, and she shows her range here. She is the best character in the movie, right next to David Harbour's Red Guardian. I barely remember anything about Rachel Weisz' character, other than she was present and delivered her lines. I kind of felt the same way about Scarlet, but then I was predisposed to dislike her because she has tried very hard, in the past five years, to get on my last nerve, and succeeded. Perhaps Scarlett Johansson needs to shut up when someone holds a microphone up to her face, because she is sure to put her foot on top of it. Nevertheless, despite my feelings for her, she did turn in her usual competent job as Black Widow here, and even managed to have some really good scenes with Miss Pugh.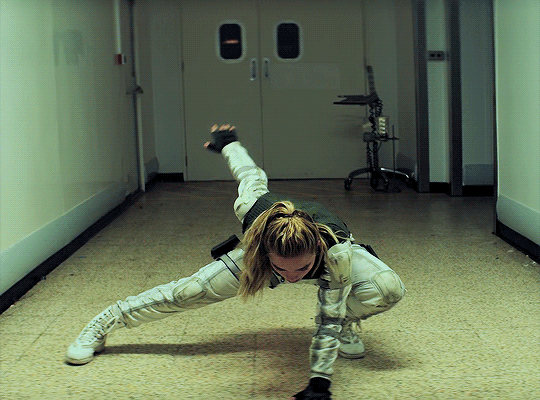 The story is pretty basic, although its not done in a basic manner. There's the usual going back to clear up one's past regrets, some familial dysfunction gets cleared up, and there's some origin story stuff thrown in for good measure. I was mostly into the family stuff, which was the strongest part of the movie, and the action scenes, which were pretty good. I could've done without the "pseudo rape culture" type stuff in the plot, with the villain and his armies of brainwashed little girls. That was just "ewww", but I guess that was the point, making him as unlikable as possible.
It was kind of weird watching the opening scene, where we see Natasha as a little girl, playing in the park with her sister, only to find out that wasn't her sister, her parents were not her parents and she's probably not Russian. I felt some type of way about seeing that, but I'm not yet sure what type of way that is yet. I loved Pugh as Yelena, though. She really nailed it as Natasha's annoying little sister, the put upon daughter, and the badass government agent, and she made her interactions with Natasha very watchable, and funny, so much so, that I don't remember much of Natasha's other interactions with anyone. Pugh just kind of stole the whole movie, and I could watch an entire movie of her and David Harbour interacting with each other.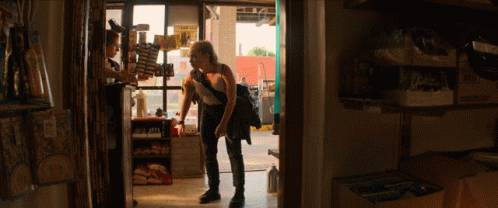 After the first hour, the film follows the usual formula of a quiet opening, and we follow these characters to the bombastic ending, with lots of explosions, and turnabouts, and falling buildings, and what not, although for me the most exciting action scene was watching Natasha escape her captors at the beginning of the movie. That was very smooth, and showcased just how good Black Widow is at stealthy maneuvering.
This isnt a great movie, and it doesn't even crack my top ten of MCU films, (coming soon!), but its not a bad film either, and worth the watch. If you decide to skip it, that's okay. Your life will not be upheaved.
A Quiet Place 2
My mother and I had been greatly looking forawrd to this movie. I don't think she liked it a whole lot. She thinks there might be yet another sequel. I'm not anticipating such, but will take these movies as they come. I thought this movie, while not as enjoyable as the first, was well worth watching. I'm not really heavily into the apocalyptic genre, but I will enjoy the occasional end of the world scenario, and these movies are very well made, and move pretty quickly as far as the plot. I have a thing about children surviving the End of the World, I guess, because I thought well of movies like The Road Warrior, The Girl With All the Gifts, and The Road.
The opening sequence is very exciting, and shows what happened when the aliens first landed, I'm assuming this was an accident, and that the aliens were on their way somewhere else? You can watch the first five minutes of this on Youtube. Its all very terrifying, and I can only assume that it all happened so fast that humanity reality didn't have time to rally against them, although we also learn there might be more of humanity left than we thought, since the aliens can't swim.
The movie takes up where the last movie left off, with the remainders of the Abbot family moving on from their place of safety, since it has largely been ruined by flood and fire. They walk out into the world armed with the knowledge they learned about how to defeat the aliens, and wanting to share that information with the rest of the world. They meet other survivors, both good and bad, and Regan Abbot, the deaf girl from the first film, plays a much larger role of that of world savior, which I was okay with, because I like that actress a lot. I still have questions about how no one else in the world discovered what she did about the aliens, but Imma let that go, because the movie is otherwise very entertaining. I could also have done without the absence of PoC, and the deaths of the only two Black men in the film, but I'm long used to that kind of racial wtf*ery in Fantasy/SciFi movies, and there is a tiny part of me that couldn't help but laugh at the (rather politically incorrect) idea that PoC are just loud, and maybe we'd be hardest hit by all of this.
This is a good enough movie, but I don't know that this is the kind of movie that will become a classic over the next couple of decades. Sometimes I get a good feel for that sort of thing. I knew that about Bladerunner, Alien, and The Thing, but sometimes I don't get any feel about that at all, and have to wait and see, just like everyone else, but there are few alien invasion films that make my top ten SciFi list, and these do, so that must mean something.
Blood Red Sky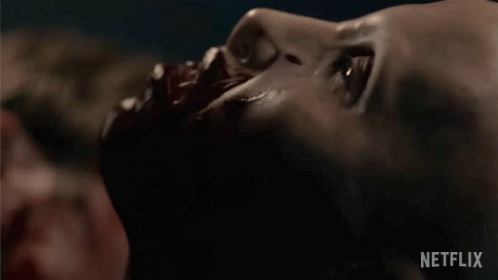 This is one of the most popular Horror films on Netflix right now, and well worth the watch. I even managed to get my Mom to watch this, and she said it was alright, which is very high praise coming from her. I'm not sure exactly what I expected when I sat down to watch this, but I was interested because "vampires!" It wasn't what I expected, but it was very watchable, and and full of suspense, although I wasn't particularly scared. If you're expecting 30 Days of Night levels of suspense, than this isn't your movie, because things are not quite that harrowing, although it does make a serious effort. But if you liked Army of the Dead, and Snakes on a Plane, then this is basically Army of the Dead on a Plane, only without the humor.
The lead character is a woman who was bitten by a vampire just after her son was born. She's been raising him for the past ten years, while fighting against her vampiric condition, and is now headed to NY for some type of experimental procedure that will cure her of her "blood disease", when their plane is hijacked by thieves, who are setting up some innocent Muslim passenger to take the fall for the hijacking. Her son gets caught in the crossfire between the thieves, the passenger, and the vampires. Disaster ensues with a bittersweet ending. For me, the film's weakest point were people engaging in a number of questionable behaviors, but I didn't feel like people were being stupid, and I actually liked some of the characters (especially the passenger and the little boy), and that went a long way towards the film's general likability.
It's not a great film. I don't think this will ever become a classic, but its well worth the watch if you like vampire movies, and its a great choice for Halloween viewing. There's also a certain amount of violence, and gore that comes with it, and of course there's some child endangerment, if that's something you can't abide.
Snake Eyes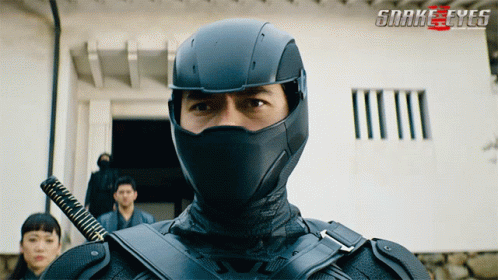 This movie was somewhat disappointing, but only because I had high, John Wick level, expectations, and I was really enthusiastic to watch it. I enjoyed the second GI Joe movie, which starred Dwayne Johnson, hated the first one, and was kinda lukewarm about this one, so I will probably watch this again, and see if I feel any different. Right now though, I feel this could have been better, although it wasn't a bad film. It looked really good, and the action scenes were alright, but there was no there there. It lacked emotional depth and appealing characters, but was otherwise a competent, middle-of-the-road, Action flick, set in Japan.
I'm a sucker for the whole Urban, Japan, Bladeruunner aesthetic. You could draw me into watching any movie with the those types of visuals, but in this case I felt the visuals were all promise and no payoff. Like I said, it looks really cool, there are some interesting martial arts and sword fighting scenes, but I didn't care much about the characters. Plus, I think I'm starting to get a little tired of the Japanese criminal empire themes found in so many of these films, which starts to smack of The Yellow Peril stereotypes of the early 20th century.
Y'all know I go off on character development, but the characters here, while certainly pretty and watchable, merely go through the motions of the plot, and none of them resonated with me, although I tried really hard to like them. I shouldn't have to try so hard to like the characters, and I eventually gave up, and didn't finish the film. You may get more out of this movie than I did, because it does look gorgeous and cool, but its character development is on par with the other GI Joe movies in the franchise, in that there's no one to emotionally really latch onto.
Candyman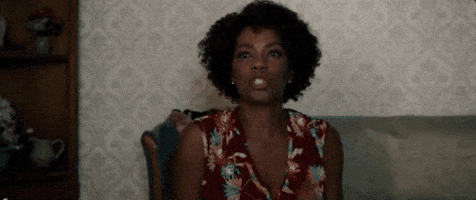 My mom and brother both hated this movie, claiming that it wasn't much like the first film, and that there wasn't enough killing in it, I guess. I was not a fan of the first film, because it centered a white character in a cast that was otherwise entirely Black, and Candyman killing members of the community that sort of invented him made no sense to me, (althouhg that is in keeping with the kind of thing that happens with urban legends). This movie tries to make sense of what Candyman is in a way the first movie didn't really satisfy for me. That was also a movie you could tell was filmed by a white director. In comparing these two films, you can see where that director's priority was, versus Jordan Peele's priorities as a Black director. I GOT this version of the movie, in a way that I didn't get the first one, which wasn't particularly scary to me, despite the presence of Tony Todd.
This isn't actually a remake or a sequel in the way that one thinks of those things. I mean, it is a sequel, but its a sequel that, rather than simply picking up where the first movie left off, (although it does do that, sort of), appears to be having an updated dialogue with that film, and it's a discussion that prompts you to go back and watch it in a new light. I accepted the movie in the spirit in which it was made, while a lot of the people I saw panning this movie as not being as good, were people who held the first one in such high esteem, they really expected this movie to just be more of the same, and Peele and DaCosta had very different ideas about the direction in which they wanted to take things. Some people seemed to want a Slasher movie with the occasional, light, touch of social commentary. This movie is a little heavier, along with a couple of interesting, and unexpected, plot points that I thought made for a much richer film, and I especially liked the ending, and how it creates a mythos that could spawn more sequels.
I was satisfied with this movie. And yeah, I did think it was scarier than the first one because of the implications being made. I'm not sure a lot of the fans of the first movie quite got what was being said, though, since Peele's productions tend to be rather dense with meaning, but that's something I especially enjoy in the films and shows he's worked on, so Candyman worked for me.
Star Wars: Visions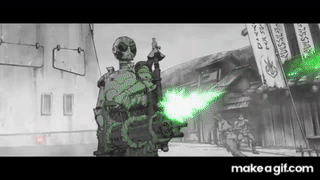 One of the reasons I was so excited to watch this anthology series was because I thoroughly enjoyed Japanese animator's interpretations of Batman, in Batman Gotham Knight, a few years ago. That and Batman Ninja are two of my favorite American superhero anime, so I was really looking forward to the stories that would be told here. As the lore goes, George Lucas was heavily inspired by the Samurai films of Japanese director Akira Kurosawa, when creating Star Wars, and I was really eager to see what the Japanese would do when given free reign to play in a galaxy far, far, away.
It was not as excellent as I thought it would be. Don't get me wrong, I was able to eek out about four episodes, from the 9 in the anthology, that worked for me, but ultimately, I expected better, and I didn't get that. I think perhaps I should not have binged all of them one after another, because that made me see the series flaws in a way that I might not have, if I'd just watched one per week. Most of the time, either the animation, the dialogue, or the characters, just fell flat for me, and there was a distinct lack of width, and breadth in the type of stories that got told.
Now, it is possible that the animators were given a set of parameters they had to work within, like maybe the stories had to be about the Jedi and Sith, which is why, given the entirety of that universe to play around in, those were the only subjects of every one of these episodes. I like the Sith and the Jedi, but we know just from the films, that this galaxy consists of so much more than just these two groups of people fighting each other. After a while, I didn't feel there was any objective to it. They're simply fighting each other because it's in the script. The Sith are evil because that's how they've been cast, and the Jedi's job is to beat them up. In a galaxy full of planet sized predators, Cantinas, Bounty Hunters, robots, Jawas, desert dragons, and Max Reebo, all I got was ten episodes of Sith and Jedi antagonistics, and I expected a little bit more than that.
That said, the episodes that I enjoyed were really awesome, and stood out to me for mostly two reasons, plot and/or animation style, since they weren't really long enough for me to grasp onto character. I really liked the first one, The Duel, which has a classic American Western approach, where a man with no name protects a town from the depredations of a group of Sith-led bandits, which ends up revealing his true nature. I liked the twist at the end, the animation took a moment to get used to, but is different enough from the rest of the series that it stood out, and the coolness of the tech and characters was definitely a factor. There's some classic Kurosawa imagery in this one, so if you liked the movie Yojimbo, there's a few images straight from that movie, and I got a thrill from seeing them.
My ultimate favorite though, was the 5th episode titled The Ninth Jedi. The plot, the tech, the animation, and again, the little twist at the end, made this a winner for me. Episode 7, The Elder was a serviceable piece of work. It wasn't great, but it was watchable. No twists at the end, but I really didn't see much of a point to the story, beyond some of the philosophical issues brought up by the characters. And finally there was Akakiri, where I was captured by the animation style. The characters, plot, and dialogue, were serviceable, but it was the nice, clean style of the animation that pulled me in, and again, there was the tiny little story twist at the end that made it worth watching.
Overall, I give the anthology a C+, because I liked almost half the episodes, and there was only one that I actively disliked, and that was episode 3, The Twins. So, once again, your mileage may vary, and you may well enjoy watching all of these, but this was just how this particular series impacted me.
Y: The Last Man TV Series – Episode One
I was interested in this because I read a few of the comic books ,and found the premise intriguing. What would happen to women if all the beings in the world with a Y chromosome were to become extinct. The comic books were written by Brian k. Vaughn and a woman named Pia Guerra, so I didn't expect the usual blind spots, including the reaction to the deaths of transgender men, and the existence of transgender women, which gets addressed in the most cringe-worthy, transphobic manner possible in the books. Also, take into account the racial angles, where once again, even in future imaginings of the world, even the dystopian ones, white people are still all of the primary movers and shakers of the story, with women of color as side characters, or living along the periphery of their decisions.
To the book's credit there is some acknowledgment of women of color ,although most of the time I thought the plot was kind of well…dumb. And a bit over dramatic? I didn't get far enough into the series to know how faithful it is to the books, though. I hope its not too faithful because the books got some issues. Its not that the books are so bad, but there are moments that are going to make you scream at it, and probably throw the book across the room.
The first episode is interesting as we get to see the reaction of the women characters to the deaths of all the men, and the collateral deaths of many women in the aftermath. There is a nod to the idea that without men, the human race is pretty much extinct, except for the existence of some sperm banks that some of the women fight over, in an effort to preserve the human race. The primary theme of this battle is embodied in the existence of the last man left alive, (although I found that hard to believe), named Yorick. This is a name I immediately disliked, I still have no idea why. I just hate that name. But I had questions, too. If there's one man alive, why wouldn't there be others, and why wouldn't the women simply think he was a transgender man? Anyway, Yorick is a wannabe escape artist, who was kind of drifting through life before the apocalypse, and is now drifting through the actual apocalypse, with his pet monkey, named Ampersand, which is a name I liked. Go figure.
Now, I'm gonna have to stop here, because watching the first episode left a bad aftertaste for me. Ultimately, I'm not going to be able to get into this as a series, not because its a badly made show, although it definitely needs some work when it comes to the depiction of women of color and transgender men, but because, there is, yet again, another idea I can't get past, and I'm not sure why its bothering me here, when its not particularly bothersome in other shows, and that is the idea that white creators are incapable of imagining any type of future in which PoC are the dominant characters, rather than white people. Even in stories that prominently feature PoC, its always white people who are still in charge, making all the decisions, or they are the ones around whom the story revolves. Apparently only PoC can envision ourselves in the future not living according to white dominance.
And now I've gotten sidetracked by one of the short films that got made in the run up to the movie Bladerunner 2049, called Nexus Dawn, in which Niander Wallace meets with a political council of some kind to discuss the prohibition of replicants on Earth. The short was directed by Luke Scott, the son of Ridley Scott!, and stars Benedict Wong. I was fascinated by the imagery because the four person council is made up of 2 men of color and one woman, and thinking about that, led me to think about The Matrix trilogy, and how the Wachowski Sisters envisioned a future of PoC and women (except for that one lone white guy who was in charge?). Okay, I'm going off on a tangent here, but watching this series first episode had me thinking about everything except what happened in the actual episode, and that's a problem.
So no. I probably won't be watching any more episodes of this, especially when I can't concentrate on what is actually happening in the show, and keep getting sidetracked by issues that don't seem to bother me in other shows!