Hi!
This is a Black Women in Action Appreciation Post!
I really do lament the almost complete lack of women of color in action movies and TV shows. This happens so infrequently, that I'm often very protective of their roles in the medium, and generally give a side eye to anyone (especially any white male critic) who is deeply critical of them. I know I shouldn't be like that, but I've come across enough truly awful white critics, that sometimes I treat all of them with suspicion. Sometimes a piece of media simply wasn't aimed at them as the audience, and nearly every piece of media, (no matter how bad YOU might think it is), has at least some small value, and resonates somehwere, with someone.
Here, in no particular order, are some of my personal, favorite, Black action heroines, on TV! These are the ones who just captured my heart, inspired me to be more bad ass in my daily life, or just made me smile. They got that coolness factor, that swag, that walk, that attitude of "Do Not Fuck With Me!" (and yeah, I got a list of white women doing the thang too, but that's for later!)
If there is a Black female heroine that you don't see listed, I either didn't catch the performance, or I was simply unimpressed by the actress. But if you were, list her in the comments below, and I may do a follow-up post of audience favorites. They have to be Black, have to be women (and yes, Trans Women count, too), and had to have been involved in a franchise that had some ass kicking in it, even if they didn't actually get to do any of that themselves.
Regina King – Sister Night – Watchmen
Regina King is a goddess, a queen, my inspiration… there is no other actress with that level of confident swag! Check out her role in the Watchmen series as Angela Abar aka Sister Night, a cop/vigilante/superhero on the trail of the person who killed her mentor. The costume is kickin'. The attitude is cocky, and the body language is on point. But the best episode is where we get to see Regina do some of her best work in the series, in "A God Walks Into Abar", where she gets wooed by a literal god, who transforms his entire existence (and appearance) just to win her love.
Kiki Layne – Nile Freeman – The Old Guard
It's tough to pull off vulnerability, sensitivity, and toughness, at the same time, but Kiki Layne does an excellent job, as a baby immortal, after she gets killed by an attacker in Afghanistan, and kidnapped by the long-lived and jaded: Andromachia of Samothrace aka Andy. Nile goes on to be the savior of the film, in more ways than one. Saving Andy's soul by giving her a reason to keep living, and saving Andy's team's lives, as well. Nile rises to the challenge of being the co-leader of the group of immortals that found her, and we're set to see more of her development in season 2.
Javicia Leslie – Ryan Wilder (Batwoman)

I haven't been watching the episodes as much as I have should have, but I did see Javicia Leslie's first turn in the batsuit. She managed to make that first time funny, fun, and exhilarating. She's been doing an excellent job of portraying vulnerability and courage, and I envy the young women of color who get to grow up with her as an inspiration. I didn't have any Black women action heroes as a little girl, but my niece, The Potato, gets the pleasure and privilege of having characters like this in her memories.
Ana Diop – Starfire – Titans
I haven't seen the latest season of this series, but I did watch the first two, and Ana Diop is doing an incredible job as Starfire. I did a short post, in which I mentioned how incredibly impressed I was with her strength, grace, and power, after turning an entire roomful of men into a pile of charcoal briquettes. She shows humor, and despite her pantshittingly terrifying ability to torch a human body to coal, she also exudes a warmth and motherliness towards the younger characters, that, I wasn't expecting. Starfire also happens to be one of The Potato's favorite characters.
And yeah, she is every bit as sexy as her comic book namesake, because Nightwing…yeah, she hit that in the first season!

Danae Gurira – Michonne – The Walking Dead
Before the show aired, I had read several issues of the comic book series, and had gotten as far as the introduction of Michonne, so I was really looking forward to her entrance into the television series, after I saw the first trailer. Now, I've talked before about my love of samurai movies, so for me, this character, a Black woman who can tear it up with a samurai sword, was just pure badassery!
Danae Gurira has been a godsend to this show, becoming the heart of the core group of characters, and in a groundbreaking rarity, she also gets the love of the male lead. I've talked before about how rare it is that Black women in genre shows and movies get to both kick ass, and love and be loved, and while The Walking Dead wore me down, and disappointed me in other ways, its depiction of Michonne as a strong Black woman, who is capable of being loving and vulnerable, was never one of them.
I don't watch the show anymore, but I have not, and will not, forget Danae's portrayal of one of the most iconic characters in zombie fiction!

Gina Torres – Zoe Washburn – Firefly/Serenity
I have been in love with Gina since I saw her in Cleopatra 2525, a show that was simply not worthy of her strength or beauty. I no longer care for Joss Whedon, but one thing I cannot fault him for, is his ability to cast the correct actor, in the perfect role, and his casting of Zoe was, indeed, perfect. I've told you guys that my weakness is badassery, with a side of femininity, love, and sensitivity, and Zoe embodies all of these, along with wonderful comedic timing. Gina and Alan Tyduk, who plays her husband Wash, have great chemistry. You can tell that Wash is thoroughly in awe of his wife's ass, and her skills with a shotgun.
And of course, I would be remiss if I didn't talk about Zoe's most badass moment in the entire series. In the episode, War Stories, both her captain and her husband have been kidnapped by a ruthless space criminal, who cuts off Wash's ear, to punish her, because he's upset about Zoe's imperturbable demeanor during her negotiations for her husband's release. Presented with her husband's ear, Zoe coolly stuffs it in her bra for safekeeping, and shows herself out. Later, she comes back to get her man, (and Captain Mal) with her shotgun!


Nafessa Williams – Anissa Pierce (Thunder) – Black Lightning
Black Lightning is the only superhero series with an all-Black cast. The Pierce Family is basically a Black version of The Incredibles. Okay, Mom is the only one who doesn't have superpowers, but her two daughters have powers, courtesy of their father, who has electrical abilities. Anissa Pierce has the ability to change her body's density, such that a clap of her hands, or a quick stomp, creates a concussive force that can shatter stone, burst eardrums, and cause localized earthquakes. One of the great joys of the first season was watching her learn how her powers worked via the cliched "What can I do?" montage. Unfortunately, the first costume she chose, to hide her identity, in a neighborhood where everyone knows everyone else, made her look like a disco club reject She did eventually settle on something that was tastefully Black with a proper mask.
I love this character. She really is one of my favorites, especially in the first and second seasons. She's confident and outspoken, without being overbearing. What's groundbreaking about her is she is also the only Black super lesbian on television, in a committed marriage to another woman of color played by Chantal Thuy, whose character also happens to have superpowers.
Candice Patton – Iris West – The Flash
Iris West doesn't often get the chance to be superpowered, but what she lacks in power, she more than makes up for with her beauty, strength, poise, and grace. So, when she does get the chance to take her husband, Barry Allen aka The Flash's, place in the Speedforce, she is, of course, awesome at it.
It has been no secret that Black women, in genre film and TV, have been experiencing an all out racist backlash on social media, every time one of them gets a job, so I want to give a loud shout out to the actress, Candace Patton who, for six long f*cking years has endured the most vile and malicious harassment, of both her and her character, but has handled it with all the courage, intelligence, and poise, that she brings to her role as Iris West.
"If I had to deal with harassment online so a girl that looks like me 10 years from now can successfully be on these shows without any of that, then well worth it. I can take it." — @candicepatton
That's my girl!
China Ann McClain – Jennifer Pierce (Lightning) – Black Lightning
Jeenifer Pierce is the little sister of Anissa Pierce in Black Lightning. Where Anissa found out she had superpowers in the first season, the show did more of a slow burn with Jennifer, and we didn't get to see her display her powers until well into the second season, and we didn't find out what exactly she could do. Unlike her sister, Jennifer had more trouble, not just finding out that she had superpowers, but had some trouble with controlling her abilities. She needed more care than her sister, and in a TV first, we saw a potential super-powered person receiving therapy.
It turns out that Jennifer was having so much trouble because she is somewhat overpowered. Basically, she can turn her entire body into an electrical fire which, if you've ever seen one of those, is pantshittingly frightening. I remember talking to my Mom about this character, (and showing her pictures of what she looked like in her superpowered form), and she couldn't wait to see Jennifer's powers fully manifest. She was very excited about it, and the show did not disappoint. The special effects were pretty awesome, though I wasn't too fond of the black and gold stripes in her outfit.
Here's the thing…my Mom has never read a superhero comic in her life, but this show, (along with Luke Cage and Black Panther) is turning her into a huge comic book nerd, and any TV series that can do that, can have all of my love. Having grown up without any girls to talk to about my love for comic books, it's been a delight to share this particular interest with her. Anytime a show or movie can have the two of us having a typically nerd conversation about who would win in a fight, (the Hulk or Thanos), gets mad respekt from me.
Teyonah Parris – Monica Rambeau (Photon) – Wandavision
I have not yet told my Mom about Photon, or Falcon, or Valkyrie. Since there are white people in the shows and movies with them, she might not be especially interested. I mean she likes the Hulk, and she knows who Batman, Superman, and Wonder Woman are. But I think I'll wait and surprise her with Storm, and this character, though.
I am not a Wanda Maximoff fan, although I did enjoy the series, Wandavision. The only reason why I tuned in was I was hoping to see Monica Rambeau get her powers as Photon. I grew up reading the comic books she starred in as Spectrum, and then she disappeared off my radar for a looong time, so I'm glad that the MCU remembered that she exists, and I was waiting for her to show up, especially after Captain Marvel was released. I got nothing against the white Captain Marvel, and Larson is cool and all, but I didn't really grow up reading about her, so there's less of a nostalgia connection.
But look at that 3 pt. superhero landing! That was all kinds of cool beans! Teyonah totally nailed it, and I give it a sphincter factor of 9.5, because I winced at her possible knee injury, and because this could have been a show about her, and her grief at losing her family, but the series focus was on Wada, and I was disappointed tha Monica only got to be a side character, who was only there to support Wanda.
Simone Missick – Misty Knight – Luke Cage
Misty was always a favorite of mine in the comic books, as she was one of the few Black women superheroes. I remember briefly reading the Heroes for Hire series, in which she prominently starred, and it was a lot of fun. I was very excited to hear that she would be one of the major characters in Luke Cage. At first I was disappointed that she didn't have the metal arm from the comic books, but we get to see her origin story in The Defenders. I'm not a fan of cops, but she gives one the coolest speeches in the MCU about why she chose her profession.
"I apply foot to ass. And match lead for lead. I put murderers in handcuffs. I don't just seek justice, I stalk it."―Misty Knight to Gabe Krasner[src]
*Sigh* like a lot of the characters though, she was not well used, and sometimes badly written, but her badassery was still worth admiring.
Ruth Negga -Tulip O'Hare- Preacher
Ruth Negga was great as Tulip in the Preacher series. The first time we meet Tulip she is teaching some kids how to fashion a bazooka out of some random materials around their house. She does not become less badass for the rest of the series, although her character is deepened considerably, and I appreciated that. Too foten Black female characters, especially those written by white men, have a tendency to be one dimensional, but Tulip got her full due, becoming one of the driving forces of the plot and direction of the series.
Tulip was also a very gray character, which was kind of rare, since many such characters tend to skew bad or good, only. As portrayed by Negga, she was strong, outspoken, and always ready to throw down, or beat that ass, to protect her needs, and sometimes even her man, the titular Preacher himself.
Thandiwe Newton – Maeve Millay – Westworld
I think you guys have noticed that I definitely have a type: Black women with swords! Specifically Katanas. It turns out that these swords are not as easy to use as television and movies make them seem. My brother, who is a very fit person, owns several of these, and once, nearly cut off his fingers trying to wield one. So, when I say I have all the admiration in the world for these women, who make wielding a Samurai sword look so easy, I mean it.
Maeve Millay is one of my favorite characters from Westworld. Her resilience, empathy, resolve, and intelligence, were unparalleled in any of the other characters on the show. She is the very definition of "self=made"! When I was reviewing the show, I often talked about how fascinating it was to witness this character's journey towards self actualization, towards the making of her " true self", and that a lot of viewers were missing out on her story because they were distracted by the other, more primary, story. Unlike her white counterpart in the series, who had no allies and tried to change the world by herself, Maeve began her journey alone, but eventually, through sheer strength of character, charm, and charisma, she collected a coterie of allies to support her cause, and in the end, saved the digital consciousnesses of her entire "species".
Jurnee Smollet – Leticia Lewis – Lovecraft Country
Lovecraft Country held a lot of favorite moments for me, with some of the best ones being Letiticia's ability to run like Hell! On a road trip with her best friend/love interest, and his uncle, she is the first to detect danger, and get the hell out, she drives their getaway car, and saves their lives by outrunning the Lovecraftian monsters that were in pursuit of them, through the woods of Alabama. Her running skills are next level.
Which is why it was all the more enjoyable to see her walk out of danger in this scene. Here, she has just been sent back in time, and handed a primary book of magic by her ancestors, after having received a spell against physical harm. This scene takes place during the series depiction of the burning and massacre of the Black township of Tulsa Oklahoma. All around her, her ancestors are dying, and she can do nothing to save them, because this event already happened, but what she can do, is use her body to save this book, and prevent such events in the future. Leticia walked through fire unmolested, and unbothered, and it was almost as satisfying to watch this scene, as it was watching Luke Cage shrugging off gunfire.
Rosario Dawson – Asoka Tano from The Mandolorian Season One
I have a confession to make. I've never watched a single episode of Star Wars: The Clone Wars. But even I have heard about this character. I've read of her a couple of times in books, and all of the people I follow, subscribe to, or just banter with online, totally love this character, and are always willing, ready, and able to sing her praises, so I was very much looking forward to the live action version, and hoping she lived up to the hype.
She did!
I do have to admit that part of my love for this character is because she is portrayed by one of my favorite actresses, Rosario Dawson who, since the early oughts, has always made some interesting film and character choices. She is utterly fearless in the types of roles she will chose, moving very easily between action star, love interest, and comedy relief. She also manages to imbue all of her characters with beauty, grace, intelligence, and empathy, and she is always fun to watch.
I actually am a Star Wars fan, but beyond the trio of characters from the initial stories, I didn't get into the characters very much, until The Mandolorian. I was mostly into Star Wars for the action, and plots. Here though, I found myself getting quite caught up in the story of an intergalactic Bounty Hunter, who tries to make good, by delivering a Jedi fledgling to his rightful place in the world, and ends up becoming a father figure, instead.
Asokha is one of the many characters who helps the Mandolorian along his journey, so she is not a primary character in the series, only showing up for a couple of episodes. But what fantastic episodes they were! It was a lot of fun seeing Asokha in action, and I get why the fans love her so much. 10/10 would watch her in her own live action series.
You know what? I think I'm going to re-watch these episodes this weekend!
Chipo Chung – The Master – Into the Badlands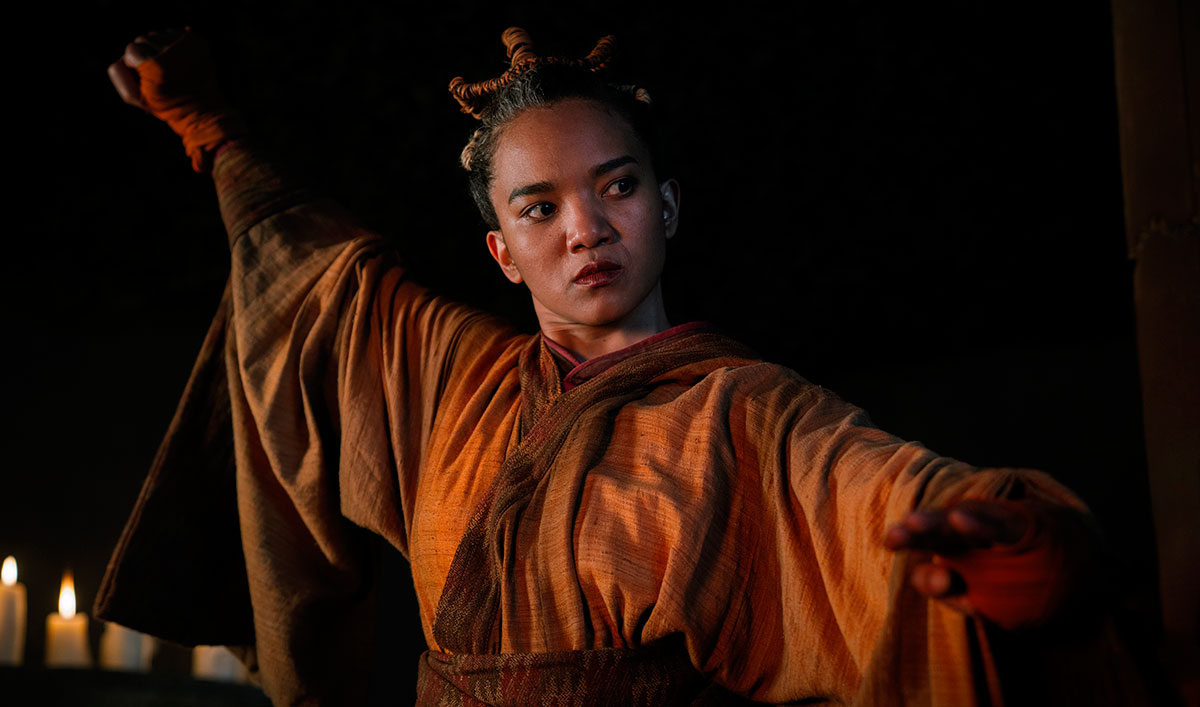 Chung was born as a refugee in Dar es Salaam, Tanzania. She is of half-Zimbabwean of Mberengwa origin and half-Chinese descent. Her given name Chipo means "gift" in the Shona language. She spent her first two years in refugee camps in Mozambique with thousands of young people who were escaping the war in then-Rhodesia.[3] She is currently working in London, but worked for two years on the series Into the Badlands.
I had heard of this actress before I saw her in this role, which is why I was so excited to see her in this series, which was itself groundbreaking for its subject matter, and racial diversity. For the life of me, I cannot remember where I saw or heard of her. I do remember that I kind of fell in love with her, and until she showed up here, hadn't seen her in a long time.
I just think she's incredibly beautiful with striking features, and yeah, striking hands as well, and I greatly enjoyed her depiction of The Master who was mysterious, wise, all knowing, and apparently all seeing, and I was delighted to see her in the role. (See, this is who they could have chosen to play The Ancient One, in Doctor Strange.)
And that's it! My favorite Black women Action stars from TV.
Next up: Favorite Black women Action Stars from the movies!