A couple of weeks ago saw the debut of the new HBO series, Lovecraft Country, based on the book of the same name by Matt Ruff. In the book, a young black man named Atticus goes on a road trip through the Jim Crow South, with his uncle, and childhood friend, to find his father, who has mysteriously gone missing up North. They stumble across racist cops, sundown towns, Lovecraftian monsters, and occultism, in their travels.
I watched the first two episodes of this series. Normally I would not have watched any show that's based in the Jim Crow South because that's just a particularly triggering time period, but the writers and producers are black, so I was willing to give it a chance. Its still a very nerve-wracking show, but in a kind of  good way, because its also surprisingly cathartic, entertaining, and not wholly based on Black pain and suffering. The characters are very likable, and there are other, more personal issues they deal with besides racism.
I can honestly say I enjoyed this episode. I know that sounds weird, considering how I've complained about no longer being interested in shows that are based on black pain and suffering, in different eras, but this show, along with the Watchman series, was very entertaining. For one thing, the plot isn't necessarily based in suffering. the Jim Crow era in which the story takes place is simply the backdrop, and the way the story is written, the racism of the white characters is just one of the primary obstacles that the protagonists have to navigate, occasionally in the form of harrowing car chases.
It doesn't hurt that the three main characters, Atticus, the very fine looking lead character, his uncle George, played by the incredible Courtney B. Vance, and the gorgeous Leticia, Atticus childhood friend, played by Journee Smollet, who you may remember as Black Canary, from the Harley Quinn/Birds of Prey movie, released earlier this year, are all immensely likable, and reasonably smart.
Outside of the mystery itself, the series presents a lot of ideas about black people that don't often get seen in popular culture, which are merely glimpses into the lives of regular black people, in the midst of horrific circumstances, because that too is as important to our representation, as seeing ourselves be heroic, hearing our own stories, or seeing ourselves existing as a culture in the future. We get loving black couples, black people who love books, clothes, and superheroes, ordinary disputes between family members and black people snatching  little moments of joy, even in the darkest times.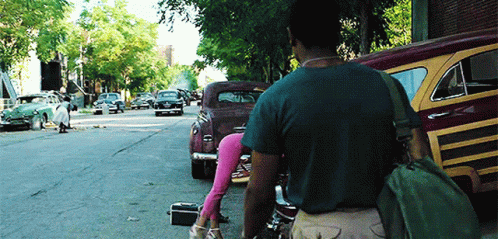 The episode begins with Atticus on his way home from the Korean War. Its 1954, and that particular war (the one depicted in the MASH series) ended around 1953. He's dreaming of a mashup of all the scifi he's ever read, Cthulhu, John Carter of Mars, and an ass kicking  cameo from #42 himself, Jackie Robinson.
When the bus he's riding breaks down, he and the only other black passenger, rather than being allowed to hitch a ride with a local farmer, have to walk several miles to the next town. During their walk is when we get Atticus broad opinions on fantasy stories with racist characters, or written by racist writers, like Robert E. Howard, or Lovecraft himself. Genre fiction, whether movies, books, or TV,  has always been problematic for black people. Most of it was not written with us in mind, and what was, often had negative connotations.
When Atticus gets home, he finds the neighborhood is preparing to have a block party. This is something that really resonated with me, because I remember attending quite a few of these, during my childhood. My family is/was huge, so most of the block party consisted of me, my little brothers, and a seemingly vast number of cousins, uncles, and aunties! Anyway Atticus finds out from his uncle George that his father has gone missing but left a note saying he could be found in a place called Ardham. That's right, not Arkham, but Ardham House. He, and George are joined by Leticia, a young woman that Atticus knew when they were children, because Letty was the only girl in his Science fiction book club, but who is now a traveling photographer.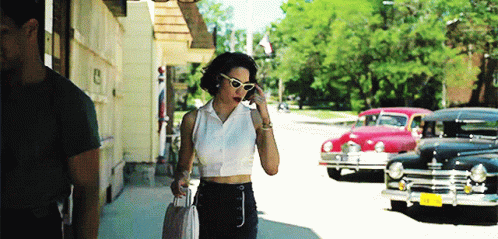 Uncle George offers to come along because he is the publisher of the Chicago based green book. His wife, Hippolyta, offers to come, but George says no, out of a sense of protection. He knows how dangerous it would be for her to do such a thing., considering that he once had both his knees broken, by some racists, while on a previous trip for his travel books.
The travel books, that George writes, (based on the real life Negro Motorist's Green Book), aided  black people in navigating through the Jim Crow South, listing problem areas, like eating and sleeping places that were safe, but most especially, listed all the Sundown Towns, in both the North and South. At that time, these were all white towns, in which black people would be  either run out, or murdered, if they were found within the town limits, after sundown.
https://www.zinnedproject.org/materials/sundown-towns/
Welcome to the world's only registry of sundown towns. A sundown town is not just a place where something racist happened. It is an entire community (or even county) that for decades was "all white" on purpose. "All white" is in quotes because some towns allowed one black family to remain when they drove out the rest. Also, institutionalized persons (in prisons, hospitals, colleges, etc.), live-in servants (in white households), and black or interracial children (in white households) do not violate the taboo.
"On purpose" does not require a formal ordinance. If, for example, if a black family tried to move in, encountered considerable hostility, and left, that would qualify the town as "sundown." Note that some sundown towns kept out Chinese Americans, Jews, Mexican Americans, Native Americans, even Mormons.
One of the most hair raising, but exhilarating, chase sequences occurs when George mistakenly takes them to a cafe that does not serve black people, and the local firefighters chase them out of town. They are saved by Letty's well honed survival instincts, her ability to drive like a maniac, and a little bit of hoodoo, from a mysterious benefactor.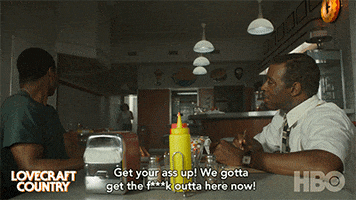 This same benefactor comes to their aid at the end of the episode, after they get stopped in a sundown county by the local sheriff, who challenges them to get out of the county 8 minutes before sundown, but without speeding. This is very  probably the slowest, most nerve wracking car chase in television history, and does a spectacular job of showing how frustrating, and enraging it was to live during the Jim Crow era, in which those who held authority, (yes, the police, but regular citizens were encouraged to get in on the fun), could terrorize black people on a whim, or simply for their own pleasure.
They do follow the cops rules and manage to barely make it out of town, only to be stopped by the police in the neighboring county, who were lying in wait for them. This is an especially relevant point, because it speaks to the arbitrary nature of the rules. It ultimately doesn't mean anything that Atticus and the others followed the rules. They'll be killed anyway, because a group of people determined that they should, and no amount of rule following would've saved them. However, the three of them  are  inadvertently saved by monsters.
*I want to point out some of the images used in the show, which is rich with detail. This particular image here was based off some famous photographs by Gordon Parks.
And here is another, which can also seen in the episode:
*There's also a famous interview from James Baldwin, which is used in voiceover, before the trio's second encounter with the police.
1965 debate between Baldwin and conservative author William F. Buckley.
*Hippolyta (George's wife) is also the name of Wonder Woman's mother, and George has a daughter named Diana.
*******************
The cops take the three of them into the woods to execute them. This is an especially chilling scene when you think about how many black people might have been murdered in this fashion, who were never missed, or whose bodies were never discovered. In fact there are a host of activities that black people don't do today, not just because we were discouraged from participating in everyday American life, but because, even today, we are still recovering from the trauma of the constant terrorizing and policing of our actions, which lasted some sixty to seventy years. Activities like road trips, camping, swimming, walking on the sidewalks, or just out enjoying nature, could (and did) get us murdered.
Until the seventies, many state parks were off limits to black people and earlier this Summer a young black man posted videos where he was threatened with lynching, by a white mob that assaulted him in a park. The bottom line is that many of the nature activities that white people took for granted, were enduring traumas for PoC, but especially black people. So when you hear us joking about not going into the woods, or never going hiking, keep this in mind, as one of the factors.
https://abcnews.go.com/Politics/americas-national-parks-face-existential-crisis-race/story?id=71528972
"When I'm walking to work with park rangers or with other campers and hikers who treat me in some sort of way that make me feel unwelcome, that make me feel unsafe, that is startling," Tariq said. "And that goes unchecked because there's, there's just no channel for us to be able to challenge that in such remote places."
************************
https://bloomingtonian.com/2020/07/05/bloomington-man-threatened-with-noose-during-assault-at-lake-monroe/
As much as white people claim to be afraid of black people because…..crime, or something, I don't think many of them have ever thought about what it must be like to live one's life in constant fear of stepping on white people's toes, at work, or the store, in a park, or just out of doors. Always having to watch what you say, how you look, dress, act, and carefully structure one's facial expressions, lest you set one of them off, as if they were unexploded ordinance.
*********************
The police take them into the woods to execute them, but before that can happen, they are all attacked by what viewers are calling Shuggoths, but what the characters in the show are calling vampires. They are covered with eyes, shun the light, and can move extremely fast, so they manage to take out the five or six cops rather easily. Letty and Atticus escape to an abandoned cabin, along with two of the cops, one of whom had their arm bitten off. After George joins them in the cabin, they make a plan to get more light from the cars parked at the edge of the woods. Atticus wants to go, but is prevented from doing so by the cops who 1) don't trust him, and on top of that 2) aren't very bright, because why would he leave his friends behind just to spite the police? The cops nominate Letty to run to the vehicles.
Okay, I'm going to have to stop here for another aside. These are the same type of white men who will happily kill a black man for breathing too hard in a white woman's direction but are perfectly happy to sacrificing a black woman to save their skins. In their minds, black women are not worth protecting. So even though they are armed and can take care of themselves, they insist that this black woman attempt to outrun the monsters, to save their skins. To calm everyone down, Letty does make a case that she is faster than Atticus, having run track as a girl, and off she goes.
And this is the way that people should be running in a Horror movie. Letty is seriously hauling ass! I wonder how many times Journee had to do that scene, because this is not a stunt double, and she is seriously working  out! There's none of that glancing behind, or tripping and falling shit in your typical generic horror movie. This is also probably the reason black people don't get to star in too many of them, because they would be boringly short films.
Letty makes it to the car, and heads back to the cabin, where the two cops are so busy concentrating on holding those two scary black men in check, that they don't notice that one of them is turning into a one of the creatures that attacked them, but that's not what's interesting . What's fascinating is  even though the cop next to him is turning into a nightmare that's going to eat him, he is hesitant to shoot him, despite Attticus' and George's warnings, instead choosing to keep his weapon aimed at the two unarmed black men in front of him. See ,this is one of the reasons I don't trust white people, (no, not even my white friends), with my safety. After decades of fear-mongering propaganda, the majority of them simply do not have good judgment when it comes to what's actually dangerous, and what isn't.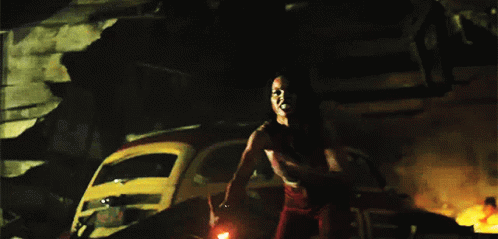 The cop turns into a monster and eats the other cop, which is a nice conflation of the idea that there are other types of monsters in the world, but the human ones are the scariest. Letty arrives with the car just as the monster turns its attention to Atticus and George, but they still need to hold the monsters off until daylight, or fight them, and that's when the mysterious benefactor arrives and calls them off using, what else…a dog whistle!
We next see the three travelers arriving at Ardham house, exhausted, and  covered in blood, where they are welcomed and expected by their happy blond host, and yes, I'm immediately suspicious.
So that's my first impression of the show. I have,  since the posting of this review, watched a couple more episodes, and the show manages to keep that same energy for each episode, which is more like a connected anthology than a serialistic show. The second episode finishes out the first story arc at Ardham House, and the third focuses on Leticia buying a haunted house. Both episodes continue with the same wealth of detail, racist white men, and historical asides, including references to the Garden of Eden, and a chilling cameo from Emmet Till!
There are so many layers to this show, but its also just entertaining, even if you don't get, or see, all the socio-historical references. The show is fun to watch, with a lot of exciting moments, because its well written, and  the characters and plot are compelling.