So, I know all of you are now watching my favorite show, since its airing on Netflix. Yay!!! I don't know if any of you guys have reached season three of the show (there's no rush, take your time), but when you finally make it, I'm ready for ya' with some of my more  interesting thoughts on those episodes.
Digestivo is, hands down, one of my favorite episodes of season three, as it finishes out the arc just before the Red Dragon book, when Hannibal is in prison, but I'm not entirely certain why, I like it so much, so lets examine this. I think its because, although I've definitely seen Will being dark before, this is really the first time I've seen him actually working in tandem with Hannibal, of his own volition, and the two of them are every bit as terrifying a team as I suspected they would be.
In a lot of ways, Will is more terrifying than Hannibal. Hannibal has engaged in years of disciplined hiding of who and what he is, while Will's dark side has simply been suppressed, with few outlets, given the type of life he's lived. Will's violence doesn't have any controls, and is completely unpredictable. Hannibal revels in Will's violent tendencies, but even he doesn't know when it might be unleashed, or against whom,  even himself. Will is chaotic.
In the last episode, Lecter was interrupted by the police, as he was just about to chow down on Will's brain, with Jack Crawford as a witness. The police grab Will and Lecter, to take them to Mason Verger's Muskrat Farm, in Maryland. I was under the impression, when I first watched this, that these were men in Verger's employ, but it turns out that these are actually the Florentine police, capturing Lecter for the Mason's bounty, which is actually  illegal. The police are not allowed to capture suspects for reward. At least that's how it works in the US.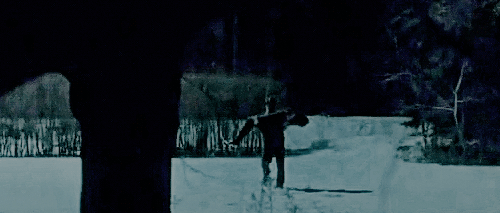 The police are about to kill Crawford for witnessing the abduction, but are taken out by Chiyoh, who seems to have gotten over her issues about killing, now that she's gotten a taste for it, I guess. Remember, she  refused to kill Lecter's prisoner in the dungeon, from the episode Contorno. So either she's suddenly become more bloodthirsty, or she simply insists on killing on her own terms, and not Lecter's. After all, she did comment to Will, that sooner or later, they all become what Lecter wants them to be, whether they like it or not, and this seems to be a truism throughout the series. Fuller himself has stated that Lecter is analogous to Lucifer, a being that wants to usurp God, (which he does), and corrupts human souls to his side (which Lecter often does).
While this is going on, Mason Verger and his henchman/cook/nurse's aide, Cordell, make plans for cooking Lecter, and transplanting Will Graham's face onto Mason's. There's a truly gruesome (but also deeply funny) image of a cooked Lecter, as the two discuss frying him like a Peking Duck.
Yes, the plot has pretty much gone completely batshit,  at this point, and the creators seem to know this, as there is a, not quite faint, tongue-in-cheek vibe, to the entire season, as if the people involved can barely keep a straight face. The show has completely jettisoned even the idea of the police procedural as it segues into the Red Dragon plotline. It's probably better to look on this season as somewhere slightly to the left or right of Camp. The only thing that saves it from that, are the horror elements and acting, which are portrayed seriously by the cast. 
Chiyoh frees Crawford, in exchange for the location of Muskrat Farm, while Crawford wonders how he's going to get out of Florence without the police noticing. Chiyoh, at least, manages to get out of town, as she eventually shows up at the Farm, after having a truly hilarious conversation with Bedelia, who is high as a kite during her scene, but still manages to get in a dig at Chiyoh about serving Lecter's needs, which is really rich, coming from someone who spent the first half of the season enabling him.
Alana and Margot discuss making a child using Mason's sperm, with Alana as the surrogate, after Mason shows Margot the surrogate mother of the child she would have had with Will, if Mason hadn't had her uterus extracted. (See, that is the kind of thing that I could only be typing about a show like this.) 
Hannibal, Will, and Mason, have dinner together, while Mason tortures the two men with the knowledge of what he plans to do with them. I will not mention in detail how Mason thinks Will has a pretty face, or why he would want Will's face in the first place. (Will's attractiveness has lowkey been an underlying theme since season one, but will be openly mentioned, by several characters, in season three.) In the commentary for this episode, Fuller says that Mason intends to rape Lecter, while wearing Will's face (this is in reference to Mason's comment about Lecter being in his shorties by then), if so, this is the first time that Fuller is introducing  sexual motivations for violence, into the series, as he says he has tried to avoid such motivations before.
During the dinner, Cordell gets a little too close to Will, who bites a chunk out of his cheek, and spits it on the table. We've seen Will be violent before, usually in dream sequences, and this shows his evolution from the first season, when Will was having trouble simply discharging his weapon at a criminal, and Alana mentions biting behavior in serial killing, in a lecture she is giving in one of Will's classes. This is also an echo from the movie Hannibal Rising, when Hannibal bites the cheek of one of the men who killed Mischa. 
Contrast that with Will's behavior in previous seasons. He has nothing but contempt for Cordell, and afterwards, he looks, with some slight embarrassment, in Lecter's direction, as if to shrug that he's sorry he's being a such bad boy. Hannibal is, of course, very proud that Will is becoming what he always wanted Will to be, and smiles like an indulgent father. Murder husbands indeed.
Alana and Margot scheme to save the life of Margot's child, but are too late, by the time they find the surrogate, a massive hog. They  discover that Will and Lecter are on the premises, and that Crawford is still alive, and may bring the FBI into the equation, although Mason says he has handled it. Alana is rightfully concerned that Mason has not killed Hannibal yet, fearing that Hannibal will escape before revenge can be exacted.
While Cordell gets ready for the surgery to remove Will's face, Alana and Margot visit Hannibal. This is interesting for Alana because this is the first time she has seen Hannibal since they tried to kill each other. She has a profound grievance at his betrayal of her, and as it turns out, he also fed her human flesh in the form of the  "special beer" he made.  Everything she has done this season has lead up to this moment, but Alana is desperate to save Will, because he was never part of her issues. In exchange for saving Will from Mason, the two of them set Hannibal free. He counsels Margot to kill Mason after they impregnate Alana. The two of them speak to Mason explaining what they did. Mason, incensed, tries to shoot them, but a fight ensues, and the two end up drowning him in his own aquarium.
Hannibal kills Mason's henchmen, rescues Will, and kills Cordell, placing Cordell's face on Mason, instead. He manages to get Will to his home in Wolf Trap Virginia, with the help of Chiyoh, who shoots the last of Mason's henchmen.
Hannibal takes will back to his home, where Will delivers his final goodbye to him, a promise he manages to keep for three years. After Will regains consciousness, he makes it clear he will have no more to do with Hannibal, not because he doesn't love him, but because he simply does not have the stamina to live the kind of life that Hannibal wants. I also suspect that he is simply appalled at his behavior with Cordell, and  has fully reached the conclusion that Hannibal is not only not good for him, but that he and Hannibal together, are not good for everyone else. When he is with him, is when Hannibal is happiest, because Will is at his worst. He tells Hannibal that he doesn't want to know where he is or what he's doing, and to stay away from him.
Hannibal is heartbroken again, but his reaction this time is the opposite of what happened at the end of season two, when he tried to kill Will to show that Will hadn't emotionally affected him. He makes no pretense  about being emotionally unaffected by his association with Will, now. Jack Crawford shows up, and asks after Hannibal, who gives himself up to the FBI, claiming that this way, Will will always know where he is, and be thinking about him.
Will, opening up, confides: "I miss my dogs. I'm not gonna miss you. I'm not going to find you, I'm not gonna look for you. I don't wanna know where you are, or what you do; I don't want to think about you anymore. Good-bye, Hannibal."
After seeing Lecter taken away by the FBI, Chiyoh leaves. There's nothing more for her to do here.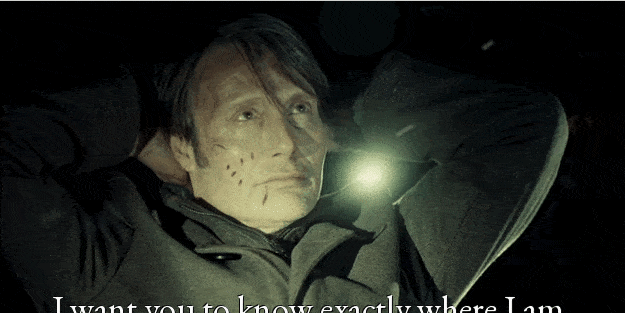 Throughout the series we have been inundated with images, and discussion, about the breaking teacup, and time. This is a reference to the instability of Lecter's relationships with others, and him trying to undo the destruction of lives that often follows in his wake.  These discussions and images often occur to Hannibal during moments of regret with Will. He cannot reverse time, and undo what was done, and cannot seem to fix what was broken. His relationship with Will is broken, and while he understands why, he doesn't know how to fix it. 
I also think the teacup is a reference to himself. The act of eating his little sister after her death, (something he confesses to Chiyoh), sets in motion the entire chain of events that leads to this moment with Will, and another relationship that ends up destroyed. Hannibal, in his lowest, and most honest moments, believes he is broken, so naturally his relationship with the people he admits to loving, (Will, Chiyoh, Abigail), can only ever end in destruction. He cannot turn back time and change who he is. What is broken, can only remain broken, and he cannot be repaired. Will cutting him loose is the closest he will ever get to such an outcome. He turns himself in,  not because he thinks the teacup will be repaired, but because that conscious act will keep it from breaking.  He cannot turn back time, but perhaps he can freeze it, and keep the teacup from being destroyed. As long as Will knows where he is, and is thinking about him, their relationship can remain unbroken, and  in suspension, which is exactly what happens over the next several years of their separation.
Addendum
Lets talk about the show's handling of mental health issues, which I think has been, if not favorable, then at least sympathetic, and that includes Will Graham. This is a show about a murderous psychiatrist, so in the first and second seasons,  the audience is often presented with characters with various mental illnesses, and the show takes pains not to just show such patients as violent, but to show them as also victims within a system.
The first time Jack Crawford meets Will Graham, he is somewhat insensitive, blatantly asking him about his mental disorder, and pulling off his glasses, which is representative of the general attitude that other characters show towards the mentally ill. The show itself always treats such characters with a certain degree of sensitivity, even when some of the characters do not.
Starting with Will Graham, these characters are almost never shown as murderous, or even dangerous, for its own sake, and when they are shown as dangerous, it is usually because of extenuating circumstances, and not necessarily their mental illness. When they are violent its not out of malignancy, or because mental illness makes a person violent, but because they are being driven by their illness to alleviate their pain. 
In season one's Coquilles, the murderer is driven by a brain tumor. He suffers from delusions that make him believe that certain people are angels meant to watch over him, while he sleeps. His victim's deaths are a side effect of what he does, not his primary motivations, and that distinction matters. This also the case with Georgia Madchen in Buffet Froid, who kills as a side effect of her delusions, not because that was her primary goal.
But the ultimate depiction of sympathy towards mental illness takes place in season three, in Su Zakana, where we encounter Peter, a man suffering from a form of brain damage that doesn't allow him to look at things, while touching them at the same time. At every opportunity, Will shows care, sensitivity,  and compassion towards Peter, and believes him when he says he's not a killer. 
In fact, Peter isn't a killer, but he is being manipulated to take the fall for the actual killer, not unlike how current political systems take advantage of, abuse, and misuse the mentally ill. Will shows care and sensitivity to Georgia Madchen as well. It is one of Will's signature traits that his empathy draws him to such people, and the writers are always careful to make these characters sympathetic to some degree.
None of the mentally ill on the show are evil just to be evil. They are not trying to kill people. Many of them don't actually believe they're causing harm, and the harm they do cause is a side affect of their attempt to relieve their pain. Fuller is walking a very thin line here, but I believe it deserves merit. The show isn't a perfect depiction of mental illness, but it does take care not too easily fall into tropes about it. The show still makes the mistake of associating monstrous behavior with mental illness, and horror, however.