All movies have tropes, sometimes the use, misuse, and overturning of those tropes is what makes a movie worth watching, but they all have them, because that's what usually determines the film's genre, for example. Certain things have to occur for something to qualify as Horror, Fantasy, or a Western. I don't have problem with tropes in general, but some things I am really, really, tired of seeing, or is a sign of lazy film writing.
The Magical Negro
A magical negro is usually a Black man or woman with some type of inexplicable superpower, (but sometimes not), who shows up to help the White protagonist deal with some problem they're having in their life, often without reciprocation from the white protagonist. These magical people are never selfish, deciding  to help any nearby White people maximize their love lives, for example, rather than using their considerable powers to make their own lives better, or save themselves from harm.
Part of the reason this idea is so offensive to me, is not necessarily because the Black person has superpowers, but that they use those powers in service to White people, rather than relieving their own oppression (if they're shown to have any backstory at all).  They don't have families, they're never seen around other Black people, they never discuss their own problems, they have no lives of their own.  Most of the time their origins are mysterious.
A classic example of this trope is John Coffey from The Green Mile, a giant Black man, with no past, and no future either, as he is sentenced to be executed for a crime he didn't commit, yet nevertheless, spends much of the movie solving the problems of the white prison guards in his orbit, rather than trying to solve his own. I get that he is a Christ metaphor, but watching this movie is very distasteful for me.
Some other classic examples include Oda Mae from the movie Ghost (a Black character with no life or backstory of her own,  beyond helping the ghost of the white protagonist reunite with his wife) There are  movies where the trope is done so well, that I'll give it a pass, like Red from Shawshank Redemption. A character that just manages to skirt by, with this trope, are Will Smith's Hitch, as his being a love talker for hire is the entire point of the film and he gets an entire storyline devoted to his own love life.
But my least favorite character, in all of filmdom, is the character of Jezelle, from the movie Jeepers Creepers, a psychic nobody, who takes time out of her busy schedule of doing, we don't know what,  to provide exposition and aid, to two White, twenty-something, strangers, who are being chased by the movie's monster. Her only purpose in the movie,is to show up and psychically help these strangers, rather than use her abilities to keep herself safe from the monster. In fact, using her abilities brings her into direct interaction with the monster, in a way that would never have happened if she'd just stayed home, because her pronouncements don't change their futures, and puts her life in danger.
The Black Guy Dies First
Its not so much that they die first, so much as they never make it to the end of any horror movie.
Black or any other characters from minorities are often said to be the first ones to die within horror films.[1] While it is not necessarily true that these characters die first, a larger percentage die at some point in the movie.[7] Complex did a survey of 50 horror films that starred black characters, finding that only 10% had black characters that died first in the film; however, a great deal of those characters still died at some point in the movies.[1] On top of their imminent death, these characters are also notably given a lack of character development, especially in comparison to white counterparts.[1] According to Valerie, in her breakdown of the development of black characters in horror, black characters stand a greater chance of survival if they are teamed with a white woman by the end, if the entire cast is black, or if the villain is a black person. However, Complex also reveals that black characters who survive the film almost certainly die if there is a sequel.
—– https://en.wikipedia.org/wiki/Racism_in_horror_films
A great example overturning this trope is Tales From The Crypt: Demon Night, which stars two, totally bad ass, Black women, one of whom does not make it to the end to the film, (although she does go out like a BOSS), and Jada Pinkett, who  not only becomes the Final Girl, she also gets to be the hero, who defeats the monster. Examples of the first sort are far too numerous to mention. You can pretty much count every slasher movie made in the 80's and 90's.
Keep in mind, however, that Night of the Living Dead showed us that even if the Black person is the star of the movie, that is still no guarantee they will survive it.
My most hated version of this trope though, is the movie Logan, where an entire Black family gets introduced, only so they can be killed, a few minutes later. Now, I get that the point of their deaths is to illustrate that Wolverine is, very probably, one of the most toxic characters in Marvel history. Death follows him around like a lapdog, so much so, that anyone who interacts with him, on even the most superficial level, will meet with a quick, and pointless death. If not by him, then through someone associated with his sordid past. In fact, everybody in this movie dies, from the Mexican gangbangers at the beginning of the film, to Charles Xavier, to Laura's surrogate mother, and Logan himself.
In fact,  Logan is full of dead  PoC, solely because they had some kind of interaction with Wolverine, whether benign or negative.
*Sigh*
Movin' on…
CPR Only Works When You Shout At the Recipient
Gob, I hate this one!
I absolutely hate this trope. I have always hated this trope. Its a stupid trope, meant to create a false feeling of suspense, when a major character dies onscreen. Its often used wrong anyway. CPR (Cardio Pulmonary Resuscitation) is not even meant to bring someone back to life. You don't just give a person CPR and they wake up and start breathing, as if they just had a nightmare. It's also meant to last longer than the couple of minutes they show you onscreen. You are not simply restarting a person's heart. You are doing the job of the heart by keeping their blood circulating, so that the brain continues to receive oxygen, thereby lessening brain damage, until the heart can be restarted.
In Movieland, if CPR isn't working but dammit-you're-not-gonna-lose-them you can always just start hammering your fist into their chest. Preferably whilst shouting. This is called a precordial thump and should only be performed once by a highly trained medical professional in front of witnesses when there are no other alternatives – any other time and you're just giving a corpse a beating.
          ———  https://whatculture.com/offbeat/11-common-movie-tropes-that-would-actually-ruin-your-life?page=4
And screaming epithets has never worked on an unconscious person. That's just ass-stupid.
I really hate this trope!
The White Savior
https://shadowandmovies.com/what-is-the-white-savior-trope-green-book/
This is probably the most irksome trope for PoC, because it's literally everywhere, but now so much has been written about this, in the past five years, that it has actually become a part of everyday film criticism, whereas before it was something only recognized by a handful of people.
My most hated version of this trope, and the first time I truly noticed it, was when Mississippi Burning was released, in the 90s. The movie starred Willem Defoe and Gene Hackman, and I hated, hated, hated that movie. It is a classic White Savior film. I hated it because its such a blatant piece of utter bullshit, because it is very well documented what the FBI got up to during the Civil Rights Era, demonizing and interrogating the intentions of MLK, and the protesters (COINTELPRO). MB centers two White FBI agents in the middle of a story about Black people fighting for their rights. Everything about the movie is just wrong. its the Green Book of the 80s.
For a full list of resources see:
https://en.wikipedia.org/wiki/COINTELPRO#U.S._government_reports
Now the definition has evolved to include any heroic white character in movies dealing with Black oppression, or during slavery, which slotted a whole new group of movies into the White savior category.
List of Associated films:
12 Years a Slave Hidden Figures, Avatar, Blind Side, Gran Torino, The Matrix
The Sissy Villain
Yes, the image below takes place in a children's cartoon, and depicts not only the Sissy Villain, but sexual assault by an animal like, predatory, gay coded (creature?). The Sissy Villain isn't always this bad, but GOOD LORD! This was in a children's cartoon! There are, on occasion, good depictions of this trope, like Ursula the Sea Witch from The Little Mermaid, who was based on the transgender actress Divine, and the cross dressing Dr. Frank N' Furter, from The Rocky Horror Picture Show, who is beloved by audiences.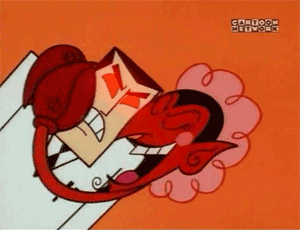 Where this trope is especially insidious though, is in children's cartoons, like Scar, in the lion King, and Him, (the above character), from the Powerpuff Girls. But this type of villain is also spotted in movies with British villains, where the villain not only has a British accent, but is succinctly spoken, sometimes with effete mannerisms, as in the movies, The Patriot, Die Hard, and  Skyfall. The Sissy Villain has a  strong homophobic element involved in their depiction, as they are often contrasted against the manly, masculine heroes.
They can be found in far too many historical, and action films, basically, wherever the manly hero is found. Sometimes the Sissy Villain is shown as predatory, and  a way to make the villain seem even more evil, such as Jame Gumb in Silence of the Lambs, and Jack Randall from Outlander, who is not only the villain, but  a rapist. Actually,  whenever it seems Hollywood needs a villain, who is predatory, deceptive, and shady, they  just code them as gay, (and often British).
 Cop's Nagging Wife/ Wet Blanket Wife
Actually there are several different versions of the Wet Blanket Wife, but I want to focus on a very specific version of her. The Wet Blanket Wife, is always ready to sacrifice other people's lives, so her husband/boyfriend/significant other, can stay home with the kids, or go to one of their children' s musical recitals, or have a dinner party.
A perfect example of this is the scene in The Incredibles, where Frozone's wife insists that he is going to ruin their evening, if he goes out to engage in superheroics. Don't take this the wrong way, the scene is still very funny, but hiding inside it is the insidious trope of the Wet Blanket Wife, who  seems more concerned with their dinner party, than the lives of the citizens being endangered by the movie's villain.
Or take the movie Red Dragon, where the Wet Blanket Wife's complaints are ostensibly legitimate. After all, Will Graham nearly lost his life while doing his job, as a criminal profiler. She wants him to stay home, and not endanger his life by going back to his job profiling the latest serial killer, that's destroying whole families. On the surface I get it, but the way its framed in the movie, makes her whiny and unlikable, and  completely uncaring of the deaths of the victims.
The Wet Blanket Wife lives in cop films, however. She can be found wherever a police officer, or detective has been accused of neglecting his family because he loves his job too much, or not coming up with the alimony for that month, or just never being there for her. and the kids. This trope was famously lampooned in the movie Hot Fuzz, but takes place in far too many other action movies involving detectives.
White Women are Virgins/Women of Color are Whores
At the same time, our American culture has a long history of sexualizing women of color and holding up white women as paragons of sexual purity. Women of color are lower than pure-minded white women: spicy, sexually imaginative, animalistic. Although it's natural to desire the superior white woman sexually, only white men are good enough for her, and they must spend their manhood proving their worth. This mindset lingers in our collective unconscious and is expressed in myriad ways. It gets a lot more nuanced than that, so I'd encourage those of you who haven't to read up on this.
          ——– https://thenerdsofcolor.org/2016/04/08/white-virginwhore-of-color-daredevilproblems/
The above definition says everything I wanted to say about this trope. This trope can very easily be found in the TV series Daredevil, on Netflix, where the oversexualized, and violent Elektra, whom Matt is very attracted to, is contrasted against the blonde, and innocent looking, Karen Page, who is so pure that he feels unworthy to be with her, and who must be protected from harm. Note, that Elektra receives no such masculine protection.
This trope can also be found in the first season of HBO's Westworld, but to a purpose. Maeve, a Black woman who owns a brothel, is portrayed as sexy and sassy, while her compatriot Dolores, is at first set up as pure and virginal. She is the kind of female character who is protected by white men, while Maeve is the type that is exploited.
https://tvgeekingout.wordpress.com/2016/11/07/westworld-analysis-dolores-and-maeve/
The Faux – Medieval World Settings
Yeah, this one is especially tired.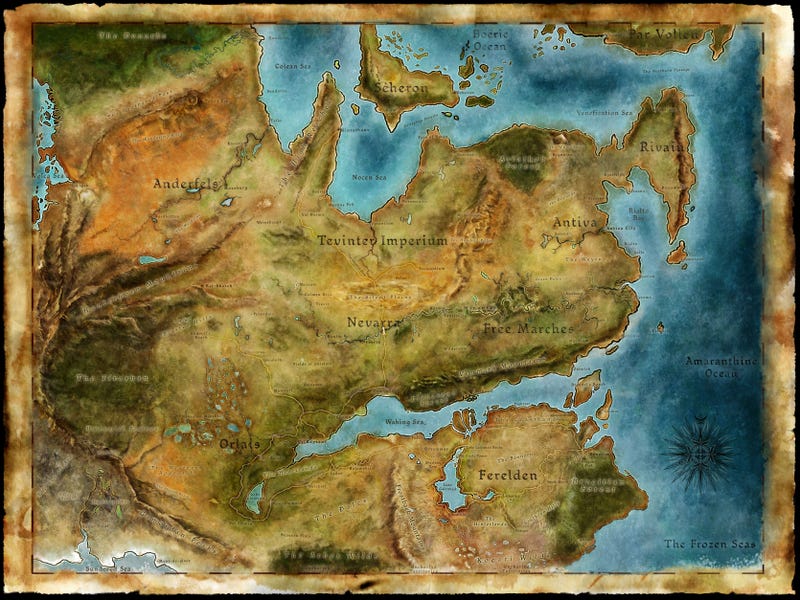 No matter where in the world these stories are set, or how much worldbuilding a creator may work really hard to put into their work, the end result always appears to be set during Medieval times, with that level of technology. There's always taverns, beer, wenches, and sword fighting. In some cases, sometimes the wheel has not even been invented! Its not that it matches any particular country or even government system, so much as it looks vaguely like Feudalism, with its associated social hierarchy. I call these, Lord of the Rings ripoffs.
As I mentioned  in an earlier post, I didn't find my way into Fantasy through the usual channels. I started out reading Horror, than switched to Scifi , and eventually made my way to Urban Fantasy, so I don't have the same level of reverence for LOTR, that other people do, and frankly, I found all the hype for these types of stories to be deeply tiresome. I don't hate the genre, (I enjoy the films), but I have no patience for High Fantasy dramas most of the time, and even when I do come across something I like, there's not as much emotional engagement in it for me. High Fantasy set in other countries (Japan, the Phillipines, Africa) don't bother me though.