I have a Tumblr blog where I follow certain people and conversations. I'm not on Twitter or Facebook ,as Twitter eats up far too much time, and Facebook is largley useless to me, for talking about issues. I talk about different things on Tumblr than I do here, and I noticed my manner there is more blunt and direct than here. I feel like when I'm on there I need to say what I need to say as fast and with as much clarity as possible, not like here on my own blog, where I can take my time to make my point.
On Tumblr, I can send some quick missives off into the ether, and maybe I'll get  some feedback, maybe not but its a good way to dash off some thoughts about something before  forget what was being talked about. Here's a few (largely unedited) hot takes I made in response to whatever issues were being talked about on my dashboard.
Tired Of Superheroes
These are just the thoughts that occurred to me after I had a conversation with a friend of mine (who is white, btw), and she and I got into a discussion about why she feels anytihng at all about movies she has no plans to ever see, and doesn't care about. I'm genuinely baffled at the idea of people being angry about  certain types of movies getting released. My friend knows nothing about comic books, or superheroes, so I get her disinterest. If she said she didn't care for the quality of such films, I would understand, but that's not what she said.
I was having a conversation with a friend of mine yesterday,and she proclaimed that she was getting really tired of superhero movies, and that they should start making other films. I had to get on her case about that, because I'm pretty sure she doesn't know how she sounds. Hollywood does make other kinds of movies, but people don't go see those. She certainly doesn't go see them. Maybe if she went to see the other kinds of  movies Hollywood makes, they would make more of those types of movies.
First of all how are you going to be mad about Hollywood making movies that you don't ever go see, and are not particularly interested in? I mean how does it work that you're upset that other people are making certain types of films popular. I also told her that these kinds of movies are still a relatively new thing, especially since the technology has caught up with out ability to imagine absolutely anything. Its really only been about ten years that this has really been kicking off, and that's mostly due to the MCU.
Hollywood is going to keep making superhero movies as long as we keep giving them money and making them blockbusters. Now I happen to like superhero movies. I like their action, colors, and inventiveness. I prefer the comedies, and the straight up actioners, and I just enjoy watching the onscreen version of characters I've always only ever read about in books, and you know what? I simply don't pay any attention to movies I'm not interested in. I hate watching Rom Coms, and Hollywood keeps making those, but I'm not angry they are making movies I don't like. I just don't go see those films. How you gonna be mad that other people are excited about movies you're not interested in seeing? I've never understand that kind of thinking.
I also think it's mighty funny that I've been hearing this refrain a lot more often, now that women, and poc are starting to get superhero movies made about their favorite characters. I'm not saying people who make such statements are racist, but it doesn't look good, that the only time I hear so many people talking about how they need to quit making so many superhero movies, is when poc and women start to get theirs. When it was just white men, I heard this complaint a little bit, but not as much as I did after Black Panther was released. Now suddenly after Captain Marvel, and BP, Hollywood needs to stop making these types of movies.. That's just an interesting observation.
***************************
https://fangirlish.com/2020/02/04/queerly-not-straight-prioritizing-white-queer-couples-over-those-of-color/
White Feminism in Fandom
This is part of the continuing conversation to be had on Tumblr where we discuss intersectional feminism in movies and shows.This time it was about the treatment of Uhura, specifically her relationship with Spock, in fandom. Black women on Tumblr are forever trying to get white female fans to understand that the way Women of color are traditionally treated onscreen, is not the same as white women's treatment,  and how the treatment of black female characters in fandom is often full of racist tropes. As white women you cannot demand the same things of Black female characters that you can of white ones.
What white feminists want is for black Woman to be"strong and not need no man". Uhura is just supposed to be unloved and single, like she was in the original series, like every black woman in genre narratives. I've been watching the original series since I was a little girl.
Don't get me wrong. I grew up on Spirk, I read a lot of Spirk, and that was my thing for two decades because I knew no one was ever gonna let Uhura be loved, but when I saw that JJ had went there in the new movie, I stood and I applauded.
As a little girl I used to dream about being as beautiful and elegant as Uhura, and I was sure I was gonna marry Spock when I grew up, and I finally got that representation at my old age, but I guess the dreams of little black girls don't mean shit to white women who just want, yet another, after another, after another, mlm ship, in yet another show!
Teen Wolf, The Flash, Walking Dead, in every single show where there is a black female love interest with the white male lead, white women fans always show their whole duplicitous asses, about the black woman not being worthy of their white male love, and how she should be replaced with any compatible white woman, any same age white male he's ever locked eyes with more than once, and even the villains who have tried to kill him, and his love interest, multiple times. We're not talking about your individual ship, or attacking you personally. We're telling you you need to examine why you need yet another mlm ship in yet another show or movie when fandom has dozens of such examples, all of that while ignoring canon male interracial ships, at that!
Why do all the ships need to be white!
This is a pattern across multiple genres, for more than two decades! This is racism!
Fandom is not the same for black women as it is for white women. The stereotypes for black women are the opposite compared to white women, though the objective of those stereotypes may be the same. Where white women get damseled, we don't. We get to be strong onscreen, white women don't. White women in movies get to be brides, while WoC only get to be side pieces, and murder victims.
Ship what you want, but be mindful of what you're doing. Be mindful of how it looks to black women. Be mindful of what you say in defense of your ship when someone says something to you about. Our biggest issue isn't always with the shipping you do, it's the deceitful and racist manner in which y'all defend said ships that piss us the f*ck off!
(Spirk= Spock +Kirk; mlm = men loving men)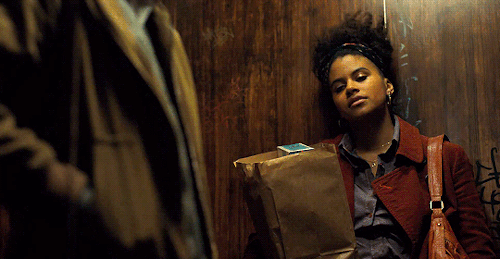 https://www.huffpost.com/entry/lets-talk-about-the-black-women-in-joker_n_5d9605dae4b0da7f6622abc7
**********************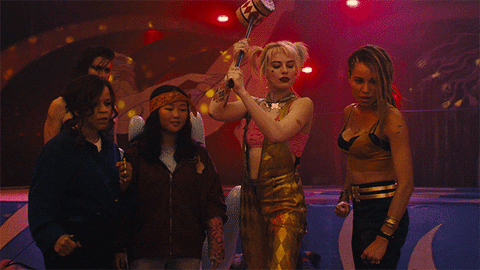 This was said during a discussion about how the failure of BoP at the box office,(which is not a compete failure, but that's another discussion), is being spun by the "manosphere" to say that movies that include feminist thoughts and ideas, are all going to be failures. I think this is once again just part of white men's agenda to only have films made that center them and their needs.
One of the  biggest complaints about BoP before its release was that none of the female characters were sexy. That said, the movie is unapologetically femme! So, the answer to that was "not sexy according to white men, no." Now that the movie has under performed at the box office, these same men are using that to say that if the movie had given in to their demands to make the female characters sexier for men to look at, it would have done better.
Birds of Prey and Quality Films
*****************************
This was a response to some white guy on Tumblr who was upset about Black people not wanting to interact with white people, calling it racist to not trust them. This sounds exactly like men who are upset that women have difficulty trusting that men won't hurt them and refusing to interact with them, because as men, they are individual,, special beings, that women  should be able to tell, just by looking, that they would never hurt anyone.
Habitual Foot Steppers
Every day, PoC in this country have negative, sometimes even violent, interactions with white people. Hell, they probably often have such interactions with members of their own culture, but it's only white people, especially those who control mainstream public messaging through media, who are constantly advocating that white people are individuals who don't represent their group, and need to be forgiven for those negative interactions, without a single one of them making any effort to bring those types of interactions to a halt.
In fact, many of them will simultaneously argue that not only should such actions be constantly forgiven, overlooked, or gotten over, they will also insist those interactions don't happen at all. It's the equivalent of people stepping on your foot every time they see you, and when you complain, or tell them to stop it, them telling you they didn't do it, to prove they didn't step on your foot, and it didn't happen because they didn't notice it, or intend to do it. You would naturally be well within your right to not only avoid that people in the future, and probably be more than a little pissed that they didn't listen to you when you told them they hurt you.
All these different people, from the same cultural group, insist on stepping on your feet, while proclaiming loudly to their audience that not only didn't they intend to do it, that it's not hurting you, they didn't actually do it, and you're too sensitive and should get over it. And when you get angry about it and avoid them and express resent,ent over their behavior, they call you a racist, for not trusting them, and deciding to protect your feet by avoiding them.
****************************
These are some of the hot takes I left on Medium.com. This one was about men who think, if they pursue a woman hard enough, long enough, she will eventually give in to his desires, and this is an idea that is prevalent in Pop culture media.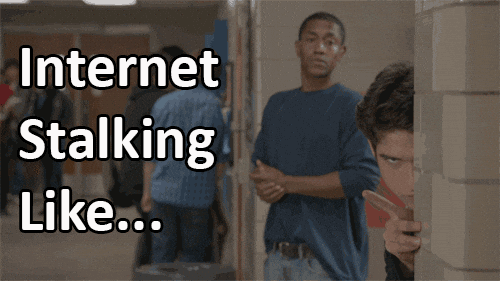 Stalking for Love
One of the reasons some men are like this is because they are socialized to do so, from the moment they start consuming the culture. Songs after song, books upon books, movie after movie, and TV shows after show, are really good at imparting one major message. That women are prizes given to them for persistence, correct behavior, owning the right car, shoes, house, and sometimes just for having a penis!
They have been shown again and again, that if they pursue a woman hard enough, stalk her long enough, just keep asking, and asking, and asking, they will eventually wear her down, she will reach enlightenment, and of course, dispense her charms. "No", in Pop culture, really just means, "Not right now." or "Keep trying!" This is what they've been sold, and you can tell which ones have fully bought it, because they are the ones who get enraged when women go off-script.
They are behaving exactly the way they've been taught to behave, having fully, and uncritically, drank the Kool-aid, that persistence wins the girl. Almost nothing in our culture tells men they need to have the correct character, or hold certain virtues. Too much of Pop culture teaches men that they don't have to be genuinely good, or kind, or gentle men, to attract women. They are taught that women are fickle creatures that need to be tricked, or hounded into wanting them.
This is not a hard and fast rule because there are plenty of men who have, somehow, managed to avoid this kind of thinking, but it is definitely an element in the thinking of these kind of men. I don't think there is a causality, so much as a life long influence.
*******************************
White Fragility
These responses I wrote as comments on Medium.com.
Both of these responses ended up being tangentially related to each other. The first  was a response to an article about White people's hypocrisy in calling PoC racist, whenever we express any form of unhappiness (or sarcasm) at the existence of White people in a public sphere. I  remember that Asian woman who lost her journalism job over tweets she made years ago, where she joked about white people. It is important to keep in mind that these people are reacting to things that progressives have been doing, and its been the tactic recently of marginalized people not  just to  talk back to the kinds of people who victimize us on social media, and in public, but to see that such people be ostracized by society, by contacting their families and employers.
This particular article was about a young African American woman, who made a public statement about there being too many white people in her college's Multicultural Center, and white (mostly men) opinionators in the news media, having a full on meltdown,  and calling her a racist. For the record, I think what she said was kind of stupid, but it doesn't make her a racist. It just makes her very young and silly.
Since reactionaries have a tendency to lack imagination, they have this nasty thing where they appropriate the tactics that have traditionally been used by marginalized people to fight their oppression. Its especially galling when such people use those same tactics against, not just the people who invented the tactics, but whom they have traditionally bullied. Marginalized people invented the tactics out of desperation, to teach a lesson, or to make the harm  they cause have consequences, but what reactionaries are doing (as so much of their behavior is often motivated)  out of pure spite.
1.
I definitely think this is a backlash against white people being called out for everything they've gotten wrong for centuries. They've  been calling everyone who isn't white, straight, or a man, nasty slurs, since the invention of American English. They still do that on the regular today, and these same people are the ones who like to argue about saying the N*word, but let some anonymous black girl make a dubious statement, and they lose the entirety of their shit! I'd be angrier, except it's amazing to behold.
But then: Never, in the history of this country, have white people been spoken back to, and challenged, by marginalized people, in such great numbers, as much as they have, since the invention of the internet.
(Every time they say anything, they are reminded that white people have caused an incredible amount of damage to other people, and are still doing it. No one likes to be called out for behavior they have always known is wrong, but are  reluctant to change, because they derive  emotional benefits that they are unwilling to acknowledge, what Du Bois called "the psychological wages of whiteness.")
And this isn't like before, where your garden variety white person was largely unaware of all this "talking back", and could simply quash any talking back, they encountered by screaming, and extreme violence. Now its impossible to not know how marginalized people feel, and our pushback against oppression, and injustice, is often immediate, and intense. They are working desperately to reestablish their equilibrium, by upholding the status quo. But someone once said to me, that's what Conservative means: to conserve. To keep things as they were.
They're so used to simply ignoring any form of oppression, but now it's constantly being thrown in their face. They can't ignore it anymore. (This is mass white fragility (rather than individual).
2.
I commented on this very thing in another post. I think it's time for us to stop focusing so much on just black pain and racism. Although we can still make such stories, I think it's time to start imagining ourselves in new environments, new types of stories, and in the future, which is why I'm a huge supporter of Afro-Futurism.
Part of the reason white fandom acts the way it does is that so often, those have been the only type of stories they've been exposed to, in mainstream media. Black people know there are other types of fun, lighthearted Black oriented, movies out there, that are not associating our race, yet again, with crime and slavery (even positive depictions still associate our race with these two topics). These are often the only ways that white audiences know us, even though we can list a dozen or more films about Blackness that don't center either of those.
I think part of this is also a "white lash" against the pop culture demands of black people in the past ten years, demands which are finally, slowly, being answered. I know it's not because we're taking over white characters roles, because even with original roles, in original stories, black actors get harassed and vilified by white fandom. So it's not about any of the reasons they state, and in quite a few cases, it's simply an excuse for some of them to engage in the anti-Black bigotry they've always wanted to express, in the real world, but can't do so without being called a racist bigot. I think that's something that's never going to change.
It's because Black People are being highly visible, everywhere, and demanding, not asking, not begging, to be included in any industry that takes our money. We are demanding they include us, or we will give our money to someone, or anything else, or make our own, and rake in that dough (look at Fenty Beauty!)
There's also an increasing sense of white male irrelevance, which is the kind of backlash that happens, every time there's a pop cultural shift of any kind. This sort of behavior happens every time white people start feeling like they are no longer in control of the culture. It's happened in music for nearly a century (Jazz, Rock, Rap). This is also currently happening in even the most innocuous subjects, like the knitting community, and Romance fiction.
I've been thinking about this, studying this, and trying to put it into some kind of historical context, for a while. This kind of behavior from (primarily) white people is far from new. It's been going on for decades.