I wouldn't call myself a film comedy fan, whatever that means, (although I have and will, watch plenty of TV comedies), nevertheless, I have watched a large number of them in the past four decades. Some of them have been more impressive than others, and by impressive I mean that I actually laughed at them, or  watched them  multiple times, "… and it keeps getting funnier, every single time I see it!!!"
I have a strange relationship with humor. I don't often find funny what other people find to be funny, is much so, that I used to think something was wrong with me (but it turns out I'm, most likely, somewhere on the Asperger's spectrum). I'm often unimpressed with the kinds of movies other people think are hilarious. I've been told, from time to time, that I'm pretty funny myself, and while I like to say silly things to strangers to break the ice, I don't really think of myself as a particularly funny person.
I have noticed a pattern to what I find funny. My sense of humor is tends to be childlike,  just straight up silliness, solely for its own sake, and the movie usually has to be mixed with some other genre. Of all the movies on this list, The Nutty Professor is the probably the only movie which I would say was made solely for comedy's sake, as its really not mixed with some other genre, (maybe sci-fi, since it's a parody of Dr. Jekyll and Mr. Hyde), and yeah, I am including the 1963 Jerry Lewis' version. But most of these are Western, or Horror, or SciFi Comedy.
So here, in no particular order, are just some of my favorite comedies. I have several more favorites that, for whatever reason, didn't make it onto this list, but hey, I can always so another post, right?
Galaxy Quest 
There is no such thing as the comedy to end all comedies, but if there were, Galaxy Quest would be the parody to end all SciFi parodies. After this movie got made, no more need be said on the subject.
I absolutely love the fuck out of this movie, taking every opportunity to watch it when it airs on TV, and here are only five of the reasons why:
Its a Star Trek parody, and I am an Old School Star Trek fan. Name a character, or play some music from the original series, and I can tell you the title and plot! I wanted to be Lt. Uhura when I was a little girl, and I would of course, marry Spock!
2.  Sigourney Weaver, the queen of my other favorite movie franchise, Alien. Sigourney gets nearly every great line in this movie,  and is only rivaled in the amount of great lines she gets by:
3.  Sam Rockwell, as Guy Fleegman, a redshirt nobody who is convinced that because his character has no last name, and is the head of security, that  he is going to die on whatever adventure they are having.
4. This movie contains one of my all-time, favorite, movie tropes, featured in films like The Three Amigos, Tropic Thunder, and A Bug's Life, where a group of actors mistake a plea for help, from some unsophisticated victims, to be a request to do a show. The actors sign up to do a show, which  turns out to be the  real thing, and they have to now become actual heroes. This plot trope is also  a parody based on The Magnificent Seven, and The Seven Samurai.
5. Alan Rickman's Dr. Lazarus, who is a loose parody of a conflation of the character, Spock, and  any number of Shakespearean English actors,  like Patrick Stewart, whose makeup becomes more, and more disheveled, the further we get into the movie, until its time to say that one line of dialogue that he absolutely hates, (but for real this time), during which his makeup becomes perfect.
Its not that Tim Allen's character isn't funny. He has his moments, but he is also the only character willing to take everything seriously, while all the other characters are like: WTF?!!! Especially Tony Shalhoub's character,  Fred Kwan, who I think, spends the entire movie high as a f*cking kite, and still manages, somehow, to keep his game on point, and get the girl. I don't think he actually believes that any of the shit that's happening is real, and is able to just totally roll with whatever happens, and as far as I'm concerned, that's probably a great way to get through most of the world's minor tribulations.
One day, I have to do an entire post on this film, talk about why I love this so much, what tropes the film is parodying, the whole thing.
Raising Arizona
https://tvgeekingout.wordpress.com/2017/05/02/speaking-of-crime-raising-arizona-1987/
Before, Raising Arizona, I was not much of a movie comedy person. I watched most comedies on TV, and that was where I stayed. I grew up watching the Three Stooges,, The Little Rascals, and Looney Tunes, and moved on to more adult comedies like Mary Tyler Moore, Barney Miller, and WKRP in Cincinnati, and  comedians like Robin Williams from Mork and MIndy, or George Carlin, and Jonathan Winters, especially if they showed up on the late night TV shows I wasn't supposed to be up watching.  Sometimes I would watch a Scifi comedy, or a Horror comedy, but I didn't often watch comedic movies that were just whatever they were.
I mentioned in an earlier post how this movie came to resonate with me, and played a big part in my memories of college life. Everything about this movie strikes my funny bone, from Hi and his  friend's highfalutin'  manner of speaking, despite that all of them are lowlifes, to the plot,  the music, and cartoonish action scenes. This is the only movie I will watch, (besides, Ravenous, and  Mars Attacks!), that prominently features yodeling.
Tucker and Dale Vs Evil 
I gave a review of this movie here:
https://tvgeekingout.wordpress.com/2016/04/24/geeking-out-about-tucker-and-dale-vs-evil-2010/
My favorite scene in the entire movie is Tucker being chased by bees, while wielding a chainsaw. I just lose it every single time, and you have to watch the movie, just to put that scene in context. This  movie is utterly ridiculous and knows it.
Best in Show
The great thing about this movie, isn't the situation, although I do like Dog Shows, its the complete silliness of the characters. The Director is none other than the maker of This is Spinal Tap, Christopher Guest, an alumni from Saturday Night Live, who wrote the script with Eugene Levy, who has become another favorite of mine. They specialize in the kind of smug, off brand, humor that a relies on subtly, weird characters, and puns, and which is often called pretentious.
These are not laugh out loud, guffawing type movies. The humor goes much deeper than that, to tickle waaay down in your stomach. The characters are not necessarily doing obviously funny things, there is little  slapstick, and most of the humor relies on dialogue. In some cases, you are actually laughing at the characters, while others you laugh with, and this is some exceptional writing, when you can have multiple characters like this in the same movie. But what I love the most about this movie is no matter how funny the character's are, none of it is mean spirited. Guest loves his characters, and doesn't  humiliate them, just for the enjoyment of it. They are always either clueless, or hapless, people who mean well, but just, for whatever reason, can't.
The movie follows three different couples as they navigate their way through a dog show. Eugene Levy and Catherine O'Hara play John and Cookie Fleck, a lower middle class couple, the owners of a Norwich Terrrier, who are out of their league at such a prestigious event as the American Kennel Club Dog Show. Cookie has a sordid past as the town futon, who is constantly running into old lovers, while Eugene is her hapless, two left-footed, husband.
Meg and Hamilton Swan are a pretentious, and neurotic, yuppie couple, who you are probably meant to laugh at, as they wax nostalgic about meeting each other at competing Starbucks, and freak out over their completely unperturbed Wiemeraner. Scott and Stephan are a gay couple, who are the charming, funny, and the gracious, highlight of the movie, and the sweetly pretentious dogfathers of a pair of tiny Shih Tzus.
The singletons are Mrs. Cabot, a trophy wife, who has an interesting relationship with Christy Cummings, played by  Jane Lynch, as a famous, over-competitive dog trainer of a poodle. And Christopher Guest himself rounds out the cast as an overly hopeful Basset Hound owner, who is totally out of his comfort zone, named Harlan Pepper. The most silly character in the film is the Dog Show announcer who embarrasses his fellow announcer by  making dumb, loud, and off-color jokes.
All of the characters are deepened with interesting side stories, and little quirks of personality that make them more likable than annoying. Guest is the type of humorist who doesn't try to be edgy, or shocking, to the viewer. You can tell he likes these characters, even the Swans. He's not trying to humiliate them just for shits and giggles, and most of them get positive, if not happy, endings. This is also one of my favorite movies about dogs.
(Yes, we have two dogs in the house, our dignified elder statesman, Sargent, a Rat Terrier, who has a bobbed tail. I like to call him Capt. Wiggle-Bottom, and our smalle, and  faster, back up model, named Rusty, a redheaded Yorkie, I like to refer to as The Squeaker, and  however you just pictured them, is exactly how they behave.)
Tropic Thunder
Okay, I know that I am probably not supposed to find this movie as funny as I do, filled as it is with Blackface, Black stereotypes, Asian stereotypes, Jewish stereotypes, and  its use of the R word, but I just cannot help myself. I just love this movie, and that is due almost entirely to Robert Downey Jr's character, a White Australian actor, who spends  the entire movie masquerading as a Black man, while working next to  an actual Black man, and lecturing another White man on how that man went too far in portraying a marginalized character. I think what's really the movie's  saving grace for me, is the ACTUAL Black man, played by Brandon Jackson, who calls Downey's character out at every opportunity. The people who made this film knew that everything they were doing was wrong, and still went there with it!
Tropic Thunder is meant to be a satire on war movies, and actor's careers. Jeff Portnoy is meant to poke fun at Eddie Murphy. The makeup artist for this film, Rick Baker, also did the makeup for Murphy's Nutty Professor movies. Tug Speedman is a play on Tom Cruise, who also has a cameo in the movie, (and almost steals the whole damn thing, even when you don't recognize him!), and Robert Downey's character, named Kirk Lazarus, was a statement about Australian and British actors who make it big in Hollywood, by playing chameleon-like roles.
As the film progresses, and the events that were only being faked on a movie set before, become more and more real, Lazarus' makeup starts to wear off, and you can see his real face, as he becomes a White man,  with an incongruous, 70's Blaxploitation accent. I remember when I first saw the trailer, I kept looking for Downey,, because I was told he was in it, and not finding him. It wasn't until after the movie's release that I realized I'd been looking at him the entire time. His makeup is so incredibly convincing that he looked like my late uncle, something which struck me as incredibly funny. Even after knowing it was Downey, I still kept seeing my uncle, (probably because he says a number of things that are exactly how my uncle would have reacted, under the same circumstances).
Some of my favorite moments aren't even in the movie, like the DVD commentary, where Downey does a ridiculous Blaccent, the entire time, because  as Kirk Lazarus states,  he doesn't break character until the DVD commentary. It is hands down one of THE funniest DVD commentaries I've ever listened to, as Jack Black is a natural born cusser, and, very probably, drunk during the whole thing.
The Nutty Professor (1963)
This is the original movie on which Eddie Murphy's 1996 version was based. This is the one I grew up watching, along with a bunch of other Jerry Lewis films. It does differ significantly from the remake, but the basic plot is the same, a kindhearted, nebbishy, teacher transforms himself into the ultimate masculine man, to attract the attention of the beautiful woman he has a crush on. But the differences are interesting too, and not just the race of the characters. The original film is also a musical with a number of setpieces written by Walter Scharf, and performed by Jerry Lewis himself.
Jerry Lewis plays Julius Kelp, a nerdy, science teacher ,who has fallen in love with one of his students, Stella Purdy, who is played by the lovely Stella Stevens. To win her love he transforms himself with a potion, (ala Dr. Jekyll and Mr. Hyde) into an obnoxious character, named Buddy Love. Just as in the remake though, the potion doesn't last, and his true self gets revealed for all to see.
From the opening scene, to the final act, the movie is filled with a lot of great physical comedy, but the highlight of the movie, at least for me, were the two musical performances by Lewis, and performed with maximum chill, called Old Black Magic, and my personal favorite, We've Got A World That Swings. But the movie is filled with some great little character moments, like the one below, where Dr. Kelp gets carried away by the song being performed by Les Brown's Band of Reknown. He is truly among the world's worst dancers! The dialogue is smooth and funny, with  Kelp and Buddy as very distinct characters. The most popular moment, for most viewers, is the introduction of Buddy Love, but Stella also gets her due, and her man. She may not be the star of the film, but she is always treated with respect, by the writers, and the other characters.
The Nutty Professor (1996)
The best comedies don't just make you laugh while watching them, they make  you laugh while  thinking about them later. The 1996 Nutty Professor is a remake of the 1963 version of the Jerry Lewis film, only instead of a nerd scientist, made cool by chemistry, you get an obese man, turned into Eddie Murphy, at his most obnoxious, through the use of chemicals. The remake makes more evident, what the original only sort of played around with, that Buddy Love is a horrible person, who is not meant to be admired. This is done by contrasting him against Sherman's sweet and gentle nature, as they both pursue a  romance with the beautiful Miss Purdy, played by Jada Pinkett.
I think most people who love this movie will agree, that the dining scene, which  happens somewhere in the middle of this movie and illustrates both the love and   shame that Sherman feels about his over sized family, is without a doubt, one of the funniest scenes ever. Eddie Murphy plays four different characters who all interact with one another, but its his Grandma who gets all the best lines, that people are still repeating to each other, over twenty years later. Even my mother loves this movie, and is just the right age, (apporaching 70), to get away with telling someone, "C'mon Cletus!", while shaking  her cane at people, and have that shit be funny as hell!
The Blues Brothers
Here's another comedy that's also a musical. I was a big fan of John Belushi, mostly for his SNL parodies of Toshiro Mifune's character from Seven Samurai, called Samurai Delicatessen, Samurai Stockbroker, Samurai TV Repairman, Samurai Night Fever, and Samurai Hotel, bearing in mind that, at that age, I had never seen Seven Samurai.
I was not a huge fan of Dan Ackroyd, but I was willing to tolerate him, for the sake of John, and in a delightful surprise, Aretha Franklin, performing Think, and Ray Charles, performing, Shake A Tail-feather. The movie has never struck me as especially deep. It doesn't seem like its trying to make a point, and its not really all that laugh out loud funny, but what it is, is  pure, goofy fun because Jake and Elwood are the best possible brothers.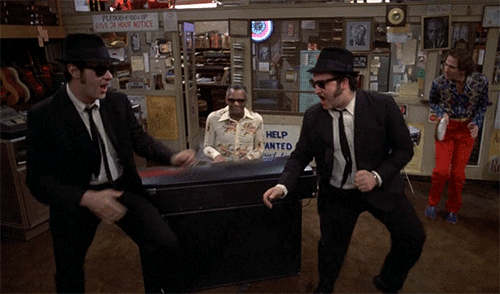 Evil Dead II
I remember watching the first movie a little while before I went to see this sequel. I remember I was not particularly impressed with the first film. I remember seeing this one at a theater downtown on a double bill with Robocop. I do remember those as some very enjoyable hours.
In hindsight, I cannot imagine why I was against seeing Raising Arizona, when I was in college, because that movie has some of the same ridiculous type of humor as this one, and I thought, (heck, I still do), that this is one of the funniest horror movies I've ever seen.
Have you ever watched anything so over the top, ridiculously stupid, that you have no choice but to laugh at it? That pretty much describes this entire film, from the image of a rotting corpse, dancing with its own severed head,  to a demon possessed hand, that's trying to kill its owner, Sam Raimi just gave full vent  to his silliness, for which I will always respect that man. The movie cemented my love for Bruce Campbell, whose career I've been following ever since.
Kung Fu Hustle
I wrote about my love for Kung Fu Hustle here:
https://tvgeekingout.wordpress.com/2016/03/12/geeking-out-about-kung-fu-hustle/
This is another one of those movies, that is just so over the top ridiculous, that its hard not to like it. I love both Looney Toons, and martial arts films, and this movie is the perfect mashup.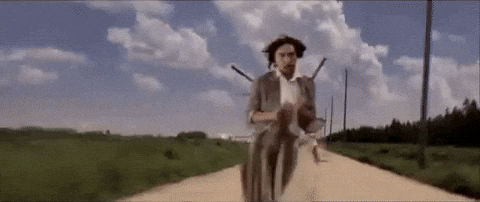 Honorable Mentions:
Blazing Saddles – This is the scene, that caught me, right here:
The Birdcage – One of the thee funniest movies Robin Williams ever made, and what's so hilarious about that is, he was the straight man in this duo, while Nathan Lane got all the best lines:
A Bug's Life – I love the bloopers and outtakes scenes at the ends of the early Pixar movies. The creators didn't have to do that, and I love that the writers went a little out of their way. But my favorite line in the entire film is in the bar scene: "Waiter, I'm in my soup!" 
What We Do In the Shadows – Who hasn't Wanted to finish some "dark bidding" on Ebay?
Beetlejuice – The Wedding Scene