*****Here Be Spoilers****
Let's get something out of the way first.
Yes, I'm aware of what Scorsese has said about the current crop of superhero movies, and yes, I was offended, until he clarified his statements in a recent Vanity Fair article. I'm glad he did, because I was prepared to stay mad at one of my all-time, favorite directors. Well, I'm not as angry, but he is not wrong. He's not right though, mostly because I don't think its fair to compare the two types of movies. They serve very different purposes for their audiences in that one type of film consists of exciting power fantasies (like the first half of the movie Goodfellas), and righting wrongs, and Scorsese's films seem to be about the consequences of that amount of unchecked power, and what it actually gets you. Superhero movies make no claims of depth. They are not dramas, although movies like The Dark Knight, The Winter Soldier, and Logan come very close.
The Irishman had a brief theatrical run, of about a week or two, before it settled on Netflix, which is where I viewed it, with a great deal of anticipation. There's a lot of backstory about why the movie is airing on Netflix, but I'm not covering that here. Like a lot of people, I went into this expecting something similar to Goodfellas, and Casino, since Scorsese seems to have some sort of lock on the depiction of White men in the mafia life. The movie is definitely about gangsters, and appears to be having some kind of dialogue with the other two films. It would be interesting to watch all three of these movies back to back, to see what they are saying to, and about, each other.
I loved this movie, and I wasn't expecting that. Everyone involved is at the top of their game. I didn't think Scorsese had a lot more to say about the mafia life, that he hadn't already said, but he does.
Like the other two films in this trilogy, it's a meditation on crime and regret. I think a lot of people have had a very wrong takeaway from Scorsese's movies. Although he seems both fascinated with , and terrified of, this lifestyle, he definitely does not approve. These are the kinds of people he knew growing up, and he seemed to have kept, in the forefront of his mind, that they were not good people, no matter what their claims of nobility, or how fascinating their lives were.
These films are not a glorification of their lifestyle. Henry Hill, in the last third of Goodfellas, just flat out states this. Scorsese has never sugarcoated who and what these people are. The violence in these films is always sudden, and brutal. Hill spoke on the topic in Goodfellas, but here its just shown. Scorsese always has his characters realize, by the end, the horror of the decisions they've made. Every participant ends up dead, or regretful, and there is a an onscreen commentary, on the fate of each one of the character's introduced, in the film. The bottom line is, if you choose the mobster life, because you have romanticized notions about it, it will end badly.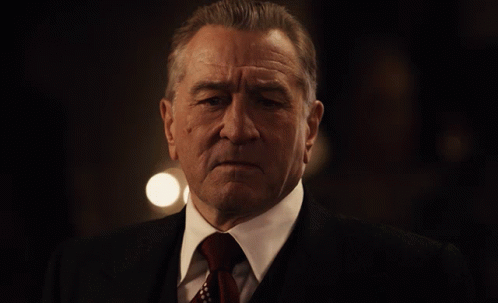 I knew a young Italian man, in college, who told me that his father met some people in the life, but he also told me that one of the key things is never to invite them into your life. Don't ask them for favors, don't hang out with them in their places, don't befriend them. They're like vampires. You have to let them in.
A classic example, is the restaurant owner from Goodfellas, who allows Tommy, and his friends, to frequent his restaurant. Just like Henry did as a child, he thinks its exciting to be associated with these men. He admires the life, and believes he is friends with them, until the time comes for Tommy to pay the massive bill he's run up on his tab. These guys are just taking advantage of him, but he is still too enamored of their life to see that. In an effort to get Tommy to pay his bill, the restaurant owner goes to Paulie, (Tommy's boss), and makes Paulie a partner, in exchange for taking care of Tommy's bill. Paulie takes advantage of him too, until he goes out of business, as they steal him blind, eventually the restaurant gets burned down for the insurance. The owner romanticized their lifestyle. He failed to see them as the unprincipled thieves they were. He invited them in, and he lost everything. The same thing goes for the character of Spider, a mirror of the young Henry, who romanticizes their lifestyle, and gets killed by Tommy, for standing up for himself, with not a single tear shed by any of the witnesses.
The Irishman follows another low grade member of a mafia crew, a hitman named Frank Sheeran, (Robert DeNiro), as he befriends various mobsters, and paints houses (carries out mob hits). Most of the movie is about his friendship with Jimmy Hoffa, (Al Pacino), and his confession that he killed him, after being assigned to do so by his then bosses, one of which is also a close friend, Russell Bufalino, played by Joe Pesci. The movie is based on a book by Charles Brandt titled "I Heard You Paint Houses?", which is the line in the movie said by Pacino, when he and Frank first meet over the phone. So once again, you have someone who invites these people into his life. Hoffa knows who, and what, these people are, but he romanticizes the life, and has an outsized sense of his worth to them.
Right away, the mood and setting are very different than the other two movies, (Goodfellas and Casino), which open with exciting scenes of violence, (and interestingly, with men in cars). This movie is reflective and melancholy. The opening scene is a quiet shot of Frank, in a senior citizen's home, reminiscing about his past, to his lawyers. The movie is a flashback, but unlike Henry Hill"s story, Frank has no misty-eyed remembrances for the things he's done. He joined the mob because he was a soldier who needed to do something with his life, after he came back from the war. He didn't join because he loved the life, or glorified its denizens, and this is probably why he survived, although that's no consolation, either. He is an old man filled with regret, and we come to have some amount of sympathy for him, although Scorsese never lets us think, for a moment, that he is a good guy. Nor does he show Frank as vicious or evil, for its own sake, although the things he does, are indeed, vicious, and evil. Scorsese presents him as just a guy, who made the best choices he could, in the circumstances presented to him.
Deniro definitely deserves some form of recognition for his role here, but the two major highlights of the movie, for me, was Al Pacino's Jimmy Hoffa, and Joe Pesci's much quieter turn, as Russell Bufalino. You want to be reminded of his role as Tommy in Goodfellas, but this character is wholly unlike him. Bufalino is smarter, and more calculating, with a cool menace that the hotheaded, showboating, Tommy lacked. He and Frank become friends, and get to be quite close, but Frank, (and hence the audience), never forgets the power dynamic between them. Russell is his boss, and should Frank prove to be a threat, or an inconvenience, Russell could have him killed, and it would be just business.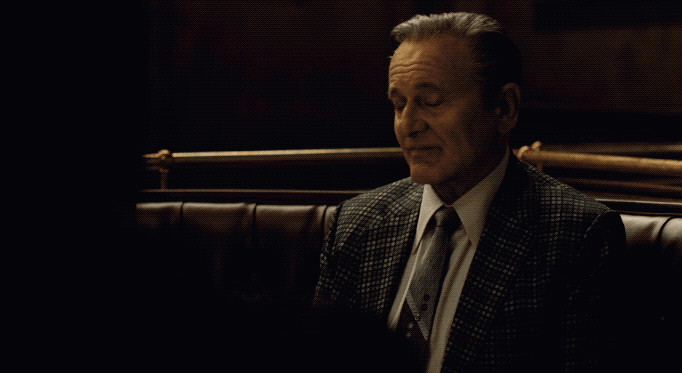 This was the most interesting part of the movie for me. Y'all know me. I love to watch different types of characters interact. It's interesting because movie audiences don't often get to watch the process of two grown men, who have been steeped in pride and machismo, their entire lives, put themselves in the vulnerable position of trusting a stranger, while navigating the power and violence of their positions, to become friends. You can see them feeling the other out, trying to reach a place of comfort. I found myself totally caught up in the moment. The faint distrust, and the questions they ask of each other, without actually asking them: What do you want from me? Are you a stand up guy? Will you give me straight answers? Can you be trusted?
Frank's relationship with Hoffa is covered just as deeply. The most fascinating part, is comparing how trust is shown between Frank and Hoffa, and Frank and Russell. Scorsese doesn't fall into the trap of having the characters make grand declarations of how much they love and trust each other. There are scenes with Frank and Russell hanging out with each other's families, or having dinner together. Some scenes with Frank and Hoffa are just them talking in Hoffa's bedroom, before he goes to sleep. At one point, Hoffa nods off while talking to Frank, he trusts Frank so completely, and Frank just quietly sits there for a while, watching him sleep, and glancing out the window, and that scene is unexpectedly moving. It's hard to know what Frank is thinking during that scene. The specter of violence hangs over everything he does, and that scene is even more tragic, when you know what happens between them later.
There are not a lot of women in this movie, and none of the men have any moral standing. The moral center of this film is Frank's daughter, Peggy, (Anna Paquin) who sees her father beat a man on her behalf, when she is a child, and this impacts her relationship with him, for the rest of their lives. She gets probably three lines in the entire movie, but Scorsese sets her up, by giving us long closeups of her face, and her disapproval, and fear, of her father, (and by association, Russell), is apparent. We don't need a loud, dramatic shouting match between them, to know that she has seen what kind of man he is, and will never love him. Frank tries to reconcile with her before his death, but she will have none of him.
Frank doesn't just regret the things he did when he was younger, but all the familial relationships he let fall by the wayside, while prioritizing his relationships with the men he worked for, all of whom are now dead. He has to pay for his own funeral, buying his own tombstone. There's no one alive, who would come to his funeral, anyway. The movie ends with Frank, alone in his room. He is the last one left of that old life, and he has nothing to show for it. Once again, Scorsese presents the mobster lifestyle as empty and meaningless. If you don't die horribly, at the hands of someone you trusted, then you die alone, with no one to care.
There's a lot of the movie I didn't talk about, like the cinematography, and music, which are pretty standard for a Scorsese film, with some upbeat sixties songs, the most prominent song being, In the Still of the Night, by The Five Satins, which bookends the movie. There are two opening scenes, one with Frank beginning his story in the nursing home, and the other, the beginning of the story, which features him and Russell, taking a road trip, with their wives. The movie starts out really cute, with the wives fussing with their husbands in the car. Everyone is very comfortable with each other, at first, but as the trip continues, the tension begins to mount, as we overhear increasingly nervous phone calls between Russell, Frank, and Hoffa, finally culminating, in the last third of the movie, in Russell's order to Frank.
The cinematography is superb ,as usual, but there are a few uncanny valley moments in the film as Deniro, Pesci, and Pacino had to be de-aged in a few of the scenes. The de-aged faces aren't as emotive as their actual faces, so I kept getting jarred out of the story, by wondering every now and then, how the actors got de-aged for their roles, but this doesn't happen a lot, and is easily ignored. If you're not a fan of Scorsese's mobster films, this still may be worth a look for you, because its very different in tone, but I do have to warn you, that just like in the other movies, the violence is flat, graphic, and unforgiving. When it comes to acts of violence, Scorsese does not fuck around, or wince. People get beaten and shot, and there's a harrowing scene where Frank shoots up a restaurant full of people. I have become a lot more squeamish, as I've gotten older, and these scenes were hard for even me to watch.
Despite its three hour run time, the movie didn't make me feel restless at all. I sat through the entire three hours, and never missed them, or a moment of dialogue. The movie simply pulled me right in. It was moving, with moments of sheer horror, and is a testament to Scorsese's skill as a director, as nothing is explicitly stated by any of the characters, yet its message is loud, and clear. I don't know if this movie will be nominated for an Oscar. It, and everyone involved, should.
The Irishman is the best movie I've seen this year.