I wrote a version of this post, earlier this year, in which I listed all the movies I was interested in watching, and I just want to offer a sequel to that post, with mini reviews of movies I, did indeed, watch, and one I didn't get to see, even though I wanted to.
https://tvgeekingout.wordpress.com/2018/12/10/things-are-gonna-be-fun/
I've noticed a pattern of saying I'm not gonna see something, because I wasn't interested, but later I rent the movie, or watch it on cable, so obviously I'm an unreliable narrator, when it comes to determining which movies I'll be watching in a given year. So, you can take me at my word, at your own risk. Plus my track record of movie watching has been thrown off by my mom's insistence that we go see every killer animal movie that gets released! I don't dislike those types of movies, but I told her she's messin' up my movie schedule. (Note: No, she does not care about that, and just finds the whole thing deeply funny.)
Anyway these were the movies I showed some interest for, and ended up actually watching.
Glass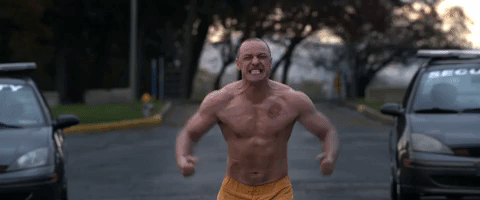 Unlike a lot of  people, who saw this,  I actually liked this movie. Yes, there was a bit of a twist n the movie, in the sense that things do not play out in any way you think they're going to play out, but it still did have a satisfying ending. I was interested to see how David Dunn ended up in the asylum with Mr. Glass and The Beast, and I though  the team up between Glass and Beast was interesting to watch. In a lot of ways the story plays out exactly the way such stories work in comic books, and I think the twist really threw a lot of people off, especially if they were expecting the movie to go on that way to the end. About halfway through the movie, there's  a monkey wrench thrown into the story that changes it to be about something else entirely,  and while I was initially dismayed by the change, it ultimately proved to be satisfying for me.
Akita Battle Angel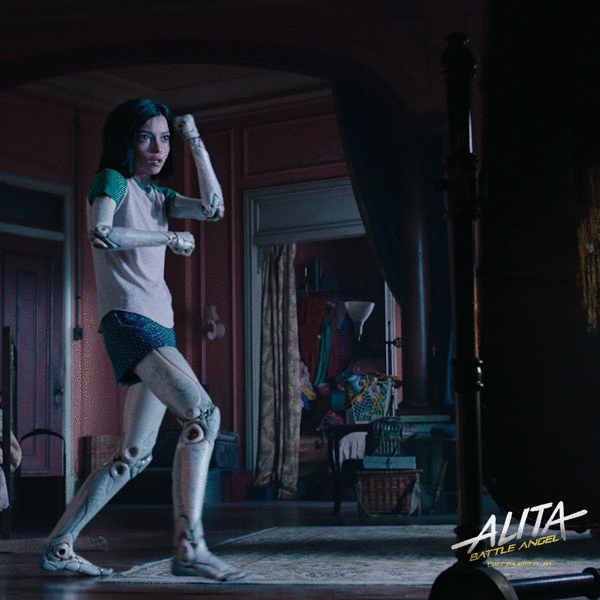 I read the manga a few years ago, before the movie was announced, and it was okay, but I found this movie rather disappointing. There are a few elements in it that I liked, but ultimately I didn't finish the movie, and it was mostly  because of the acting, which is both restrained in some places, and over the top in others. And yeah, I did have a problem with the big eyes. They were distracting, even though big eyes are not distracting in anime. I also loathe sports movies, and about halfway through this movie, this turns into one of those made-up sports movies, that's supposed to be an analogy for revolution, or something.
Sports movies are absolutely the one genre of movie I will not happily watch. I will watch a cop movie before I sit down to watch a sports movie. On the other hand, I did enjoy the world-building, and the special effects were excellent, but ultimately, those two things were not enough to keep my interest.
Captain Marvel
I liked this movie far more than I thought I would. I wasn't greatly enthusiastic about it, preferring to see her in Avengers Endgame first, before watching this, but it turned out to be okay. I thought its messaging was a bit ham-handed, but I loved the characters most of all, especially the Rambeaus, and the cat loving Nick Fury, and it was  unexpectedly funny, and deeply emotional in some spots. Is it as good as some of my MCU favorites, that I've watched multiple times? Nah. This movie doesn't even break my top ten, but it also doesn't land in the bottom ten either. Its a good, solid, competent, middle of the road, action movie, with a feminist message, and some acceptable special effects. If I watch  it again, it will be for the character relationships and action scenes.
Shazam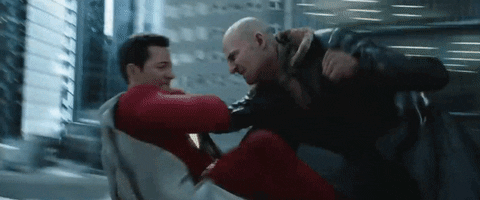 I wasn't expecting a whole lot out of this movie, but it turned out to be a heckuva lot of fun. The ads for it lead you to believe the kids in the movie are kind of obnoxious, and at first the are, but they quickly grow on you, and I started to really like the lead character ,and the movie is actually pretty funny, in a cringey, covering my eyes sort of way.
I've always been fascinated by Billy Batson, not because I thought of him as a power fantasy for children, though. Frankly, and this is where being a PoC, and a woman, comes into me having a very different opinion about movies, I was kinda horrified by Billy's story. This isn't a whole lot like the TV show I watched as a child. For one thing, Billy Batson is actually a little kid in this, unlike the teenager in the show, and no kid should ever be put in that sort of position. Billy fucks up a lot, and its really frustrating, and mildly upsetting to watch the villain beat his ass because he has the physical/mental sensibilities of a child. I don't know how to explain it, but Shazam has always struck me as more of a horror story than a fantasy.
On the other hand, despite my anxiety, this movie was a lot of fun, and I liked the other kids in it, because they were really cute, and they all defeat the villain through teamwork, and superpowers, and stuff. Its a good, lightweight, piece of fluff to watch, on some Saturday afternoon, with your nieces and nephews.
Hellboy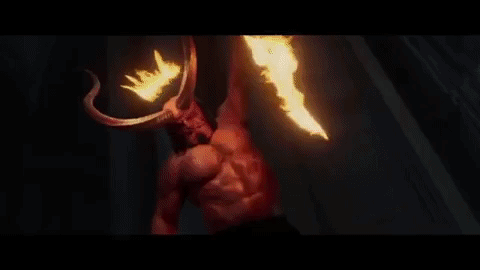 Whoo boy! I have a lot to say about this movie, so watch for my post comparing the Del Toro movies with this version, and the graphic novels. I didn't hate this movie like a lot of people did. In fact this movie may prove to be better liked at some later date, but I didn't love it either. It had a lot of problems which are outweighed by how incredibly gorgeous it is.
Pokémon: Detective Pikachu
As I said in the original post, I only know as much about Pokemon as raising my sisters would allow me to know, so I was kind of walking into this clean. I didn't know that the various Pokemon had personalities and stuff, so I didn't know what to expect. I knew some of the character names, and I liked the premise, and heard that Ryan Reynolds was doing the voice of Pikachu, who is, naturally, my favorite.This movie was as cute as you think it is. Its a nice, funny, piece of fluff. Its got a couple of dark moments, but is mostly safe to watch with kids, as its not that deep, so you can enjoy it without too much anxiety.
I was mostly distracted by the kind of world in which Pokemon live side by side with people. Where do the Pokemon got to  the bathroom? How do the largest Pokemon navigate through the society, and did the biggest ones I saw belong to anyone, or were they just hanging out in the city? Some of the Pokemon were pretty dangerous, so are there humans who hunt them down and exterminate them when they get out of hand? Or do they lock them in jail, like people?
Well, I had questions!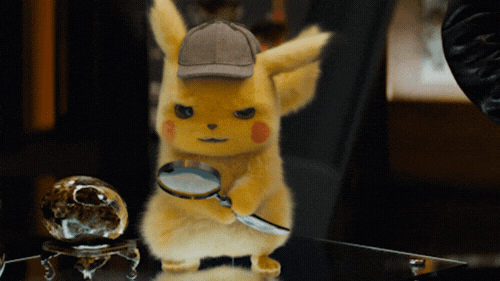 John Wick 3: Parabellum
This movie was every bit as wild and crazy as it looks from the trailer. I've been watching this franchise, and really the entire thing is ridiculous, with Assassin's guilds, mobsters, dog attacks. Its kind of unrelenting and you may need to have a rest about halfway through it. This time there's some type of regulatory organization involved, and its purpose is to weed out everyone who helped John in the first two movies. So, not only is John still being hunted by all the top assassins in the world, (namely Mark Dacascos, who it was nice to see again), his friends are in danger too, and this all  escalated from the killing of John's dog, left to him by his late wife, by a no-account mobster's son.
I loved Halle's character, with her two guard dogs. She talked in interviews about the training for the dogs, and what it was like being on set with them, and that was fascinating. In fact the entire thing is fascinating because the creators have no qualms saying the movies are just stunt showcases, with a loose plot attached to it, and going into detail about how they do everything. Its fun to watch, not just the film itself, but the making of it, as well.
Halle Berry plays a character named Sophia, who owns two Belgian Malinois. She is fifty three years old. This is a very demanding film and most of its stars are older men and women, so that's interesting.
Men in Black International
I was ultimately so disappointed in this movie, that I didn't even finish it. I mean Thor and Valkyrie team up to save the world from aliens but there's really not much of a plot, the acting was a little lackluster. It wasn't as funny as the first two movies. it was really just lacking Will Smith.
I wouldn't mind seeing more stories set in this universe, and Tessa and Chris were really cute, but it really does need to have the imagery and the humor, and with actually funny actors, which is something that started to go wrong in the second film. Tessa and Chris are funny, from time to time, but they are not known for their comedy, and it showed, because the writing simply wasn't there. Its been diminishing returns on the humor ever since that second film, really, but I  expected a lot from this, because the trailer made it look like fun. The wild enthusiasm I had for several other films, that were released around the same time, wasn't there, but I thought this would be okay. Ultimately, I'm glad I  didn't spend money to see this in the theater.
Spider-Man: Far From Home
I missed this one in the theater becasue I was broke around the time this movie got released, but I rented it as soon as the it started streaming ,and I was not disappointed. it has a few slow moments, or moments I didn't particularly care for, but those moments were not enough to stop me from overall likage. Its not as good as the first film, which had that element of novelty, but its very satisfactory.
I loved a lot of things about it, but mostly it was the relationships between the characters.  I liked the cuteness between Peter ,and MJ. They really did sell the idea of them being awkward teens beginning a romantic relationship. Peter's friends, and co-stars also get some nice story arcs, too. The action was a lot of fun and didn't go on interminably long, which is something that always makes me start to squirm, as I get easily  distracted. I've watched this about three times since then, and I keep discovering new things ,and its been fun each time.
I don't often do sequels to my forthcoming movies posts, but I was going back through some of my older posts, and I saw that I'd watched nearly all the movies in it, and had not given even mini-reviews. so here are some of my  mini-mini-reviews.