Supernatural
The final season has begun, I already wrote a short review on my other site. Check it out!
Little Monsters
i am of two minds about this movie. On  the one hand, I hated, hated, hated, the lead character, Dave, who, while not as vile as trump, could definitely give him a run for his money, in the stupid, juvenile delinquent, category. Dave is a vile, foul mouthed, washed-up musician, and asshole, who is irresponsible with kids and himself, does not know how to behave like an adult,  and lies, and steals without compunction. He changes his entire outlook however, when he sees Miss Caroline, his nephew's grade school teacher, who is, very probably, the greatest ray of sunshine to ever grace a zombie movie. I loved her. Everyone loves her.
On the other hand, hating Dave was not enough for me to quit watching this movie, because Lupita is the best thing in it, its actually pretty funny, and there's plenty of zombies, gore, and cussin'.
Some serious shenanigans have been going on at a military base in the English countryside, and some zombies get loose, and head over to a nearby children's amusement park, that Lupita and her class happened to be visiting that day. Yes, the children are in some danger of being eaten by the zombies, but its really not that type of film, as most of the tension comes from Miss Caroline, trying desperately to protect the children from any emotional trauma, that might come of the zombie outbreak.
To that end, Miss Caroline's charm is turned up to fifteen, as she sings and dances her way through the zombie apocalypse, with her little banjo. The children adore her, and she manages to be successful, not just at saving the children, but winning Dave's heart, as he attempts to become the type of man who is worthy of her attention, rather than the asshole he's always been. So even though I hated Dave, this movie isn't about him manipulating her into falling in love with him. Its about the redemption of a cad, as he understands that the only way to win the love of a woman as magnificent as  Miss Caroline, is to first realize he is not worthy of her as he is, and then to become a different person.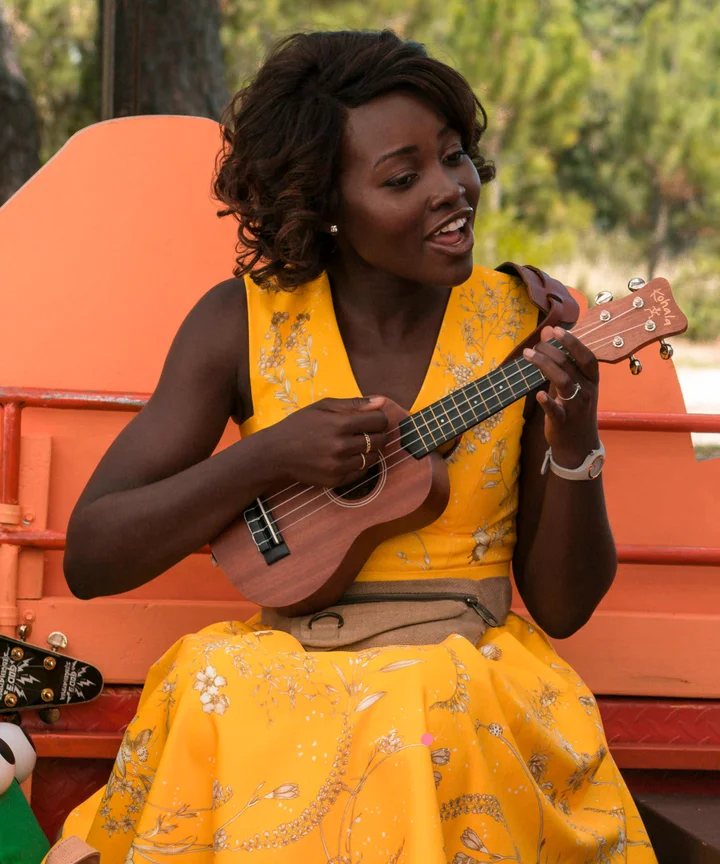 I feel some type of way about Dave winning the girl at the end of the movie, especially when he is set up at the beginning of the movie as such a hateful piece of shit. (No, truly, for the first twenty minutes of this movie, I just wanted to set Dave's sorry ass on fire.) When he first meets Caroline, he tries the usual lying bullcrap he has always used to manipulate women into giving him a pass, including his own sister. He is not successful at this because none of that works on Miss Caroline. She is completely immune to it. He's gotta try something new, if he hopes to win her,  so he pretends to be a worthy person, and in the process, actually becomes a worthy person.
But I suppose the purpose in showing Dave to be such an awful person, is to show the redemptive power of Miss Caroline. One of the most interesting things about the plot is Miss Caroline is not trying to save Dave, or turn him good. She expects that he is already a good man, and simply treats him as if he is. Miss Caroline tells him that she is a Christian woman, who believes fervently in her job, loves children, and does not like cursing. She is not preachy about this. She simply behaves in a Christian manner, and I like that she is not a stereotype of a Christian, as she really is as wholesome as she appears. She loves her kids, loves her job, and will brave any danger to save her kids from harm, which she does, when she fights off a hoard of zombies, to retrieve one of her kid's  inhalers. She is also tough as fucking nails,  because she is perfectly willing to stab one of her companions in the gut, when he makes himself a danger to her kids, and won't stop cursing at them. He is supposed to be a role model for the children, and dammit, he's gonna act like one!
This is the introduction of Mr. McGiggles, one of the entertainers at the park, who s every bit as awful, and foul mouthed as Dave, but since Dave is trying to mend his ways  to impress Caroline, we need a a new foil, to contrast what Dave is no longer trying to be. So McGiggles takes Dave's place, as the unrepentant foul mouth, in the script, as Dave starts becoming a better person.
So yes, this movie is quite a journey for its characters. Dave finds himself wiling to do anything, and be anything, to live up to Miss Caroline's example of bright humanity, and I suppose that's a good thing, because it works. He makes a genuine change to be worthy of her love, and I'm okay with that, I guess, but getting through the first twenty minutes of this movie was really hard.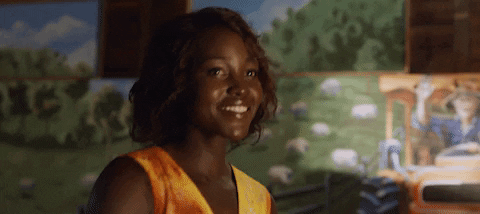 Little Monsters is available on Hulu. I plan to watch this one again, when I can find the time.
Evil
Here's another show with religious themes and characters. I did not plan this. This is just sort of how it turned out, because I had no plans to watch this show, not because it wasn't on my radar, but because I was not particularly interested. Its not a bad show, and I am probably going to watch more episodes of this, because it turned out to not be exactly what I thought it would be.
Now, I've only seen one episode, which was medium dark, and definitely had some tense moments in it, but not for the reasons you might think. I haven't gotten the character names down yet either, so I looked those up. The horror springs from the character decisions, and  that you either know more, or less, than the characters in the show.
Dr. Bouchard is a forensic psychologist, who teams up with Mike Colter's character, Father Acosta, along with a contractor played by Aasif Mandvi, who I really like, to investigate supernatural incidents. Dr. Bouchard's job is to determine whether or not a supernatural event occurred, and Mandvi's job is handling the technical equipment involved, if an incident occurs, so as to document Father Acosta's claims to the church, when he requests  assistance.
In the episode I watched, a family claims that their little boy is possessed by an evil spirit of some kind. The episode follows as Bouchard and Acosta determine whether or not that's true. Bouchard conducts therapy sessions with the little boy, which are actually pretty chilling, and Acosta manages to form a connection to the little boy, and actually  encourages him to begin prayer. When the boy attempts to drown his baby sister (Acosta saves the baby's life with cpr), Bouchard and Acosta manage to convince his superiors that an exorcism is needed. We do not get the cliched exorcism scenes, because the parents of the little boy take matters into their own hands, so yeah, I didn't see that end coming, at all.
At the same time, there is a secondary story involving Bouchard's family. She has four little girls, who miss their absent father. She has been lying to the girls about where their father is. Either he is dead, or he left her, but the four girls, all of whom are really cute, believe that he is a expedition guide at Mt Everest. At the same time, her mother has given the little girls some VR toys with an odd Halloween type game the girls have been playing, that starts to take on an odd prominence in the lives of the two oldest girls.
The game starts to become more and more real, and the creature from the Halloween game (in the form of a little girl) starts to bleed into the other games, convincing the little girls to perform a seance with a virtual Ouija Board, and summon some type of virtual demon. Now, this all occurs within the game, but its still pretty frightening, because the only adult who suspects anything out of order is Mandvi, who hacks the game to put parental controls on it. Parental controls that don't work, as the girl from the game simply invades the other games on the device. Bouchard  is a skeptic who finds that something supernatural might possibly be occurring right under her nose, in her own house. For me, this was the most frightening part of the show. '
One of the reasons, I was ignoring this is, I thought the show would simply be a retread of The X-Files, because Bouchard is a skeptic, and it's Acosta's job to believe, but the dynamic here is completely different. For one thing, it's unlikely that there will be a "will they/won't they", dynamic between the two, and also because Bouchard is still possibly married, or just divorced or something. Mandvi, although I really like him, seems to be a kind of third wheel. I actually liked all the characters, though. I'm not a religious person, but I did like Acosta's quiet faith, and I like that he's not written as a stereotype of religious fanaticism. I like that he is Black, and a Catholic priest, because those are rare in American Pop Culture, with most Black people being associated with the Protestant religions.
The first thing that intrigues me about a show is often its premise, and I wasn't too wowed by this one, but once I actually watch an episode of something, what keeps my butt in the seat is the characters, and these characters were intriguing enough that I'm going to watch some more episodes. I at least need to find out what happened to the doctor's husband, why she is secretly crying in her kitchen, and when she is going to share this information with her daughters. I also need to know when or if her daughters are going to tell her that they conjured a demon into the house, through the VR that was gifted to them, by their grandma.
Watchmen
I was not particularly enthusiastic about watching this, mostly because the movie was merely so-so for me.  I told y'all before that I didn't find my way to comic book geekery through the usual White guy channels. I sort of meandered around, putting together my own foundation, via Horror, and Science Fiction. What that means is, I did not read the Watchmen comic books, when they were first published, although I was the right age for it, and by the time I got around to reading the books, I had already read other books by  Alan Moore that I thought were more impressive, like Swamp Thing, and Miracle Man.
So,  I was unimpressed with the movie, beyond liking the special effects, and Dr. Manhattan, and I didn't think I was going to be into the TV series either, especially since it was written by Damon Lindhelof, because I'm still mad at him for Prometheus. But, nevertheless, I watched the first episode.
I have to warn you the first fifteen minutes are harrowing, as it deals with the Tulsa Race Massacre (because that is indeed what it was) of 1921. This is a real event, I first read about, when I was a teenager, (naturally, it was never something studied in school. I was one of those kids who, after a while,  my teachers just left alone to make up my  own curriculum.) There were a bunch of these "Race War" massacres  throughout the history of the US, like Ocoee Florida, Rosewood, Tulsa Oklahoma, and the Red Summer of 1919, and most people will not have learned about them in school. Needless to say, when you hear some yahoo going on about how there needs to be a Race War, what he really means is that he would like the opportunity to massacre some PoC again.
https://en.wikipedia.org/wiki/Red_Summer
Genocide of the California Indians
You have to know a little bit about these events to understand something about the alternative universe in which this story takes place. Guns for example are outlawed (even the police need special permission from their superior officers, which is some dude wearing a Panda mask, before using lethal force). There is also an offshoot of the KKK, now called by some other name, and using the Rorschach mask, along with his talking points, thanks to the diary that was mailed to the media, after Dr. Manhattan killed him.
In our world, the police and the KKK clashed in Tulsa, and the KKK won, but in that universe, they lost, and The Reconstruction after the Civil War continued, in which Black people got political power, and the police have been fighting a decades long battle with these KKK offshoots. The police now need to wear masks to protect their identities, and families. In this universe, the police are the good guys, who are besieged by that world's version of the Alt-Right, and some of these things are  fallout from the events that happened in the comic books, which were set in the 80's.
So, Dr. Manhattan still exists, and lives in exile on Mars, Ozymandias is supposedly  dead, (but I don't think so), and because of the events he engineered in the book, involving a giant squid attacking  Earth, we get regular squid falls, for which cities need sirens to warn people. Quite frankly, I was more weirded out by the  squid rain, than anything else shown in the episode, because that's just funky. My mind kept going back to the logistics of regular falls of squid. How to clean that up? Does it smell real bad? This is actually relevant to the rest of the season's plot though, as it involves alternate dimensions, (which is where the squid come from), and  time travel.
The presidents of this world, often have consecutive, multiple runs, in political office. Robert Redford is the president in this universe, and has been for almost thirty years, where he has instituted reparations to the survivors of  the massacre in Tulsa, called Red-forations. Silk Spectre  is still alive, and played by Jean Smart. Vietnam is the fifty first state, ( as a result of Dr. Manhattan's invasion during that war),  and Louis Gossett Jr. plays a man named Will Reeves, one of the few survivors of the Tulsa Race Massacre, now an old, and  disabled, man. That's not even most of the weird shit in this show, like a character, named Looking Glass who, when he puts his silver mask on, can tell when people are lying!
An interesting note is that Will Reeves was watching a movie about the real life Bass Reeves, who was the first Black Deputy Marshall, and the character upon which the Lone Ranger was based. The movie he is watching was in the style of the Lone Ranger TV series of this universe, only it has the actual Black character in it. Another interesting theme is the recurring Oklahoma musical. One of the characters loves the play, and we get some songs, and even a little snippet of the movie, which stars an all Black cast in that universe. So the racial and sexism issues, that exist in this universe, didn't  happen in that one, at least not in the same way, and the US looks fully integrated with Black TV shows, and Pop culture, which everyone just watches, and its no big deal, and that, too,  is probably part of the fallout of what happened in Tulsa.
Regina King is Sister Night, a former cop, (and bakery owner), from Vietnam, who gets called back into action by some friends on the local police force, after a cop gets murdered by a member of an organization the cops thought might have been extinct. Most of the episode is just introducing us to this weird universe, and these characters, so outside of that intense opening, things calm down to the end, when Sister finds her mentor, from the police force, has been lynched, and Will Reeves is there, impossibly claiming to have done the deed. So yeah, I'm  already intrigued by the mystery of who he is, why he may or may not have done this, and what was the  secret, that got her mentor lynched. I'm looking forward to the rest of the season, even though I, initially, had no concrete plans to watch it.
*  _____________________________________ *
So, I'm in the process of cutting the cord, as we say in the US, and I no longer have access to these shows on TV.  I'll just have to try to remember when they air, and catch them on their apps. The Watchmen airs on HBO, every Sunday night, and I'll just have to remember that, and watch it later in the week, so my timing on some shows is going to be a bit off, as far as reviews, but what I can do, is finish off some of my long form posts, and review the season finales, when they occur.
I'm also going to post some articles to Medium. com, (which will not be posted here, but I'll let you know when I do), so head over there, if you can, follow me, and give me some claps. I think we get paid there, according to how many people like your writing. I've managed to amass quite a following, which always surprises, and delights me, since I  don't really think of writing as a way to be liked. I write because I have a lot of thoughts in my head, and I'm shit at keeping a journal.
But hey! I will be surprised and delighted if you guys also follow me on Medium, where I intend to do, at least, one post a month.