Raising Dion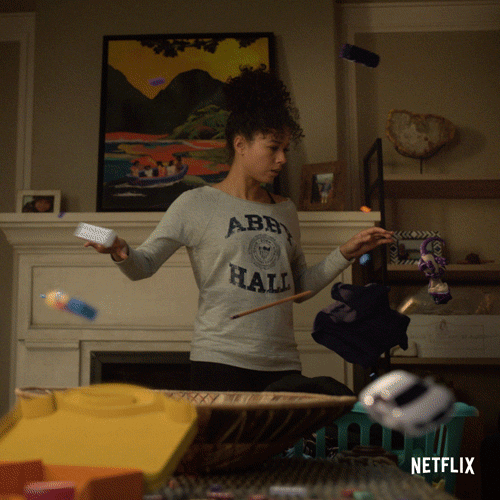 I binge-watched this entire series last weekend. While it wasn't entirely what I expected, it wasn't bad, and I will be back for a second season. It was a pleasant series, not as intense as I thought it would be, pretty fun in a lot of places, with the occasional thrill of tension  in others.
I did go into this with some assumptions based on the trailers. I thought it was going to be a straight superhero origin story, but it turned out to be as much about Nicole, his mother, as it was about Dion.
Nicole was a  professional dancer, now turned single mom, after the death of her husband , and she and Dion have moved to Atlanta. Nicole is one of those people whose life always  seems to  careen from one disaster to another, and when Dion develops superpowers, that just complicates her ability to find and keep a job. When we first meet them, she is still job searching, with the help of her older sister, and she still has not yet told Dion that his father is dead, and won't be coming home, which is rather heartbreaking. (She eventually gets around to telling him.) Dion's dad died under mysterious circumstances, and Nicole is still in  mourning, while her sister and her girlfriends do their best to console her.
The show mostly turned out to be a mystery, and not the government thriller I thought it would be, as Nicole delves into how her husband died, while he was  working for a Biology corporation. She's spurred on this journey by Dion's development of powers, so while trying to figure out how Dion got powers, she is also trying to find out what happened to her husband.
I wasn't into the plot too tightly, but I did enjoy the secondary characters, like her husband's best friend, Pat, who starts out  endearingly dorky, and obviously crushing on her, and  great as Dion's godfather. Later in the series, his story changes, and I wasn't ready for that ,and I was kinda mad about it. Her sister is one of those likable/unlikable people, who at first, seems super critical, but will totally ride or die for her little sister, which made me like her more. I liked these two characters okay, and Nicole was okay too, although I could have done with a lot less dancing in a couple of the episodes.
The two stand out characters for me though were Dion and Esmeralda. The actor playing Dion is as cute as a button, and Dion is imaginative, and kindhearted, which goes a long way with me. Esmeralda is a gem ,and that actress reallt endeared herself to me. Esmeralda is especially smart and insightful and I was glad to see that the show didn't focus all her personality into her disability, but it does inform certain aspects of her personality.
Esmeralda uses a chair, and when we first meet her, is around the time that Dion discovers he has powers. He declares that he is a superhero, but Esmeralda reminds him that he isn't a superhero yet, and has to earn that title. One of the things she says about herself is that she can turn invisible, and this is important, because people's disregard of her allows her to be especially attentive. Because people don't pay close attention to her, she is able to pay attention to things other people ignore, as she is the first person to figure out, (outside of his mother), that Dion has powers.
So yeah, I already like the characters, and the show is pleasant enough. There are no world ending stakes involved this season, as the story remains mostly small and personal, which will give the show room to expand, as Dion grows into his abilities.
Batwoman
I can't say that  enjoyed this episode, but I didn't hate it either. It was a busy episode and I'm still processing it. Let's just say there is some real potential in the show, and that there is room for some improvement. It was occasionally cheesy, and yeah, some of the dialogue needs help, but it wasn't actually a bad show, and I'm gonna stick around for the rest of the season, because the action scenes were top notch and I just like Ruby Rose, the actress who plays Batwoman.
I've been a fan of Batwoman/Kate Kane fan since she was re-introduced a few years ago, and Rose just perfectly fits this character. Once again, I was not heavily invested in the plot, and I wasn't  really feeling many of the side characters either,  except for Kate's bubbly stepsister, Catherine, who is the daughter of her father's second wife, and is a medical student. Kate lost her mom and bio-sister in a car accident, when she was a child, and she hates Batman because he was there to save them, but left the scene, and Kate watched them die.
We meet up with her while she is undergoing some Bruce Wayne type training with some sassy Indigenous guy, with long White hair, at the behest of her father who, for reasons of love and safety, is trying to keep her out of his hair, after she got kicked out of military school, for fraternizing with another female, her girlfriend, Sophie.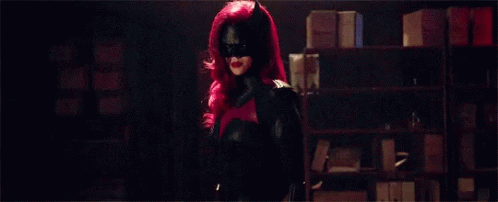 She and Sophie are given a choice. They can reject their relationship and stay in school, or they can be expelled. Kate chooses to be expelled, but Sophie chooses to deny the relationship and stay. At first, I  was mad about it, but Sophie is a Black woman, from a modest background, who worked damn hard to get where she is, and while she appears to love Kate, she is not willing to sacrifice her potential career for her, as she may not get another chance in life. As she tells Kate, she doesn't have the luxury of being able to take a stand, while Kate comes from a wealthy family, who will always take care of her, and I thought that was a nice touch.
So Kate's dad sends her away for some training, and Sophie stays behind and gets a job with The Crows, Kate's father's security agency, something which Kate covets, but her father gives her the runaround about. When Sophie gets kidnapped by a villain called Alice, Kate returns to a Gotham which has been missing Batman for  three years. Kate is desperate to save Sophie, and prove herself to her father, and we get some twists and turns in the plot, and some fairly emotional scenes between Kate and Sophie, and Kate and her dad. I thought all that  was too much too soon, as I don't feel we had enough of a setup to warrant tearful conversations, yet.
Anyway, there was a lot to unpack, as the show covers a lot of emotional  territory, along with Kate finding the Batcave, and meeting one of her father's  security consultants, named Luke, who appears to have no actual security skills beyond having a big brain. We get a little bit of backstory, and a subplot about a traitor among The Crows.
I liked that the show made some real efforts at diversity. There are plenty of poc in the cast, and they all have distinct personalities. There are only two White guys in the cast, Kate's dad, and  one of the villains, and I find it interesting that shows are doing this thing now where they do cast White men, but only as secondary characters, or villains, the way it was done in Star Trek Discovery. It doesn't happen all the time, but it happens often enough that I've noticed it.
This isn't my first run in with Kate Kane. I first saw her in a crossover episode with Legends of Tomorrow, a show i still like and occasionally watch, and will be watching this season  because there's supposed to be another crossover with Arrow, and Supergirl, called Crisis on Infinite Earths.Now, i'm probably one of the few comic book readers who has not read that particular series of books. As I've said, I was a Marvel fan at the time of that event, and I could care less what happened in the DCU comic books. I don't dislike the DCU. All the characters I know are all current, or former, members of the Justice League, Teen Titans, or Legion of Superheroes. Of those characters, the only ones I truly cared about, at the time, were the members of the Justice League.
I will will watch all the shows and some of the movies, though. I'm picky about a lot of pop culture, but  I'm not entirely sure why some things capture my attention, while being indifferent to other things. For example, I didn't ever give a flying rat's ass  about Aquaman in the comic books, but I liked the movie version just fine. Well, anyway the big new event this season on the CW is the Crisis on Infinite Earths crossover, with multiple Supermen, which should (and it better) be exciting.
The Dead Don't Die
This is an exceedingly odd zombie film, which I had a lot of fun watching. Even though most zombie movies give me anxiety, I watch them anyway, because, its zombies, and there was a little of that tension here, but the movie was more comedy than horror. Its not the kind of comedy seen in Shaun of the Dead, or Evil Dead II. Its more of an intellectual kind of comedy, that doesn't make you laugh out loud, so much as make you nod, and chuckle,  which is the hallmark of a Jim Jarmusch film, really.
The movie has an all star cast of Bill Murray, Danny Glover, Steve Buscemi, Rosie Perez, Tom Waits, Tilda Swinton, and a bunch of others, and is a very oddball film. it heavily reminded me of the movie Rubber, a movie in which a telekinetic car tire goes on a killing spree, in Southwestern America, and if you have not seen that movie, then you probably should. At the very least it will prepare you for watching any horror  movie directed by Jarmusch.
According to the movie, there is a worldwide zombie outbreak because the earth has been thrown off its axis by fracking, or something, but this isn't important, and barely mentioned in the film. Ronnie (Murray) and Cliff (Adam Driver), are the Sheriff and deputy of Centerville, a small Midwestern town. The first time anyone notices things have gone off kilter is when Cliff notices that the sun has not set at the correct time, and  the town crankypants, (Buscemi), notices his chickens and cows are missing. When the diner is attacked by two zombies, Ronnie and Cliff investigate, and Cliff reaches the swift conclusion that it was zombies.
There are long moments of characters standing around, or sitting somewhere, having bland conversations about the situation, the world, or sometimes each other.The town is visited by what Cliff calls hipsters from Cleveland. Cliff takes a liking to one of them, but its all pointless since everyone in the movie gets eaten, even after Cliff warns them to stay inside and not go out at night because of the outbreak.
The humor comes from the laconic acceptance, by  all the characters, that the town has been invaded by zombies, and from the activities of the zombies themselves.  The director has taken the idea of the zombies being attracted to the the things they did in life, and just ran with it, which results in the Chardonnay quote, seen in the trailer. From time to time, one of regular humans will freak out about the situation, which is only meant to offset the calm of the other characters. This movie is the exact opposite, in mood,  of The Walking Dead TV shows. The zombies are given odd quirks of personality. They still eat people, but they also like tennis and coffee. There's a country song that plays throughout the movie, called The Dead Don't Die, and I kind of liked it. When Ronnie asks why that song keeps playing on the radio, Cliff explains  that that is the theme song.
Tom Waits plays the  homeless guy, who lives n the woods, named Hermit Bob, who makes voiceover observations of the events happening in the town, and  whom everyone thinks is crazy.  He's also the only survivor at the end of the film. I  liked Cliff, who is both pragmatic and intelligent. He occasionally mentions that he's got a bad feeling, and when Ronnie asks why, he says he read the script, and that things do not end well, which is correct. They don't. Ronnie is unperturbed by Cliff's insistence that there is a movie script for their scenario, and that he read it.
Swinton plays the new town mortician who also turns to to be an alien. You could tell she was a strange one, because she  made weird observations, and  carried a samurai sword that she was extremely good at using. She is both delighted and unbothered by the zombie outbreak. Yes, there is a UFO in this movie. From time to time, one of the characters will  forget that they are in a Jim Jarmusch movie,  and behave as if they are actually in a big budget zombie movie instead, and try to do something heroic, but it doesn't work. The movie ends with the deaths of all the other characters, and  Hermit Bob shaking his head with the  observation that the world is a messed up place.