I haven't been very diligent in my television viewing the past few weeks. These shows are what I was able to get through in September. What with the glut of  genre programming, I've gotten a lot pickier about what I watch the past few years. There are some shows, I thought I'd be interested in, but after watching a bit,, I lost interest. There are a few I barely got thirty minutes into, before getting tired of the premise, like The Dark Crystal. This was a show I was initially excited about, but once it came time to sit down and watch it, I just didn't fee like making the emotional investment, no matter how shallow. Of the shows below, I at least managed to get through an entire episode.
Carnival Row
Well, first  of all, the show is gorgeous, but ultimately, I probably will not finish the show because I got really tired of looking at the lead actress' face looking all sad. She just glowers through the entire show, and we spend far too much time looking at the same facial expression, sometimes for minutes at a time. You know what would be radical? If she smiled. But I don't believe that actress knows how to do that, because I have never seen her do it. Ever!
On the other hand , it's fascinating to watch Legolas be a human detective. He glowers a lot too, but he looks more handsome doing it, and he has the exxcuse of looking at mangled bodies all the time. The show does have some other bothersome shit in it, like the fact that there is one, light skinned, woman of color in the show, and she is a one of the Fae, and a sex worker. There is one Black man in the show, and he is a rich,  aristocratic, Fae, who has decided to woo a regular human/White woman, who is a kind of fairy bigot.
Its' obvious that the Fae are stand-ins for people of color, and the situation on the show is an echo of our current immigration system. For the record, this show takes place in an alternate universe, where certain things in history didn't happen, like slavery (I think), and magic works, and multiverse travel is a thing. The Fae in the show are all from a parallel universe, which is at war with  some human looking invaders. They are flooding into the current universe as refugees, along with some type of monster, that's preying on Fae homeless and streetwalkers, while Detective Legolas is on the case.
There's also a frustrated romance,  which I wasn't too interested in, between Legolas and the lead character, but I will tolerate it, I guess, but just wasn't buying the relationship. The two actors have no chemistry at all, and all their drama was unconvincing, but then I haven't seen anyone that that particular actress (I think her name is Carla Delevigne) has ever had chemistry with. Maybe she's just a bad actress? I don't know. I want to like her ,and she is very pretty, but I've never liked her in anything I've watched her in. What she does have is intensity, and gravity ,and I wish she would choose the kind of roles that better highlight those qualities.
There are parts of the show which are fascinating, like the worldbuilding. I've also been told by a friend of mine, that I trust, that the show does get better as the season moves forward. And let me say it again, the show is absolutely gorgeous, to look at. I want to dislike the show, but I can't, because I'm a 'ho for a pretty show. I don;t know. Maybe I will finish it.
Titans
I started the first episode of season two, and it took a minute for me to be impressed. The last episode, Raven brought her father, the demon Trigon, to Earth and asked him to resurrect Garth, in exchange for her soul or something. Outside her house, the rest of the team were trying to figure out a way to get inside and save her, and they do manage to get inside, but one by one, they all succumb to the worst part of their egos, and Trigon takes over their bodies, or something, and they turn all black-eyed and evil. Trigon gets defeated by Raven, and she absorbs his powers or something, and that frees the others from his influence. Or something. Honestly, I really don't care about the plot,  which is pretty pedestrian for these types of shows.
But I am interested in the individual characters, and their  relationships to one another, because I find them fascinating, for different reasons. This is one of the reasons behind my love of ensemble shows and movies. Last season, it was the relationships I saw developing between Garth and Raven, and Dick and Kory, that captured my attention. Donna Troy, also known as Wonder Girl (Wonder Woman's little sister) was introduced at the tail end of the season, and I like the relationship I see developing between her and Kory/ Both of them are close friends of Dick Grayson, and I  wonder how that works. There's still never enough Garth, who turned out to be my absolute favorite of last season. I'm still indifferent to Raven, even though I loved her in the comic books.
I'm still not a fan of Hawk and Dove. I just think they are the two least interesting characters in the entire show, and I wish so much time was not devoted to them. On the other hand, I would love to see more of Jason Todd's bratty Robin, and his conflict with the elder Robin, now Nightwing. Bruce Wayne makes a cameo too, but I don't know that actor, and I found it difficult to wrap my head around the idea that that was Batman.
I plan to finish up the rest of the season, in time, because there will be lots of nice cameos, including Cyborg, who is now starring in Doom Patrol. New shows air on Thursdays, on the DCEU streaming app.
American Horror Story 1984

This season is built on a number of slasher movie tropes, all of which should be instantly familiar to anyone who watches Horror movies. A lot of slasher movies get referenced, like Friday the 13th, Halloween, and Cabin in the Woods. It contains the usual cast of characters that make up such movies, where the basic plot is introducing a group of unlikable people to an environment they can't escape, and dropping a monster into it. But the show also interposes real life serial killer Richard Ramirez into the plot in a big way.
Brooke is the virginal/ good girl, who meets the slut archetype, named Montana or Monique, or something, in aerobics class, along with the handsome pretty boy, the dumb and angry jock, and the token negro, named, naturally, Ray. Those were the only names I got out of this episode. I will be watching more of this show because it does seem like the season will be fun, and since this is Ryan Murphy, I know that its going to get more and more batshit as the season progresses. It certainly seems like more fun then the rather gloomy last season. Perhaps I will actually remember some names by the third episode.
This group of barely likable/unlikable people (I have decided that I like Brook) decide to become camp counselors for the Summer, to get away from  Richard Ramirez, The Night Stalker, who went on a house invasion/killing spree of  the women in LA at that time, for …Satan. I guess.
The night before they are set to leave, Brooke is actually attacked by him, and survives, although he threatens to get her later. On their way to the camp they hit a traveler on the road, and take the severely injured man to the camp with them. I do have an objection to the addition of Ramirez to the show because I think it glorifies, real life killers, and his deeds, which were truly atrocious. He shot, bludgeoned, and  even macheted his victims. I feel like the show will run into the same problems, with this character, that Netflix did when it showcased Ted Bundy, in a couple of dramatic documentaries. But then that seems to be the risk anytime television references serial killers. There will be a contingent of people who glorify and empathize with the killers.
Once they get there, the camp owner turns out to be a deeply religious evangelistic woman, who expects them all to abstain from sex. It turns out, like Brooke, she is the survivor of a serial killer massacre, at the camp, when she was a child. Her survival is the reason behind her religious fervor. The guy who killed her camp mates, (named Mr. Jingles), escapes from the asylum, where he was kept, and hheads to the camp too. So you've got a head on collision of various killers, an injured stranger, religious extremism, and horny young people.
I know I was a little dubious about watching this because the fashions and music are every bit as annoying as I remember, (even though I generally like 80s Pop culture). However, it was nice to hear Salt N Pepa, or some Whitney Houston, because usually, when White people remember any pop culture after the 70s. they never seem to remember the existence of Black culture, and/or music of that time. I mean how the hell do you forget the existence of Prince? At least I think I heard this music, and if I did, then its a bit anachronistic, since neither one of them produced albums until 1988, and 1985, and I thought the show was only referencing music from 1984.
Anyway, the second episode has already aired, and it looks like fun. I'm not necessarily a fan of serial killer movies, but I have watched my share of them, and I do have at least a couple of favorites, so I'm looking forward to seeing references to them, at some point in the season. Also, I remember studying Ramirez in college. (By studying, I mean that I read a lot of books about serial killers and profiling, because apparently, that's a phase that a lot of autodidacts go through.)
Prodigal Son
Speaking of serial killers, there's this thing. I'm not exactly sure what to call it, since it wants to be a whole lot of different shows. I want to like this  because  of the vibes I'm getting off the actors, but its hard, because everyone acts like they are all in a different show, and there is an unusual comedy aspect that keeps cropping up at odd moments. The show cannot seem to make up its mind if it wants to be a comedy, a drama, a detective show, or a buddy cop show, but is only doing one of those things well. Guess which one.
The show stars Michael Sheen (Woohoo!!!!) as a serial killer who has been caught and jailed. He has a strong relationship with his son, played by Tom Payne, who looks vaguely familiar (He played Jesus in The Walking Dead. I'm glad to see hie's still working.) and yeah, he's kinda cute. The lead character's family was torn apart when his father was discovered to be a serial killer, after which he decided to study serial killers as an agent of the FBI, while using his father as a resource. The two of them eventually have a falling out (which we don't get to see in this episode) and he doesn't see his father for ten years. After being fired from the FBI, for being reckless, he becomes  a New York city detective, and he has to see his father, to solve a case where the killer is copying his father's crimes.
Now, I really want to like the show for the characters, but like I said, they all act like they are in different shows. The lead character has a mother and a sister. His mother is essentially useless, as a character who thinks she is in a soap opera, while his sister thinks she's in a teen dramedy, even though she is not a teenager. The coroner, a cute, and  tiny, older Asian woman, acts like she is in a completely different, yet zanier, comedy, and she is obviously attracted to the lead character. There's a very young Black woman detective, who is obviously supposed to be a future love interest, and who acts like she is in a police procedural, and Lou Diamond Phillips is also present, but thinks he is in a buddy cop movie.  You know what the show could do to change things up a bit, have a romance develop between the older woman coroner, and the lead character. I happen to like that pairing, and they  actually seem to  have chemistry. It could also tone down some of the comedic aspects too. Michael Sheen should be the only funny person on the show.
This show caught me by surprise. It wasn't on my list and I caught it by accident. I was  intrigued because of the dynamic of a father who is a serial killer, who intensely loves his son. Michael Sheen is superb in the role of course, appearing to be warm and genial, while giving off just enough off-kilter vibes, to seem menacing. Plus there are  the Hannibal the series vibes I'm getting, as both shows are about the intense relationships that develop between a serial killer, and another man, close to him, whose trying not to get roped into madness. I think I'm gonna stick around for a little bit and see where this goes. I generally don't watch cop shows, or network broadcast television, but it is Michael Sheen, and Tom Payne is just really, really, cute.
Treadstone (Preview)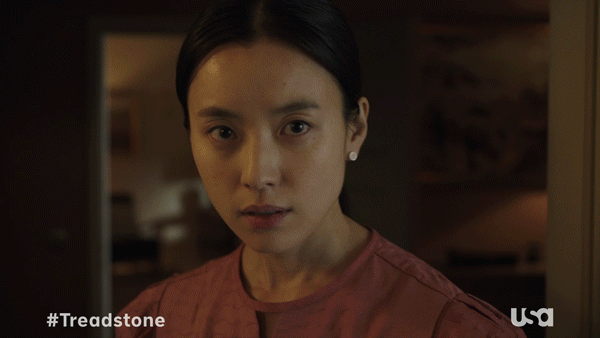 One of the creators of this show is Tim Kring, and I trust him with this show because he at least has some experience working with an ensemble cast, on a global scale, having been one of the creators on the series, Heroes. This show is based on the Bourne franchise, which is based on the Bourne books, and is about the clandestine organization that created Jason.
In the first episode, we 're mostly just meeting the primary characters, three sleeper assassins, called Cicadas in the show, who awaken to their special skills with no knowledge of their former selves. Some White guy in Alaska, another White man, being held hostage by the Russians, and a Korean piano teacher. We also meet a Black woman journalist, who is set on uncovering the  purpose behind Treadstone and the Cicadas, by a Korean defector.
I really enjoyed the action scenes, which are smart and well shot. These are people who know how to shoot acceptable action scenes. The show follows the protocol of the movies, by respecting the female characters, and giving them plenty to do. They are smart, capable, and know how to kick ass as well as any of the men, giving as good as they get. One of the major set pieces of the episode is the Korean piano teacher, duking it out with the Korean defector. It's not simply a good action scene, it has a story in it, with suspenseful moments. There are a few things that seem farfetched but I'm willing to let those things slide because the Bourne franchise has moments like that too.
I think I'll stick around for this show, which doesn't actually air until October 15th, because this was a free preview. It's not too emotionally heavy, and it has just enough intrigue and action to be interesting.
PS: Sunday Night was the final episode for the Preacher series. I've been watching this crazy-as-shit show, off and on, for about three seasons, so I'll be reviewing the finale sometime in October.