Salem's Lot – Stephen King
I first read this book when I was about nine. It would forever influence how I read about vampires. I know there were vampire novels before this, and I even read a handful of them, but  none of them made the impression on me that this book did because it was the first time I'd read about what would happen if vampires entered the modern world of American technology and culture. These were not the Hammer/ Dracula vampires that I'd been watching on TV, and that struck a chord with me. You'll notice a trend in the type of vampires I prefer, either the mindless hungry monster, or the thoughtful, erudite, wise old man.
Ben Mears is a writer that grew up in Salem's Lot and has a traumatic history with the Marsten House, which looms over the surrounding town, and has itself, a sordid and tragic backstory. Arriving simultaneously is vampire Kurt Barlow, and his human servant. Its up to Ben to convince his friends and family that vampires are taking over the town before the town is destroyed.
I'm going to have to do a review of the TV mini series, as it contains some interesting messaging about xenophobia and  one of King's favorite topics, which was heavily tackled in It, the secrets of small-town life. The book also touches on the limits of belief and faith in the fight against evil. I'm going to have to do a lot more reading on those topics before I can tackle that though.
The Light at the End – John Skipp and Craig Spector
This book just knocked me out! I will always stan for this book, which is a great descendant of Salem's Lot. It contains both the mindless hungry monsters I adore, and the thoughtful , but evil, old man vampire, who sets the entire plot in motion while he's on holiday in America. The characters are wonderful, the vampire action is great. This is what happens when a human being, Rudy, who is already a major asshole, gets bitten by a vampire, and turned loose in New York City. This book was part of the Splatterpunk era of the 80s, and the  writers do not stint on the gore.
The major drawback to this book is the rampant homophobia, which I found very jarring, when I listened to the audiobook recently. It does have a heroic gay character in it (who doesn't get killed), but the road up to that moment is pretty rocky, and I think the writers thought they were being  progressive at the time. If that's something that's a deal breaker for you, then by all means you should skip it. (Its just that I had forgotten about it, since I read this as a teenager.)
Vampire Tapestry – Suzy McKee Charnas
This is one of those types of vampire that I found incredibly intriguing as a teenager. The vampire from this book is a ruthless, heartless, intellectual, who is without sentiment about his condition. No lush prose here. The vampire in this book is direct, pragmatic and without excuses for what he is. As far as he is concerned, he is a predator, born and evolved to feed on human beings, and everything he does  is nothing more than a masquerade  to that purpose. He doesn't have long romantic stories of his previous lives, as he doesn't remember any of them, because, as he says, he doesn't need to, to fulfill his only purpose, which is feigning humanity to get human blood. This is the more scientific, biological strain of vampire, but one who is intelligent and self reflective, when called to be so. He also has no idea of his age, since he sleeps for several decades at a time, after a few years of wakefulness and feeding.
The story plays out in three acts. In the first, he is captured, and kept in a cell by a ruthless man wishing to make money from him. He escapes by emotionally manipulating the man's teenage nephew. The most intriguing part of the book is the second act where, as a college teacher, he has a psychiatric session with a woman who figures out what he is, and he attempts to divest her of her romantic notions of vampirism.  In the third act, he believes its time for him to go back to The Big Sleep, after witnessing a stage play that arouses sentimentality in him,  something he considers a liability to his survival.
The book isn't especially  scary, but it was a great introduction to the idea of an intellectual/scientific vampire.
The Vampire Lestat – Anne Rice
I read this when I was maybe 18, and  I loved it. I'd never read anything like it. I followed Rice's vampire series for several years, but since the over saturation of the market with vampires that are all ripoffs of Anne Rice, I've pretty much stopped reading them. That doesn't make her original trilogy any less effective though. I can still pick up these books and become completely immersed n the lush world of 1800s Louisiana, now aided and abetted by images of Brad Pitt, and Tom Cruise, as Louis and Lestat. This book is one of the first times I encountered a child vampire, and while I was never into Claudia, as a character, all that much, she is very effectively written. To my memory no one had written about child vampires much before Rice.
Lost Souls – Poppy Z. Brite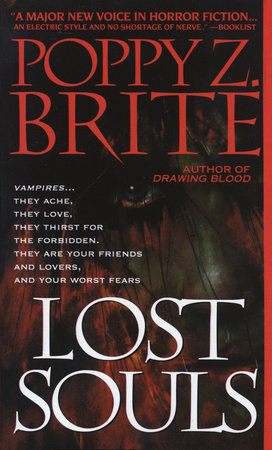 I'm not sure how to describe this book. The vampires are definitely vampires, but unlike any of the vampires mentioned above, although the closest resemblance is to the style of Rice's vampires. But only the style. The book takes place in the modern day, and chronicles the coming of age of a half vampire named Nobody, who meets a trio of vampires, who have been killing their way across the Midwest, and one  of whom turns out to be his father, something he discovers only after having slept with him, because that is the kind of book we're dealing with.
Dark, Gothic, and lush is really the only way to describe the writing style, and the vampires, here. The author, Poppy Z. Brite, was something of a Goth icon at the time this book was written, and this book was all the rage in those circles. I did not run in those circles, and quite frankly, I was mostly exasperated by the pretentiousness of that particular crowd, but that has no bearing on the book, which feels like a velvety nightmare. It can be a little hard to get into, at first, because the style is very dense, and the characters are  dark and kind of emotionally remote, but once you do, its a very satisfying read.
Fledgling – Octavia Butler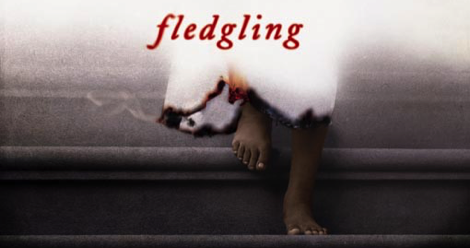 I wrote about this book earlier. I was not new to Butler's books when I read it, but some of the events in this book are very jarring, and I feel I have to give a heads up on what happens. The book addresses the topic of race from the viewpoint of a new type of vampire, who can walk around in daylight. She looks like a little girl, about twelve years old, although she is much, much, older, and yes, she is Black. Right off the bat, within the first couple of chapters, she has a sex scene with the grown man (White) who rescued her. I wasn't expecting that to happen, even though all of Butler's books are kind of disturbing, and I should probably have expected it.
There are several scenes of her sleeping with adults, and I had a hard time getting past this, but I was younger and more hearty or something, because I managed to soldier through it, to an actually satisfying conclusion. I have not read this book since, and wouldn't, because I can't get past those scenes, although I found the rest of the book intriguing, and engaging.
Because the vampire's bites cause humans to become addicted to them, the vampires acquire a "stable" of people around them, and so does she. Up to this point, the idea of child vampires has mostly not been addressed in vampire fiction, and really I suppose it should. Anne Rice got around the issue by making Claudia asexual, but Butler tackles the topic full on, and takes it as far as she possibly can. If this is something too disturbing for you, then you can skip this one, because this is a very challenging book.
Anno Dracula Series  – Kim Newman
The Anno Dracula books are like a vampire's greatest hits series, where all the most famous vampires in historical fiction get a shoutout, in the chronicle of the life of  one Genevieve Dieudonne, a teenage vampire who was created in the 16th century, whose observances, and adventures with a secret society known as The Diogenes Club, make up the bulk of the novel. This is all intertwined with a Ripper type serial killer who is preying on vampires in Whitechapel, called Silver Knife.
This one of the most unique series about vampires being written. The rest of the Anno Dracula series is about what would happen if vampires were a part of the everyday history and  life of regular human beings, and how their presence would have affected historical events, politics, and pop culture.
In the first book, Dracula actually succeeds in taking over London and turning the Queen into a vampire. Vampires have all come out of the grave. They have culture and fashions and music of their own. Most humans seek to become vampires, if only to avoid being rounded up as food, and this has an effect on the poor of Whitechapel, and the question of how vampires can survive if they don't curb their numbers. Victorian London is every bit as Dickensian as ever, but with the addition of vampires and vampirism causing even further misery.
This is a great book, if you can get past the writing style which is a bit wry. The rest of the series isn't as good as the first book, but if you have an interest in the history of Pop culture you might want to check out Dracula Cha Cha Cha, which takes place in 1950s Hollywood.
Blood Price Series  – Tanya Huff
This particular series was branched out into a lovely universe with the lead vampire of this series at the head of it. I like the mythology of the series, which just manages to skirt the edges of being a romance. Henry Fitzroy is  a great character, and a good foil for the lead female character, Vicki Nelson, but it was Vicki that first captured me. She had a voice I liked. She wasn't over-romantic,or maudlin, and never talked about her clothes and shoes. She's a tough as nails, female, private detective, done correctly. She's tough without trying too hard, disabled without dwelling on it overmuch, stubborn, prickly, pragmatic, and when confronted with the supernatural, in the form of Henry Fitzroy: Vampire, she takes that, and all subsequent introductions with supernatural creatures, completely in stride. She eventually becomes a vampire herself, and while Henry keeps telling her that all vampires are loners, who can't live together in the same territory, Vicky is stubborn enough to make it work.
I wasn't too fond of the short-lived, Canadian television series, Blood Ties, but I think the dynamic between Vicki and Henry was pretty good, it wasn't as good as the book, mostly because Kyle Schmid is very pretty, but no Henry Fitzroy, while Christina Cox perfectly captures Vicki's personality. If you don't want to read the books, then the series is close enough in style to the books to give you a good sample.
They Thirst – Robert R McCammon
This was the second vampire invasion book I read, after Salem's Lot, and I thought it was fantastic. I don't think it was a particularly deep book, but it was a lot of fun, and most of that fun is in the reactions of people who begin to understand what's happening.  McCammon does get one major thing right, just as I have always espoused, is that people for whom superstition and faith are a major part of their life, are usually the ones to catch on the fastest, and survive what's happening. People who believe the evidence of their senses, and stop trying to apply rationality to what they clearly see is happening, are usually the ones who survive.
It wasn't my first brush with the writing of Robert R McCammon, but it is a fondly remembered book, although the book is a little more dated, as it takes place during the height of late 70's/80s Pop culture, so some of the characterization needs work. A lot of horror novels in the 80s, were written by straight, White men ,so many of them had some serious  issues with writing PoC, and gay, lesbian and transgender characters, in the sense that most of these depictions were abysmal, as White writers had  less sensitivity  about such groups than they do now, and you have to take that into account if you're going to tackle some of these 80s books.
I said before, I believe McCammon was building on Salem's Lot by taking the basic premise of that book to its logical extreme, and asking : What if Dracula came to the big city, rather than a small town? How might that story play out?In They Thirst, vampires take over the city of Los Angeles, and it mostly plays out very much as you think it does. There's less emphasis on xenophobia, but there's subsequently  more emphasis on city life, gangs, and how disbelief in the supernatural, and  the cynicism of city dwellers, aids and abets the vampire invasion. Its not as good as Salem's Lot, because its simply not as deep, but its a game effort, and worth the read.
30 Days of Night
I already wrote about this series.
30 Days of Night has since become an entire series of books, with crossovers with other horror comics, and a movie starring Josh Hartnett. The graphic novel is so much better than the movie, and the movie is pretty damn good. The atmospheric art of Ben Templesmith is a huge factor in how scary the first book is. I became a huge fan of Steve Niles after reading this.
What I would like to know is why no one had ever thought of this idea before, given the icy horror of the Arctic, and the loneliness and isolation? Some of the best, and scariest, movies and TV shows have been set in this environment, so why not vampires?
The way vampires are written today, most of them aren't very scary at all which is why I love to hype up this series. This book actually had me on the edge of my seat the first time I read it, and I'm always going to be fond of the idea, if not the various execution of the idea, over the course of the series.
Sunglasses After Dark – Nancy A Collins
This is one of my favorite series because it has one of the baddest female vampires to ever be written, and tackles the subjects of sexual assault and trauma in the creation of a new vampire. Sonja Blue's creation as a vampire was so traumatic that her personality essentially split, with one half being an amnesiac vampire, that carries a silver knife and can walk in daylight, who  kills other vampires, and a monstrous version of her vampire self that she calls The Other. She's a bit like a female version of Blade, although I do not believe she was based on that character.
The first book is about her coming to terms with what happened to her, and how that ties in with a typical 80s, Evangelical TV couple, who want to use her for their own ends. Over the next three books in the series, she hunts the vampire who made her, while getting into adventures with various men, children, and other supernatural creatures. Most of these books end explosively, and Nancy Collins has a knack for slowly building the suspense, coiling the plot tighter and tighter, until things have to pop off. She does not stint on the gore, but she isn't trying to write like a guy, in the Splatterpunk tradition. You can definitely tell this novel was written by a woman. This is another 80s vampire, but her writing is less problematic about PoC and gay and lesbian characters.
Later in the 90s, at the height of the Vampire RPG games fascination, Collins wrote a crossover with Sonja, and the Vampire: The Embraced series, which I thought was very effective, considering that she is a very different type of vampire than the ones from White Wolf. (The title is A Dozen Black Roses, and the first four books are available as a set on Amazon.) She even wrote a crossover with The Crow series, in the anthology "Shattered Lives and Broken Dreams". The later books are not as deep as that first but worth reading, and there are a number of standalone short stories, to get a taste of Collins writing style and introduce yourself to Sonja Blue.
Necroscope Series – Brian Lumley
This book was  a favorite for the sheer inventiveness of the vampires in the story. In The Necroscope series, vampirism is a virulent disease that will attempt to survive at any and every cost, and even the most seemingly innocent interaction with the infected, who are cunning, vicious, and highly intelligent, can result in a person becoming infected. The genesis of vampirism is from a planet where it grows as spores (which look like tiny white eggs) in the planet's swamp lands, and any creature can be infected and pass it on, often resulting in hideous hybrid creatures of man and animal. The infection transforms a person into a conniving, hungry, cruel and manipulative predator, which, even more frighteningly, is still fully capable of human emotions, like love and loyalty.
In the world of the vampires themselves, they were at war with one another until only a handful of long lived lords and ladies are left, living at the top of what few mountains are left behind, called Aeries, and they totally control the human population of the planet, using them for fuel, and food, and transforming them into monstrous, but useful creatures, like plumbing systems, and transport beasts. If you're familiar with the work of Wayne Barlowe's Hell series, this world is a close parallel, only slimier. Pretty much everything about Lumley's vampires is maximally disgusting.
The Necroscope is a man named Harry, who  communicates with the dead, who love him. He and the dead are often the first line of defense against the encroachment of vampirism, as they often warn him in advance of infestations, and sometimes even leave their graves to help Harry, and his special government team of vampire fighters and psychics,  to fight them. If you can get past what I thought were unnecessary descriptions of the women, (Lumley has no idea how to write about women) and some inventive sex scenes, these are very enjoyable books, although the writer's  florid, but stilted writing style may be hard for some people to get past, too. I know I had a minute getting past the writing style, but if your'e a big horror fan this series is worth it just for the imagery.
The Saint Germain Chronicles – Chelsea Quinn Yarbro

This series is often referred to as horror, but there isn't much horror in them, beyond the horrible activities that the vampire, St. Germain, has had to endure in his 30,000 year plus life. These are historical novels written from a vampire's point of view which makes them different enough  to be of interest to me. St. Germain is a vampire who was definitely invented by a woman, think Frank Langella's smooth, urbane, sophisticated version of in the 1979  Dracula. Since these books were mostly written in the 80s, I suspect that's who Yarbro had in mind while creating this character, and that's mostly who I picture when reading the books. Since she wrote this there has been a glut of historical vampire novels with characters not dissimilar to this.
In each book of the series, St. Germain travels to some new part of the world, falls in love, and has an adventure. The books were published in no particular order, and can be read in any order, as well. My personal favorite is Path of the Eclipse, a chronicle of his travels throughout Asia, from China, to Japan, to India and Tibet. Each chapter is often prefaced with an introduction to the life/lives of whatever new characters he will be interacting with, and  where he is, in the form of letters and/or documents. Yarbro manages to perfectly capture the world weariness of an incredibly long lived creature, that tries to hold itself aloof from human affairs, but keeps getting embroiled in various human dramas, often because of St. Germain's deep well of compassion for the mayfly lives he interacts with.
If you love a well researched historical novel, with vampire, then pick up any book in the series, in any order.