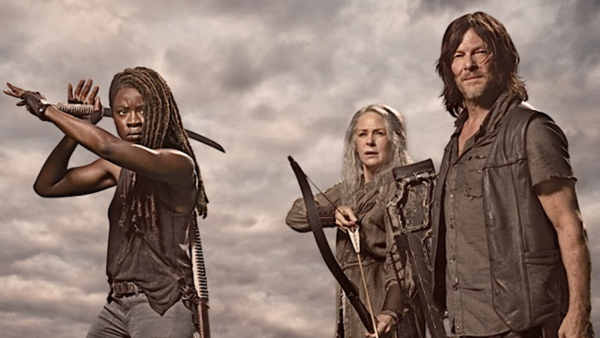 I reported a couple of weeks ago about Rick Grimes leaving the show, and how the show would take a jump six years ahead, to see what Alexandria and Hilltop had gotten up to in his absence. This is what came after.
The three societies are no longer as close as they once were, and that has something to do with Maggie's disappearance, and Jesus now being the acting leader of Hilltop, in her absence. To bring the three communities together, Jesus and Ezekiel have planned a fair of some kind, so that everyone can come together to touch base, but the impression is that the Alexandrians have withdrawn from contact with The Kingdom and Hilltop because Michonne had some kind of falling out with Maggie. Michonne is the security chief of Alexandria, not its leader, but she makes hard rules for the others to live by, even thought there is a counsel. The implication is that none of the Alexandrians should have contact with the other two communties.
We begin by meeting a new group of people who have fallen afoul of a swarm of walkers in the woods. One of them is injured in the fight and Judith, Aaron, and the others happen to come along at the right time to save them. Judith decides they should be taken to Alexandria, but Michonne is upset that she did it and advises that the new people be sent away.
The new group consists of a young Black boy or girl, (I'm unsure which, because the character in the comic books is male, but its an actress playing the character on the show), and their older, deaf sister. They communicate using American Sign, a music former music teacher, (Kowalski from Fantastic Beasts), an Asian woman who was badly injured, and another woman who is an ex-con, with trust issues. I am glad to see these two hearing impaired characters on the show because its a way to answer questions about how people with various disabilities would navigate a zombie apocalypse. I actually like the two of them because you can see the bond between them. I hope they survive longer than one season.
The Alexandrians take them back to the compound where we find that Michonne is nominally in charge along with a kind of counsel. The Alexandrians we meet now are much less trustworthy than they were under Rick, which makes me wonder what they went through after he was gone. There is no sign of the surviving Saviors who were attached to that community, so there may have been some event regarding that group.
There's a counsel meeting where the newcomers are rejected because one of them was hiding a weapon, and withholding information that she was an ex-con, who had killed people. Later, Michonne changes her mind about them and elects to guide them to Hilltop, which is now being run by Jesus, with Tara as his assistant.
The alliance between the three groups, The Kingdom, Hilltop, and Alexandria, appears to have seriously atrophied.
Rosita and Eugene go out to broadcast radio signals from the top of a water tower because they want to contact new people. Rosita is currently in a relationship with Father Gabriel, which I didn't see coming, but Eugene still seems to be crushing on her. One of the more positive moments I saw on screen is Eugene's change from timid know- it- all, to born again killer of zombies. He is definitely hardcore, and I was glad to see that. It seems he really stepped up to help care for and protect the group after Rick's absence. Eugene and Rosita get ambushed by a swarm of walkers who are acting very oddly, and very deliberately chase them, while communicating in harsh whispers about not letting them get away.
This is the introduction of the most famous group in the comic books, the very possibly deranged Whisperers. With the addition of this new group, The Walking Dead just got really scary again, because we know nothing of this new group except that they live like the zombies, by hiding among them. This season will also introduce Samantha Morton as someone called The Alpha, the leader of The Whisperers, during what the books call The Whisperer War.
Meanwhile, The Kingdom has been dealing with some raiders, the last surviving members from Negan's Sanctuary, who keep ambushing their supply wagons. Carol ,who is now married to Ezekiel, decides to accompany their son, Henry, (the little boy we saw them training last season) to Hilltop. They get ambushed too, but as you probably guessed, Carol gets through it by being her usual murderous bad ass, and after their adventure, they encounter Daryl, who has been living in the woods like the wild man he's always wanted to be.
Judith Grimes:
I'm trying really hard not to compare Judith to Carl and her father, but its almost impossible not to do that. She seems so much like and un-alike either of them. At this time, Judith is somewhere around 9-11. I don't know what her exact age was six years ago.
She's not like your typical child of that age. She is very resourceful and extremely self possessed. She is a child who knows her limits and her power because she has had to know these things. Unlike Carl, whom we watched as he began to understand his power as he grew up, she has always had to know hers, as the zombie apocalypse is all she has ever known. For children like Judith, born after the zombie apocalypse, the walking dead are just a feature of the world, and they have nothing else to compare it to.
Carol and Ezekiel:
Carol and Ezekiel are now married, a result of the marriage proposal we've seen him make a number of times since he met her. Jerry refers to her as The Queen, which kind of irks her a bit. Together she and Ezekiel have been raising Henry and refer to him as their son, The Prince. It's interesting seeing the two of them being really together as Carol has always seemed to kep people at arms length, but they are very much in love with each other, and are not afraid to engage in PDAs. Their relationship is another one of the positive things about this episode.
Carol has not entirely given up her murderous ways, as she kills the raiding group, that attacked her and Henry, by setting them on fire. Yeah, this ain't the first group of Saviors that she has set on fire, remember? Carol has always been willing to be extra, to protect her family, so this is entirely in keeping with her usual modus operandi.
Daryl:
Daryl isn't introduced until the end of the episode. Apparently, he has been living in the woods with his doggo, and looks his usual greasy self. How much of his current livelihood can be boiled down to Rick's absence, we don't know. Carol wants Henry to meet Daryl, because she is about to send Henry out into the world, and wants someone she can trust to be at his back. She knows Daryl well enough to know he will adopt Henry as his own, and he does just that. That evening, after they have met on the road, she spies on Henry and Daryl as they kill zombies together. She got exactly what she wanted – an alliance between two of the people she most loves in the world.
Negan:
Its been six years, and Negan is still locked in Alexandria's jail. People still interact with him, but his little verbal schtick, where he mixes truth with lies to emotionally rattle his interviewers, doesn't get as much respect as it used to, and doesn't seem to work at all on my girl, Judith, who not only sees right through his bullshit, but actively calls him out on it. She does not know or care who he used to be, and he can't seem to manipulate her the way he used to do others.
Michonne:
Michonne has been through a lot since she lost Rick, and I suspect some of that lot has to do with Maggie's absence from the episode. She's been raising Judith, and has been acting as Alexandria's Head of Security. She is still not coping with Rick's absence in a way I think is healthy. At one point, Judith walks in on her having an imaginary conversation with Rick or Carl, I'm not sure. She has also been raising her and Rick's son RJ, (Rick Jr.?) who was born not long after.
When we first see her, she looks as mean and cold and hard as ever, but by the end of the episode, we see that she can still laugh and smile, even if she only does it for Judith, who like her father, is very protective of her mother. It's also kind of nice to see she's stopped wearing that awful headband, as I was really getting tired of it. It's Judith who helps change her mind about the newcomers to Alexandria, even after one of them comes to her home, planning to kill her. The woman's hand is stayed because she witnesses Michonne interacting with her son, although Judith did have her back with Rick's gun, which is bigger than she is.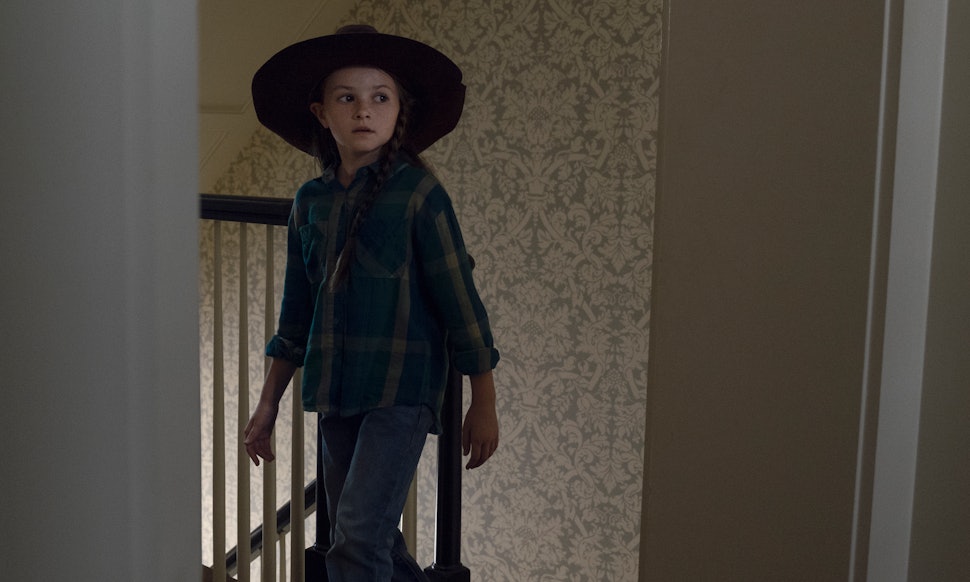 When Michonne was getting dressed, we saw that she had some kind of x shaped scar over the place where her left kidney should be, and I wonder at the story behind that, and if that has anything to do with Maggie disappearing. The writers keep giving us hints that the reason behind why the three society's are not in contact with each other is because of something Maggie did.
Mid – Season Finale
During the mid-season finale, Negan is freed from his jail cell, and goes hunting, probably for Lucille, and Jesus is the first casualty in the Whisperer War, after he and Aaron set out to rescue Eugene from a zombie swarm.
Michonne sees Carol for the first time in several years and their meeting is somewhat prickly. Something happened between the three communities that was so bad, that the Alexandrians entirely cut themselves off from the Hilltop, and the Kingdom.
Henry gets into some trouble with the other teenagers at the Hilltop. It's kind of like he went away to college. he's supposed to be apprenticing with the blacksmith there but ends up in jail after a night of drunken zombie fighting, and is in danger of getting expelled.
Now the show has entered some seriously scary territory, because the Whisperers are so unlike anything these communities have ever faced, or like anything we've seen on the show, and there's gonna be a lot more death before the end of the season. I'm not entirely sure I'm up for that, but this is the scariest the show has been since the first three seasons, so my nosiness will probably get the better of me.