XX (2017) Anthology
I recently watched this anthology of horror shorts, directed by women, on Netflix and found it very effective. Not particularly frightening, but moving nonetheless. I not only enjoyed the stories themselves, but there were some interstitial moments between the episodes that I found pretty creepy, and which also tell a kind of story. Of the four stories, three of them deal with the idea of motherhood as a harrowing and anxious experience.
One of the middle stories, and the most frightening, is The Box,  about a woman whose family slowly starves themselves to death after the son peeks into the box of a stranger on a bus ride. I think I read this as a short story somewhere because it felt familiar. Its a very effective and emotional scare, as the mother is helpless to save her family, who are determined to destroy themselves. One of the other stories chronicles the adventures of a mother whose husband dies in a giant panda suit just before his daughter's birthday party called, appropriately enough, The Birthday Party. It's the funniest of the stories, but I was exasperated by it because it didn't fit the gray mood of the rest of the anthology.
Dont' Fall is the most straightforward horror story with no message to it. A group of people go camping and run afoul of an ancient cannibalistic evil. Her Only Living Son is a favorite of mine. Its like a sequel to Rosemary's Baby, if she had run away from  all the people trying to manipulate her, and tried to  raise her son not to be the AntiChrist. It's interesting that the two most effective stories are about mothers trying to save their children from the aftermath of bad choices.
I wasn't sure what to expect, and was a little dubious about watching it, at first. Women directors in the Horror genre are very rare, but this turned out to be pretty good. The types of stories  were  female-centric in a way that men's stories just aren't, and that was refreshing.
This movie is available on Netflix.
Ravenous (1999) Antonia Bird
I reviewed this movie some time back, and advised people to listen to the DVD commentary, because it's very informative. I've since learned that Antonia Bird died from cancer in 2013. Her films include a few others I've watched: Priest, Safe, and Mad Love.
https://tvgeekingout.wordpress.com/2015/07/15/geeking-out-about-ravenous-1999/
A Girl Walks Home Alone At Night (2014) Ana Lily Amirpour
This is a nice little nugget of a film available on Netflix, which I have not finished watching yet, because I was interrupted. (I was about thirty minutes away from the end, which is probably when all the best stuff happens.) This is a remarkable story about an unnamed and  beautiful Iranian vampire, who spends her nights trying to resist her hunger, in the presence of an innocent young man named Arash. The movie isn't frightening, so much as it is melancholy, although The Woman, as I call her, does manage to cause plenty of death.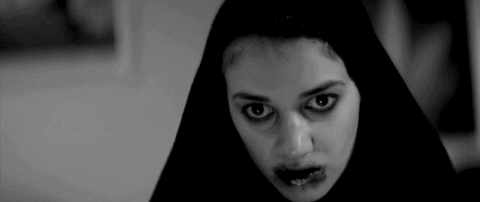 Jennifer's Body (2009) Karyn Kusama
Despite people hating this movie, I actually enjoyed it , and thought it was pretty funny. This was my first introduction to Megan Fox ,and based on her performance here, I wish her career had continued. I wasn't sure what to expect actually. I think I expected the director (who, at the time,  I did not know was a woman) to simply use the plot as an excuse to have Megan Fox be naked and/or sexy. I thought the trailer a little misleading. But the movie turned out to be a lot deeper, as it was about the friendship between these two very different characters, and how people change and grow apart as they get older. The movie was also written by a woman, Diablo Cody, which explains some of its humor.
Anita, played by Amanda Seyfried is friends with a bitchy cheerleader named Jennifer. Now I should have paid closer attention because I was unclear if Jennifer had been turned into a vampire, or if Jennifer actually died and was replaced by some creature. At any rate, its up to Anita to try to stop her, because, obviously, Jennifer is evil. It was hard not to like Jennifer though, because she's actually funny, and some of the best dialogue in the movie is between her and Anita during their knockdown fight at the end.
Raw (2016) Julia Decournau
I have yet to watch this film, but I really  liked the trailer, and so its on my Halloween list. It heavily reminds me of a cross between the movies  Thelma and Jennifer's Body.
Its interesting to me that so many horror films directed by women seem to involve the concept of eating and the  forbidden and blood.   The anthology XX had an episode about people denying food, A Girl Walks Home Alone is about a vampire, and this one is about a young vegetarian developing a taste for raw meat after a horrible campus initiation. Ravenous and Jennifer's Body are about cannibalism. At some point someone is going to have to analyse why that is.
Pet Semetary (1989) Mary Lambert
This is the one movie on this list I'm not a big fan of, but a heckuva lot of people really really love it, so I'm recommending it for viewing. I thought the movie was kind of ridiculous, and some of the acting was simply terrible. On the other hand, Fred Gwynne, who played Herman Munster on the sitcom, was great, and I liked Denise Crosby, who was really likable here. I was creeped out by the family cat, but I  laughed at part of the ending, when this tiny munchkin went on a murder spree. I don't hate this movie ,but I don't have happy thoughts about it either, although I did enjoy the Stephen King book it was based on.
Near Dark (1987) Kathryn Bigelow
I gave a review of this movie earlier in my blogging career. This was directed by the great Kathryn Bigelow, who won an Oscar for her movie The  Hurt Locker, and gave us such great characters as the Aliens version of Ellen Ripley, and the Terminator 2 version of Sarah Connor.
https://tvgeekingout.wordpress.com/2015/08/12/near-dark-1987/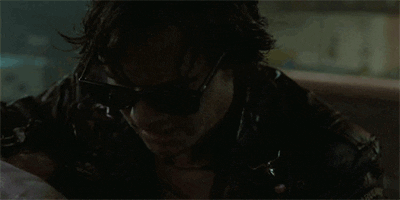 Carrie (2013) Kimberly Peirce
I did a review of this one where I compared Kimberly's version to the one directed by DePalma, charting the difference between when a man makes a female- centered film vs. when a woman does it. Basically, there seems lot more meaningful interaction between the women in a female directed movie. At some point I'm going to revise this review to add some new thoughts.
https://tvgeekingout.wordpress.com/2015/03/16/carrie-vs-carrie/
Honorable Mentions (Not Directed By Women)
These five movies were not directed by women, but the women characters are not just in the center of the plot, they are the plot. Any one of these movies would be great for a female themed marathon on Halloween night, along with longstanding favorites, like Alien, and Halloween.
Ginger Snaps (2000)
This is one of my favorite werewolf movies, right up there with the newer movie, Wer. Here, two teen Goth sisters, Bridgette, and Ginger, the local high school weirdos of a small suburban town,  discover that Ginger has developed lycanthropy, after being bitten by a wild animal, while on their way to play a prank on another girl. There is a parallel here between the disease and sexual maturity, as Ginger has just had her first period, which is why the animal attacked her. Ginger Snaps considerably deepened the discourse around the subject of feminine transformation, rage, and sisterly love,  and upped the werewolf game.
Thelma
This is a repost of a mini-review I did  in May of this year.
I'd been looking forward to seeing this for some time, and it did not disappoint. Now, when I first heard the description of it, I had not yet seen the trailer, and I was expecting something like Carrie, but quieter. Then I saw the trailer, and found that it's something wholly different from Carrie. This movie isn't about vengeance, it's about desire, and what happens to a person when that desire is repressed.
For one thing, this is a much quieter, and more subtle movie than Carrie. It's so low-key, that the supernatural aspects of the story kind of sneak up on you. They sneak up on you because they're  loosely covered by several other issues that you will find compelling enough to be distracting.
The film is based in Norway, and the lead character, Thelma, starts to experience epileptic seizures, except it's not seizures. Her doctor says they are psychosomatic, and stem from emotional suppression. At the same time, she meets a young woman who comes to her rescue, after she has a seizure in the college's public reading room, while that room's giant picture window is battered by a flock of birds. Every time she resists her feelings for Anja, or tries to suppress her powers, she has a seizure.
Thelma and the young woman, Anja, start to get closer, but Thelma comes from a quietly strict Christian background, and she becomes very conflicted about her relationship with Anja, which starts to take a romantic turn. It turns out that Thelma isn't necessarily conflicted because of the Christianity, but because she has the power to make things happen to people, when she strongly wants it. The Christian beliefs her parents espouse are what was used to keep her powers in check.
When Thelma was a child, she became jealous of her baby brother, and wished him away several times. The last time she does it is emotionally devastating to her mother and father, but this isn't something you find out until the middle of the film, and only in flashbacks, and explains why her parents treat her in the quietly aloof manner that they do.
As Thelma becomes overwhelmed about her relationship with Anja, (she keeps having sexual nightmares involving snakes, and dreams about drowning, which is classic symbolism of someone being overwhelmed by a subject), she wishes Anja away too, and it's a testament to the low-key horror of the movie, that even at the end, you're not entirely certain that what is happening is real. Did she bring Anja back? Is Anja even real? And then there's the further question, brought up by her father, about whether or not Anja truly loves Thelma, or did she make Anja love her because she wants her to love her.
It's not a straight horror movie, with jump scares, and frightening moments. The most frightening moment in the movie is when Anja disappears, and Thelma kills her father. But mostly it's those nagging questions,that stay with you, as you start to realize Thelma is far more dangerous than you may at first have believed. Her mother and father were in a car accident a few years before she went to college, and though it's not explicitly stated, you wonder if it was Thelma who caused it.
After Anja disappears, Thelma leaves college to go back home, where her family welcomes her, but her father decides that she can't leave. She takes control of her abilities, takes a horrific revenge on her father, and walks out of the house. She goes back to school, where she is greeted by a newly returned Anja, who passionately kisses her.  Her mother is disabled, and uses a wheelchair after the accident, but by the end of the film, Thelma has given her the ability to walk again.
Like several other movies I've seen in the past few years (It Follows, Annihilation, A Quiet Place), the horror comes not so much from what happens in the movie, but from its mood. The wintry landscape of Norway, and the remote location of Thelma's home, is very effective. On the other hand, I can't say that the movie was enjoyable, either. It's too haunting for that, and I am still disturbed by the questions that arose, and the answers I came up with.
For those of you on the LGBTQ spectrum this movie is safe enough to watch There is a brief moment when you think there's a Kill Your Gays Trope, but by the end of the movie, that has passed. Its a movie about overcoming repression, and acceptance of the self.
Thelma is available on Hulu.
It Follows
I've done two reviews for this movie. One is an examination of the meaning of the monster, and the other focusing on the female -centric symbolism embedded in the film.
https://wordpress.com/posts/my/tvgeekingout.wordpress.com?s=it+follows
https://tvgeekingout.wordpress.com/2017/04/19/it-follows-2014-more-thought
Added Bonus:
28 BLACK WOMEN HORROR FILMMAKERS:
http://www.graveyardshiftsisters.com/2018/02/28-black-women-horror-filmmakers-meosha.html