I stopped reading superhero comic books, a little while back, and went back to my roots. When I first starting reading grownup books, I started by reading Horror novels by Stephen King,  and comics like Eerie, and Creepy. I never completely got away from them over the years, but when I gave up superheroes (because of the paucity of storylines, and the hot mess of continuities that is Marvel and DC), I  started reading the work of individual writers, and following different artists I like, which led me back to reading horror comics again.
Here are some great comic books to read for Halloween. I've read all of these except the Honorable Mentions.
30 Days of Night by Steve Niles
30 Days of Night has since become an entire series of books, with crossovers with other horror comics, and a movie starring Josh Hartnett. The graphic novel is so much better than the movie, and the movie is pretty damn good. The atmospheric art of Ben Templesmith is a huge factor in how scary the first book is. I became a huge fan of Steve Niles after reading this.
Arkham Asylum: A Serious  House on Serious Earth  by Grant Morrison
This is one of my all-time favorite Batman books. If you ever wanted to know what being inside Arkham Asylum must be like, this should give you a pretty good idea why the criminals keep trying to escape. But this isn't your typical Batman chases down some insanity through Gotham. No, Batman has to journey into the heart of the asylum, where he not only confronts his greatest opponents, but the inner workings of his own psyche. Naturally, it's the Joker who asks the most important  question: Why isn't he in there with them?
The artist is actually Dave McKean, but I think you can see a pattern forming, in that I like either cutsie, or painterly, styles of art.
The Nocturnals (The Gunwitch) by Dan Brereton
I was intrigued by the  illustrations for this series long before I'd ever heard it was a comic book.That first image was of The Gunwitch, and I loved that name so much, that I went on an all out search for more of it, and came across The Nocturnals. Essentially, this is a Halloween superhero team, with the various members having superpowers based on being supernatural creatures. The Gunwitch is the former bodyguard of the young lady holding the stuffy, with the pumpkin purse, named Evening Horror.  The art is funky and colorful and, despite the presence of sexy women, this is safe  for juveniles.
Beasts of Burden: Animal Rites by Evan Dorkin
This is similar to The Nocturnals in theme. I discovered this comic in an anthology series about Halloween, about a group of neighborhood dogs, (and one cat), who fight the various monsters that keep invading their territories. My favorite part is the relationship between the various pooches, who are all brave and  good doggos. It's not all sweetness and light though, because the stakes are very real, and sometimes the dogs get killed. It's safe enough for pre-teens because there is very little gore, but not okay for small kids.
http://deadshirt.net/2014/03/11/hellhounds-and-scaredy-cats-why-beasts-of-burden-is-the-best-horror-comic-youre-not-reading/
Constantine Hellbalzer: All His Engines by Mike Carey
I would definitely consider myself a Constantine fan, as I've read most of the graphic novels. Not all, but most, and I do have some favorite storylines. This is a particular favorite of mine, because apparently all you have to do is throw in an old Aztec god, and I'm in. The art is exceptionally well done, very detailed, and disgusting, and very, very effective. In this one, Constantine manages to find his way  to Los Angeles, investigating why his best friend's grandchild has fallen into a coma, only to find its a trap meant just for him, in a war between an ancient god, and a demon wannabe.
Spiral/Uzumaki by Junji Ito
This is one of those comics that has no gore, but nevertheless, haunts you long after you've finished the story. A curse causes the people in a small Japanese town to become obsessed with spirals to the point where they begin physically  transforming into spirals. If you like geographical horror, like the movie Annihilation, this is a great spooky story for Halloween.
Enormous by Tim Daniel
The earth has been taken over by gigantic monsters. In the first story, Ellen Grace tries to get some orphaned children to a safe place, after the death of her mother, and the destruction of most of Arizona.
You know how much I love monsters, and the art for this series is truly spectacular, with full color paintings. It also has a female lead, ala Ellen Ripley. This is a pretty graphic and harrowing adventure story about not just physically surviving, but surviving emotionally. This is a comic you read in small sips.
Wormwood: Gentlemen Corpse by Ben Templesmith
I mentioned this series some time ago. I love horror-comedy mashups, and this is Ben Templesmith knocking it out of the park, with the hilarious, and terrifying stories of Wormwood, a tiny little worm inhabiting a rotting corpse, which  has not stopped him from living up to his responsibilities of  drinking, cussing, and saving the world from the interdimensional, Cthulhu-like horrors, waiting to destroy the Earth.
The Goon Series by Eric Powell
For those of you who like monsters, but don't like being scared, here's some  humorous horror from Eric Powell. Think Ash vs. The Evil Dead, (and everything else), including mad scientists, zombies, Cthulhu, and femme fatales, set in the forties. The Goon usually wins by punching things, and when that doesn't work, his loudmouthed partner will offer to shoot it. Don't let the artistic style fool you. These books are nice and gory, but that's okay, because they're also deeply, deeply silly.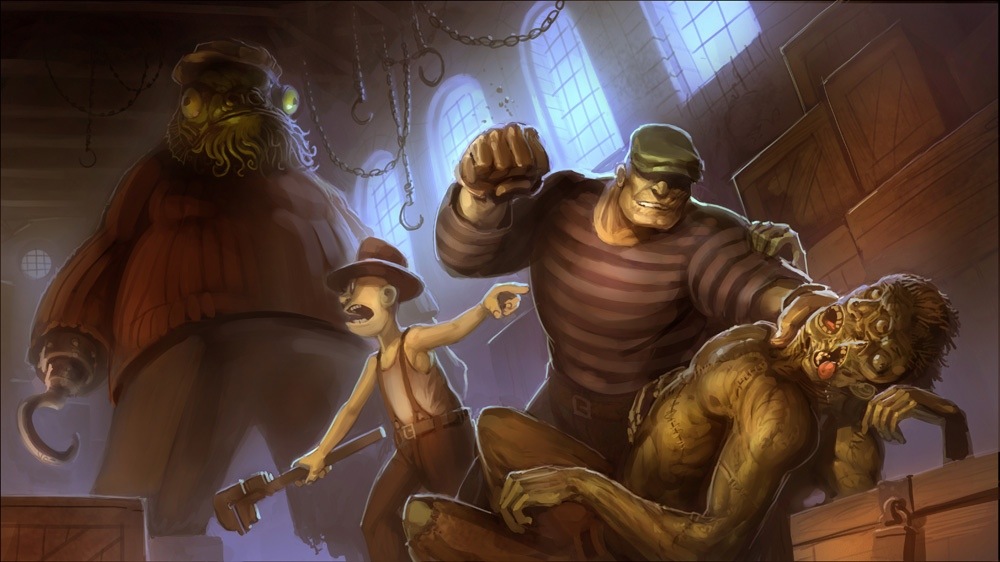 Alan Moore's Swamp Thing
I knew about the original backstory of the Swamp Thing because I read the comics when I was a little  kid, but when Alan Moore began his run in the 80s, he turned all of that on its head, and created one of the best story arcs for any character in the DC universe. Moore was aided in this endeavor by the  artists Bernie Wrightson, Steve Veitch, John Totleben, and Steve Bissette. (Please read the 1984 story "The Anatomy Lesson" if you want to be emotionally devastated.)
Shaolin Cowboy by Geof Darrow
I was first introduced to the art of Geof Darrow in the book HardBoiled. A book with almost no dialogue, but plenty, and I mean plenty, of art. His work is so incredibly detailed, it's ridiculous.  I went on to read Big Guy and Rusty (Who remembers that cartoon, but me?), and this crazed adventure here, Shaolin Cowboy, about the supernatural adventures of a Shaolin monk, in a techno alternate future America. Once again, there's no dialogue to speak about, but you will spend hours staring intently at the pages trying to parse every detail, and it will be worth it, because Darrow likes to add lots of easter eggs to his work. It's fun without  that anxiety producing gameshow feeling of  having to search for Waldo.
Criminal Macabre by Steve Niles
Criminal Macabre is like if Ash from The Evil Dead had been born with the psychic ability to see the supernatural world, and tried unsuccessfully to suppress that power with a ton of booze and drugs. This series is deeply funny, mostly due to Cal McDonald's ability to wisecrack, in even the most dire situations. This man takes so many drugs, it's a wonder he's able to stand up straight most of the time, often walking into fights drunk, high, or both, yet still somehow managing to prevail. And for those of you who consider comic books a little  too juvenile for your taste, there is a nice, fat, prose anthology of Cal's adventures called Criminal Macabre: The Complete Cal McDonald Stories. The prose version isn't as funny as the comics but the plots are just as ridiculous.
Hellboy and B.P.R.D Series by Mike Mignola
I'm a long time Hellboy fan. Some of the love is at least partly due to the artistic style of Mike Mignola. If your only knowledge of Hellboy is through the two Guillermo Del Toro movies, then I urge you to check out the comic books, graphic, and prose novels, which are deeper than the films, and if possible, even more dark and moody. The biggest difference between the style of the movies and the books is tone. There's not as much color or  humor in the books. If you're looking for fun and funny, this ain't necessarily it.
https://nerdist.com/hellboy-rise-blood-queen-comics-history/
Honorable Mentions or What I'm About to Start Reading Soon
Aliens Salvation by Dave Gibbons
I actually haven't read a whole lot of books in the Alien franchise. It doesn't mean I don't like the series. It mostly means I'm  too chickenshit to consume a steady diet of them.
Beautiful Darkness by Fabian Vehlmann
This story about tiny mutated people living in and around the rotting body of a little girl abandoned in the woods, sounds suitably horrific and yes, very, very strange.
Gyo by Junji Ito
I'm told that the actual title of this book is called Death Stench and has something to do with people dying horribly from intestinal gas. This should resonate with anyone like me who is lactose intolerant and has ever made the mistake of drinking dairy products.
Hillbilly by Eric Powell
Since I love the midwestern horror stories of Manly Wade Wellman, I'm pretty sure I'm going to like this other series by Eric Powell, about a Hillbilly guardian who fights monsters, in the hills of Appalachia, accompanied by his friend, a giant bear.
Neonomicon by Alan Moore
I heard that this book was deeply frightening, about two government detectives stumbling across a supernatural mystery. It's written by Alan Moore, so I trust that assessment.
Safari Honeymoon by Jesse Jacobs
Another monster book, about a couple who decide to spend their honeymoon hunting bizarre natural monsters. It sounds really cute, and I hope it's not too scary for me.