Most Americans know the rest of the world only through the media they consume, and unfortunately, most of them are content to leave it at that level,  never bothering  to question what we know of the world, how we know it, or who gave us the information, and why they gave it to us. (The corollary to this is the rest of the world learns about America through the media we create.)
The media, especially popular mainstream culture, shapes our American worldview, and that worldview springs from the minds of largely one group of people, so it's very interesting when White male critics (and let's be frank here, these critics are primarily White, straight, male, and we must not forget it when talking  about this issue), when they talk about how the media is "pandering" to the SJW's. At the same time these same men say things like "This is our media, and those people are invading it." There's a reason why they think Pop culture belongs exclusively to them, and that statement  is  both a declaration of ownership, and a subsequent lack of control over what they claim to be theirs.
If there are two essential truths in today's media and popular culture, it's these: One, virtually the entirety of mass popular culture is geared towards pandering to the wants, needs, interests, and desires of male nerds. And two, those male nerds often fail to believe that they've been pandered to quite enough.
I can't cover everything, so this is going to be a broad 101 of the topic. There are going to be some subjects I avoid as being too lengthy, and deserve posts of their own. Some topics I'm going to  avoid talking about in depth, because I'm not a member of the community in question. There were so many resources I wanted to add, so many videos, so many links, but I simply couldn't cover everything. I used the terms White characters, White men, and White people, interchangeably, but they are not all the same thing.  For the purposes of this essay (which I have edited the hell out of, and I'm too tired to go back through it and change all the terms) we'll use them interchangeably here. (And yes, I am including White women in those terms, since they have often aided and abetted cis-heteropatriarchy in movies, books ,and TV.)
White Men Control The Stories
Let's talk about what pandering is, how it gets done, and what it looks like in Pop culture. I'm primarily going to talk about the three biggest forms of media:  Music, Movies and TV and Gaming.
One of the reasons we tend to think of White men the way we do, is because our point of view has been aided and abetted by the vast amount of entertainment we've consumed, that privilege the White, straight, middle class, cis-gender, male viewpoint of themselves, and the rest of the world. Narratives that are created, controlled, and distributed by White men.
White men are  prioritized and normalized in the stories we read, watch, listen to,  and play. This is so ubiquitous that most people never notice it, until other stories start being told. Their presentation,  desires, wants, opinions (of themselves, and others, and their needs, are often placed front and center in many of the stories we've consumed, while those of women, gays, PoC, and other marginalized groups are de-centered, or placed in the stories to make them feel good and look heroic. Issues like erasure and whitewashing serve the same purpose, and while those may  have recently become household words, some of the prioritization of White men  are much more subtle, and often go unrecognized.
For example, movies may appear to present an issue, but that issue gets sidelined to focus on how the White characters think about the issue, rather than how that issue affects the people involved in it. In the movie Three Billboards over Ebbing Missouri, the movie presents issues of police brutality. But…there are only three Black characters in the entire movie, and we don't get any idea how they feel about what the police have been doing to them. Instead, the focus  is on them sympathizing with the White male cops who have committed  the brutality. Not only is the audience encouraged to see the humanity of these corrupt  police officers, but the Black characters (written by two White men) show sympathy and empathy for them too, unwilling to be angry, or hold the police to account for what was done to them. Police brutality of Black people is presented as background scenery for the story of a White woman's feud with a group of White men.
Normalization, Exceptionalism and  Universalism
In books, movies, and television shows, White men's activities, no matter what they are,  are presented as a normal outgrowth of being a man, and is something that can, and should, be applied to all men. The understanding is that the White male view of the world is shared by all men. The activities in which they engage, and their reaction to events, is something shared by everyone. Paradoxically, White men want to be shown to be rugged individualists, who are exceptional, and don't share any mundane qualities with other men.
We see the "normal" nature of whiteness in film and television too, in which most main characters are white, and in the case where a show or film prominently features actors of color, it is considered a "Black" or "Hispanic" cultural product. Film and television that primarily features white people is "normal" film and television that is thought to appeal to the mainstream; those that feature actors of color in lead roles and casts composed predominantly of people of color are considered niche works that exist outside of that mainstream.
One of the more subtle ways that White men are depicted on screen is through sympathy and innocence. White men in movies and TV shows are often given the benefit of the doubt when it comes to criminal behavior, or sympathized with when they experience pain.
I mostly want to talk about this as a TV phenomenon, but pick a crime, any crime, and Western media has probably made a movie/TV series/play/etc. with a white person that romanticizes the criminal activity. No matter what, a white person can do whatever terrible crimes and still have a TV/movie fanbase that loves them. When you see black or brown people committing crimes on screen, you are to see them thugs and criminal masterminds and people to be beat down.
Basically, every trope and stereotype present in film, and television, was invented, created, and reinforced through decades of use, by straight, White, middle class men, and the result is that White men end up looking heroic, commanding, smarter, mentally stable, and more powerful than everyone else. Their mistakes and transgressions are to be  forgiven or excused. Their abnormal circumstances and /or criminal behavior is meant to be sympathized with, and in some cases applauded as heroic. Even their most villainous behavior is meant to be understood, justified, and sometimes even romanticized. Witness the number of TV series and movies that romanticize White serial killers, for example. There are no shows and movies romanticizing the exploits of serial killers who happen to be men of color.
Some of this is obvious, some less so, but the end result is that White men are given a pass for their behavior, no matter how toxic, while  making themselves look sympathetic, in  television shows like Breaking Bad, The Sopranos, and Sons of Anarchy. There are few shows depicting men of color as mobsters and drug dealers in a sympathetic manner. Men of color who engage in criminal activity are painted as thugs, terrorists, and ne'er do wells. White men's ideas about crime pervade popular media in the form of procedurals, reality shows, and action movies.
Simultaneously, White men  have also gotten to be the only representatives of law and order. Up until thirty or so years ago, men of color were not depicted as cops in TV shows, and rarely depicted as such in movies. There were no Asian cops in American police procedurals until the 90s, few Latinos, and no Muslims.  White men broke the law, but almost always as Anti- Heroes, and Likable Rogues, (unless of course they had accents, or were coded as Queer) who were justified in committing violent acts. They also happened to enforce the laws which made them look like heroes. The majority of the rhetoric one sees in online commentary about the police has been heavily influenced by decades of propaganda showing the police as society's heroes, keeping, the usually Black and Brown criminals, in check.
The idealized image of the Los Angeles Police Department that the series portrayed, of a thoroughly modern agency dispassionately dispensing justice, is sharply at odds with the historical reality of an imperfect force beset by racism, brutality, and decades of scandals. 
 Thus these shows are also the closest we will ever get to putting on a metaphorical cape, defeating the villains, and saving the burning city from collapsing on itself. We are able to live out our criminal and heroic fantasies simultaneously through both the lawless perpetrator and the take-no-shit cop.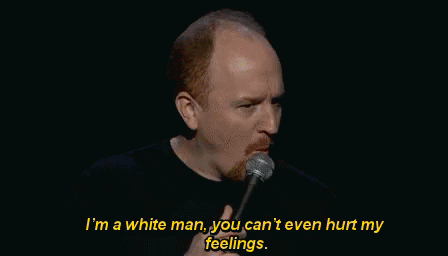 Even in movies that are ostensibly about other people's stories, it is White men who get to be the heroes. In the movie Hidden Figures, a movie about the lives and careers of three  Black women who worked at NASA in the early 60's, Kevin Costner gets to be heroic when he destroys the segregationist bathroom signage, that he never noticed or paid any attention to, until of course, it was pointed out to him by one of the Black women in his employ. Needless to say, this isn't something that ever happened in the real world. Costner was  added to the story as someone for  White audience members to identify with, and feel good about themselves for doing so.
Prioritization
From: 'Forced Diversity' in Modern Media
The expression"pushing identity politics/representation" is just the beginnings of addressing racism in problematic cinema
White people are in almost every movie and paint themselves as the heroes of every event, no matter how great or small. The complete invisibility of people of color, even in our own stories has been part of the American experience since mass media began. Even after we began to appear, it was always in subservient roles, either taking care of Whites or subservient to them.
White media paint White characters as indomitable, unstoppable juggernauts overcoming any obstacle. From seaside Viking raids to intergalactic alien invasions, no matter where it happens, the perception is, only White people will be leading the way and will WIN, because of their <insert ability inherent to and uniquely held by White protagonist here.>

This failed perception, this false worldview, is both problematic and reductive. It makes White people seem to be the only problem-solvers in movies and the lack of participation by other groups is because they have nothing to offer. The world view which says Whites are the ultimate expression of knowledge, culture, significance, beauty and creativity is a lie and it has been promoted through mass media since the turn of the last century.

This perspective has become so ingrained, people of color from around the world are bleaching their skins and divesting themselves of their own culture to gain access to the White hegemony and its oppressive racially-intolerant culture. Online bleating by racist fans of <insert media genre here> would have you believe the nature of inserting people of color into any media, no matter how appropriate to the very job of acting is an affront to their whiteness and the integrity of the work.
White male consumers are taught in a million subtle, and unsubtle, ways that everyone/everything belongs to them, centers around them, or is meant to serve their happiness. The industries of gaming, movies, TV, publishing, and music have been the fuel of their entitlement, and have pandered to White male fantasies of power, sex, and money, for decades.
Not only are White men the center of their own universe, they are meant to be the center of everyone else's. They believe this because American media has been telling them that since its inception.
White men believe these things because they have been pandered to by a raft of  stereotypes and tropes,  from Whitewashing, to White Savior, to Mighty Whitey, to Generic Male Leads, which all designed to prioritize them. Their motivations, feelings and identities get to be the center of the stories, and they are the sun around which every other character (often  the marginalized, who are acting as emotional support and sidekicks) revolve.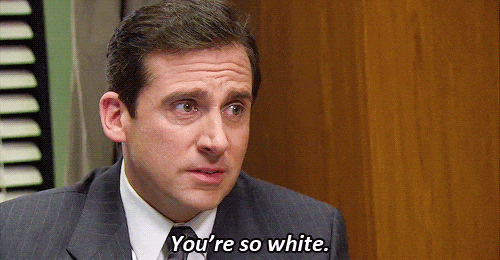 White men have been the only characters available, (for everyone who is not them), to identify with in most  fictional narratives, even in stories that are not theirs, such as movies like Mississippi Burning, where the focus of the Civil Rights Movement is on the White FBI agents investigating the  deaths of  the Civil Rights workers, and  how that investigation emotionally affects them.
Despite a few outliers here and there, White men in TV continue to mostly tell stories that are only of importance to White men, (which accounts for the sheer numbers of White, male, coming of age stories so prevalent in books, movies, and sitcoms). White men love to tell the mundane stories of their childhood, many of which were unexceptional, but are always lauded by the White critics who identify with them.
"It's important that Hollywood showrunners and writers recognize that many of the narratives they put out in the world and how they do business is not in the spirit of who they claim to be," Hunt said. "White men dominate the major positions, and people of color and women have a long way to go to attain any type of equity."
… that problem stems back to the underlying systemic racism in society. The publishing companies are run by White men who have decided what is able to be published, what people are willing to buy and base their latest books on projections that figure Whites are the primary purchasers and thus are the only audience worth catering to.
 In a 2015 study, novelist Nicola Griffith (Hild, Ammonite) looked at 15 years worth of data from a few top literary prizes. She found that fiction written by women about women won hardly any prizes, and fiction by women about men fared a little better. Books by men about men were miles ahead.
Prioritization doesn't just happen in the making of media, it can happen within the story itself. Movies that would ostensibly be told from the point of view of the characters that the story is about, often get sidelined, in favor of telling the story from the point of view of  White men who have been added to the narrative. This particular form of prioritization (often called The Generic Male Lead) is a lot easier to spot than others, although it is so ubiquitous that it's all but invisible to a lot of people. Not only are White men the centers of other people's stories, their presence in the story seems to be of primary importance to all the other characters.
The Generic White Male Lead
I already discussed in The Pandering (Part One),  how movies, games, and shows are  written  to star a generic White male lead, because White males, aged 16-35, was the key demographic that was of most interest to Hollywood and advertisers. This particular trope is sometimes  called The Average White Guy, The Everyman, or just The Generic Guy. Most often this trope is little more than a power fantasy for the average White male audience it is aimed at. They can imagine themselves having heroic adventures in space,  the past, the present,  or obtaining the love interest. They're still an average, mediocre fellow, but they get to be heroic, and have adventures, in the meantime.
White men are who the story is about, with the cultural histories, homelands, and marginalized people used as a  backdrop for their heroic undertakings, character growth, emotional angst, love stories, or family dramas.  Sometimes famous (or infamous) men and women of color are sidelined in their own stories, because the White man's story takes precedence. For examples see : The Last King of Scotland,  and Birth of the Dragon, in which famous men of color (Idi Amin and Bruce Lee) are sidelined in their own stories, their lives used as backdrops to tell the stories of generic White men feeling some type of way about their circumstances, or falling in love.
The 2015 movie, Stonewall, came under fire from the LGBTQ community for centering a White man in the middle of a story that was supposed to be about the uprising of a group of transgender people of color at the Stonewall Inn in the 60's. The original "real life" Queer people of color who were present at the event, got sidelined in a story that should have been about them, their lives, and their activities leading up to the rebellion, but they were instead used as  background color to tell the  coming of age story of  a generic fictional White guy.
…a San Francisco-set coming-of-age story involving a rough and tumble young white man who matches the feuding fighting legends in the brawl as he pursues a Romeo and Juliet romance with a young Chinese immigrant [JingJing Qu] under the control of the Chinese mob.
Many of the tropes listed here often overlap, and sometimes all of them can appear in just one movie. Movies where a White Generic Lead is Chosen to be a White Savior to a group of natives being colonized, or killed, by people who look like him, because it is his Burden, as a White man, to civilize those people, while being better at their cultural traditions than they are, and falling in love.
A perfect example of all these tropes meeting in just one film is The Legend of Tarzan, which was released in 2016, (although all the Tarzan books and movies suffer from this, because it's  what they are based on). In this modern retelling, Lord Clayton is a scruffy White dude, who is also the Chosen One of the African tribe which has adopted him. He knows how to be a better African than the Africans in the movie, making him a Mighty Whitey, as he talks to the animals, who love and obey him. As a White Savior, he has a responsibility to save his adoptive tribe from some evil Dutch Colonists. Further examples of all these tropes appearing in one movie are: Avatar, Dances with Wolves, John Carter of Mars, A Man Called Horse, and The Last Samurai. All of these movies have the same basic plot.
Mainstream video games are almost exclusively the province of the scruffy White every man. It is well documented that  White male audiences are prioritized when it comes to mainstream gaming. Women, LGBTQ, and PoC are often pushed out of gaming, not just by a lack of representation, but by the heavy sexualization of female characters, the mockery of Queer characters, and the harassment and violence of White male gamers.
The problem faced by woman and minority-starring video games
is largely the same as the problem facing traditionally underrepresented groups across all forms of representation: their failures are treated as definitive,and their successes are ignored. Dozens of white man-starring video games have underperformed, but their failures are treated as specific to that game.
The White Savior and the White Man's Burden
To this day, some people still latently believe what imperialists such as Rudyard Kipling said, that colonialism was important for everyone: the conqueror and, most importantly, the conquered. That without the colonizers, the colonized had no hope of survival. And by constantly churning out movies with plots in which white people "save" people of color, Hollywood reinforces colonialist dictum.
In movies, the White Male Savior (and there are also more than a few female characters that fall into this trap, but this is a genre that is written, controlled, and distributed by men, so I'm leaving those movies that star White women in this space) happens often in film and television. When it's women, they show up as characters like Daenerys in Game of Thrones, Skeeter in The Help, and  Leigh Anne in The Blind Side, with some of the most frequent depictions of the White Savior trope occurring in classrooms, with movies like Dangerous Minds, Conrack, Up the Down Staircase, and Freedom Writers. (No. To Sir With Love  does not fit this trope. That's a story about a Black man saving a group of disrespectful White students.)
The number of White Male Saviors in movies are fairly  numerous and cross all genres: Movies like Amistad, To Kill a Mockingbird, Radio, Avatar, Dances with Wolves, District 9, The Soloist, Hardball, Gran Torino, The Great Wall, Tarzan, and The Last Samurai.
Sometimes this trope overlaps with the Chosen One, The Mighty Whitey, or The Generic Male Lead. The White Man's Burden is a reference to the colonialist idea that White men had a responsibility to civilize the rest of humanity who were not as evolved, and neatly dovetailed with the White Savior Trope. The White Savior often functions as an audience identifier, which allows White audiences to believe themselves to be "good" people  because they identify with him or her.)
The white savior is a cinematic trope in which a white character rescues people of color from their plight.[1] Certain critics have observed this narrative in an array of genres of films in American cinema, wherein a white protagonist is portrayed as a messianic figure who often learns something about him or herself in the course of rescuing characters of color.[1][2]
…In the praxis of cinematic narrative, the white savior usually is a man who is out of place within his own society, until he assumes the burden of racial leadership to rescue non-white foreigners and minorities from their plights. As such, white savior stories "are essentially grandiose, exhibitionistic, and narcissistic" fantasies of psychological compensation.[4]
The Chosen One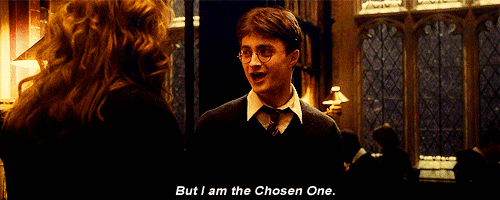 The trope of the Chosen One isn't always a White man, (occasionally women and men of color get in on it). It includes everyone from Harry Potter to Anakin  Skywalker. The Chosen One trope is old and tired,  but not necessarily a bad thing. In fact, the trope itself is rather neutral. The problem begins when  the special Chosen one is paired with any of the above tropes, which it often is. The Chosen One trope is an Average White guy fantasy that he is secretly exceptional, with some grand destiny. The Fantasy genre relies on this trope far  too often.
The Mighty Whitey 
This falls under the heading of  Exceptionalism, when it is only White men who get to be good at everything,  outdoing the people's of the native cultures he has adopted (or who have usually kidnapped him.) We already discussed Tarzan, which helped to begin this trope in popular culture (although it existed before that), but The Last Samurai is also a near perfect  distillation of the Mighty Whitey trope. Tom Cruise goes to Japan as a colonizer, but gets kidnapped by a tribe of Samurai. In the space of a few months, however, he manages to befriend the leader of the tribe, Katsumoto, fall in love with the man's sister, Taka, (despite having killed her husband), and master the use of the samurai sword after only a few months of lessons.
TV Tropes characterizes this trope as a typically noble Caucasian man who, due to often extenuating circumstances, comes to live with native tribesmen. He not only learns the ways of the native people, but surpasses their skill, becoming far better at being a member of the culture than those of the tribe, and naturally their greatest warrior or even their leader. The trope in some cases also involves a romantic story-line between the hero and the Chief's daughter, who will often continue to love him despite the hero's sometimes direct involvement with the death of a significant family member.
Many in the west clearly still believe we need an identical identifier on screen, if not a white savior than at least a proxy embedded into an exotic group. Someone apparently thought it necessary to have a white male lead in an early draft of Disney's live-action Mulan remake. And a lot of people are still interested in seeing Tarzan as the superior white hero of Africa, given the global box office success of The Legend of Tarzan. Fortunately, discussions of the "Mighty Whitey" trope problem grow with every example.
Whitewashing
Roles that should rightly be played by  fat people,  people with disabilities, transgender,  gay, or people of color, will often be replaced by White men (and sometimes women) in a  story, but the term Whitewashing  itself, often specifically refers to the replacement of PoC with White people. Contrary to popular confusion, Whitewashing and Race Bending are not equivalent. Whitewashing also applies to more than just film and television roles, but across the whole of the entertainment industry.
The portrait is one of pervasive underrepresentation, no matter the media platform, from CEOs to minor characters. "Overall, the landscape of media content is still largely whitewashed," the study concludes.
"It is the height of white privilege to think a white person is better equipped to play an Asian character than an Asian person."
Erasure
This means the  removal of gender, racial, and sexual diversity from Historical, Present, and Futuristic Narratives in movies, television, and gaming, especially when they should be present. The past was not as homogeneous as people like to argue and  I consider the question of homogeneity, at any point in  European history, to be a thoroughly moot point, if one has also added dragons, orcs, elves, wizards, and other fantastical creatures to the landscape.
To remove marginalized people from present and future narratives is to make a deliberate choice to not add them, which says something (none of  it good) about the creators of such stories. Sometimes, the White creators of these stories cannot imagine a future in which PoC, gay people, or people with disabilities contribute to the creation of the culture, or have adventures separate from White people. In many of the movies in which these marginalized groups do appear, the writers cannot imagine a future for them that is any different from their past, or their current level of  oppression. Poc of color are still secondary citizens, who live to serve the needs of the White characters in the story, homophobia still exists, no accommodations have been made for the disabled, and  White men are still the leaders of everything. For  example see : Ready Player One (book and movie), Bladerunner, and any movies about the future that were made before 1979.
The Past
The Present
The Future
What all of the historical erasure of non -Whites  has led to, is the popular mainstream belief that different groups of people contributed nothing to the historical record, which is then used as an excuse for excluding them from fantasy narratives, which is  then extended  into the future, or any form of speculative fiction.   The impression that is  given is that  the only worthwhile contributors to all of human culture are White people, specifically White men. This also  aids in the perpetuation of the belief that it was exceptional White men who created civilization.
Cultural Appropriation and Orientalism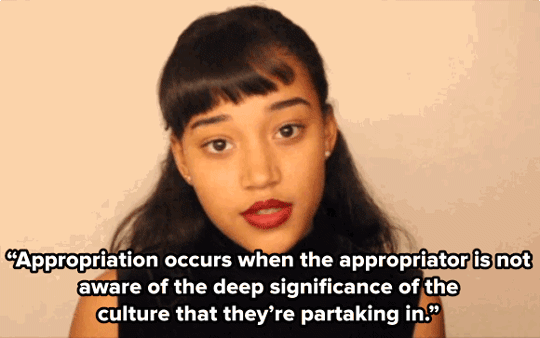 The most egregious purveyor of these two tropes are Science Fiction films, and most noticeable in films which feature an entirely Asian cast except for that White Savior, or   Mighty Whitey. It also includes appropriative narratives like The Handmaid's Tale, which appropriates the oppressive histories of WoC, but  with a cast of White women, and just about any X-Men, comic book, or movie, where the histories of Black Americans, and LGBTQ people  are appropriated to tell the story of those oppressions happening to White straight, cis-gender characters.
Many of these examples are just allegories of oppression. The use of allegory and metaphor is a neutral act, and I don't actually have a problem with allegories about oppression. I think the problem occurs when these stories are almost always told through the lens of straight, White victims. I discussed why in my reviews of A Handmaid's Tale, and the series The Gifted.
https://www.npr.org/sections/codeswitch/2017/06/28/533818685/cultural-appropriation-is-in-fact-indefensible
Cultural appropriation can feel hard to get a handle on, because boiling it down to a two-sentence dictionary definition does no one any favors. Writer Maisha Z. Johnson offers an excellent starting point by describing it not only as the act of an individual, but an individual working within a "power dynamic in which members of a dominant culture take elements from a culture of people who have been systematically oppressed by that dominant group."
The movies most notable for both cultural appropriation (and Orientalism) are the Bladerunner films, in which Asian (specifically Japanese) aesthetics are used as background settings for a story that uses the American version of slavery as an allegory, but which stars no prominent Black or Asian characters.
This doesn't just happen with different Asian cultures, but with African American, and Gay subcultures, and in music and books. Cultural appropriation is a product of White Western thinking that finds the cultural artifacts of other nations to be nothing more than amusing or pretty trinkets.  There is rarely  any understanding of what's being appropriated, and this is often coupled with a denigration of the people that produced whatever aesthetic was stolen. Often, it is only the cultural aesthetics that have any value. To the White people who do this, the people who produce what they've stolen have no value. There is also  the added side effect of centering White people in the middle of other people's stories and culture.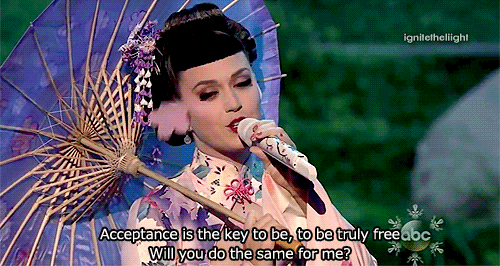 There is some confusion over just what constitutes cultural appropriation, especially when it comes to more shared activities like music, art ,and fashion, but sometimes there are clear cut cases where corporations have stolen design elements from Indigenous, or geographically exclusive cultures, and profited from the theft, without giving credit to the originators of those design. Cultural appropriation has been very well documented for several decades.
An example of an appropriation of a musical style was Disco, which was primarily created by Latinos, WoC, and LGBTQ creators, who were also primarily the audiences for the music. By the time Disco made it into mainstream culture, most of the elements that made it so appealing to those marginalized groups, had been stripped from it by White men seeking to make a profit. The faces of Disco became White, straight, and male in the form of Saturday Night Fever, Abba, and The Bee Gees.
Every musician has influences, that is very true. The issue, however, lies with the lack of proper credit to these influences, and more importantly, that these influences aren't getting their due monetarily and popularity wise. Moreover, these black influences experience barriers in terms of industry gatekeepers, while the influenced white musician is skipping through an open gate. Lastly, the trend of showing off the negative stereotypes of black culture and disregarding the other parts that are involved, demonstrates a lack of understanding and respect for the music one is taking.
The film Saturday Night Fever, a fictional account of a hetero Italian-American disco fan, whitewashed the genre and sold it – very, very successfully – to mainstream America.
Appropriation of Indigenous Culture in the Fashion Industry
Appropriation is typically defined as taking an idea or reproducing an artifact for one's own particular use, altering its original meaning, and doing so without the original producer's consent. Cultural appropriation is often related to the exploitative and commercial use of traditional and customary elements of long-established cultures. 
Tokenism
Tokenism is something that can be applied to every marginalized group. Often they are the only member of their group in the narrative and don't actually get to be their authentic selves, because their words are written by writers who aren't a member of their group. There's often only one woman, or one gay character, or that one lonely Black man, who gets killed first. And then there is the burden of representation, where that lone character now has to be all things to all the members of their group, because they are the only one present.
Because characters of color are rare on screen, when they appear, they carry " the burden of representation," which means that they are a symbol or representation for an entire community,…"For white people, this is not a problem, because their roles are so varied and so numerous that audiences do not see them as representatives of the white community, but simply the individual characters,…"
Narratives that contain two or more  gay characters, women, or  PoC, are considered niche markets, that are only of appeal to the group in question, and subsequently don't get marketed to a larger more mainstream audience, which is what happens when members of the dominant group control the means of distribution. (This is very slowly beginning to change with movies created for, by,  and about marginalized audiences seeing mainstream release.)
Why do Black people like White movies? The short answer here is that we don't have much of a choice.
One example of tokenism  are most of the MCU films, although this is a trope that can be spotted anywhere. The MCU film, The Avengers, fell under scrutiny for the  Smurfette Trope, as the only female character to appear in the movie, with a speaking role, was Black Widow. When there is only one token character in the story, the writers don't have to expend time and energy imagining what such a character could be thinking, and they  certainly don't have to imagine what two or more of them would talk to each other about.
Another trope I've been noticing recently is when there is more than one person from a marginalized group in the narrative, they may actually have names, and  speak to one another, but their relationship is antagonistic. Once again the MCU comes under fire, for this. The movies have been slowly adding more men of color to the franchise. In Captain America Civil War there are two Black men, Rhodes and Sam, but their relationship is antagonistic. There are two White women in the cast, but they have only two lines to each other between them. The rest of the time they don't interact. The Netflix show, The Defenders, did slightly better by featuring multiple women of different races, but none of  them are friends, and in some cases actively work against each other. The only  two WoC who interact, and are shown being friendly, are  Misty Knight, and Colleen Wing. Even in the series Jessica Jones, only two of the several women in the cast are shown to be actual friends. The rest are all antagonistic to each other, and the lead character.
It's almost as if the writers cannot conceive  that women (and others) would have any conversations that are not about White men, or what subjects other people could possibly be talking about, when White men are not  present, or even that they might like each other. This is especially easy to point out in the Token PoC Trope, where men and women of color don't have lives that are separate from the White characters and they don't seem to have friends or family of their own. Their lives (and deaths) revolve around the White leads.
Even the deaths of such characters are there to serve White men. People of color will sacrifice their lives to save the White characters. Women's deaths have whatever meaning is assigned to them by the White man they're  related  to in the story.  In  comic books women are "fridged" to provide an emotional arc for the lead characters, but  there are countless movies based on White men going on killing sprees that have been spurred by the deaths of wives, daughters, lovers… so many that this plot point almost constitutes its own film genre, The Vigilante/Revenge Film.
The Presentation of Everyone Else
In stories that are ostensibly about women, PoC, and Queer characters, White men still get the most speaking lines, get to portray the gay and transgender characters, and even non-White ones. According to White men, the past was all White, the present is almost as White, and the future is every bit as White as today. When it comes to fictionalized universes the  White  straight men who control these narratives,  are hard pressed to imagine any point in time in which they are not a priority.
Since the vast majority of Pop culture media is owned and controlled by White men, White men get to speak for, put words into the mouths of, and then give their opinions on, everyone that is not them. They have created all the labels, the identities, and the narratives of everyone who is not them, instead of allowing those groups to speak for themselves.
The Presentation of Gays and Lesbians
As chronicled in The Celluloid Closet, it was White men who got to decide what images of gays and lesbians were acceptable for TV and movies. There were gay men involved in the creation of gay characters on screen, but after the implementation of the censor codes in the fifties, they often had to hide, deflect, or depict gayness in a comedic or villainous way.
Hollywood accounted for the creation of some of the most egregious gay tropes, like the Sassy Gay Sidekick, Kill Your Gays, or the "It's Just A Phase" lesbian. Hollywood often engages  in the erasure of gay characters, in movies like Alexander, and A Beautiful Mind. In the past, the only way that film studios could get gay characters past the censors was to present them as being laughably harmless, tragic, or associate them with crimes they could be punished for.
The Celluloid Closet is not available at this time for free streaming but it is available on Youtube, iTunes, and Vudu, for a fee. Since I'm not a part of the community in question, I don't feel I should speak for them, but I can signal boost the voices of those who are.
Queercoding Villains
One of the ways Hollywood excuses violence against gay people is to cast them as villains, thereby associating gayness with crime, or evil activities in general. Sometimes though, a character's homosexuality is only alluded to by gestures, and dialogue.
However, critics mostly highlight the company's use of queer-coding in the making of Disney villains. Feminine mannerisms and melodramatic attitudes typically characterize antagonists such as Jafar in "Aladdin" and Scar in "The Lion King." Even the creators of Ursula from "The Little Mermaid" looked to the drag queen, Divine, as a model for their sassy and temperamental villainess. By using queerness as a defining feature of a large portion of Disney villains, the company fuels children's association of those characteristics with evil figures or immorality.
One of the most difficult things about approaching film and television's use of queerness is that there will rarely be a single verdict on any given cultural product. With the exception of the most simplistically supportive or bigoted representations, there is room for much discussion and debate in determining a positive or negative LGBTQ presence. Because of this shift, seriously engaging with and thinking about the images we consume has become more important than ever.
Transgender Men and Women Transgender characters come under special scrutiny in Hollywood. They are almost always cast as tragic victims of their "lifestyles", or villains. Needless to say, since none of the imagery we see of transgender men and women are actually created by them, their depictions have always been problematic. Then there is the mainstream obsession with transgender men and women's genitals, and whether or not they have transitioned, are going to do so, or are doing so right now. This is leaving aside that transgender actors  rarely if ever get to star in their own stories.
 "Media has a history of telling the world a story that transgender people are always victims or villains, instead of true depictions that show the transgender community as citizens worthy of equality and respect. 
In the past, transgender characters have been the butt of jokes, and objects of disgust, with transgender women being the focus of the greatest amount of  attention. That type of transphobia is to be expected when White, Straight, men are intrigued by them, mistakenly believe that them to be men in drag, and are  homophobic, and misogynistic. The hyperfocus on transgender women, as objects of ridicule and disgust,  is called Transmisogyny. There is also the common trope of transgender women as being male deceivers of straight men.
Transgender villains are often a common trope in Horror movies, too and serves the dual purpose of showing the creators disdain of the community, and associating transgender men and women with evil, and crime. Often the characters are not transgender at all, they are merely men dressed as women, and the effect is that transgenderism becomes associated with the idea that gay men are trying to deceive straight men, by dressing up as women to fool them.
Some of the most famous depictions of transmisogyny are from the movies Ace Ventura Pet Detective, Silence of the Lambs, Psycho,  and  The Crying Game, in which a member of the IRA goes to London to visit the girlfriend of a man he killed, finds that she is transgender, and reacts with vomiting and panic. In fact, vomiting at the sight of trans women was a common trope in the 90s, usually as a form of comedy.
Obesity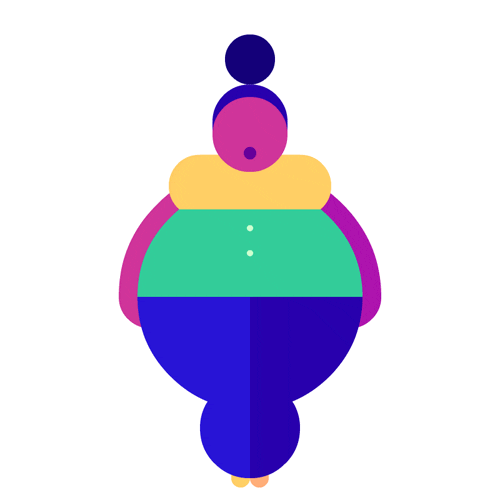 This is a topic of considerable interest to me. Consider for example, that all of the media stories that feature fat people as  characters,  almost all are entirely written by conventionally thin people. This has real world consequences, and accounts for the worst stereotypes believed about  fat people, especially fat women. They are most often seen as comedy relief to be mocked or laughed at, or undisciplined, unintelligent, ugly and desexualized slobs, whose lives are a dysfunctional mess.
In the movie Death Becomes Her , one of the lead characters is played by Goldie Hawn, a conventionally attractive White woman wearing a fat suit. There's a scene where her life is shown as having spiraled out of control due to her jealousy of Meryl Streep's character. She is shown at home,  in her pajamas, messily eating tubs of food with her fingers, in a roomful of cats, while watching TV. Her hair is a mess. She is late on her rent and about to be evicted.This is a  type of shorthand often engaged in by visual media. There is nothing sympathetic about this scene or her character. It is a derogatory image meant to symbolize how pathetic her life is. The screenplay was written by David Koepp and Martin Donovan.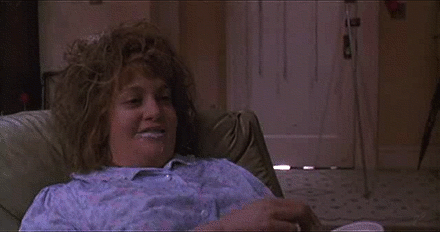 https://www.usatoday.com/story/life/tv/2018/08/10/insatiable-netflix-fat-women-television-chrissy-metz-dietland-nicole-byers/945835002/
This is, inevitably, just new packaging for offensive stereotypes about fat women on TV. The logic goes that the "good" fat women are the ones trying to lose weight or who already have (Monica on "Friends," for instance), because staying fat means you are lazy and disgusting. As a result, the characters that stay fat have to be the villains or comic relief (see "Mike & Molly" or any number of jokes in shows like "How I Met Your Mother" or even "Jessica Jones").
Another example is a scene in Jessica Jones, a show about a female superhero, that's meant to be empowering for women. There's a throwaway insult made by Jessica about a fat character, seen through a window on the street. Why was this scene added? It has no bearing on the rest of the plot, and that character is never seen again. If it was put there to showcase how much of an asshole Jessica is there are other ways that could've been conveyed to the audience that didn't require throwing fat women under the bus, and since that scene was written by women, has the perhaps, unintended side effect of making the writers seem like assholes. It has also been pointed out, that a show about abuse survivors is telling us, not so subtly, that verbal abuse of fat women is okay. That idea (and its associated stereotypes and myths) has always had real world repercussions for fat men and women. (Yes, the show is written by  White women, but they  have often been complicit in White patriarchy.)
https://danceswithfat.wordpress.com/2016/01/09/drive-by-fat-shaming/
This is drive-by fat shaming. Just a quick reminder to everyone watching/listening that it's hilarious and cool to make fun of fat people – even on a show that is supposed to be feminist. 
None of the derogatory images we see of fat people are written by people who know what it's like to live life as a fat person. Women of color are often "mammified" for being fat, while men of any color are most often mocked, even in sympathetic portrayals. It is Popular culture that is responsible for disseminating most of the myths we believe about fat people.
…the film industry has a long and varied history of producing movies that feature overweight characters. Some movies portray weight sensitively; others make a mockery of the subject; but few politely disregard the subject of weight altogether – perhaps mirroring our collective real-life inability to do so.
Poverty
Many of Americans most entrenched  ideas  about being poor have come from politicians demonizing them,, and decades of watching the depiction of poor people, in movies and television, that were written by middle class people (who are themselves steeped in myths about poor people), and who have been conditioned by politicians to think of the poor as lazy, ignorant, and deserving of their fate.
Did you notice that a lot of the stereotypes and myths about fat people, poor people, immigrants, and poc are similar in nature. All that is said about the poor are the same things said about anyone who is not White, thin, middle class, , mentally abled, or male, and meant to paint the picture that the creators of these stereotypes are the norm, and anything that deviates from it is "other", abnormal, or dysfunctional.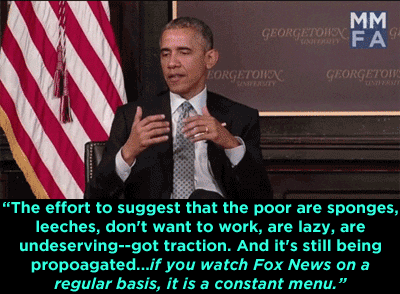 …with more than 43 million Americans living below the poverty line, the topic is surprisingly rare in Hollywood films. And yet many common misconceptions about what poverty looks like, and how people can overcome it, have been reinforced by movies like Slumdog Millionaire, Precious, The Pursuit of Happyness, and The Fisher King. 
One of the most common stereotypes is that homelessness is exclusive to men, and that all homeless suffer from mental illness. That is who we often picture when discussing the subject. We do not often consider the idea of women and children being homeless, or that homelessness itself would exacerbate any already held mental illness, or sometimes even cause it. When we picture the homeless, we picture them looking a certain type of way. There are homeless people who look indistinguishable from everyone else, some of them  work and many  live in rural areas. Those people are called the Invisible Homeless.
Homeless people in movies and TV shows, are usually played for comedy relief. When they are shown sympathetically, it is usually to serve some well meaning and often middle-class, White  character's personal  growth. This also falls neatly into the White Savior trope.
While the rural homeless may not be sleeping on city sidewalks or in public places, they are not any less homeless than their urban counterparts. They may be sleeping in their car, a church, an abandoned building, or, most commonly, on the couch of a relative or friend. 
Part of the problem, as it is in most years, is that few movies about poor or homeless Americans were made in the first place. My previous researchfound that between 1902 and 2015, of all the films made in the US, only 299 of them were in some way significantly concerned with issues of poverty and homelessness.
Disability
Characters with disabilities are almost all written and created by people without them. The characters themselves are often depicted by actors who lack the disability in question, and non-visible disabilities like chronic pain, or mental illness are  rarely depicted on screen, without attaching ideas of laziness or  violence to them. Why do we believe so much of what we believe about the different groups of people to which we don't belong? We probably got those ideas  (and they were most certainly reinforced) from decades of television and movie viewing.
Not only are people with disabilities stereotyped, the full range of disabilities is not reflected in media portrayals. Lynne Roper of Stirling Media Research Institute, in her article "Disability in Media," notes that "wheelchairs tend to predominate… since they are an iconic sign of disability. Most actors playing disabled characters are, however, not disabled. The wheelchair allows the character to be obviously disabled, whilst still looking 'normal', and does not therefore present any major challenges for audience identification."
The media, however, especially the movies, portray schizophrenia in a different light than the actual disorder. Common misconceptions are that schizophrenics are violent, drink alcohol heavily or use narcotics, behave comically, or suffer from a non-curable disorder. Some believe that schizophrenia is punishment for acting immorally, or that contact with a schizophrenic can lead to mental disorder. Others believe schizophrenia is the result of poor parenting and that schizophrenics behave unpredictably, are loners and isolated from society, or manifest disruptive behavior.
On Race and Gender
White, straight, cis-gender, Middle class, non-fat men get to have their say about  everyone else. Narratives about fat people that aren't written by fat people, stories about men and women living in  poverty, where not one poor person was actually consulted, stories about women's lives written from a male point of view, along with stories about gay people, Blacks, Asians, Latinx, where the opinions of who they are as a group are given no priority over the White men in the story, or the White men who wrote the script, or directed the movie, or even critiqued it,  is what is meant when we talk about seeing the world  through a White male lens.
We only  get the White male  point of view, and that point of view, reinforced through decades of pandering to White male audiences, is that everyone else is less than.That people who are not like them do not deserve sympathy or the benefit of the doubt. That those people's lives are unstable because those people are somehow dysfunctional. It is not that White men don't get depicted in unflattering ways, it is the overwhelming sense that White men deserve sympathy and compassion when they're lives are out of order, while everyone else deserves mockery, dismissal, or erased. Decades of television, and film consumption have made Americans less tolerant of the differences between them, which is a (sometimes)  unintended side effect of White men being in the dominant position of catering to their key demographic: other Straight, White men.
The White male lens on race and gender in movies and television is well documented. They have   crafted, over the past fifty to sixty years of television, many of the stereotypical images of race and gender seen on our screens. Many of these depictions have been the only ones fans have consumed, since many Americans simply don't read very much. White supremacy, ignorance, a lack of imagination, and laziness help to perpetuate these depictions throughout mainstream media, and even into fandom. Once again we're not talking about individual depictions of gender and race, or outliers from the stereotypes. We're discussing the whole of cinematic and television history.
Here, Lindsey Ellis discusses the  "Male Gaze", and also makes the point that the male gaze isn't just about how women are depicted on screen. Its also about how White men are depicted. She uses the Transformers movies as an example of gender and race as seen through the male gaze.
The Presentation of Men of Color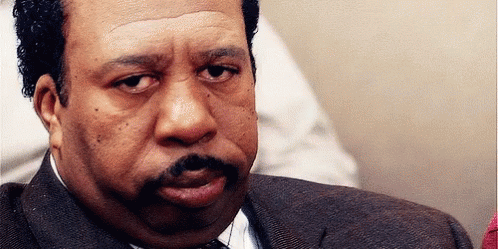 Just as media images of White men can make their centeredness and superiority seem normal and inevitable, the stereotypical depictions of other men in media can do the same to them. It  becomes natural to associate Black men with criminality, Middle Eastern men with  terrorism, Latinos with sexual promiscuity, and East Asian men with technology. These racial stereotypes were created by White  creators, and  used as justification for inequality, racism, and White supremacy, and have been helpfully maintained by lazy and incompetent creators ever since.
I keep mentioning the Whiteness of the the creators, because I want you to imagine  an American made film,  which features a Black, Latino, or Asian man's anguish at, or revenge for, the loss of their wives, daughters, or lovers. or at least imagine such a narrative wherein he is not punished for doing so. Men of color don't get cast in mainstream shows and  films like that, because the media doesn't cater to their power, fame, or money fantasies. A man of color can only be an adjunct to  a White man's goals, whether those goals are avenging a loved one, or getting the girl.
One of the things to keep in mind when reading these stereotypes of men of color is that they are essentially all the same stereotypes, with slight variations. The same racist narratives used against Middle Eastern men has also been said about both  Black and Asian men. All men of color are uncivilized, and barbaric. That they  are both oversexed and desexed are stereotypes lobbed at both Blacks (The Black Brute), Asians (The Horndog),  and Latinos (The Latin Lover), and that they are all obsessed with White women, who need to be saved from their attentions.
One of the ways White men in pop culture seek to maintain hegemony is to desexualize or emasculate certain characters, Whether men or women,  while hypersexualizing others, and presenting these qualities as somehow admirable, when really those qualities are being promoted to make White male characters look good by comparison.
Black Men
Characters of color remain underrepresented in mainstream movies and TV shows, and those actors who land roles are often asked to play stereotypes—from maids and immigrants to thugs and prostitutes. This overview breaks down how blacks, Hispanics, Native Americans, Arab Americans and Asian Americans continue to face stereotypes on both the big and small screen.
…negative mass media portrayals were strongly linked with lower life expectations among black men. These portrayals, constantly reinforced in print media, on television, the internet, fiction shows, print advertising and video games, shape public views of and attitudes toward men of color. They not only help create barriers to advancement within our society, but also "make these positions seem natural and inevitable".
There's no shortage of black male actors playing drug dealers, pimps, con-artists and other forms of criminals in television shows and films such as "The Wire" and "Training Day." The disproportionate amount of African Americans playing criminals in Hollywood fuels the racial stereotype that black men are dangerous and drawn to illicit activities. Often these films and television shows provide little social context for why more black men than others are likely to end up in the criminal justice system.
One of the more disturbing tropes I noticed in the MCU, but have since noticed in other media are White characters who are meant to be heroes, punishing and torturing Black and gay men. In Captain America The Winter Soldier, there's the torture of a Black man for information. In the movie Magnum Force (1973), Harry guns down a fleeing transgender woman. In fact, Clint Eastwood made a career out of vigilante justice in films. In The Defenders, you have a group of White heroes torturing a Black villain for information (of note: they didn't torture any of the other men of color).  Torture happens frequently in the shows 24, Iron Fist, and The Punisher. Americans have  been conditioned for decades, by movies, TV series, and comic books, to see torture and vigilante justice as a  heroic activity. : a heroic activity that is  engaged in primarily by White men.
American society has been conditioned through vigilante imagery, to the acceptance of the use of torture and violent punishment, and  one of the side effects of this is the idea that Blacks, Gays, Latinos, and even women, get  considered to be  "non-normative", and deserve to be punished and  killed for their transgressions against White men. This has the effect of associating White men with  law, order, and stability.
Hollywood's obsession with black torture porn: Why the genre's not important.
The film industry has mastered this skill to a tee, feeding us skillfully written, romanticized versions of the black American plight and later showering us (i.e. in many cases, white producers and screenwriters) with the highest of film honors and nominations when award season rolls around. But it's starting to fail.
Asian American  Men
Like Black women, Asian men are often shamed for being Asian, don't get to be shown as being loved, or lovable. They are often emasculated, not seen as sexy, and are still the butt of nasty jokes involving their penis size. Asian men get to be stereotyped as a danger to White women, smart but unnattractive nerds, misogynists, and perpetual foreigners in their own country. They rarely get to star in their own stories. When they do they are often the sidekicks to White characters.
Middle Eastern Men and Orientalism
As for Middle Eastern Men, they are almost always depicted as villainous barbarians obsessed with sex, and the beauty of White women.  America has a vested monetary interest in subduing the Middle Eastern regions of the world, so the people of that region have become handy scapegoats to blame US problems on. Before these visual tropes existed though, the West engaged in what is known as Orientalism, where the East was exoticized and romanticized for its barbarity.
"Orientalism" is a way of seeing that imagines, emphasizes, exaggerates and distorts differences of Arab peoples and cultures as compared to that of Europe and the U.S. It often involves seeing Arab culture as exotic, backward, uncivilized, and at times dangerous.
Growing up, it was quite normal for us to see ourselves on the silver screen in two scenarios – firstly as a terrorist/evil character/backwards thinking individual/collateral damage, or secondly absolutely nowhere at all. It was fine growing up – we were used to it. Hollywood was a place that we were allowed to watch, but not allowed to be a part of. 
When it comes to Hollywood, the White male creators of media there, have a keen interest in showing men of other cultures to be less than them, so as to make themselves look better by comparison. Men of other races have many stereotypes in common. They are often shown to be oversexed,  desexed, hypersexualized, uncivilized, barbaric, villainous , or unintelligent.
The Presentation of Women
I talked about the sexual exploitation of women in pornography and mentioned the same in mass media in another post.The exploitation of women in mass media is another entire post  by itself, and it too,  is very well documented.
https://documentarylovers.com/film/miss-representation/
Since most popular media is controlled by White men, and the women they are most interested in are White women,  they have crafted dozens of stereotypes and tropes in movies, books and TV shows, that while they can be applied to all women,  were specifically invented to condition  White women to accept White men's behavior towards them, and show White women those qualities in a woman they consider to be most important. These tropes are so prevalent that they are all but invisible.
One of these tropes is the Born Sexy Yesterday trope, where White women are shown as childlike, fragile, and vulnerable, that you don't actually have to listen to, because you won't understand anyway. This trope appears in dozens of movies. It's basically a form of wish fulfillment. This is what White male creators, and by extension, White male audiences, find appealing.
Tropes for White women include : The Final Girl, The Manic Pixie Dream Girl, The Just One of the Guys Girl, The Disposable Object, The Sexy Floor Lamp, The Nagging Wife, and The Strong Female Character, who overlaps with The Final Girl. These tropes are not all wish fulfillment, or sexual fantasy, some of these are created to shame behaviors that White men find displeasing, or as a way to center a narrative around White male anguish.
How to think of White women  isn't all that  audiences  are learning. White men are also shown by these narratives how they should perform masculinity, and the things they should care about as men. These narratives reinforce the status quo by showing men how to be men towards both men and women. Men are supposed to have an interest in women, technology, cars, computers, games, the hard sciences, and sports, or they somehow are not real men. When they don't choose to engage in one or more of these interests, they are losers, pussies, faggots, bitches.
In other words, they are equated to women.
Men are taught that being seen as  feminine is the worst thing possible for a man, and it is how they insult men of other races, by accusing them, not just of being less than human, but being like women. Not only are men being taught how to be men, but it is these same stereotypes that reinforce to  men of color how to behave towards women. So you have Black, Asian, and Latin men, all trying to be men according to  rules of behavior that were created by middle class, straight, White men. (Misogyny/machismo is not the sole province of White men. Trust me, those two things are a global phenomenon. But mainstream American media has done nothing to challenge either.)
Narratives that are created by White men also teach women how to appeal to men. Decades of sexist narratives teach White women how they're supposed to behave for the reward of White male approval, (and that WoC need to be as much like White women as possible, but will still  be inferior to White women who are behaving properly.) They  prioritize those qualities they find most important, like sexiness without awareness of it, youth, vulnerability, submissiveness , thinness, thoughtlessness,  helplessness, and fragility. Through these narrative decisions White men shame those behaviors in women they find distasteful and/or inconvenient to fulfilling their needs, qualities like  physical and emotional strength, intelligence, ambition, immodesty, and being old, or overweight.
And yes, this applies to WoC too, who have gotten the message loud and clear. In the recent dustup over a cartoon image of Serena Williams, the White man who created it, called upon decades of Black female racial stereotyping. These were images invented by White men to demean and diminish Black women, to show why Black women were/are the least desirable of all women, while, at the same time,  the sexual assault and exploitation of Black women  by White men was occurring.
The legal and social double standard that allowed white men to commit sexual violence against black women with impunity, while the most baseless fear of sexual contact between a black man and white woman resulted in deadly violence, continued after emancipation. 
It is through entertainment culture created by White men,  that Black women learn that they are unloved, unlovable, and not capable of love. Latinas learn that they are desired for being passionate and sexy,  and that they will be rewarded with male attention for exhibiting such behavior, and Asian women will learn that they are the most desirable of all women, especially if they are as quiet and submissive as their stereotyping requires.The purpose of these stereotypes is to keep all groups of  women in their place, by teaching women that their purpose in the world is sex, that their priority should be procuring male sexual attention, and how that should be done.
Women who fail to gain the sexual attention of men (attract the male gaze) are denigrated, shamed, and/or erased. Women who reject male sexual attention (those women who are anywhere along the LGBTQ spectrum) are made to serve the narrative in other ways. They still need to be sexy and appealing to straight men, hence the creation of the stereotype of the "Just a Phase Lesbian", who is only with women, until the right man comes along. Women in same sex relationships, must be made to seem desirable (and attainable) to straight men, otherwise they are of no use, and must be criminalized and punished.
Women are not worthy of male attention if they are  too old, too fat, too poor, or have a disability that cannot be classified as sexy, (for example, if you are a woman suffering from  certain types of mental illness, or depression, that kind of vulnerability can be made to seem sexy, fun or exciting, to a male audience.) The end result is that all women are taught that their highest priority is gaining the sexual attention of men, (without seeming to actually do so, because women who make it clear that they want that attention are also shamed for  that.)
The most popular types of movies, even those prominently featuring PoC and women, often consist of  violent power fantasies, sexual fantasies,  and the use and misuse of technology. This isn't a hard and fast rule, and there are plenty of movies that are exceptions, but most of the top ten highest  grossing movies  consist of these topics.  (Most White men have plenty of  interests outside of  those topics, but this s not what you would know from watching visual media.)
The Presentation of Indigenous People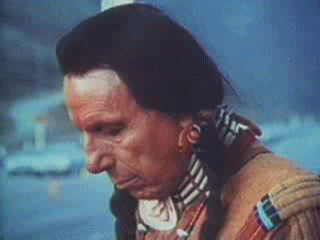 It is very easy to make up stories about a group of people that everyone thinks are extinct, and White US Americans have been making up all kinds of stories about Native Americans since they arrived on these shores, stories that serve whatever purposes White people need them for.  When White people want to use and  exploit Native Americans, the women become sexy squaws, to be used and disposed of, the men become inspirations for sports teams. When White people  want to play White Savior, or steal elements of their culture, then the Indigenous communities  suddenly  become  proud, noble, downtrodden people to be saved, and the  theft of their culture, becomes elevation. They should feel honored.  Does a White man have a chip on his shoulder about his life? Well, then Indigenous people morph into a highly successful group who get free stuff, because they own casinos. When White people want to use their resources for their own ends, and Native Americans refuse to get out of the way? Well, then they are  transformed into a bunch of ignorant savages who need to be put down.
From fashion, to sports teams, to oil pipelines, Indigenous people in the US can be turned into whatever White people need them to be, and Pop culture (mainstream) media has aided, and abetted this exploitation, reinforcing whatever  stereotypes were needed for White America to accomplish their goals.
Most Americans know almost nothing about the lives of Modern Native Americans, as most of them have gotten all their information about them from TV shows and movies that are not created by them. When they get the opportunity to tell their own stories however, the depictions we get of Native American lives are significantly different from what is seen in mainstream media, which continues to erase their present existence, and get their past existences wrong.
It's better to hear about their lives from their own lips:
At the turn of the nineteenth century, the western U.S. was exploding with colonialist ventures. For the U.S. government, their biggest obstacle was conquering Native Americans and establishing power and control over their land and their resources.
The murder and  exploitation of Indigenous women is ongoing.
 Native American women across the country are being murdered and sexually assaulted on reservations and nearby towns at far higher rates than other American women. Their assailants are often white and other non-Native American men outside the jurisdiction of tribal law enforcement.
This is not an essay about exceptions to all of the above. This is an overview, of as much as I am able, to cover of the past 60 70 years, of how White men having temper tantrums over how the current Pop culture is pandering to groups of people that are not them, is an accusation that stinks of hypocrisy. White men have been pandered to for decades, and the fallout from that pandering has helped to  create a level of ignorance about American life and history that is unmatched by other Western nations.
There are some real world effects to all this pandering. All these stereotypical images of PoC,  LGBTQIA, and Transgender people have real world repercussions, and a part of those repercussions come from the effects that all this pop culture pandering has had on White men. But Hollywood, and television are paying attention and thinga are very slowly starting to change, or at least be questioned by new thoughts, new imagery, new types of plots and characters. Contrary to White men's tears, this new attitude towards diversity is not pandering. I really do like to stay positive on here, so I'm not going to dwell anymore on what Pop culture has gotten wrong. In part three of The Pandering, I want to end on a happy note, and talk about how this can be fixed, and what pop culture media is getting right.