I'm just putting random numbers on these types of posts, at this point, since I can't remember whatever number I used for my last State of the Union Address. But here's a list of shows, I've been looking at this Summer.
Watching/Have Watched
Castle Rock (Hulu)
I watched the first two episodes of this show. I was really excited about seeing it and the show doesn't completely disappoint, but that's mostly because I'm a full-on Stephen King fan who has caught a lot of the Easter eggs in the episodes, and there are quite a few, which is something entirely in keeping with the idea of a Stephen King Universe where all his stories are connected.
We start of with the small town of Castle Rock itself, where more than a few King stories take place. The episode begins with a missing little Black boy named Henry, who is found by Sheriff Pangborn eleven days later. If you remember Pangborn is the sheriff who defeats the demon from the novel Needful Things. Henry's father went missing as well. his adoptive mother is played by Sissy Spacek, who played Carrie in the  1976 movie of the same name.
When Henry is called back to the town of Castle Rock, we discover that his mother is suffering from dementia, and she has a romantic relationship with a much older Pangborn. Henry received a mysterious call from one of the guards at Shawshank prison, after a young man was discovered in the prison's basement levels, who asked for him by name. The prison is also under the reign of a new female warden after the bizarre suicide of the last one, who garrotted himself in his car.
So two episodes is as far as I've gotten, and while I'm not wowed by the mystery I do find the characters interesting, the show looks gorgeous, and atmospheric, and I also liked the understated music in the show.
Pose (FX)
https://www.vanityfair.com/hollywood/2018/05/pose-fx-ryan-murphy-review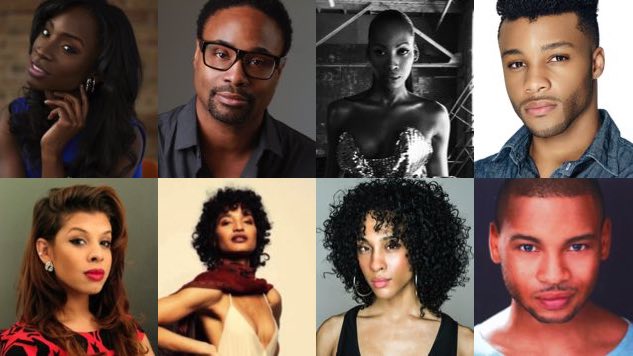 The series just finished up its first season run and is scheduled for a second season next year. I took a brief break from the show but I was there for the season finale. Good gob! but this show brings waaaay too many feels.
One of the things I love most about this show is the shameless use of sentiment, without falling into corniness. You start to seriously care about these characters so much, and get really caught up in their lives. When they're happy, you're happy. When they experience disappointment, so do you. It's a testament to the acting skills of the cast. But their lives are not tragic, and the show is not a sob story. You experience as much laughter and happiness as in any drama. The characters are complicated, messy, and human.
For example, I complained that I might not be able to get into a show where characters spent so much time being nasty to each other, but that turns out not to be the case. Yes, there are some villainous types but the show has a lot of romance and heart. After Blanca's former mother, Elektra, from House Abundance,  gets ousted from her position, Blanca takes her in, and it is commendable for Blanca, especially when you consider that the two of them parted on such bad terms,  that Blanca treats her no different than she does any of the children of her House, by counseling her, and helping her get a job.
Blanca is rewarded for her compassion by being crowned Mother of the Year, at the local Ball, while the bitchy little characters we met in the first episode get their comeuppance with an epic dress-down from Elektra. The season ends with a dance-off  between the House of Evangelista and the House of Extravaganza, going  head to head on the ballroom floor.
There is also the side story of one her children falling in love with a married businessman, and one of Blanca's boys falls in love with another dancer after he is accepted into  Dance school, and the two of them compete for a role in a music video. In another side story, the master of Ceremonies at the Balls puts on a performance at the hospice where his lover is dying from Aids, and later goes out on a date. The conversations in the show feel true, adult, and emotional.
I fell in love with these characters so fast, I just don't know if my heart can take this level of shameless romanticism and drama. I'm definitely going to return for the second season of this show.
Preacher: Season Three (AMC)
Its as zany as the last season, picking up with the death of Tulip. Jessie takes her to his grandmother,a Hoodoo woman, who brings Tulip back from the dead. She says Jessie owes her for this, but I'm unsure exactly what it is she requires in payment.
Cassidy gets kidnapped by a cult run by another vampire and its hilarious because the other vampire has enthralled these goth kids into worshiping him, and he's like a cheap, backwoods version of Lestat.
I'm not doing any in depth reviews for this show, mostly because its kinda lightweight, and is far too richly zany to put that kind of work into it.
Although its rarely laugh out loud funny, it is definitely entertaining.
Luke Cage: Season 2 (Netflix)
I watched the entire season all the way through, and mostly enjoyed it. It really does still have some issues, mostly with pacing and story coherency, and should probably tone down on some of the music, because that was starting to be a bit much. But overall I liked the season.  I wasn't as awed by this season as I was with the first, and I'm pretty sure it's because the novelty of it has worn off some.
Frankly,  I was tuning in to see what happened to Misty Knight, after her ordeal in The Defenders, and I , and a lot of other people, have reached the conclusion that we are all ready for a Daughters of the Dragon spinoff , of Misty and Colleen Wing. The scenes between the two of them were a lot of fun, the actresses have good chemistry, and I was glad to see the writers of the show did not neglect the relationships between the women, although I was dismayed to realize that all of the Black women in the show had adversarial relationships with each other. I understood most of the reasons why they would, because they're mostly well written characters, many of them with clear motivations, but I still think the writers should do better. Women don't always have to be enemies for  dramatic tension.
Yes, there is a brief cameo, in one or two episodes, with Iron Fist, which happen late in the season, but I don't feel this was a detraction from the show, and I wasn't upset at seeing him. Like I said, a little bit of him goes a long way. I'm still not especially enthused about the second season of IF, but I am curious enough, based on how his character is much more positively depicted here. I know there are some people who are going to hate him no matter what the writers  do with him ,but I'm willing to forgive past sins if they fix his character, and this show, and The Defenders, went a long way towards almost making Danny Rand likable. I don't actually like him. I don't know that I will ever like him-like him, but at least I don't dislike him. Let's just say I'm open to liking him.
There was a new vilain called Bushmaster, who heavily reminded me of Black Panther: if T'Challa had become a junkie for the special herb which gave him his powers, and was a gang leader, rather than a good guy.  I still think the accents of some of these characters could use work, though. There are several moments of extreme horror that I could've done without, and we didn't spend as much time with Luke as you'd think we would in a show that's about him, but that's okay because Luke is not an especially compelling personality, and Mariah Dillard is. Luke gets to fight with a lot of different characters, and that is always fun, but he's not a very interesting person beyond his fight scenes, and the show's attempts to add character to his character fell flat for me. His relationship with his father, and his fights with Clair didn't feel true or believable.
Actually, you could just call the show Dillard, or something, because Mariah was one of the most awesome characters all season, and is a truly complicated villain. I've long ago given up on white feminist fans paying any attention to Black female characters, and I suppose I should be grateful for that, especially considering how shitty they are regarding all Black characters, in general. I think the last thing any of us want is twenty year old, suburban, white girls trying to write sexy fan fiction about Shades Alvarez. But there's not a lot there for them anyway because while there are a few canon relationships, none of them involve White people.
Mariah is a very unconventional villain, being an older, educated, Black woman, who is also  an unstable, conniving alcoholic,  in a semi-abusive relationship with her lover, Shades Alvarez, who is many years younger than her, and thoroughly devoted to her. I  can't even say she loves him, because Mariah is a psychopathic user, who loves no one but herself but the chemistry between them is palpable, and it really is a very sexy relationship. Mariah is also surprisingly vulnerable, and open at odd moments, which makes her deeply compelling. This was really a superior performance from Alfre Woodard, and one of her best roles ever.
There's also a throwaway relationship between Shades and another man (Comanche) that if you're anywhere on the LGBTQ spectrum,  will thoroughly enrage you, so you might want to skip all that.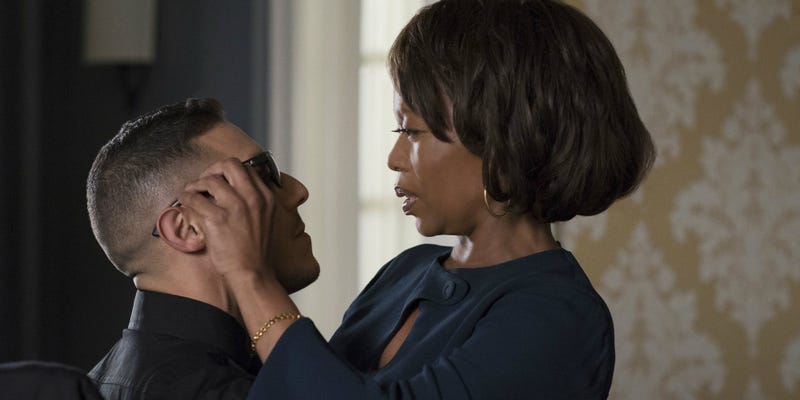 https://www.dailydot.com/parsec/luke-cage-shades-mariah-shadymariah/
https://www.dailydot.com/parsec/luke-cage-season-2-review/?tu=dd
https://screenrant.com/marvel-iron-fist-better-luke-cage-season-2/
Killjoys (Syfy)
Killjoys has added a smidge more humor to the show, but I still have trouble with Hannah John-Kamen's acting style. Its still annoying. I'm still surprised that people like this show. It looks great but I find the acting and plotting uneven. It's not a bad show, but it struggles to hold my attention. I like the costumes, though ,and the guys are both reasonably handsome.
Wynonna Earp (Syfy)
Wynona Earp started its new season. I watched the first episodes of the show and while I was not "not"  entertained, I wasn't exactly inspired to keep watching them either. WE turned out to be mildly funny as vampires have been added to the show and Waverly's approach to danger has always been funny. If you're looking for a cute  litttle White girl lgbtq relationship, then this is the show for you. If you are a fan of mustaches, there's a Doc Holliday character who is really cute.
I'm Not Watching But Probably Should
Killing Eve (BBC America)
I've heard so much about this show, and these curious gifs keep popping up on  my dashboard. One day I'm actually going to get around to watching this. and I'm gonna be wowed, because I really do like Sandra Oh, and I heard she got some award noms out of this. From all the meta  and gifs I've seen, I got the impression that this show was a female version of the Hannibal series, with its lowkey same sex relationship vibes, between an officer of the law, and a deranged psychopath. Since I'm a big fan of Hannibal , I feel I at least need to give this a looky-loo.
The Bold Type (Freefrom)
I heard there was some great LGBTQ rep in this show, between two young women, that's being well and fairly treated,  and this is  another show that people insist on making gifs of, and sending them across my Tumblr dashboard. One day I may or may not look at this. It does involve some very young people, and I usually avoid shows that star a bunch of very young, people, so I'm dubious. Not every show is for everyone.
Dear White People (Netflix)
I keep hearing good things about this show, but once again it stars some very young people, and I'm not one of those people who is sentimental about my college years, so imma pass on this one.
Yeah…No!
Snowfall/ Power
I know people are watching these shows, but shows about Black crime are not to my taste, and I already got my quota of that subject from Luke Cage. If Black crime stories (ala New Jack City) are to your tastes,  and you're not watching these, then you need to hop to it because they look gorgeous.
@@
I'm working on several of those longform essays you guys seem to like. The use of setting in movies, a trip in the wayback machine to some forgotten  TV series, the personalities of Goodfellas according to MBTI, an examination of the trope of the retired killer, an examination of The Thing, Eastern Promises, and some that are little more than ideas I hope to flesh out at some point.